Safe Cookware Guide That Makes Sense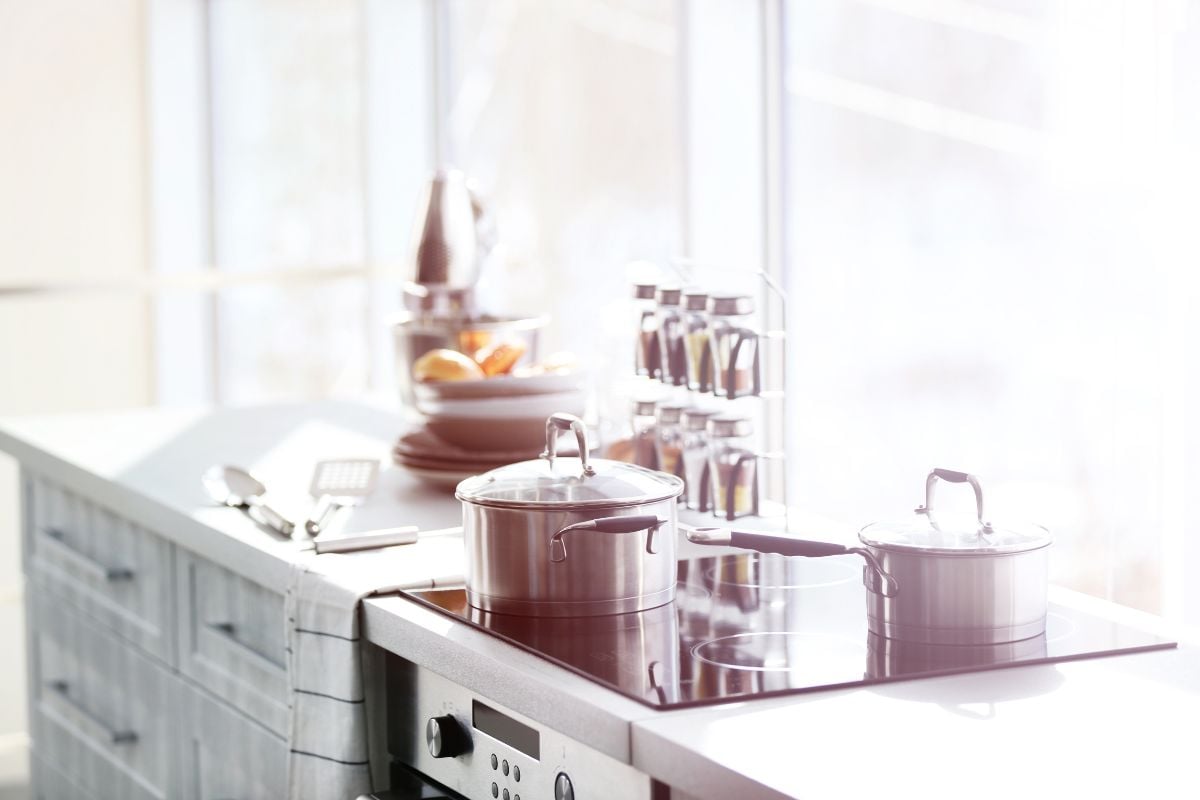 This post may contain affiliate links. To read our affiliate policy, click here.
Cookware can leach some concerning chemicals into our food. Because of this, we need to be careful about what we use to prepare our food. I think that cookware is almost like medicine that needs to be prescribed. What someone considers safe cookware for them, might not be healthy for you. Today you are going to learn about the major types of cookware so you can choose the non-toxic cookware that works for you.
To make it easier for you, I've divided the major types of cookware into worst, bad, better, and best categories.
Safe Cookware Guide That Makes Sense
Worst cookware
Non-stick cookware is not safe cookware
This type of cookware usually has a coating of polytetrafluoroethylene (PTFE), a slippery polymer discovered in 1938 and trademarked by DuPont as Teflon®. PTFE may contain perfluorooctanoic acid (PFOA) and other undisclosed materials.
PTFE may off-gas toxic particulates when it has been heated to 464°F. At 680°F, it releases at least 6 toxic fumes, including 2 carcinogens (PFOA and tetrafluoroethylene (TFE)), 2 global pollutants, and monofluoroacetic acid (MFA), a chemical lethal to humans even in low doses. This makes it evident that non-stick cookware is clearly not non-toxic cookware.
Note that if a manufacturer claims that their PTFE coating does not contain PFOA, this is not enough. They may be using other potentially harmful chemicals instead of PFOA.
So, let's stay away from non-stick cookware with a PTFE coating altogether because it does not constitute safe cookware.
Aluminum cookware (e.g. Tramontina cookware)
If the aluminum is on the inside, it may leach aluminum salts.
Unlike lead or mercury, aluminum's negative effects on our health are controversial. While it is not an established carcinogen, it is linked to Alzheimer's. It may contribute to the body's depletion of phosphorus, calcium, magnesium, and iron (source).
In addition, we should take into consideration that aluminum is bioaccumulative, meaning that it accumulates in the body over time. Thus, I do not consider aluminum non-toxic cookware.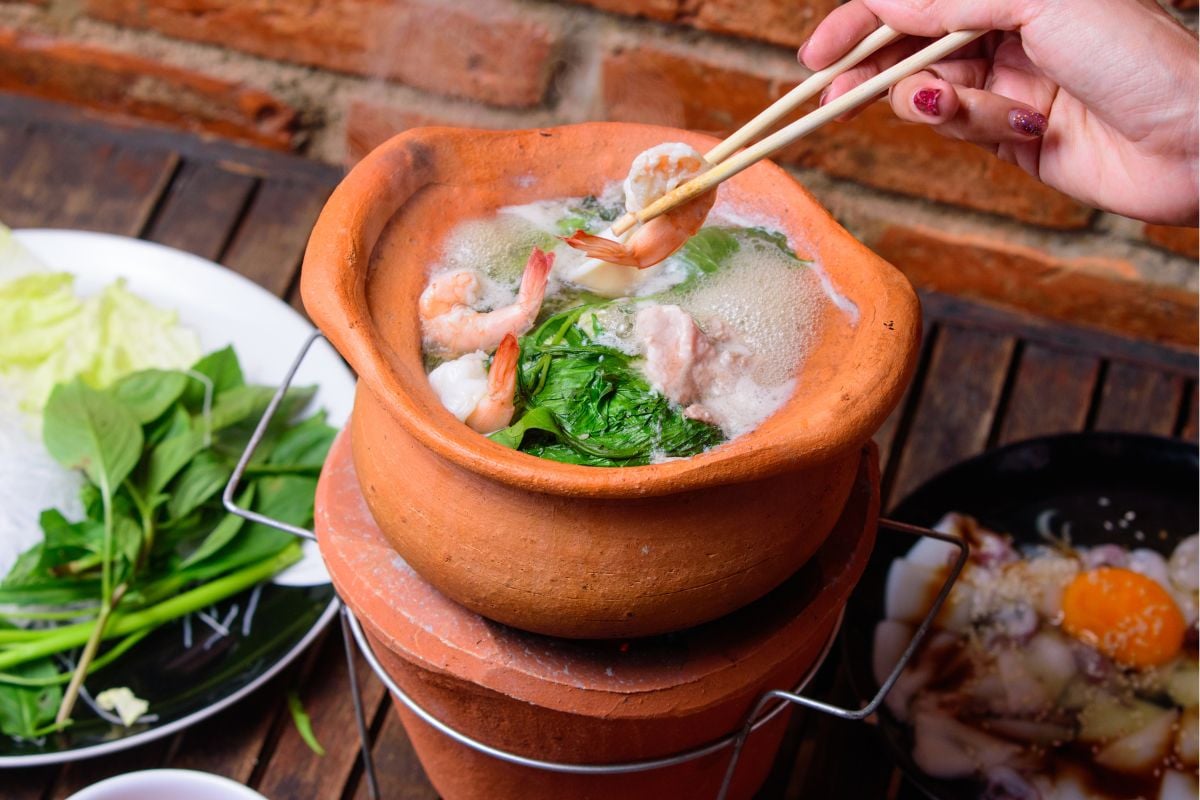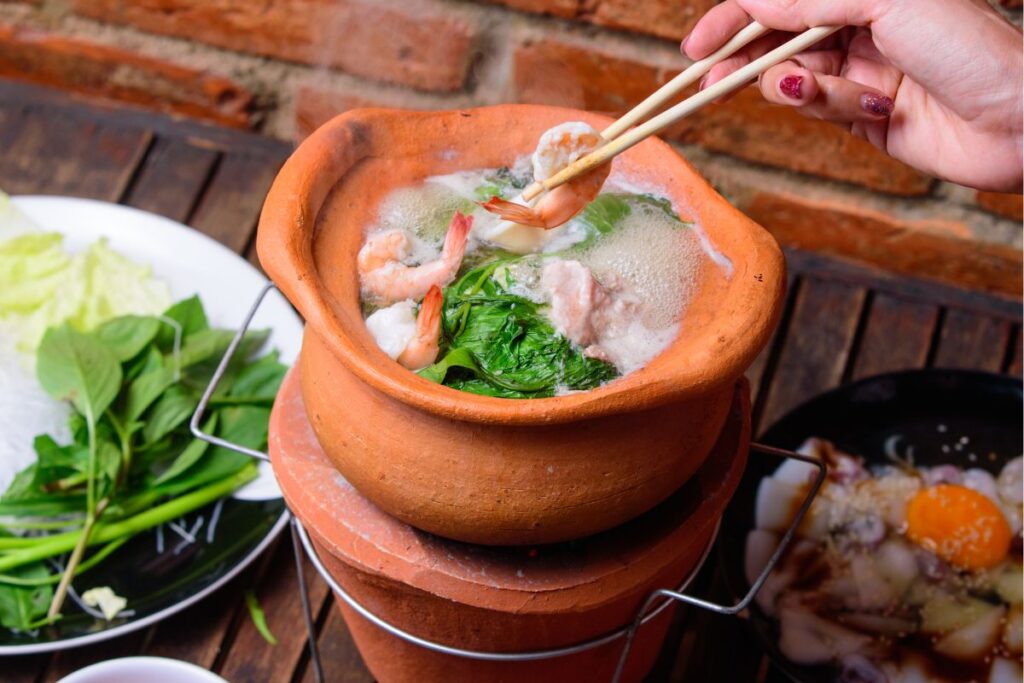 Bad cookware
Clay cookware is not safe cookware
In my opinion, clay cookware is too problematic to be considered safe cookware. This includes unglazed clay cookware.
Because clay is part of the earth's crust, there may be harmful ingredients in it. Please take a look at an example of clay composition. Note the presence of lead, mercury, aluminum, and other toxic chemicals and metals. Because there is no glaze, there is no barrier between it and your food. In my experience, clay cookware is a porous material and, thus, whatever is in the clay may easily transfer into your food. It doesn't sound like safe cookware to me.
The only way to ensure that clay cookware does not contain toxic metals would be to test every batch of clay used. This is likely prohibitively expensive to do, but if any manufacturers do this, please let me know! However, when I asked manufacturers if they did this, I didn't get any satisfactory answers.
Please read about my personal experience with Mariam's Earthen clay cookware.
Mariam's Earthen test report on clay Cookware
Examples of clay cookware are Mariam's Earthen and Vitaclay brand names. Recently, Mariam's Earthen and Vitaclay have started posting test reports on their website. However, these reports are not very helpful and do not give me any peace of mind. I still cannot consider it non-toxic cookware.
In my opinion, Mariam's Earthen's report is missing important information that is normally present in third-party party test reports that I have seen before in other contexts. For example, the Mariam Earthen 2018 test report does not provide us with any information about the lab that performed the test, the date, the test description, and the minimum detectable levels.
Minimum detectable levels are a critical feature of any test report, especially when you are looking for safe cookware. Let me explain to you how and why.
Let's say that the government has concluded that a certain metal should not be in food in quantities over 1 part per billion ("ppb"). Then, let's say that a lab uses equipment to search for minimum detectable levels of the metal in the amount of 1 part per million ("ppm"). This means that there could be 999 times the level of the metal that the government found safe in the cookware, and the test that only tests to ppm would not see any. In other words, the test report would show none of that metal because the lab hadn't looked hard enough. Therefore, when you search for non-toxic cookware, this piece of information in tests should be very important to you.
Vitaclay test report on clay cookware
On the other hand, the Vitaclay report contains information about the lab that performed the test, the date of the test, its description, and minimum detectable levels. However, they test only for 4 heavy metals, which is just somewhat helpful. The test report shows that they comply with California Proposition 65. However, a full list of the clay ingredients is not disclosed. And their clay comes from China, where the background levels of pollution are very high.
So, in my opinion, clay is just not a safe alternative for cookware, and I do not recommend it as safe cookware to my clients.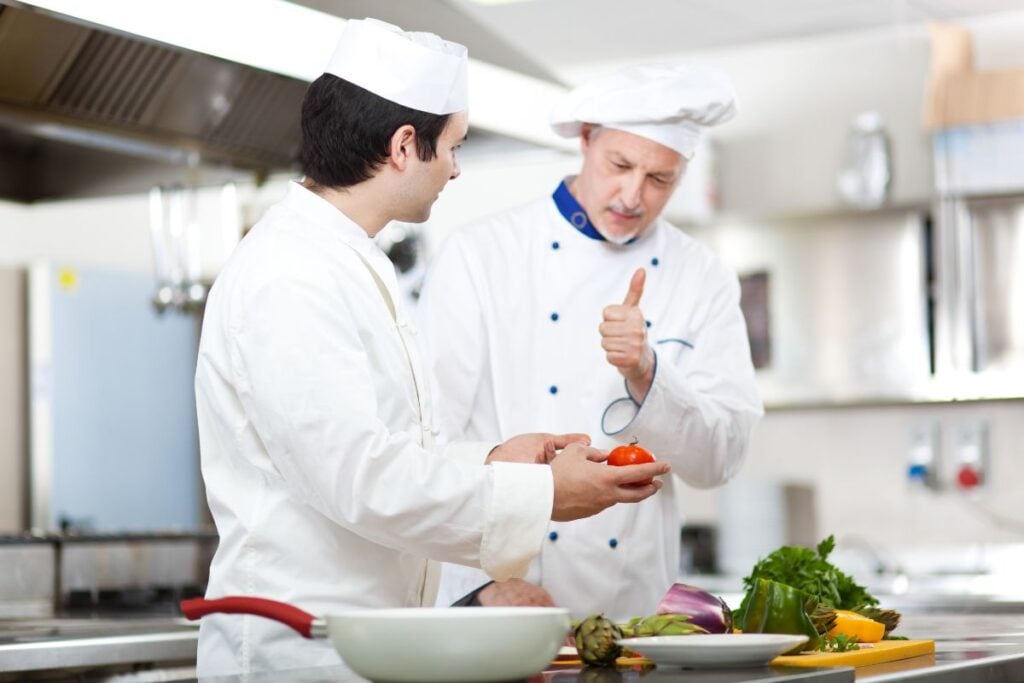 Better cookware
Ceramic non-stick cookware
Greenpan is one of the popular ceramic and naturally non-stick brands. When I contacted them, they explained to me that the coating was made by a Sol-Gel process that resulted in forming a coating layer on the surface of the pan. The main ingredient of the coating is Silicon Dioxide (SiO2), aka sand, from which glass is made (and glass is a good material for non-toxic cookware).
Its commercial name is Thermolon. To my pleasant surprise, Greenpan provided a comprehensive third-party test report, which is applaudable. You can take a look at it in my GreenPan Non-Stick Cookware post and read about recent lawsuit.
Potential problems with ceramic non-stick cookware
According to my blog readers, the Thermolon non-stick coating dissipates and the cookware stops acting as non-stick at some point. You can see this in the comments to my GreenPan Non-Stick Cookware post.
Additionally, some bloggers (who also happen to promote Xtrema cookware) tell us that quasi-ceramic non-stick cookware may leach titanium dioxide nanoparticles into food. If so, it is not safe cookware. The only source of this information I have found in this article in the Food Additives & Contaminants Journal. The scientists studied new and used frying pans with a quasi-ceramic coatings, obtained on the Slovenian market. It is unclear which brands they are. And I do not have access to the whole article, just the abstract. In other words, I don't have an opinion as to whether this is true but want to alert you that the assertion exists.
In conclusion, it seems to me that the cookware with ceramic non-stick coating is better than Teflon cookware. However, more tests are needed to be sure if it is truly non-toxic cookware. That's why I surveyed many non-toxic cookware brands including Ozeri, Always Pan, Zwilling, Blue Diamond, ScanPan, and 20 others, and requested their test reports. You can view the results of my survey if you sign up to receive my email. Plus, I do not like the fact that we must replace this cookware often, which is not a good thing for the environment.
Slow cookers
Slow cookers usually have ceramic inserts (unless you want to pay big, big bucks for commercial-grade slow cookers, which have stainless steel inserts). Ceramic slow cooker inserts may contain lead, either because lead is added or because it is present in the raw materials used to make the ceramic cookware.
I talked to KitchenAid. They assured me their ceramic had very small amounts of lead – below the FDA's limit – and that the protective glaze did not have any lead, which was reassuring to some extent. They would not say how much and would not provide anything in writing. I keep heavy metals under scrutiny because they are bio-accumulative and persistent. In other words, once ingested, they accumulate and stay in the body for a long time. That is why owning safe cookware is so vital.
Cuisinart cookware we used
We used to use a Cuisinart slow cooker. Is it non-toxic cookware? Cuisinart assured me there was no lead or cadmium in their slow cooker inserts. However, they admitted that they did not test for lead or cadmium because they knew they did not add them. This did not sound very reassuring to me because these metals can be contaminants, so the ceramic inserts may contain heavy metals.
Also, Amazon has a link to Proposition 65, which means that the slow cooker might "contain[s] chemicals that are known to the state of California to cause cancer and birth defects or other reproductive harm if those products expose consumers to such chemicals above certain threshold levels."
Cuisinart would not disclose what is in the glaze they use, which is not confidence-inspiring.
In addition, the Lead-Safe Mama blog's Tamara Rubin tests for total (not extractable or leachable) lead and other heavy metals. Her tests are of great help in the search for safe cookware. She is not convinced of slow cooker safety. Leachable lead means that the lead can leach into your food. Lead itself is not dangerous if it isn't ingested somehow. So, her test will only tell you how much total lead is in the product, not how much lead might leach into your food.
Now my favorite slow cooker has a stainless steel insert and Vapor® Seal. To learn more about this unique slow cooker and get a discount code, visit here.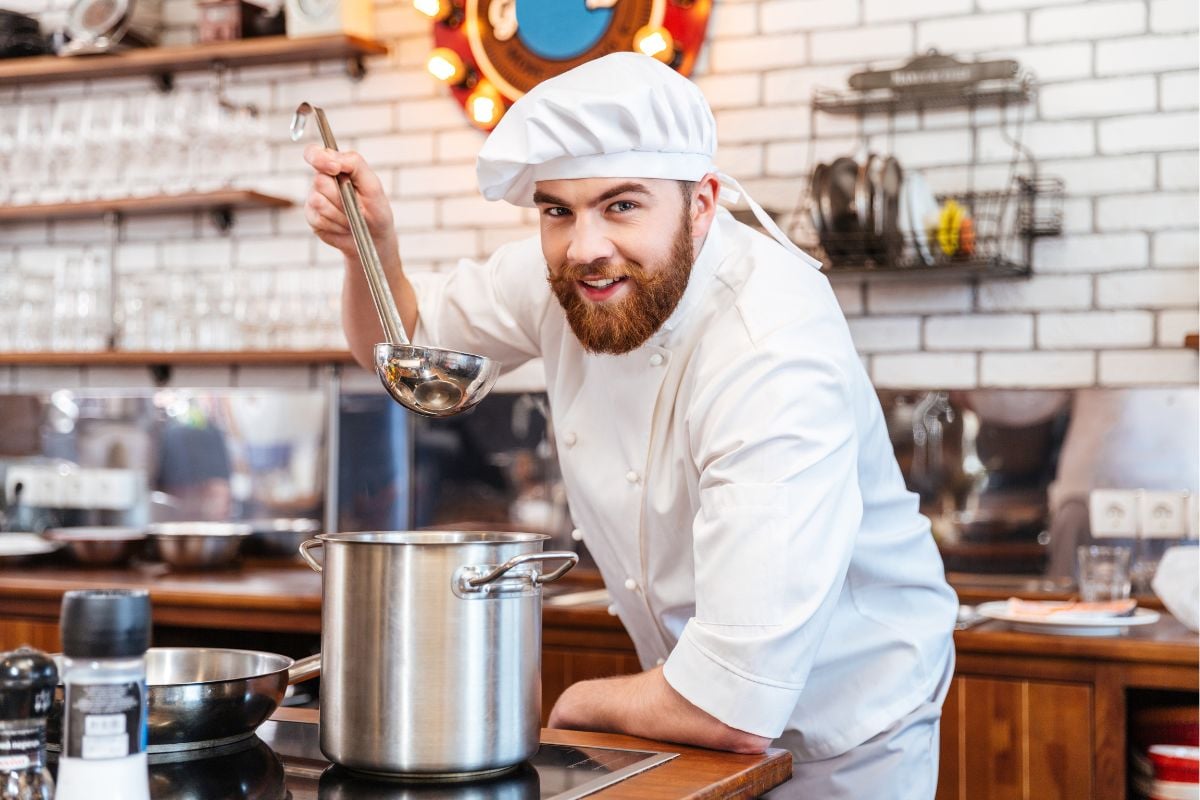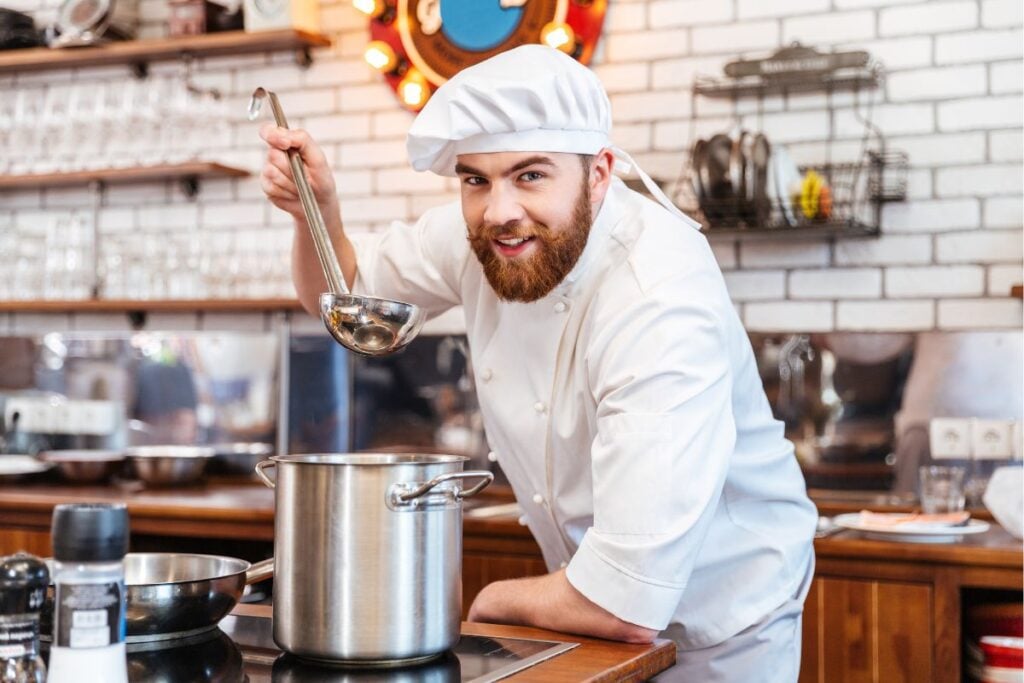 Ceramic cookware
Xtrema Cookware makes ceramic cookware for the stovetop. They claim that their non-toxic cookware is free of lead and cadmium. On their website, they publish documents that show that the levels of lead and cadmium are compliant with California Proposition 65 limits.
When Dr. Mercola used to sell the same cookware under his brand, his company representative sent me a list of ingredients. It included silicon dioxide, aluminum oxide, sodium oxide, potassium oxide, magnesium oxide, calcium oxide, titanium dioxide, zirconium oxide, cobalt oxide, chrome oxide, nickel oxide, and lithium oxide. I don't know what it includes now.
Tamara Rubin of Lead Safe Mama tested Xtrema with XRF technology (which measures the total amount of heavy metals, not the leachable amount) and found that the Xtrema ceramic cookware was not free of metals. You can read more about that on her website so you can make an informed decision shopping for safe cookware.
Enameled cast iron non-toxic cookware
Le Creuset is a major producer of enameled cast iron non-toxic cookware. If you don't know the brand, you will probably recognize it when you see it. The enamel comes in a number of different colors.
Know that Le Creuset makes other types of cookware. I consider only their enameled cast iron cookware made in France as a better option. And here is why.
Le Creuset told me that their interior enamel was compliant with California Proposition 65, which stipulates that it can have no more than 0.1 mg/liter of lead and no more than 0.049 mg/liter of cadmium leached into 4% acetic acid.
They also told me that the bright colors of the exterior may contain traces of lead or cadmium. Le Creuset informed me that the dune and palm-colored Dutch ovens had no lead or cadmium on the exterior. (Unfortunately, Le Creuset has discontinued the dune color, but you may still be able to find it on Amazon if you look.)
Potential concerns about Le Creuset enameled cookware
Yet, Le Creuset is not free of controversy. The person who blogs as the Natural Baby Mama tested the dune and palm-colored Dutch ovens with XRF technology and found only trace amounts of lead or cadmium on the exterior, and no lead or cadmium on the interior, which is consistent with what Le Creuset said to me. However, she did find some questionable results when she performed a leachable test. Please know her test has limitations, described in her post. Please read her whole article carefully.
In addition, Tamara Rubin of Lead Safe Mama tested two yellow Le Creuset enameled cast iron items. She found some elevated levels of certain metals. Again, please know that her findings also have limitations. First, her sample size is very small. Second, she tests for total amounts, not leachable amounts. In other words, we still do not know how much will leach into your cooked food. And when you read her posts, please pay attention to the differences in readings between different non-stick surfaces. You can read about her tests here and here.
As a result of these concerns, I included Le Creuset enameled cookware in the better category, not the best category.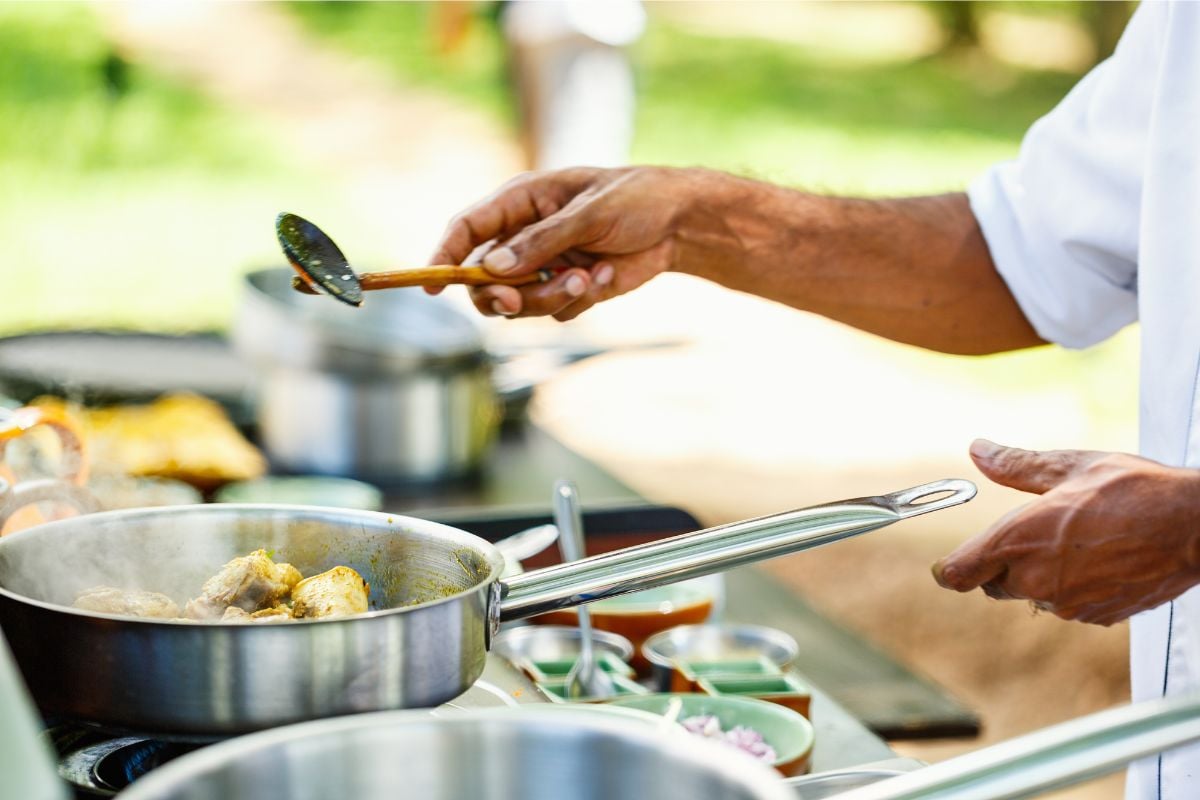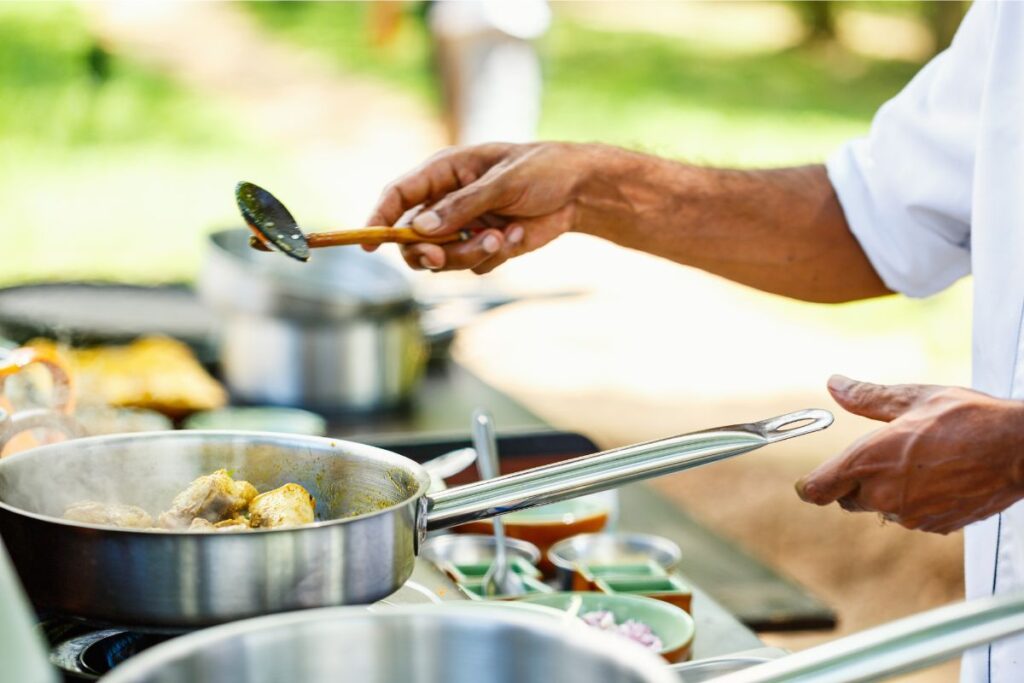 Best safe cookware options
Stainless steel safe cookware
Stainless steel is the top choice of professional chefs. With proper use, you can have omelets slide seamlessly off high quality stainless steel cookware. (My husband can do that!) And it is not that hard to clean either. We use stainless steel non-toxic cookware a lot in our kitchen.
I'd like to address metal leaching because my readers have asked me this question a lot. Stainless steel leaches chromium, nickel, and iron into food during cooking. While iron and chromium are essential nutrients for which stainless steel may be useful, nickel is not needed for our health.
Let's provide some background before we talk about nickel specifically. How do we know how much of something could harm our health? There are different studies, but let's talk about one that has general acceptance. The US Institute of Medicine Panel on Micronutrients has studied various substances and has listed the maximum amounts of these substances that our bodies can tolerate per day without adverse health risks. The Panel calls these amounts "Tolerable Upper Intake Levels".
This study determined that the amounts of chromium and nickel significantly increase with longer cooking times, with the use of new cookware, and with cooking tomato sauce.
Nickel in stainless steel safe cookware
While generally the amount of nickel that is leached while cooking in stainless steel non-toxic cookware is within the Tolerable Upper Intake Levels, some people may have adverse reactions. These reactions may include dermatitis even when exposure amounts are under the established tolerable upper intake levels.
For your reference, the upper intake level for nickel is 1,000 micrograms per day. However, a single dose of 67 micrograms may cause allergic contact dermatitis or make eczema worse in 40% of nickel-sensitive people. The average amount of nickel leached into tomato sauce cooked for 6 hours is 88 micrograms per serving (126 grams), which is enough to cause a reaction in nickel-sensitive people. On the other hand, it is way below the upper intake level of 1,000 micrograms.
In one test, scientists spent time cooking acidic foods for one hour. The highest amount leached was only 18.1 micrograms per serving size of 126 grams, which is well below the 67-microgram threshold for nickel-sensitive people (1).
If you have nickel sensitivity
If you suspect that you might be sensitive to nickel, know that foods high in nickel include peanuts, peas, oatmeal, and milk chocolate; 956, 699, 495, 871 micrograms per kilogram (2.2 pounds), respectively (source).
Normally stainless-steel safe cookware is of two types: 18/10 or 18/8. The first number is the percentage of chromium and the second is nickel. There is also nickel-free stainless steel (18/0).
As a part of a functional medicine approach, I have been tested for heavy metals. My nickel levels are within normal limits, even though I cook and reheat most of the food I eat in stainless steel non-toxic cookware.
In conclusion, I believe stainless steel cookware is a safe cookware option. . I actually now love using a slow cooker with a stainless steel insert and most of our cookware is made of high quality stainless steel. Get a discount code on stainless steel cookware made in the US here.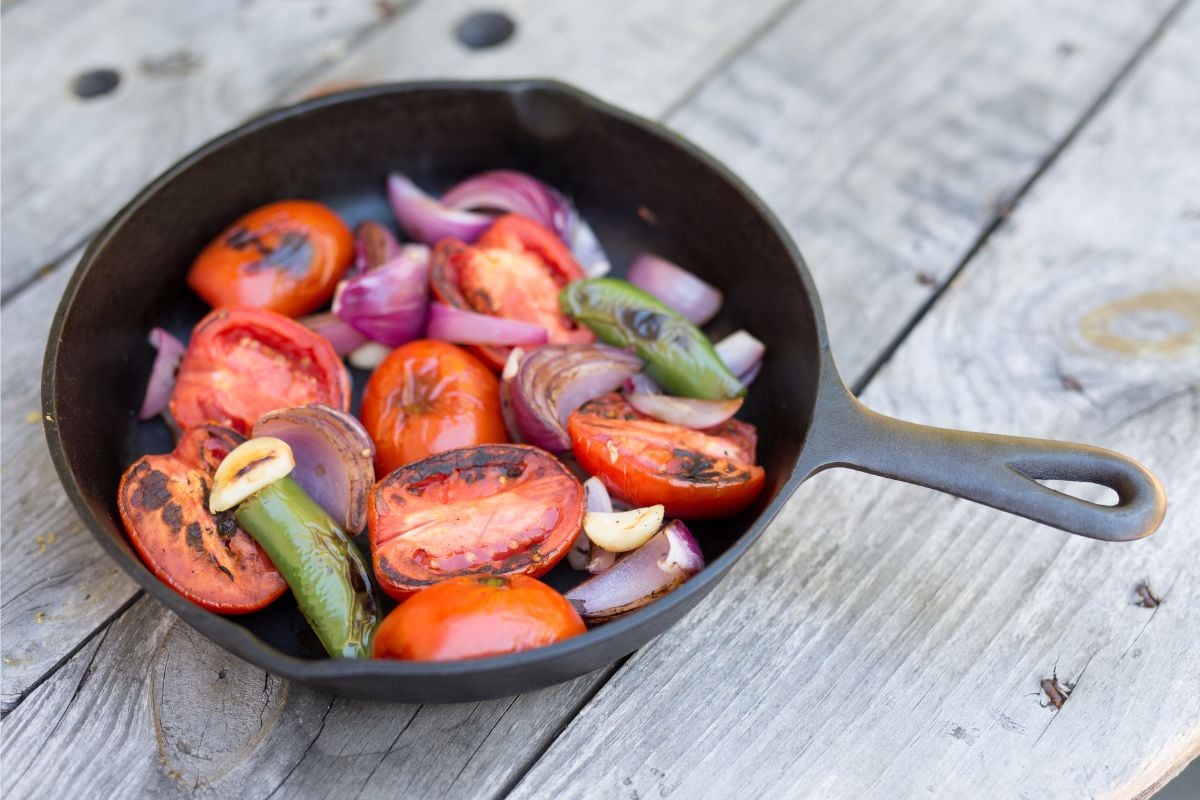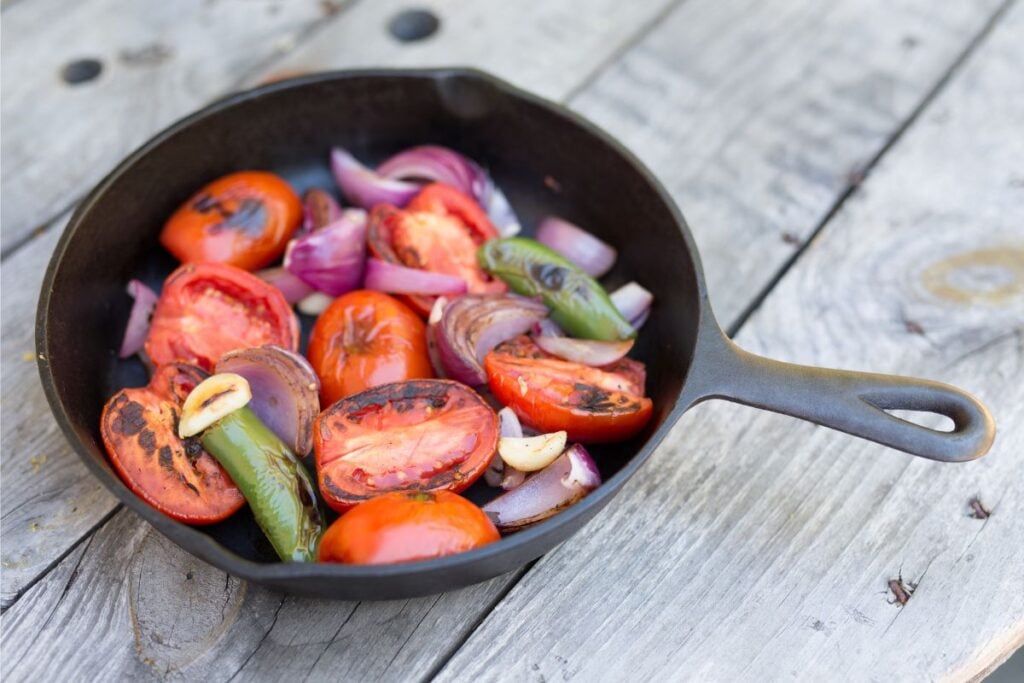 Cast iron non-toxic cookware
Cast iron leaches iron into food during cooking. Iron is an essential nutrient; however, in this case, you can get too much of a good thing: iron overdose is toxic. Like with stainless steel safe cookware, acidity, high moisture content, and long durations of cooking increase the release of iron significantly.
Studies show that the amount of iron varies from 1.7 mg per 100 g to 26 mg per 100 g, while the upper intake level for pregnant women, those who need iron the most, is 27 mg. So, if you cook tomato sauce for a long time, it is possible to overdose on iron. You can ask your doctor for labs to measure both a ferritin level and a serum iron, and TIBC level.
Also, if you have not used cast iron skillets made by Stargazer and Field, know that cast iron non-toxic cookware can be truly non-stick. For more information on how to use it, please read my Cast Iron Pans post. While most of what we use is stainless steel, we try to mix in cast iron for balance in our diet to the extent possible. We use it, for example, for reheating some foods, for frying eggs, and for making pancakes.
Glass safe cookware
Pyrex glass dishes are safe cookware made of soda lime which is a type of glass. For cooking food in the oven, I recommend Pyrex glass baking dishes. Glass can break and injure you (especially if it is super hot), so please read the use and care instructions on the Pyrex website. It is very important to avoid sudden temperature changes; for example, don't place a dish fresh off of high temperatures on a wet cooking surface. My husband accidentally did this once and won't do it again! But we use Pyrex glass non-toxic cookware all the time – it's great for food storage, too.
Instant pot as safe cookware
This is a quick and easy way to prepare food, and, apparently, a healthy one as well. I use it a lot for cooking everything from chicken to beans. When I cook beans in the pressure cooker, I do not even have to soak them. So, this is a great way to say goodbye to canned beans and say hello to healthy, nutritious, and delicious beans.
The stainless steel used in the Instant Pot pressure cooker is 18/8.
This is what we use for cooking beans and as a slow cooker option. You can read more about the model we use, and its testing by Tamara Rubin here.
Conclusion about non-toxic cookware
In conclusion, there isn't a perfect type of cookware that works for everybody. Every single type of cookware leaches something into food. The best approaches to choosing safe cookware are as follows:
Diversify your exposures so as to minimize them overall. In other words, if you use cast iron exclusively, you might overdose on iron. Instead, choose other materials for cooking and mix them up.
It is a good idea to know your levels of nutrients and contaminants. In other words, if you are chronically deficient in iron, you might want to use cast iron non-toxic cookware more often, or even exclusively.
Remember that longer cooking time and acidic foods stimulate more leaching, so adjust your habits accordingly.
As always, remember to reduce the intake of fried, grilled, roasted, and baked foods. Balance your diet with a lot of raw and steamed vegetables.
Please visit the Shop section to find the safe cookware options that we use and like. And please know that I am available for consultations to help you make practical decisions that will work for you. For many people, cookware is an investment, and I'm happy to help you maximize your returns.
Sources
1. Guarneri, F., Costa, C., Cannavò, S., Catania, S., Bua, G., Fenga, C., & Dugo, G. (2017). Release of nickel and chromium in common foods during cooking in 18/10 (grade 316) stainless steel pots. Contact Dermatitis, 76(1), 40-48.SaveSave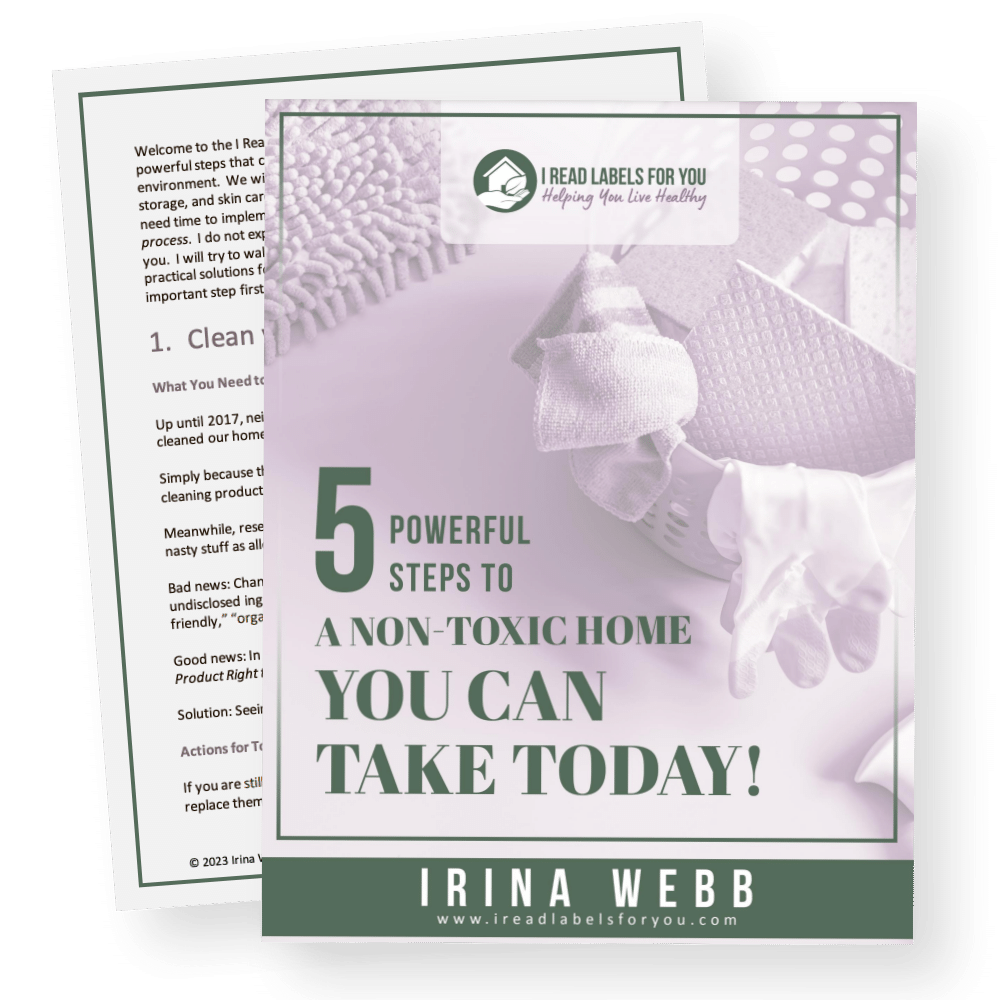 Download The Free Guide!
5 Powerful Steps To A Non-Toxic Home
Join our informed consumer community and get our free guide the "5 Powerful Steps To A Non-Toxic Home".