Best Solid Wood Cutting Boards
This post may contain affiliate links. To read our affiliate policy, click here.
What associations do you have when you hear the word "art"? Music, literature, theater, paintings, sculptures … With life experience comes understanding that art reveals itself in many forms and places. For instance, I own a cutting board which is truly a piece of art! I literally have not seen anything like it before. It is a one-piece cutting board made by Treeboard in Maryland, USA. Stay with me to find out why I consider Treeboard solid wood cutting boards safe and love them so much.
I follow a rigid process when I research products.
Since 2012, when I had my son, my focus has shifted to health and environmental issues. Therefore, I examine product ingredients from the perspective of their safety to human health and the planet.
Research takes a lot of time and other resources. Hence, instead of doing your own research looking for a safe product, you can take advantage of my findings. I have created several e-books, including diaper and baby wipes rating lists, and offer consultations on healthy living. I have also established and run a Savvy Consumer Circle of like-minded people sharing their passion for non-toxic living.
To deem a product safe, I follow a multistep process that involves a lot of reading and research. I start with surveying the whole industry to get an idea of how it operates. Then, I contact manufacturers and ask them questions regardless of what their websites say. Sometimes, one-on-one conversations reveal details that the website does not mention.
Many times, however, I face relentlessness and even hostility on the part of manufacturers to build any communication whatsoever. In those cases, their responses are general, evasive, and lack respect for their customers.
Therefore, I appreciate business owners who are willing to share details of their manufacturing processes with me and even welcome my input. This is exactly what I got from my conversation with the founder of Treeboard, whose one-piece cutting board I own.
Before I tell you more about their solid wood cutting boards, let's go over the cutting boards to avoid.
I avoid plastic, Epicurean, and bamboo cutting boards.
To begin with, in my opinion, plastic cutting boards are the worst. First, you can ingest harmful particles of plastic together with the food that you cut on the board. Second, plastic boards may contain triclosan which can stick to the food and get inside your digestive system, too. Third, plastic allows for deep cuts, which, together with moisture, are the perfect environment for bacteria growth and multiplication.
Then, there are Epicurean cutting boards. Even though they are slightly better than plastic ones, the manufacturing process and materials are far from ideal. To clarify, rather than being solid wood cutting boards, Epicurean boards are layers of paper stuck together. Actually, we own such a board but are not using it any longer – it has many scratches in which bacteria can grow.
As for bamboo, it is not wood at all. It is grass that must be turned into thin strips that are joined with glue. Plus, I do not like the surface finish most bamboo boards use (more on glue and finish later). Besides, there is no way to know for sure if it is organically grown. Hence, bamboo does not seem to be a good material for a one-piece cutting board. On the other hand, bamboo is the least expensive alternative. Plus, it is an easily renewable resource because it grows quickly.
You can learn more about plastic, bamboo, and Epicurean boards in my Guide to Safe Cutting Boards.
I consider solid wood cutting boards the best choice.
Believe me, my kitchen has seen quite a few cutting boards in the past decade. As a result, my ideal criteria for a safe cutting board have grown into a four-point list:
First, it must be a one-piece cutting board.
Second, it must have a non-toxic finish that we could actually eat.
Third, the wood should be harvested sustainably.
Fourth, the non-toxic cutting board must be relatively affordable.
A one-piece cutting board does not need glue.
The main reason I consider single-piece cutting boards potentially the safest natural cutting boards is the absence of glue. Indeed, conventional wooden cutting boards are made of thin strips of wood. Hence, glue is vital to make them look as if they were made of one piece of wood.
Often, manufacturers either do not know what glue they are using or do not want to talk about it. But glue may contain toxic chemicals, including formaldehyde. Since solid wood cutting boards do not have this problem, they bring you one step closer to a healthier choice.
Plus, if it is a solid piece of wood, there is no risk that your cutting board will fall apart. It will last you forever.
Another step to a healthier choice of a safe cutting board is the right wood finish.
Beware of the wood finish properties.
So far, I have mostly seen two types of oil finish on cutting board wood. They are mineral oil or a blend of undisclosed ingredients. Often, the makers do not know what the blend consists of because they source it from somewhere else. So, when these undisclosed ingredients come in contact with my organic food, I am not a happy chef.
As for mineral oil, I do not like it because it is made of a non-renewable resource – petroleum. That is to say, it is the same petroleum that fuels car engines. Hence, it may have contaminants such as carcinogenic PAHs which may leach into food.
Therefore, I'm glad to tell you that there exists a mineral oil free cutting board that is safe and affordable.
Introducing Treeboard as the best maker of solid wood cutting boards.
If you have been following me for a while, you may know that my favorite one-piece cutting board used to be Urthware. This Canadian company made non-toxic cutting boards that checked all the boxes: single piece, safe finish, and sustainably harvested wood. Unfortunately, they are no longer in business. So, I had to find another non-toxic cutting board option.
I did extensive research but to no avail. Just as I was about to give up, one of the Savvy Consumer Circle members suggested that I look at Treeboard. I am very grateful for this circle because I get to learn about new companies and products. As a result of my investigation, I am confident that Treeboard products are the best the market has to offer. And the shipping for US orders is free!
A pleasant phone chat with Will, the founder of Treeboard, unveiled that he had liked wood since childhood. From his father, he learned such basic carpentry skills as cutting lumber and firewood with an ax and a saw. When Will returned to his love of wood, he cut up an oak tree that had fallen near his home. He discovered that solid slabs of wood could make beautiful solid wood cutting boards.
Moreover, Will answered all my questions and sent me his one-piece cutting board for testing. As I mentioned, when I saw that non-toxic cutting board, I thought of it as a wood masterpiece.
Treeboard products are large and smooth and have a non-toxic finish.
From the very first glance at the product, you can tell that its maker truly cares about his craft.
First, the board is impeccably smooth and has silicone feet to keep it from sliding on the countertop. By the way, for this purpose silicone is the best material as it produces no VOCs or latex allergies. Second, the over one-inch thickness of the board makes it very sturdy. Third, the board is huge, which makes it comfortable to work with multiple vegetables at a time. In short, there is precision and thoughtfulness in every detail.
Of course, I wanted to make sure that the finish on the Treeboard single-piece cutting board was non-toxic. It turned out that Will uses organic flaxseed oil and organic carnauba wax. In fact, flaxseed oil is also known as linseed oil, but linseed oil may contain chemical additives for faster drying. Commonly, they use flaxseed oil in food and linseed oil – on furniture. As for carnauba wax, it is a plant-based food-grade wax that the USDA National Organic Program allows for use in organic food.
Treeboard uses hardwood for their solid wood cutting boards.
Will does everything possible to eliminate your exposure to questionable chemicals. Thus, his safe cutting boards consist of one block of wood, which eliminates the need for glue. It is challenging to make a one-piece cutting board of a generous size that won't warp. But Will knows how to and cares enough to do it. For example, our Treeboard non-toxic cutting board is 23" by 15", which is a lavish size for all uses. It is also 1¾ inches thick. It is large enough for a Thanksgiving turkey with room to spare!
Further, Will makes sure that his wood suppliers do not use any chemicals in the wood preparation process. To clarify, they may use chemicals in wood to prevent or kill mold or to change color. But Will is confident that the mill he works with does not use any chemicals. Instead, they dry the timber well to prevent mold and preserve the color as it is.
Predominantly, Will works with maple, but he has ash and white oak cutting blocks, too.
Being a hard wood, maple makes the boards less prone to deep cuts. Also, maple is a closed-grain wood, which makes it less likely to have bacteria contamination. Ash is a light-colored, smooth-grained hardwood that is an attractive option for fine furniture and cutting boards. White oak is a hard and heavy wood with great wear resistance.
Treeboard takes the forest seriously.
Fascinatingly, for their solid wood cutting boards, Treeboard looks for sustainable lumber locally. Thus, they usually use naturally fallen trees, or those trimmed out of necessity, or trees cleared from new home sites. In other words, your one-piece cutting board will be made of lumber that has the least impact on the environment. In fact, the wood that Treeboard sources is certified sustainable by the Appalachian Hardwoods Manufactures Inc. (AHMI).
Additionally, I respect the company's desire to give back to the forests that sustain their business. Specifically, they ordered 100 hardwood trees from the Maryland Department of Natural Resources and have planted them around the community. On top of that, they are planning to plant a tree for every single order they receive. It tells me that they take the environment and the beautiful natural resource, the forest, very seriously.
Conclusion about the best solid wood cutting boards
In sum, when it comes to a safe cutting board, I recommend a one-piece cutting board free of mineral oil. Personally, I avoid plastic, bamboo, and Epicurean chopping boards. Alternatively, I use a Treeboard non-toxic cutting board available for purchase on the company's website.
First, it has no glue or mineral oil. Second, it is thick, sturdy, and not slippery, and is made of sustainable solid wood. Above all, this cutting board will potentially last you forever and can become an heirloom piece.
Please visit my shop for more options of non-toxic household and skincare products, e.g., Crunchi non-toxic makeup. If you need help choosing a safe product, book a consultation with me, and I will happily assist you. Join the Savvy Consumer Circle to share your healthy living experience and get enriched with the experience of other members.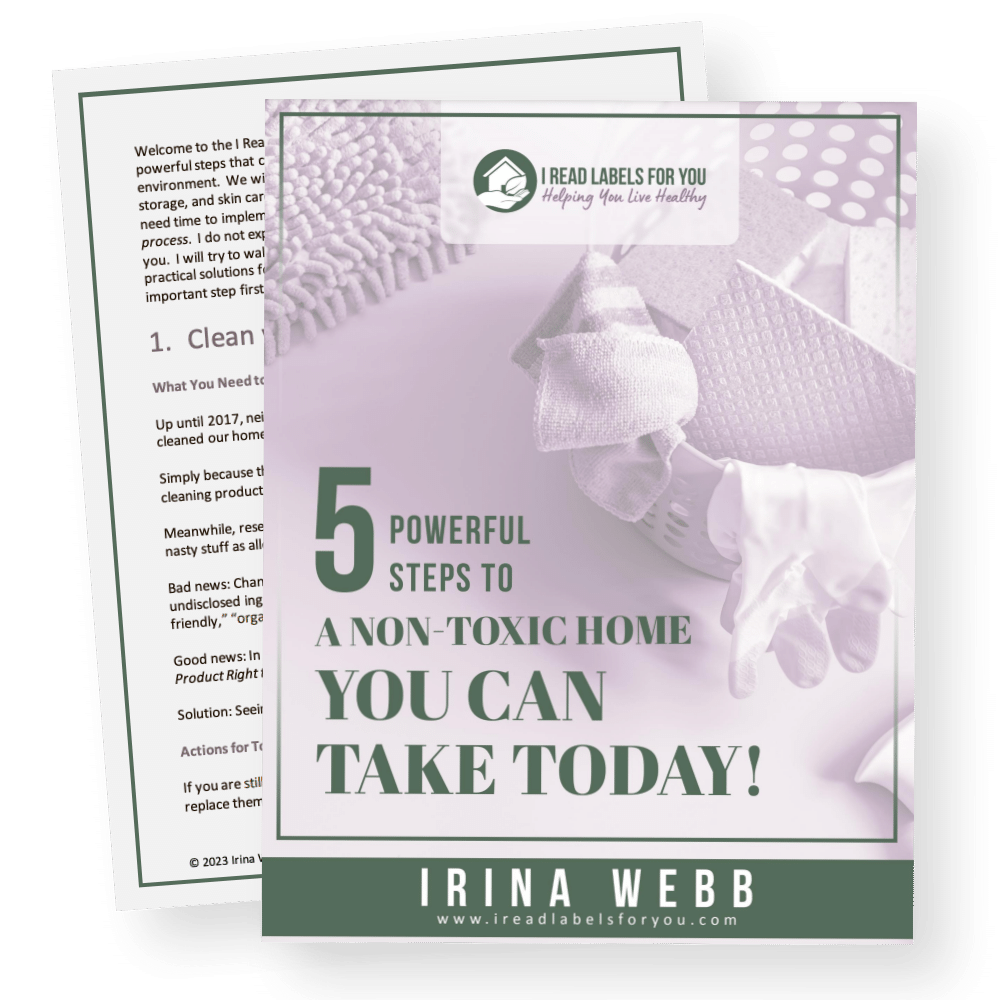 Download The Free Guide!
5 Powerful Steps To A Non-Toxic Home
Join our informed consumer community and get our free guide the "5 Powerful Steps To A Non-Toxic Home".