Are Tea Bags Bad For You?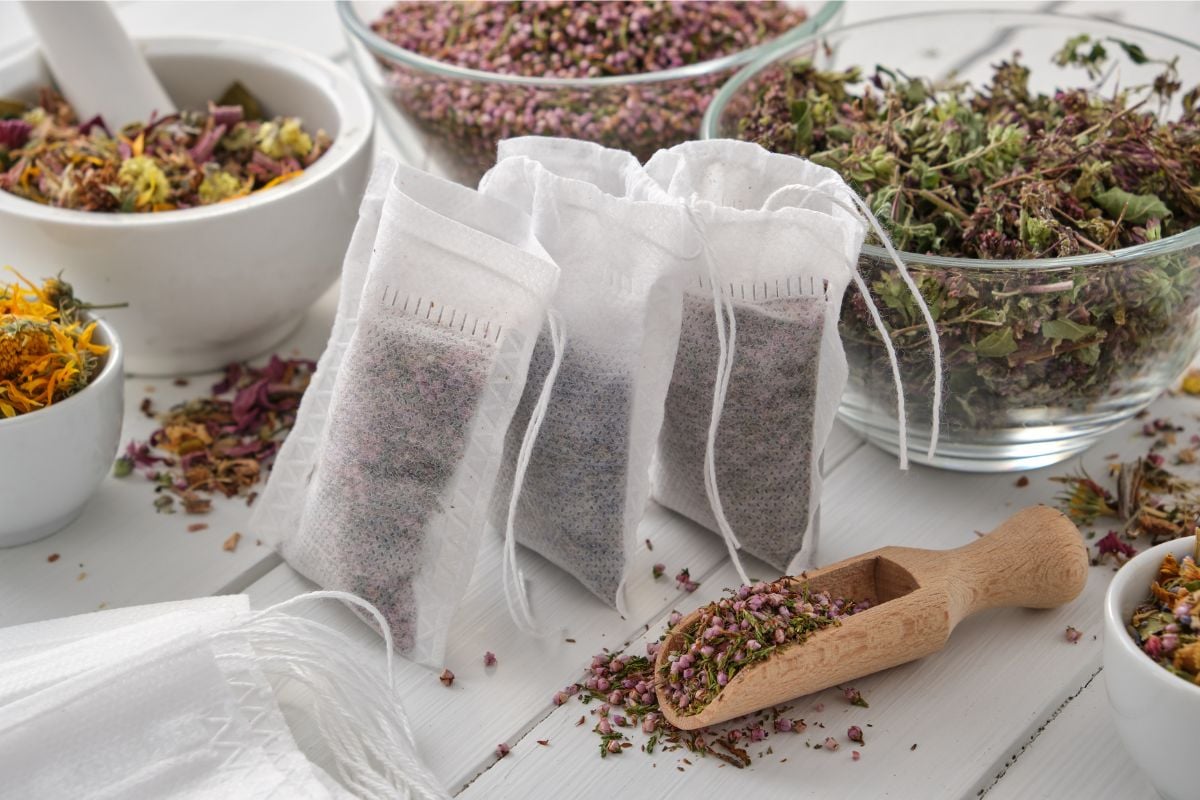 This post may contain affiliate links. To read our affiliate policy, click here.
It is common knowledge that loose leaf tea, made and consumed correctly, has potential health benefits. Also, getting a cup of tea with a colleague or an acquaintance may help break the ice and build bridges. Ultimately, drinking tea causes a warm, cozy feeling and predisposes the parties involved to having a pleasant conversation. To save time, instead of brewing loose leaf tea, many have turned to pre-packaged tea bags. However, the question arises: are tea bags safe for your health, especially if used on a regular basis?
Indeed, tea bag particles inevitably get into your body when the tea steeps in hot water. Therefore, in this post, I will share my findings on the safety of the materials generally used to make tea bags so that as a tea drinker you can make an informed decision regarding using tea bags in your tea-drinking routine. In addition, I will reveal some results of my unprecedented tea bag investigation involving 20 plus popular tea brands.
Are Tea Bags Bad For You?
Right off the bat, I can tell you that I do not feel comfortable with tea bags, particularly plastic tea bags (as well as plastic coffee filters, for that matter). Personally, I do my best to minimize plastic usage for several reasons, some of which I address in my post about plastic plates.
When it comes to plastic tea bags research, McGill University, Canada conducted a study whose objective was to find out whether plastic tea bags release microplastics and nanoplastics into beverages during brewing. First, the researchers simulated brewing tea using four different commercial plastic tea bags (emptied of tea leaves). Then, with the help of electron microscopy, they discovered that at brewing temperature a single plastic tea bag released about 11.6 billion microplastic and 3.1 billion nanoplastic particles into the hot water. Reportedly, these levels were thousands of times higher than those discovered previously in other foods (source).
At the same time, there may be potentially unsafe substances in all single use tea bags, including plastic-free plant-based and paper tea bags. Indeed, frequently plant-based tea bags are made of corn, and we cannot know for sure if it is GMO corn or not. Plus, there may be some additional materials, such as adhesives and chlorine.
Hence, in my opinion, "safer" tea bags would be completely plastic free, non-GMO plant-based, chlorine-free tea bags without chemical sealants. However, I would not venture to declare them the "safest" due to the potential presence of unknown ingredients (e.g., formaldehyde).
If you are a dedicated tea drinker, keep reading to see several safe alternatives to potentially unsafe tea bags.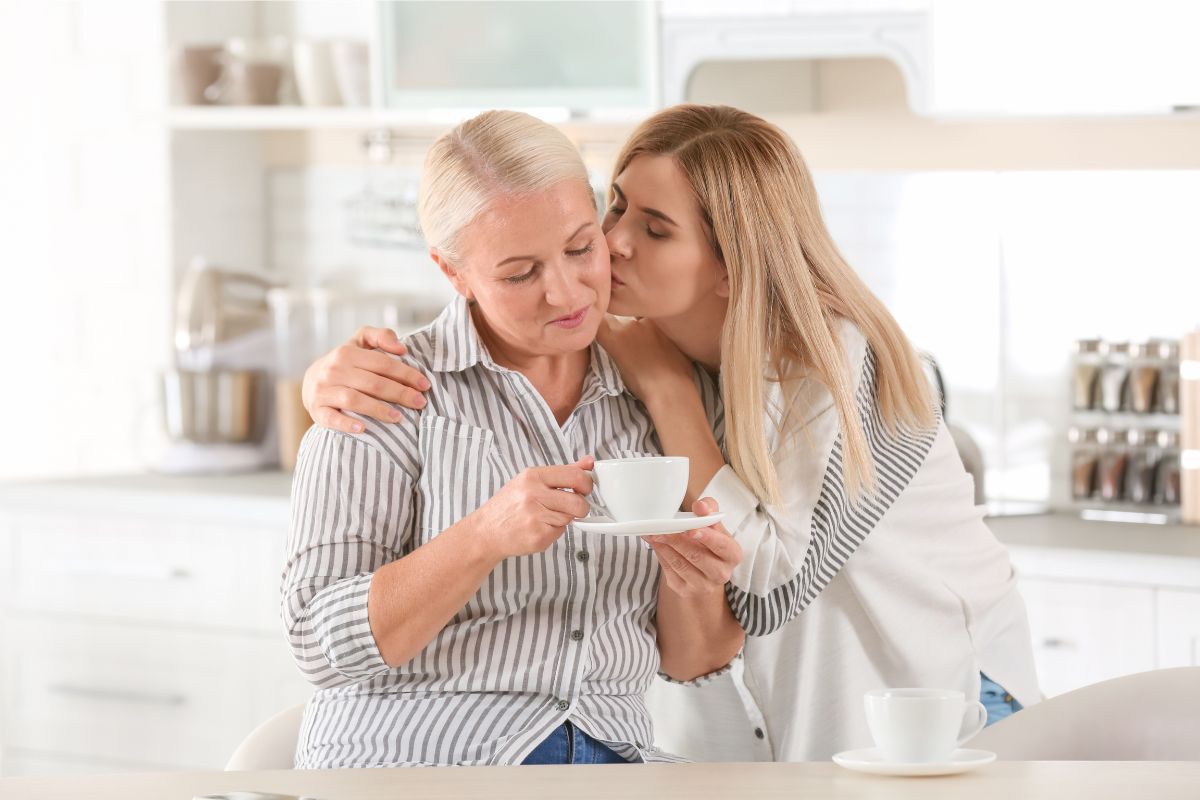 What Are Tea Bags Made Of?
Plastic
The types of plastic often used to make tea bags are polyethylene terephthalates (PET) and polylactic acid (PLA), a thermoplastic monomer derived from corn starch or sugar cane.
This study on occurrence, toxicity and remediation of polyethylene terephthalate plastics says that:
… plastic uptake in humans may happen by volitional swallowing, leading to the worst scenario: gastrointestinal obstruction, mental sicknesses, asthma, allergy, and chronic pneumonia (Yaka et al. 2015). Microplastics consist of additives and monomers, reported as endocrine disrupters (Vethaak and Leslie 2016; Othman et al. 2021).
And this study on potential effects of microplastics on human health concludes that:
Not enough information is available to fully understand the implications of microplastics for human health; however, effects may potentially be due to their physical properties (size, shape, and length), chemical properties (presence of additives and polymer type), concentration, or microbial biofilm growth.
Although PLA is better than PET, I wouldn't use it for tea bags due to concerns of plastic particles ingestion, especially if it's made from corn which is most likely GMO. (Conversely, non-GMO sugarcane PLA used in an organic crib mattress is fine.)
GMO Corn
Plastic-free tea bags are usually made of genetically modified corn. While there is debate about the effects of GMO plant sources on human health, I Read Labels For You chooses not to use or recommend products made with GMO plant-based ingredients. The main reason for that is potentially carcinogenic glyphosate herbicide, used on GMO crops (learn more here). I suggest avoiding plastic-free GMO plant-based tea bags, so you don't end up with glyphosate residues in your cup of tea.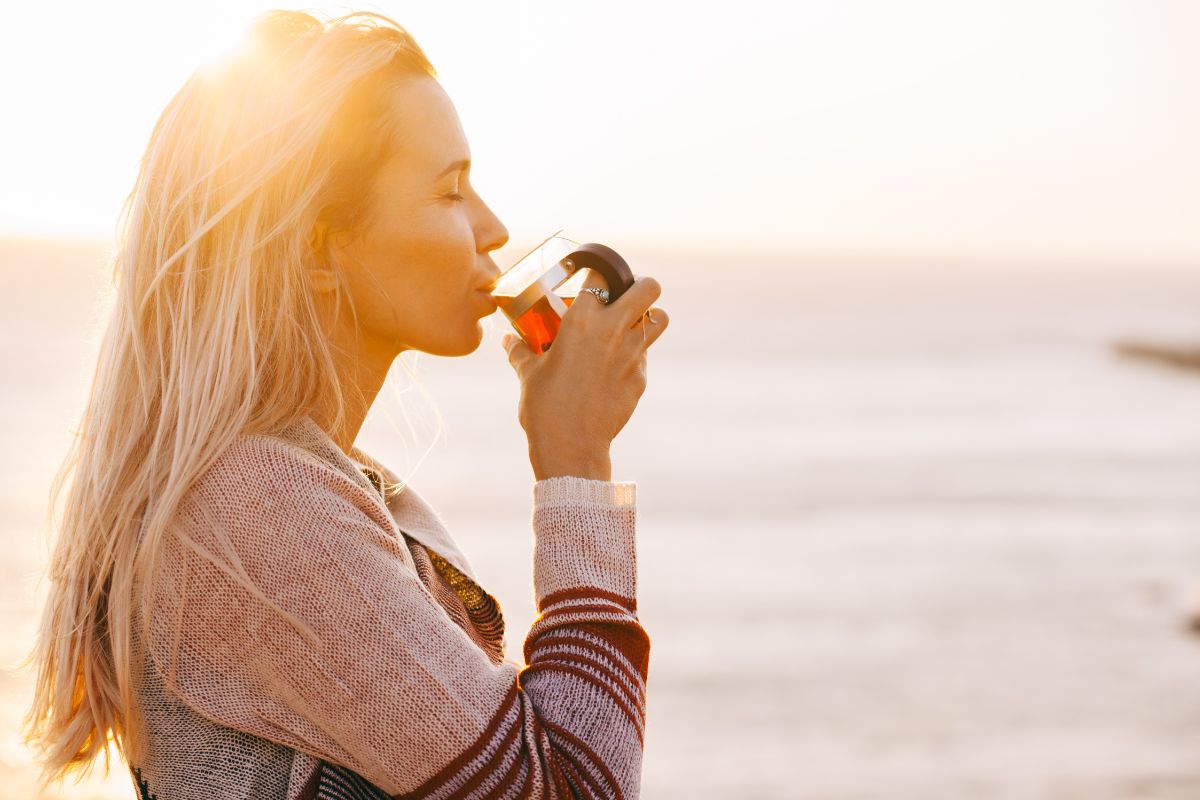 Other Plant-Based Materials
There are completely plastic-free tea bags that consist of non-GMO, chlorine-free, and chemical-free materials, such as abaca and wood pulp. Safety-wise, these types of tea bags are better for you than those made of plastic or GMO plant-based materials. Yet, I have some concerns about their safety because of the potential presence of unknown substances that you cannot see on the label. As I've mentioned before, the presence of formaldehyde (which is toxic) would not read on the label, but because it occurs naturally in wood, it could be a contaminant.
Furthermore, when I reached out to dozens of bagged-tea brands, some were more forthcoming than others about these unknown ingredients. At the end of the day, you cannot entirely trust the labels and company responses. So, I recommend tea drinkers avoid using tea bags on a regular basis.
For a list of the worst to best tea bag options based on my research of 25 popular tea brands, sign up for my email to receive the 2023 results. As a sneak-peek, two of the brands that, in my opinion, use the "worst" materials for their tea bags are Adagio and Tea Forte. To learn our opinion about Lipton, Numi, Sipology, Teavana and many others, click here.
Tea Bag Materials Side Effects
First, as you remember, scientists from McGill University, Canada discovered that at brewing temperature a single plastic tea bag released about 11.6 billion microplastic particles and 3.1 billion nanoplastic particles into the hot water (source). Hence, if you use plastic tea bags, exposure to microplastics is potentially hazardous for your:
Digestive system (including cancer)
Reproductive system
Respiratory system (source)
Second, I haven't found studies conducted specifically on plastic-free GMO corn-based tea bags. However, animal studies on consumption of GM foods reveal increased risks of:
Organ damage (including liver and kidney)
Abnormal allergic reactions
Enlarged lymph nodes
Digestive disturbances
Altered gut bacteria
Stomach inflammation and heavier uteruses (source)
Of course, using a tea bag made of a GMO material is not the same as eating GM foods, but I would refrain from its regular use anyway.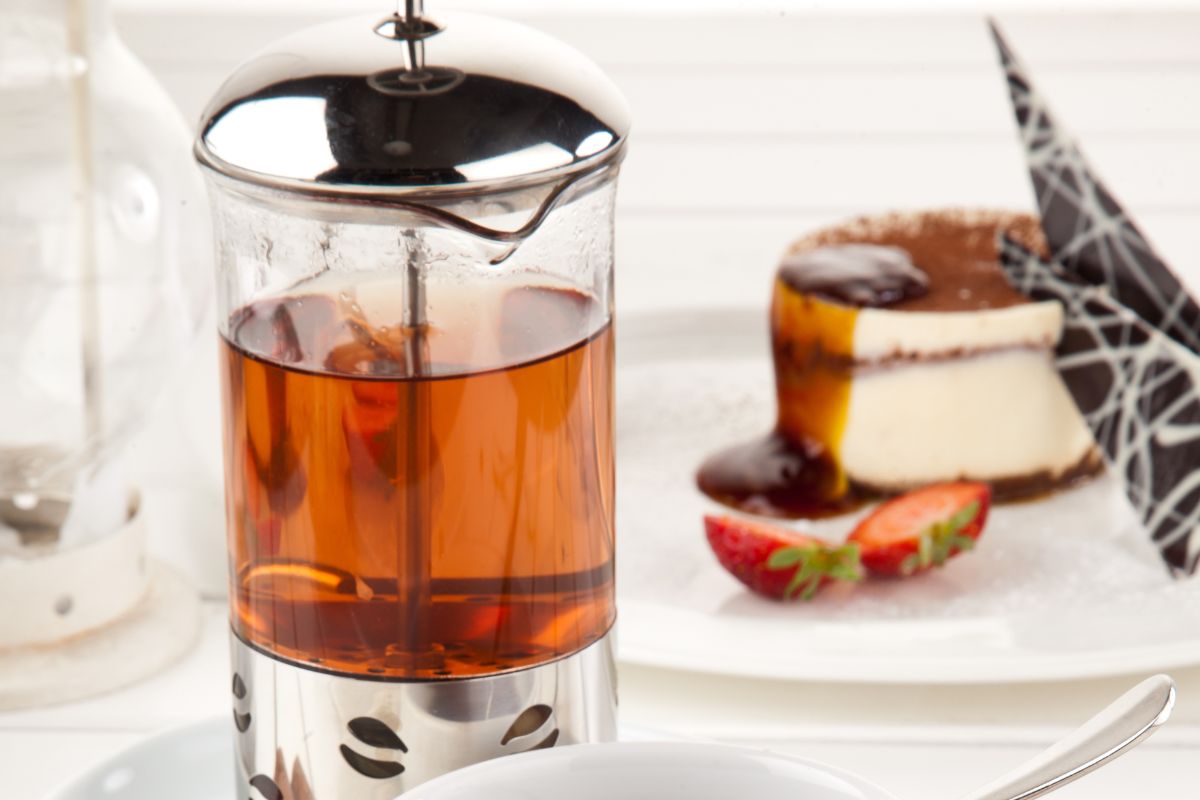 Alternatives To Tea Bags
Loose Leaf Tea
Instead of buying your tea pre-bagged, consider portioning it yourself into a stainless-steel mesh filter. It's a few more steps, but you will likely find that your completely plastic free loose leaf, non-toxic cup of tea tastes better than a plastic tea bag alternative.
To brew your own loose leaf tea, e.g., green tea, boil water in a non-toxic tea kettle (find the newest options in IRLFY Amazon Shop) and bag the appropriate amount of tea leaves into a stainless steel strainer or French Press. Most loose-leaf tea companies show the right measurement on the packaging (between 1 tsp – 1 TB) as well as the duration of the steeping process. Pour the hot water over the leaves, let them steep for the allotted time, and then enjoy drinking tea.
After you make it several times on your own, it will become second nature. However, if the tools and time are not something you have at your disposal, consider Pique instant powdered tea instead.
In my opinion, Pique tea is the best way to get a cup of tea quickly with none of the health risks that may come from the packaging materials. Indeed, Pique tea is bag-free and comes as USDA-certified organic tea powder that you simply dissolve in boiling water. What could be easier?!
The one downside is the plastic sachet the powder comes in. Though there is no risk of ingesting the pouch microplastics in this scenario, which is a plus, the fact the plastic is not recyclable is disappointing. According to Pique, dozens of tests have confirmed that their teas do not contain any packaging residue. This agrees with the notion that plastic particles rarely leach into dry contents when the substance is fine and soft like the Pique powder.
Pique has also conducted triple toxin screenings to ensure none of their teas include detectable levels of mold, heavy metals, and pesticides. As for the matcha, test results for radioactive elements reflected in the Certificate of Analysis reveal that the levels are below Pique's own very strict standards.
I have tried and enjoyed the following flavors by Pique:
Conclusion About Tea Bags
Both Plastic And Plant-Based Tea Bags Are Unsafe And It Is Better To Use Tea Powder Or Tea Leaves As An Alternative.
While drinking tea presents certain benefits, regular use of tea bags made from unsafe materials can potentially have serious health consequences over time. Avoiding tea bags can ensure your tea drinking experience stays optimally beneficial, without the risk. Also, make sure you consume clean filtered water. (Find out which water filter system I recommend and why I don't recommend alkaline water.)
Personally, as a tea drinker, I either brew organic loose leaf tea using a stainless-steel mesh filter or strainer, or, to save time, use Pique instant tea powder.
For more non-toxic product recommendations and ingredient analyses, browse the I Read Labels For You blog. It is my goal to equip you with the necessary information to keep your home free of toxic products.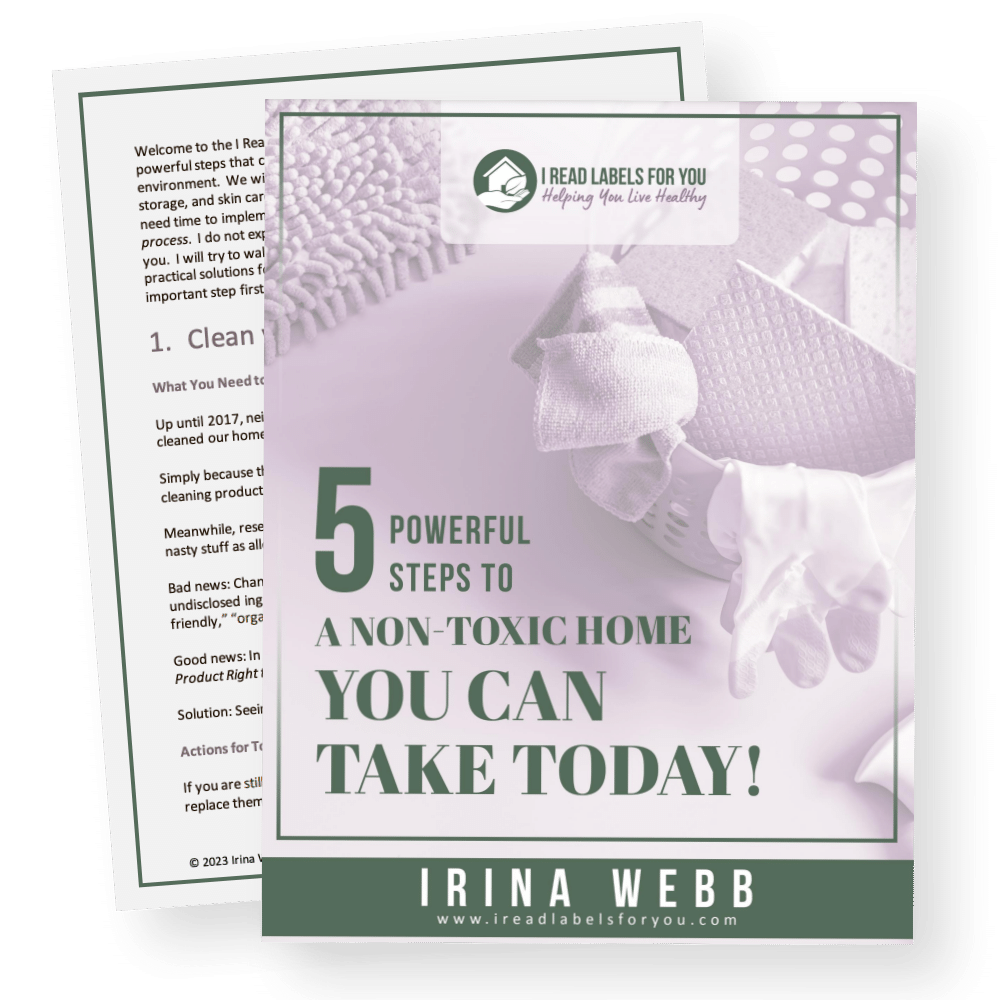 Download The Free Guide!
5 Powerful Steps To A Non-Toxic Home
Join our informed consumer community and get our free guide the "5 Powerful Steps To A Non-Toxic Home".