Physicians Formula Foundation Ingredients Review
This post may contain affiliate links. To read our affiliate policy, click here.
On hearing the word "makeup," do you first think of eyeshadow, mascara, and lipstick, or do you envision liquid foundation? One way or another, my makeup is definitely incomplete without my liquid foundation. Besides safety, I appreciate it when foundation matches my skin tone and spreads well. I also like it when it evens out my skin tone without making it obvious that I am wearing makeup. The good news is that I have already found a non-toxic foundation that I use, like, and recommend. So, stay with me to find out what it is. For now, let us talk about Physicians Formula foundation because many of you have asked me about it. Although the ingredient list for Physicians Formula The Healthy Foundation is long, I will walk you through it. Once you get into my process of gauging the safety of a cosmetic product, you can apply it, too!
I have been reading ingredients for almost a decade.
First of all, I have been in the business of reading product ingredients, including skincare and makeup, since 2012. It used to be my hobby, but now it is a full-time occupation about which I am rather passionate. Believe it or not, I enjoy diving into scientific publications and cosmetic reports to dig up golden nuggets about ingredients. My goal is to educate you so that you can make informed decisions about products based on scientific facts, not on hype, advertisement, or fear.
Hence, I go to various chemical databases (ECHA, OSHA, EWG) and study federal regulations (EPA, FDA, CPSC). Additionally, I check the latest conclusions of medical organizations (WHO, CDC, ACDS) and enroll in paid courses on toxic substances. Moreover, Myrto Ashe, MD, MPH, IFMCP reviews medical-related claims in my posts. To see which posts she has reviewed so far, please look for her name under the post headings.
As a result of all this work and research, I have worked with retail companies to help them vet products. I have also been an ingredient adviser for beauty product manufacturers. In addition, I appeared in a documentary that you can learn about here, and received a green beauty blogger award. Plus, you can enjoy my e-books and join the Savvy Consumer Circle to become a savvy consumer and have fun.
Physicians Formula foundation ingredients
As of April 15, 2021, the ingredients in Physicians Formula The Healthy Foundation SPF 20 are as follows:
We will talk about the ones that are in bold font. Namely, we will discuss sunray filters, ethoxylated ingredients, colorants, preservatives, retinyl, and some controversial ingredients, such as cyclopentasiloxane and BHT.
Octinoxate in Physicians Formula The Healthy Foundation SPF 20 does not protect from UVA.
To begin, octinoxate in the Physicians Formula foundation protects ONLY from ultraviolet B (UVB) rays, not from ultraviolet A (UVA). While UVB has a shorter wavelength and causes skin burning, UVA has a longer wavelength and causes skin aging (source). Because UVA radiation does not burn the skin like UVB, UVA rays can negatively affect us without our knowledge.
Next, the sun protection factor (SPF) value does not protect you from UVA. Rather, it simply indicates how long you can stay in the sun without burning your skin. Say your skin normally burns after 15 minutes in the sun. How long can you stay in the sun without burning your skin with your SPF 20 foundation on? Multiply 15 by 20 and get 300 minutes, or five hours. Again, the SPF value does not take into consideration the effects of dangerous UVA radiation.
Additionally, studies show that octinoxate penetrates the skin, can be found in mother's milk, and may have weak hormone-mimicking effects. However, more research is needed to determine its long-term health effects on humans (source and source).
The other two chemical UV filters in some shades – octocrylene and avobenzone – seem to be relatively okay. However, I have not seen any sunscreen that uses them without a more stable UV filter, such as octinoxate. So, I stay away from chemical filters and use mineral UV filters which protect from both kinds of radiation. To find the safest sunscreens, read my Face Sunscreen Guide.
Cyclopentasiloxane is a controversial ingredient.
Commonly known as D5, cyclopentasiloxane in Physicians Formula The Healthy Foundation SPF 20 is a controversial ingredient. On the one hand, scientists observed carcinogenic effects only after 12 months of exposure to high doses. This does not seem applicable to products used topically, such as Physicians Formula foundation.
On the other hand, the European Scientific Committee on Consumer Safety suggests that cyclopentasiloxane may contain trace amounts of cyclotetrasiloxane. The European Union considers cyclotetrasiloxane an endocrine disruptor because it interferes with human hormone function and human fertility. Hence, the SCCS Opinion encourages manufacturers to keep the level of cyclotetrasiloxane impurity as low as possible. Moreover, cyclopentasiloxane is suspected of being an endocrine disruptor itself (source).
You can learn more about cyclopentasiloxane safety in my post about this ingredient. Because of this impurity concern, I do not use any products on my body with this ingredient.
There are ethoxylated ingredients and ingredients with no safety data in the Physicians Formula foundation.
For starters, ingredient names with the words 'PEG', 'PPG', 'sorbate', and suffix '-eth' indicate ethoxylated ingredients (source). Physicians Formula The Healthy Foundation SPF 20 lists PEG-10 Dimethicone, Cetyl PEG/PPG-10/1 Dimethicone, and Dimethicone/Bis-Isobutyl PPG-20 Crosspolymer.
Ingredients with these identifiers result from the process of ethoxylation. In this process, carcinogenic ethylene oxide reacts with other ingredients to make them less harsh on the skin. One of the minuses is 1,4-dioxane that appears as a byproduct of this reaction. Thus, the US Environmental Protection Agency (EPA) has classified 1,4-dioxane as "a likely human carcinogen" (source). Also, FDA studies suggest that 1,4-dioxane can circulate in the human body after getting there through the skin.
Unless the manufacturer handles 1,4-dioxane properly, it remains in a product as a contaminant, but not as an ingredient. So, in a way, it can be one of the hidden ingredients in body products.
As consumers, we cannot know if there is any 1,4-dioxane in skincare products we buy. Moreover, the companies that sell the products may not know either. While I am not saying that there is 1,4-dioxane in the Physicians Formula foundation, I want you to know about the possibility.
Ingredient with no safety information
Unfortunately, the law that governs ingredients in cosmetic products works by the principle "use first – study later." Consequently, many cosmetic products contain ingredients that have limited health and environmental data or no safety data at all. Thus, I could not locate any safety data for the following ingredient in this foundation: Acrylates/Polytrimethylsiloxymethacrylate Copolymer.
One of the preservatives in Physicians Formula The Healthy Foundation is phenoxyethanol.
It is important to note that phenoxyethanol is not the worst preservative used in skin care and personal care products. I call phenoxyethanol a "middle of the road" preservative. In other words, switching to products with phenoxyethanol from ones with methylchloroisothiazolinone and methylisothiazolinone is definitely an improvement.
The good news is that there are no links between phenoxyethanol and cancer or endocrine disruption. Yet, because it is made by reacting highly corrosive phenol with carcinogenic ethylene oxide, it may contain residues of both. Additionally, the American Society of Contact Dermatitis lists phenoxyethanol among core allergens even in concentrations as low as 1% (source).
To learn more about this preservative, consider reading my post about phenoxyethanol.
Aluminum hydroxide, retinyl palmitate, and BHT have potential health concerns.
A scan of the Physician Formula foundation ingredients drew my attention to three additional ingredients that I find concerning. They are aluminum hydroxide, retinyl palmitate, and BHT.
First, aluminum hydroxide is a form of aluminum that can penetrate the skin. As a heavy metal, it can accumulate in the body, contributing to what scientists call "body burden." The latter potentially increases the risk of health problems. Plus, there is evidence that aluminum in sunscreens may increase the risk of oxidative damage in the skin (source).
Second, retinyl palmitate is vitamin A carried in palmitic acid. While it can be a good ingredient in your night cream, it is not the best for day skin care. Indeed, animal studies show that retinyl palmitate speeds up the photo-carcinogenic effects of the sun and the development of skin tumors and lesions (source). Therefore, retinyl palmitate in Physicians Formula The Healthy Foundation that you wear all day long does not seem like the best idea.
Third, butylated hydroxytoluene (BHT) is a toluene-based ingredient used as a preservative in food and personal care products. There is a lot of controversy surrounding BHT because of its suspected potential endocrine-disrupting and carcinogenic effects. For instance, this study obtained data showing endocrine disruptive effects of BHT on female rats. And this research observed increased incidences of focal alveolar histiocytosis and various nonneoplastic lesions of the liver in rats and mice that may be related to the administration of BHT.
Physicians Formula foundation uses mineral colorants.
I always look at the bottom of the ingredient list first to see what type of colorants it enumerates. Thus, mineral colorants are better than synthetic (petroleum-based) colorants. The main reason is that they have no contaminants typical of crude petroleum, such as carcinogenic and endocrine disrupting PAHs.
The good news is that Physicians Formula The Healthy Foundation uses mineral pigments, namely, iron oxides and titanium dioxide.
But the bad news is that both synthetic and mineral colorants may contain trace amounts of heavy metals. The FDA specifies limits for only three heavy metals for each colorant (in Europe, the list is longer). However, the only way to confirm that the heavy metals are within FDA limits is to conduct third-party testing. Otherwise, as consumers, we can only rely on what companies tell us. To make matters worse, manufacturers may also just rely on what their suppliers tell them instead of testing each batch.
It is unclear what country the colorants are sourced from and if they are within FDA limits for heavy metals.
When third-party test results are not available, I feel more assured about the colorants that are NOT made in China. High background levels of environmental pollution in China increase the risk of heavy metal contamination of products and ingredients. Moreover, Chinese environmental and manufacturing regulations are not as strict as, say, European ones.
So, I always contact cosmetic companies to find out the country of origin of their colorants and their test results. On April 7, 2021, I submitted my questions on the Physicians Formula foundation website and received the following response:
As you can see, they did not respond to my specific questions. Should I assume that Physicians Formula The Healthy Foundation mineral pigments are from China and have not been tested for heavy metals? What do you think? Let us know in the comments below.
Because of this uncertainty, I prefer to use mineral cosmetics that do not use mineral pigments from China. That is why my favorite heavy-metal-safe non-toxic makeup company is Crunchi. I have been using their products for several years now and cannot be happier. Besides, if I were to develop my own line of cosmetics, it would be very similar to Crunchi. I have worked with the company co-founder closely, and the company earned my trust. So, if you are looking for safe and effective skincare and makeup products, I highly recommend checking out Crunchi. You can start with a foundation sample card.
Conclusion about Physicians Formula foundation
In conclusion, I believe Physicians Formula The Healthy Foundation SPF 20 is not the worst product I have seen. However, it is not good enough for me to recommend it to you. I would not use it on my skin either. Indeed, it contains ingredients of concern, such as cyclopentasiloxane, octinoxate, phenoxyethanol, ethoxylated ingredients, and BHT. Also, we do not know if the mineral pigments in this foundation have been tested by a 3rd party for heavy metals.
On the plus side, they have many shade options. So, if you feel like you need more shade choices, you can check out Beautycounter. But my very first choice and recommendation is Crunchi non-toxic makeup and skincare products. By the way, you can read my review of their non-toxic liquid foundation.
Feel free to hire me to get help with choosing makeup, skincare or with any other questions about non-toxic living. Check out my shop for numerous options of healthy products. And join the Savvy Consumer Circle to become a part of an expanding supportive community of savvy consumers.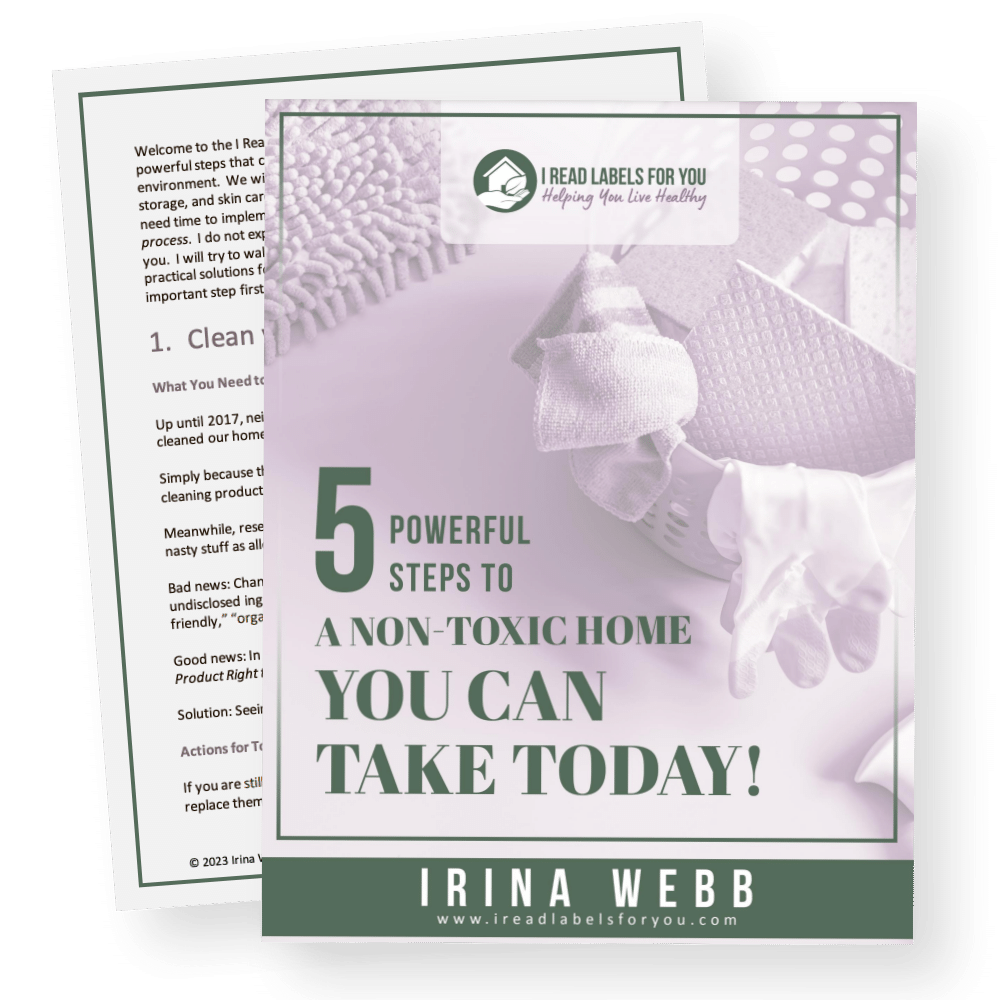 Download The Free Guide!
5 Powerful Steps To A Non-Toxic Home
Join our informed consumer community and get our free guide the "5 Powerful Steps To A Non-Toxic Home".