Non-toxic Eyeliner: Why This One?
This post may contain affiliate links. To read our affiliate policy, click here.
I'm so happy that my favorite non-toxic makeup brand Crunchi came out with a non-toxic eyeliner. Before we delve into the ingredients of this pencil eyeliner, let me tell you why Crunchi is my favorite makeup brand.
Why I like Crunchi makeup
We know from some independent studies and the FDA website that makeup ingredients that produce color may have trace amounts of heavy metals. Because of these contamination risks, some makeup brands claim that they test their colorants for heavy metals. However, when I ask them for test reports or even specifics of their testing such as what heavy metals they test for, I rarely get reassuring answers. Normally, even non-toxic makeup brands tell me that this is proprietary information.
In the absence of testing evidence, I started asking from which country their colorants come, hoping to avoid China because it has high levels of background pollution and its laws are lenient. Unfortunately, it is not easy to find makeup products made without pigments from China. Luckily, Crunchi bans Chinese pigments in all their products, including its non-toxic eyeliner. In addition, Crunchi sources its ingredients by choosing the safest ingredients from among those that have proven to perform well.
The ingredients of Crunchi non-toxic eyeliner
Now, let's delve into each ingredient of the Crunchi pencil eyeliner. Here they are:
Trioctyldodecyl Citrate, Brassica Campestris Aleurites Fordi Oil Copolymer, Euphorbia Cerifera (Candelilla) Wax, Jojoba Esters, Polymethylsilsesquioxane, Isododecane, Dimethicone, Helianthus Annuus Seed Cera, Shorea Robusta Resin, Rhus Verniciflua Peel Cera/Rhus Succedanea Fruit Cera, Ascorbyl Palmitate, Copernicia Cerifera (Carnauba) Wax*, Ricinus Communis (Castor) Seed Oil*, Persea Gratissima (Avocado) Oil*, Sesamum Indicum (Sesame) Seed Oil*, Zinc Stearate, Kaolin, Citrus Aurantium Dulcis (Orange) Peel Wax*, Silica, Phenethyl Alcohol, Ethylhexylglycerin, Rosmarinus Officinalis (Rosemary) Leaf*, Lavandula Angustifolia (Lavender) Flowers*, Tocopherol, May Contain (+/-): Mica, Titanium Dioxide CI 77891, Iron Oxide (CI 77491, CI 77492, CI 77499)
*Organic Ingredients
For your convenience, I've grouped the ingredients of this non-toxic eyeliner a bit differently from the way they are listed. Another thing to know is that I tend to be more lenient in my requirements for an eyeliner safety as opposed to other cosmetics. It is because an eyeliner covers only a very small area of our skin. But what really gives me peace of mind with this pencil eyeliner is that all its ingredients are safe.
Trioctyldodecyl citrate and brassica campestris/aleurites fordi oil copolymer
A patch test on 105 people showed that trioctyldodecyl citrate is neither an irritant nor a sensitizer. It is made by mixing citric acid and octyldodecanol, both of which are safe in cosmetics. Natural lipsticks are a common utilizer of this ingredient. For example, Mineral Fusion, an EWG Verified brand, uses it in their lipsticks (source).
Brassica campestris/aleurites fordi oil copolymer is a biodegradable polymer made of rapeseed oil and tung oil. I believe that both oils are safe to use in a natural eyeliner.
Waxes in this pencil eyeliner
Crunchi did their best to find safe waxes that are free of petroleum and beeswax so this non-toxic eyeliner can be vegan and cruelty-free.
As for the euphorbia cerifera (candelilla) wax, the EU permits its use as a glazing agent for apples. It is derived from a shrub native to Mexico.
The helianthus annuus seed cera is a wax obtained from sunflowers.
Berries that grow in Japan and China are a source for the rhus verniciflua peel cera/rhus succedanea fruit cera (source).
The organic citrus aurantium dulcis (orange) peel wax is made of sweet orange peel (source).
Simmondsia chinensis (jojoba) esters Jojoba oil is different from other common plant oils. It is composed almost completely (97%) of wax esters of monounsaturated, straight-chain acids and alcohols with high molecular weights. This makes jojoba oil and its derivative – jojoba esters – more similar to sebum than to traditional vegetable oils (source).
Shorea robusta resin is a resinous substance from the Shorea robusta tree.
Thus, as you can see, Crunchi uses only safe vegan waxes of natural origin in its pencil eyeliner.
Other ingredients in the Crunchi non-toxic eyeliner
In short, these ingredients are helpful to improve the performance of the Crunchi best eyeliner.
Polymethylsilsesquioxane and isododecane
Polymethylsilsesquioxane is a silicone and a common ingredient in cosmetics. According to the 2017 Cosmetic Ingredient Review report, it has not been found to be an irritant or sensitizer or mutagenic. The EWG Skin Deep database gives it a rating of 1 (on a scale from 1 to 10, with 10 being the most toxic).
Isododecane is an ingredient which you can see in a lot of makeup products, including EWG Verified lipsticks. According to the 2012 CIR report, in an ocular acceptability study, ten people evaluated a mascara containing 63.7% isododecane. They applied it to their eye lashes once daily for five days, and there was no evidence of ocular irritation. When the test procedure was repeated in another study (same product, 50 females) over a 4-week period, an ocular irritation rate of 0.04% was reported. But again, the concentrations were very high, much higher than those in the Crunchi pencil eyeliner. Isododecane is not mutagenic or sensitizing.
Dimethicone and zinc stearate
Dimethicone is a silicone oil. When I wrote a comprehensive post about dimethicone, I concluded that it is safe to use in toxin free makeup.
As for zinc stearate, the CIR Expert Panel reviewed acute oral studies indicating that it was practically non-toxic. It means that it is safe to use zinc stearate in this non-toxic eyeliner.
Kaolin, silica, tocopherol and ascorbyl palmitate in this natural eyeliner
Kaolin is a naturally occurring clay.
Silica (aka sand) acts as an anticaking agent in food with no known adverse health effects.
Tocopherol is a natural form of vitamin E. Crunchi makes sure that it is non-GMO.
Ascorbyl palmitate is a stable form of vitamin C.
Oils and other botanicals in the Crunchi pencil eyeliner
I like all the three oils in this non-toxic eyeliner – ricinus communis (castor) seed oil, persea gratissima (avocado) oil, and sesamum indicum (sesame) seed oil. The oils as well as the botanicals – rosmarinus officinalis (rosemary) leaf and lavandula angustifolia (lavender) flowers – are organic, which I like immensely.
Preservatives in the Crunchi eyeliner
Phenethyl alcohol is one of the preservatives in this natural eyeliner. The World Health Organization expresses no safety concerns regarding the use of phenethyl alcohol as a food flavoring at current doses. It is a component of several natural essential oils, foods, spices, un-distilled beers and wines. Scientists find it to be neither an irritant nor a sensitizer in human studies (source).
Another preservative is ethylhexylglycerin. It is a common preservative and a safer alternative to parabens and phenoxyethanol. Ethylhexylglycerin has no risks associated with cancer, endocrine disruption, or reproductive toxicity (source). Despite its wide use, researchers have found it to be a rare allergen at a concentration of 5% (source).
Mineral pigments in the Crunchi non-toxic eyeliner
The pigments in this eyeliner are mica, titanium dioxide, and iron oxides (CI 77491, CI 77492, CI 77499).
As we discussed earlier, I like the fact that mineral pigments in this pencil eyeliner are not from China. Iron oxides are also EcoCert-certified, further decreasing any meaningful heavy metal contamination risks.
Generally, there are two types of colorants in makeup. The first type is organic pigments or dyes meaning that they contain carbon compounds because they are derived from petrochemicals. In other words, the term "organic" is a reference to organic chemistry as opposed to being USDA "certified organic." The second type consists of inorganic mineral pigments. Both types may contain traces of heavy metals as detailed in Federal regulations. Please see FDA 21 CFR for further details.
In addition to heavy metal contamination, organic pigments and dyes may contain traces of contaminants specific to petroleum, including carcinogenic and endocrine disrupting benzo[a]pyrene, and PAHs (polycyclic aromatic hydrocarbons). That's why I recommend makeup brands that use only mineral pigments.
Notes on performance of the Crunchi eyeliner
The non-toxic eyeliner is retractable, which I like. Pencils that need sharpening do not work very well for me. I also like the fact that it provides a natural eyeliner look. If I use a little bit, my eyes look more defined, without making it obvious that I wear makeup. The eyeliner is buildable, meaning that if you need more definition, you can apply a few layers. And finally, it comes with a built-in smudger, which makes it handy if you are up for a smoky-eye look.
Conclusion about the non-toxic natural eyeliner
In conclusion, judging by its safe ingredients and performance, I believe it is the best eyeliner I have found so far.
You can buy the Crunchi pencil eyeliner on the Crunchi website.
In addition, you can find the review of other Crunchi products that I like in my Crunchi Non-Toxic Makeup Review post. Also, you can learn more about its skincare in the Hydrating Face Moisturizer That Binds Water post.
I want to close by saying that I will keep asking makeup companies about the origin of their mineral pigments as well as their test reports. And I encourage you to do the same. I whole-heartedly believe that the more there are of us who contact makeup brands and ask questions, the safer and more transparent they will become. And there is some evidence of positive changes.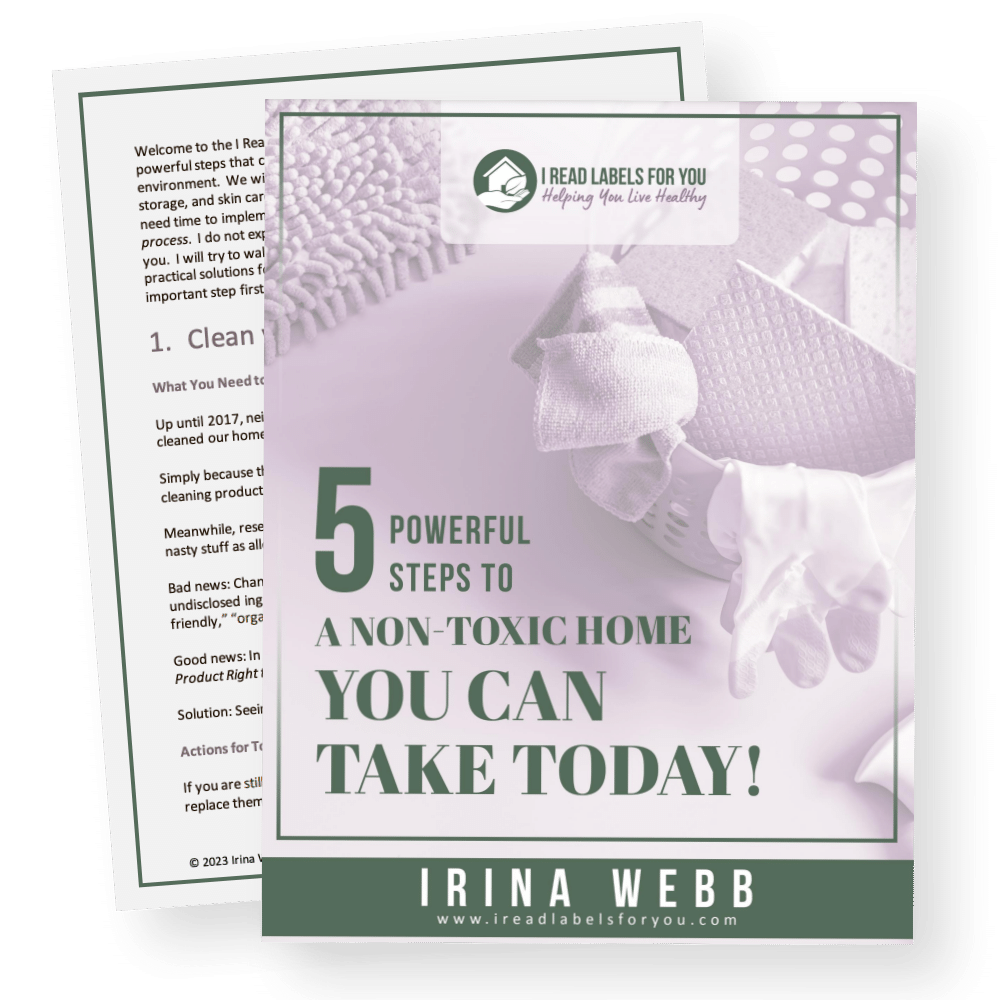 Download The Free Guide!
5 Powerful Steps To A Non-Toxic Home
Join our informed consumer community and get our free guide the "5 Powerful Steps To A Non-Toxic Home".