This post may contain "affiliate links." This means if you click on the affiliate link and purchase the item, I'll receive a commission. I disclose this in accordance with the Federal Trade Commission's 16 CFR, Part 255. I only recommend products that passed my strict criteria. Read about my research methods in the Start Here page.
If you type OWAY hair color in Google, you will see that the word "organic" appears multiple times. In fact, OWAY stands for Organic Way: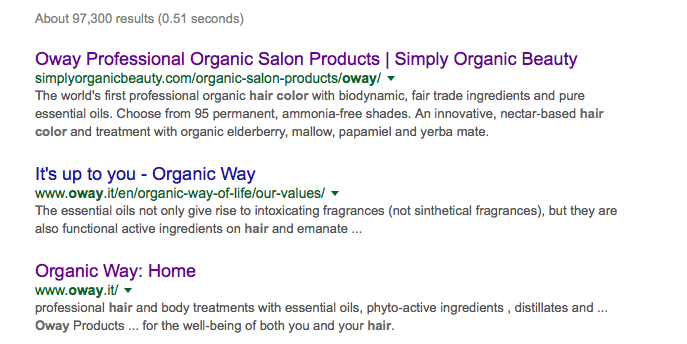 When you proceed to the website, you will see claims that OWAY Hair Color is made with certified organic, biodynamic and fair trade ingredients.
Moreover, they claim that the ingredients are even better than organic.
In fact, they claim that the active ingredients of OWAY Hair Color are just 6 plants.
I know what you are thinking. You are thinking it is about damn time somebody came up with organic hair color made with perilla, cotton, date, hibiscus, jojoba, and wheat as active ingredients! It is basically farm to table or in this case hair to chair. They actually said that too.
When I first started looking for safer products, I realized two things. First, it is up to us consumers to figure out which products are safe – nobody is going to do it for us. Second, in order to understand if marketing claims are truthful, we consumers have to understand how products are made. We consumers have to know as much as manufacturers do.
I have learned that to work, permanent hair colors (or dyes) such as OWAY Hair Color have to have chemicals that open up hair cuticles and push mineral pigments and petroleum dyes into the hair.
The chemicals that open up cuticles are either Ammonia or Ethanolamine. The permanent hair dyes include p-phenyldiamine (PPD), toluene-2, 5-diamine sulfate (PPDS), resorcinol, m-aminophenol, p-aminophenol and others. Studies show that all these hair dyes may cause allergic reactions. Buyer beware!
I would call these ingredients active because they are the ones that constitute the core of permanent hair dyes. Essentially, they are what make hair dyes dyes.
By the way, none of the ingredients I listed even remotely resemble agricultural products, and thus, by definition can't be certified organic.
OWAY Hair Color Ingredients
The next step of understanding whether marketing claims are truthful is to look at the ingredients. And here they are.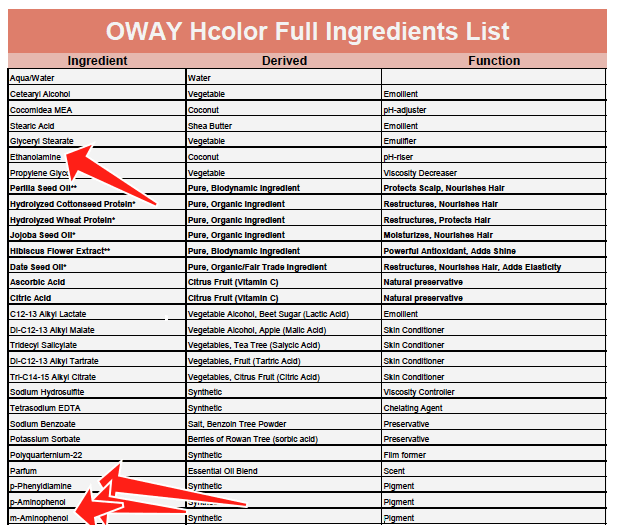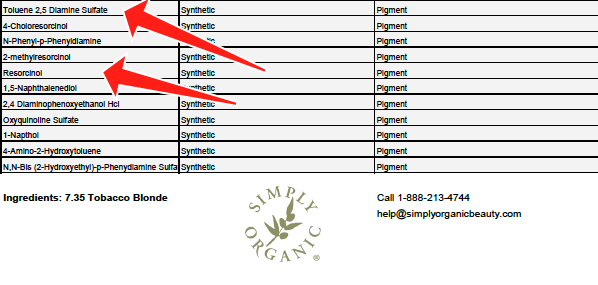 As you can see, all the ingredients we just talked about are in here. There is Ethanolamine that opens up hair cuticles and there are 14 different synthetic "pigments." These dyes are derived from petroleum. In the past, they were derived from coal tar and thus FDA still classifies these synthetic hair dyes as coal tar hair dyes.
These three things are important to know about coal tar hair dyes from the FDA itself.
"Coal-tar hair dyes do not need FDA approval.
FDA cannot take action against a coal-tar hair dye, as long as the label includes a special caution statement and the product comes with adequate directions for consumers to do a skin test before they dye their hair. This is the caution statement:
Caution – This product contains ingredients which may cause skin irritation on certain individuals and a preliminary test according to accompanying directions should first be made. This product must not be used for dyeing the eyelashes or eyebrows; to do so may cause blindness.
Even if you don't see a reaction to the skin test, it's still possible to have a reaction when you dye your hair." (Source)
Here is another safety recommendation that you might have never heard about:
"Do not scratch or brush your scalp three days before using hair dyes." (Source)
Interesting, huh?
As for cancer, you can read more about that here.
And again, the FDA does not need to test coal tar hair dyes for safety before they go on the market and the hair dye manufacturers are not required to share their safety data with the FDA. And if users of hair dye products have any problems, the FDA encourages you to contact your health care provider and file a report with the FDA.
OWAY Hair Color is a Typical Petroleum Hair Dye
Do you have chemically treated hair? Consider using these healing hair treatments!
In conclusion, OWAY is a typical hair dye with typical coal tar hair dyes that may cause allergic reactions and possibly other long-term health problems. And yes, out of 40, 6 ingredients are either organic or biodynamic. They are oils, extracts, or proteins derived from perilla, cotton, date, hibiscus, jojoba, and wheat, meant to help heal the hair after it goes through a high pH process that damages the hair. Most hair dyes have some hair conditioning ingredients. Knowing what we just discussed here, how important is it that they are organic or biodynamic? As much as I am a huge fan of organic farming, I would say, "not very." And if you have an allergy to wheat, watch out.
So now, after you read my article, I can't help but share another screenshot from their website:

To learn more about hair color products, read here:
Organic Hair Color: Buyer Beware!
Are Organic Color Systems Truly Organic?
Hairprint: Restoring Your Hair Natural Color
About My Experience with Henna
For the safest alternative I have been using over a year, head over here.
Free 5-Day Hair Color Email Course
You can learn simple techniques to choose safer permanent hair color and make informed decisions about your hair coloring, which may save you from an allergic reaction that may result in irritation, hair loss, or anaphylactic shock.
Sign up for this unprecendented 5-day email e-course today!
P.S. You will also receive 20% off on the Permanent Hair Color Rating List.