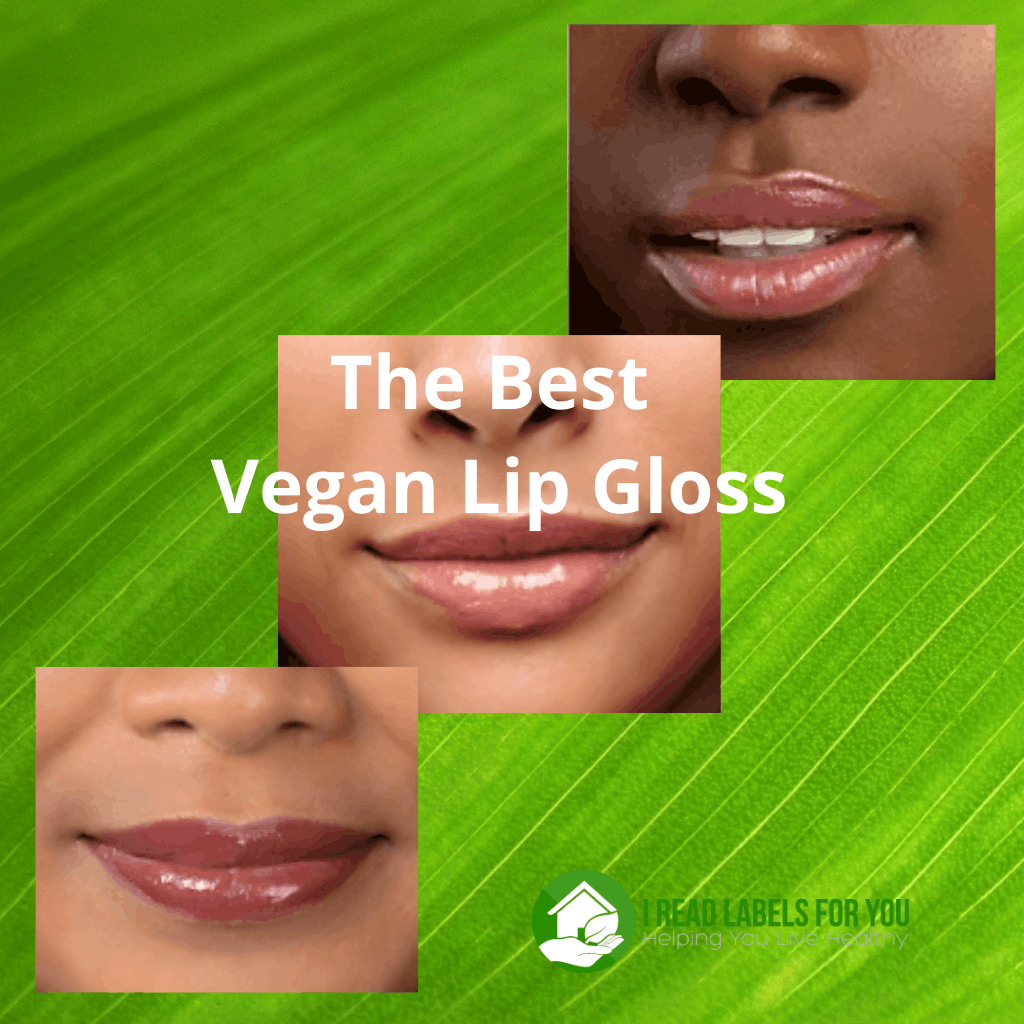 This post may contain affiliate links. To read our affiliate policy, click here.
Doesn't your lip gloss make your lips look fuller, and your face look brighter? I am glad I have found a clean beauty lip product that gives me peace of mind. Indeed, after researching every ingredient, I concluded that my new lip gloss ingredients are safe. Moreover, they are vegan, which creates an extra challenge for a manufacturer of safe cosmetic products. Personally, I am happy about how this non-toxic lip gloss performs on my lips and helps them with dryness. So, stay with me to learn more about Crunchi vegan lip gloss and its safe ingredients. For the review of 50 lip makeup products, look at the blog post Are You Using a Safe Lip Color?
I scrutinize every ingredient before passing judgement on a product.
I am a stickler for ingredients (especially if they claim to be clean beauty ingredients) for a couple of reasons. First, my dad died of cancer when he was just 57. Second, I have been diagnosed with autoimmune diseases twice in my life. The good news is that I have recovered from one of them, Hashimoto's Thyroiditis. And I am on my way to recovery from the second one, Addison's. (For details, please visit my posts Can Breast Implants Cause Autoimmune Diseases and My Health Update After Explant Surgery.)
My first encounter with product ingredients was in 2011 when I was expecting my son. I remember being very surprised to see long names of chemical ingredients on a "natural" baby shampoo bottle. So, I began learning about ingredients and how products are manufactured.
Eventually, it turned into my passion and mission to help you free your home of chemicals. Health improvement is one of the potential benefits of cleaning your home from toxic substances. However, it is important that you do it step by step without stressing out, because stress is counterproductive.
Before writing a product review, I scrutinize multiple sources to study the product's ingredients. In addition, I have developed a research method that I follow before passing judgement on a product. Learn more about my research method and the resources I use on my Start here page.
With that said, let's talk about lip gloss ingredients.
Even vegan lip gloss must have colorants.
To begin with, colorants or pigments are ingredients that allow a makeup product to function as such. Namely, they impart color, which is what makeup is all about. Actually, as non-agricultural ingredients, colorants are the reason makeup cannot be certified organic. Thus, even with organic plant-based ingredients, lip gloss cannot have an organic certification.
Unfortunately, all colorants – both mineral and petroleum-based – may have heavy metal residues. This is because they are a natural part of the crust of the earth. Read my post to find out what independent tests on cosmetics reveal regarding the issue of heavy metals in makeup.
Specifically, did you know that there may be lead in makeup, even in lip gloss ingredients? For instance, according to the results of lead testing performed on 400 lipsticks, Maybelline and L'Oreal lead levels were 7.19 parts per million (ppm) and 7.0 ppm, respectively (source). Visit my post about lead in lipstick to learn how you can protect yourself from lead in makeup.
Although both types of colorants may have heavy metal contaminants, I consider mineral pigments, e.g., iron oxides, safer. This is because they do not have contaminants characteristic of petroleum, like benzo[a]pyrene, polycyclic aromatic hydrocarbons (PAHs), and brominated resorcinol. However, it is important to me that the mineral pigments be NOT manufactured in China. Personally, I do not trust China because of its high background levels of pollution and lenient regulations. Therefore, I do not consider makeup with pigments sourced from China to be clean beauty products.
Even vegan lip gloss has bis-diglyceryl polyacyladipate-2.
First of all, bis-diglyceryl polyacyladipate-2 is one of those lip gloss ingredients that the product cannot do without. Simply put, this ingredient makes it glossy. They also use it in hair colors to coat the hair and mask damage from the hair coloring process. If you dye your hair, you will benefit from reading my post about ammonia-free hair color brands.
The EWG Skin Deep database rating for bis-diglyceryl polyacyladipate-2 is 1 out of 10 (with 10 as the most toxic). However, the EWG notes the absence of safety data. Therefore, when you assess the safety of products, know that an EWG rating of 1 does not necessarily mean it is safe. Rather, an EWG rating of 1 can mean that there are no safety studies of the ingredient. Please read my post for more information on how to use the Skin Deep database the right way.
With this said, the Skin Deep database is actually wrong in this case. Luckily, bis-diglyceryl polyacyladipate-2has safety data. To clarify, the Cosmetic Ingredient Review Expert Panel issued a final safety report on it in 2013.
Studies on bis-diglyceryl polyacyladipate-2 as one of many lip gloss ingredients deem it safe.
Although bis-diglyceryl polyacyladipate-2 may sound a little off-putting as a vegan lip gloss ingredient, let us look into its safety.
First, per the CIR report, even high oral doses had no negative effects on reproduction, fertility, or development of animals. Additionally, there were no signs of general toxicity, so the researchers found it non-mutagenic and non-genotoxic. Plus, in human patch tests, the researchers found it neither irritating nor sensitizing.
Second, bis-diglyceryl polyacyladipate-2 is made by heating diglycerin, adipic acid, isostearic acid, 12-hydroxystearic acid, stearic acid, caprylic acid, and capric acid with catalysts (source). After checking them all, I found that adipic acid is the only one that has some concerns. Specifically, it is a mild irritant and is slightly to moderately toxic to aquatic life (source).
Third, the EU allows bis-diglyceryl polyacyladipate-2in cosmetics and personal care products (source).
In sum, though synthetic, bis-diglyceryl polyacyladipate-2 is safe enough to belong in this non-toxic vegan lip gloss.
My favorite safe lip gloss is Crunchi.
When I need some lip makeup for special occasions, I resort to Crunchi lipstick or lip gloss. Before we look at their lip gloss ingredients closely, let me tell you some facts about Crunchi.
To start with, Crunchi makes sure that mineral pigments they use in their clean beauty makeup are not from China.
Next, the company uses iron oxides with an ECOCERT certification which guarantees that mineral pigments are free of synthetic additives. In addition, the ECOCERT European agency requires documentation regarding compliance with heavy metals standards before it issues a certification.
Alternatively, other companies either do not disclose what country their pigments come from or simply source their pigments from China. Hence, I encourage you to contact your makeup company and ask them this question.
In addition, Crunchi used 3rd party testing for heavy metals in their clean beauty products. They found insignificant levels of heavy metals, way below European and Canadian limits. You can read more about the results of their heavy metal testing in my Crunchi Non-Toxic Makeup Review post.
Most importantly, the lip gloss comes in a recyclable glass tube with a BPA-free and phthalate-free plastic cap and wand.
Stay with me to learn about Crunchi non-toxic lip gloss performance. But first, let's talk about its ingredients.
Crunchi vegan lip gloss ingredients
Let us look at the toxin-free Crunchi lip gloss ingredients that I arranged in groups for your convenience.
| | |
| --- | --- |
| Plant oils and butters | Ricinus Communis Seed Oil (Castor)*, Cocos Nucifera Oil (Coconut)*, Helianthus Annuus Seed Oil (Sunflower)*, Simmondsia Chinensis Seed Oil (Jojoba)*, Vegetable Oil (Olus), Olea Europaea Oil (Olive)*, Mentha Piperita Oil (Peppermint)*, Butyrospermum Parkii Butter (Shea)*. |
| Plant extracts | Vanilla Planifolia Extract (Vanilla)*, Sambucus Nigra Extract, Stevia Rebaudiana Extract. |
| Mineral pigments | Mica (CI 77019), Titanium Dioxide (CI 77891), Iron Oxides (CI 77499), (CI 77491), (CI 77489), Manganese Violet (CI 77742). |
| Waxes | Synthetic Beeswax, Hydrogenated Castor Oil (Castor Wax). |
| Other ingredients | Bis-Diglyceryl Polyacyladipate-2, Capryloyl Glycerin/Sebacic Acid Copolymer, Hydroxystearic/Linolenic/Oleic Polyglycerides, Oleic/Linoleic/Linolenic Polyglycerides, Polyhydroxystearic Acid, Palmitic Acid, Stearic Acid. |
| | *Certified Organic |
As you can see, most plant ingredients are certified organic and speak for themselves. The non-organic plant ingredients have not been found to pose harm.
In addition to the ECOCERT certified mineral pigments, the tinted Crunchi vegan lip gloss options contain manganese violet. Specifically, it is a violet pigment obtained by reacting phosphoric acid, ammonium dihydrogen orthophosphate, and manganese dioxide. Because it is not a petroleum pigment, the FDA does not list any petroleum-associated contaminants (source). Just like mineral pigments, it may have heavy metal contaminants. The good news is Crunchi has tested their products for heavy metals. And if there were any residues, they were way below the Canadian and European limits. (Learn about these limits in my Crunchi Non-Toxic Makeup Review.)
Now, let's discuss the remaining lip gloss ingredients.
Synthetic beeswax is a good alternative to natural beeswax.
To start with, European Chemicals Agency (ECHA) describes synthetic beeswax as "the complex reaction product of blended acids and blended alcohols which simulates the composition of natural beeswax. It consists primarily of C18-30-alkyl ester of C16-32 fatty acids, C16-32 fatty acids and C22-34 alkanes." The ECHA lists no health or environmental hazards associated with synthetic beeswax.
The EWG rates synthetic beeswax 1 out of 10 (10 as the most toxic) with limited data. Also, in 1984, the Cosmetic Ingredient Review (CIR) panel assessed synthetic beeswax for safety and found it safe.
In texture, it looks and feels like natural beeswax and is an acceptable alternative for vegans in clean beauty products. Hence, synthetic beeswax in Crunchi vegan lip gloss is a good alternative to natural beeswax.
Hydrogenated castor oil is not the same as PEG-40 hydrogenated castor oil.
One of Crunchi's lip gloss ingredients, hydrogenated castor oil (HCO), also known as castor wax, functions as a skin-conditioning and viscosity increasing agent.
Derived from castor beans (Ricinus Communis), castor oil is typically liquid at room temperature. With the addition of hydrogen, it gets more stable and solid.
The Skin Deep database rates HCO 1 out of 10 (with 10 as the most toxic), and the ECHA finds no hazards associated with HCO.
According to the CIR report, in animal studies, an 8.65% HCO diet produced no adverse effects. As for human studies, patch test results indicated no reactions to 30% HCO in petrolatum. At the same time, one human study indicated that castor wax extract may contain castor bean allergens.
Now, is there a difference between "hydrogenated castor oil" and "PEG-40 hydrogenated castor oil"? Yes, there is.
As you may know, the prefix "PEG" is an indicator of an ethoxylated ingredient. Specifically, PEG-40 hydrogenated castor oil is a polyethylene glycol derivative of hydrogenated castor oil with an average of 40 moles of ethylene oxide (source). In cosmetic products, it functions primarily as a surfactant.
The biggest concern lies with ethylene oxide, a carcinogen, and its carcinogenic contaminant 1,4-dioxane. Hence, the EWG rates PEG-40 HCO 1-3 depending on the usage. On my blog, I warn against using ethoxylated ingredients (PEGs, polysorbates, and those whose names end in -eth, e.g., laureth).
Bottom line, Crunchi vegan lip gloss does not use ethoxylated castor oil or any other ethoxylated ingredients.
The remaining ingredients have the European organic standard approval for use in clean beauty cosmetics.
So, the remaining Crunchi non-toxic lip gloss ingredients are:
Capryloyl Glycerin/Sebacic Acid Copolymer
Hydroxystearic/Linolenic/Oleic Polyglycerides
Oleic/Linoleic/Linolenic Polyglycerides
What unites them all is that the European ECOCERT agency approved them for use in organic and natural cosmetics.
As for the first three – capryloyl glycerin/sebacic acid copolymer, hydroxystearic/linolenic/oleic polyglycerides, and oleic/linoleic/linolenic polyglycerides – the CIR Panel has not yet assessed them for safety. But we know that they are plant-based biodegradable ingredients. Namely, capryloyl glycerin/sebacic acid copolymer is derived from coconut and castor oil and functions as a film-forming agent, a replacement for silicones in cosmetics.
Then, polyhydroxystearic acid is also biodegradable and derived from plants. It is a very common ingredient in natural and organic products (source). The ECHA reports that in high concentrations it may cause eye and skin irritation (keep the product away from children).
Lastly, palmitic acid and stearic acid in this vegan lip gloss are emollients. The ECHA lists no concerns associated with them (source and source). Additionally, the EWG Skin Deep database gives it a rating of 1 (as the safest) to both palmitic acid and stearic acid with fair data.
All in all, in my opinion, Crunchi vegan lip gloss ingredients are safe and non-toxic.
I like how Crunchi works on my lips.
First, because of bis-diglyceryl polyacyladipate-2, Crunchi Lip Gloss is as glossy as a conventional lip gloss would be.
Second, it is just the right amount of sticky without making it uncomfortable. In fact, I sometimes forget that I am wearing it and start eating. I hope you will be better at remembering to wipe off your lip gloss or lipstick before eating.
Next, the Crunchi toxin-free lip gloss moisturizes my lips, which I certainly love because I often have dry lips. If I do not use lip balm frequently enough, my lips get so dry that they start peeling.
In addition, it helps my lips look bigger naturally without making it obvious that I tried to make them bigger.
In short, I am satisfied with the performance of this vegan lip gloss. My favorite shade is Date Night.
Conclusion about Crunchi safe lip gloss
In sum, Crunchi lip gloss ingredients are natural, biodegradable, and approved by ECOCERT. Though not ideal, in my opinion, they are safer than those in most so-called "natural" lip glosses.
Thus, in preparation for this review, I checked the ingredients of quite a few popular clean beauty lip products. Some ingredients in them that I recommend avoiding are synthetic petroleum dyes, phenoxyethanol, and fragrance (a mixture of undisclosed ingredients). One of the more natural lip gloss options is Fitglow Beauty, but it is not vegan.
Therefore, considering that Crunchi is trying to embrace various consumer needs, their non-toxic lip gloss is a great option. It is available on the Crunchi website along with other non-toxic makeup and skincare options. If you are vegan, you might be happy to know that Crunchi non-toxic lipstick is vegan, too.
Besides, Crunchi values my opinion on product ingredient selection, and I am in touch with their product development team. I can assure you they do their best to find the safest ingredients for us and the environment. I appreciate that their vegan lip gloss is well performing and comes in a recyclable glass tube.
Visit my shop to look at multiple options of non-toxic products of all types, not just cosmetics. Also, check out my rating lists, including the newly updated Savvy Consumer Superpower e-book, and book a consultation with me. Finally, I encourage you to join the Savvy Consumer Circle to share your experiences with other like-minded people.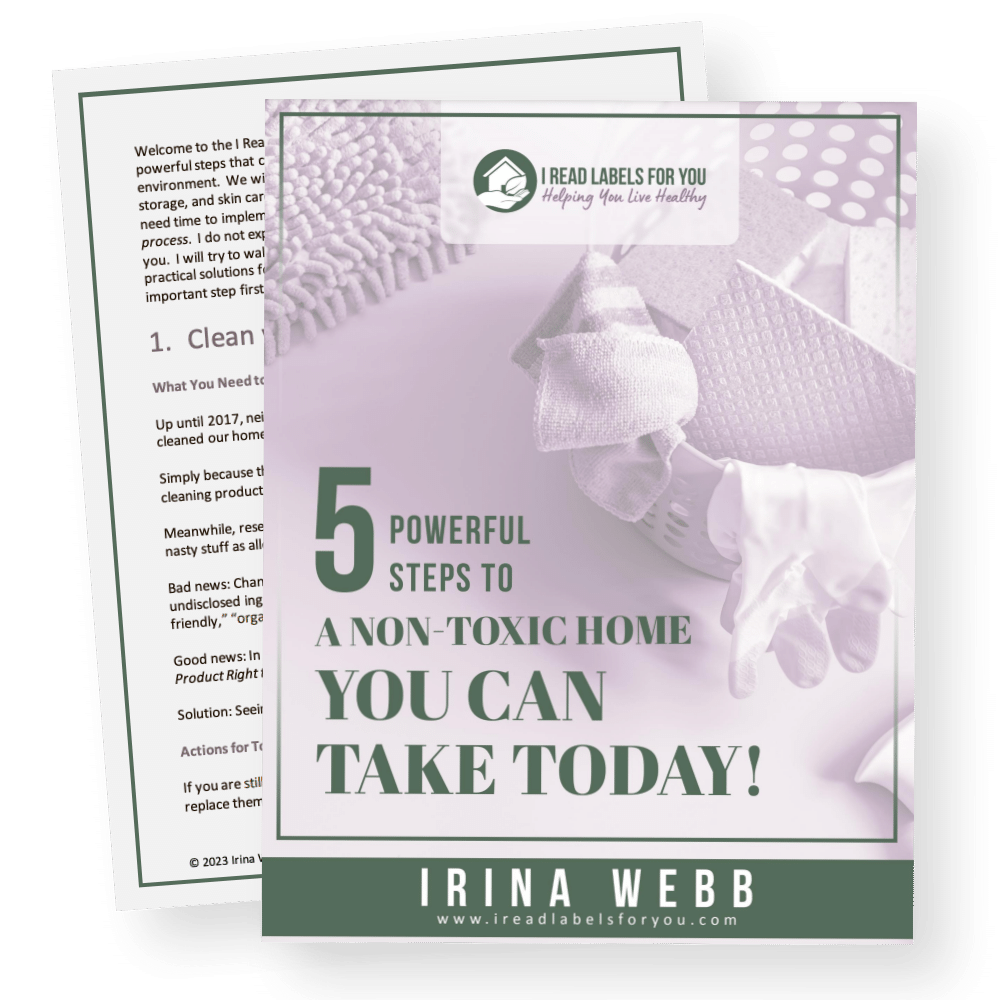 Download The Free Guide!
5 Powerful Steps To A Non-Toxic Home
Join our informed consumer community and get our free guide the "5 Powerful Steps To A Non-Toxic Home".