Stainless Steel Cookware: Best 360 Cookware Review
This post may contain affiliate links. To read our affiliate policy, click here.
In this special 360 Cookware Review, you'll discover whether the Vapor® Seal method of cooking is worth it, whether stainless steel cookware and 360 Cookware slow cooker, in particular, are safe, and if you should worry about aluminum leaching into your food. Shopping for safe cookware right now? Check out this Safe Cookware Guide that Makes Sense.
I use stainless steel cookware.
A series of events have brought me to where I am today – a full-time ingredient researcher purporting to reduce toxic chemicals in the consumer goods market. My goal is to educate you, so you will be able to make informed decisions about the products you use. I believe it is possible to reduce our daily exposure to toxins through practical changes and without stress.
After I had been diagnosed with two autoimmune diseases, I underwent a long multi-step period of recovery. (Learn about my journey to health in my posts about breast implants and explant surgery.) For starters, I took multiple tests to determine the root causes of my ailments. Among other things, the tests revealed high levels of heavy metals in my body, which had to be addressed.
One of the ways heavy metals can end up inside us is through food cooked in heavy-metal contaminated cookware. Therefore, I reviewed my cookware and got rid of all the concerning items in my kitchen. Today, my kitchen has a lot of stainless steel cookware, and I like the way it performs.
A while ago, I was presented with 360 Cookware, namely: a stainless steel slow cooker, cookie sheet, and pie pan. I couldn't be happier with their performance! (Please use the IREAD25 code to get a 25% discount.) But before we talk about that, let's answer the question: why stainless steel?
Stainless Steel Cookware Pros and Cons
As it happens, stainless steel cookware is the top choice of professional chefs. It is easy to clean, and with a little practice, you can make even your omelets slide off. The key is to warm up your frying pan well before pouring the oil and then warm up the oil before adding the eggs. To test whether it is hot enough to add oil, I spray some water in it, and if the water beads dance around, it means the pan is ready.
Given the options, I consider stainless steel one of the safest materials. Check out the table below.
Material
Concerns
Teflon (PTFE)
– may contain perfluorooctanoic acid (PFOA) and other undisclosed materials
Thermolon
– has undisclosed materials (refer to my GreenPan Review)
Aluminum
– may leach aluminum salts
– accumulates in the body
Clay
– may have heavy metal contaminants
Ceramic
– may contain lead and cadmium
Enamel
– may contain traces of lead or cadmium
Cast iron
– leaches iron into food, so watch out for iron overdose (refer to my Cast Iron Pots and Pans post)
Chromium & Nickel in a Stainless Steel Pan
Normally, stainless steel comes as 18/10, 18/8 or even 18/0 (360 Cookware comes in 18/8). The first number is the percentage of chromium and the second is nickel.
Should you worry about your stainless steel frying pan leaching nickel and chromium into food?
In my case, urine toxic metal tests by Doctor's Data showed no concerning levels of nickel. And this is despite the fact that I use stainless steel pots and pans every day. For full disclosure, though, some people may be sensitive to nickel. For more information on nickel leaching, take a look at my safe cookware guide.
As for chromium, it is not on the toxic metal test because our bodies need this nutrient.
360 Cookware Review
As I have mentioned, I have been given a 360 Cookware stainless steel slow cooker, cookie sheet, and pie pan. (Please use the IREAD25 code to get a 25% discount.) I especially appreciate the sturdiness and thickness of the metal. (In addition, we bought some 360 Cookware flatware that we love because it is pretty, and it works!)
As for the slow cooker, it is made of three primary layers bonded together with a .110 gauge of thickness. The cooking surface layer is T-304 18/8 surgical grade stainless steel, which means that it contains 18% chromium and 8% nickel. The outside layer that sits on the burner (either your stove or the included base) is T-400 series stainless steel. It has a lower nickel content and high carbon steel content to interact on induction cooktops. Between these two layers of stainless steel, there is a layer of aluminum that ensures heat conduction and even heating.
Should you worry about aluminum in a 360 Cookware stainless steel pan leaching into your food?
Personally, I have found no studies that would show that aluminum may leach from under a layer of stainless steel. If you have, please share! Also, because aluminum does not touch the food and would take a deep scratch to get to it, I would not worry about it.
Additionally, please know that an aluminum layer is used in almost all stainless steel cookware. While aluminum is an excellent heat conductor, stainless steel on its own does not conduct heat well at all.
Slow cooker, cookie sheet, and pie pan
First, I am so glad I can use a stainless steel slow cooker because slow cookers with ceramic inserts may leach lead and cadmium into the food. The set I own includes a casserole pan with a cover and a slow cooker base. (Technically, it is possible to buy just the slow cooker base and use stainless steel cookware that you already have in your household.) The casserole pans come in sizes 2.3, 4, and 6 quarts. We have a 4-quart pan, but I recommend a 6-quart pan even for a 3-person family. The great thing is that the casserole pan can be used separately on a stovetop!
Second, the 360 Cookware large cookie sheet is very sturdy and thick. It does not warp like the one I bought on Amazon, made in China. I don't even have to use parchment paper on it, and my cookies do not stick to it. In fact, it is the highest quality cookie sheet we have ever seen or used.
Third, the pie pan is as easy to use and clean as both the stainless steel slow cooker and baking sheet.
The dry sanding process, used by 360 Cookware, gives their products a smooth and non-porous surface, making it truly non-stick. There is no non-stick coating. Hence, I do not have to worry about toxic PFAS or other chemicals leaching into my food. Sadly, non-stick coating is common for conventional bakeware. And silicone is a hybrid plastic and may leach potentially harmful chemicals when heated, too.
Stainless Steel Pans Care & Use
To begin, it is a good idea to study the 360 Cookware Use & Care Guide that, among other things, gives the exact times and ways of cooking various kinds of food. In the table below, you can learn the basic care instructions for stainless steel cookware. (Please use the IREAD25 code to get a 25% discount.)
| | |
| --- | --- |
| Issue | Solution |
| Before first use | Wash in hot, soapy water. |
| Regular cleaning | Use a soapy non-abrasive scrubber sponge. |
| Stubborn burnt-on food | Pour ¼ cup of water (or a mixture of white vinegar & water) in the pan and heat it over medium heat, stirring up the burnt bits with a wooden spoon. Pour off the water. Use a wet sponge and very thick paste of water and baking soda. |
| White or blue stains (from water, food minerals, and heat) | Make a gritty paste with baking soda and work over the area. |
| Lid stuck on the pan (due to vacuum) | Place the pan over low heat for a few seconds. |
| Lid stuck to the countertop (due to vacuum) | Wet a kitchen towel in hot water, wring it out, and lay it over the lid for a minute or two. |
| Loss of luster | Use a stainless steel cleaner such as Branch Basics. |
| Cooking temperature on a stove top | Begin cooking over medium heat, and then reduce to low for the remainder of the cooking period. |
| Vapor Seal | Avoid lifting the lid off your stainless steel pot while food is cooking to prevent the vapor seal from breaking. |
Waterless Cooking & Recipes
Frankly, I'm thrilled with the idea of waterless and oil-free cooking that is possible due to the Vapor® Seal technology. To clarify, vapor cooking coaxes out the natural moisture in foods and traps it under the dome-shaped lid. This way, the heat gets captured and keeps moving around the food without escaping through the sides.
So, if you prefer oil-free cooking, this stainless steel cookware is a much healthier option than non-stick cookware. Actually, it is a healthier option for everybody. It allows for all the nutrients to remain in the food instead of coming out into the water and then being drained.
Moreover, the 360 Cookware website offers a ton of recipes for all kinds of food. And I think it is a good idea to study them first and watch the videos.
For example, for crisp veggies, fill your stainless-steel pot two-thirds full and cover with a lid. Cook on medium heat until a vapor seal is formed and the lid spins, then reduce the heat to low. In 5-8 minutes, remove from heat, and let sit 10 minutes with the cover on.
For waterless hard-cooked eggs, place a wet paper towel on the bottom of the pan, add the eggs, and place the lid on. Again, cook on medium heat until a vapor seal is formed and the lid spins, then turn to low. With the cover on, cook for 13 – 15 minutes for hard eggs, 7 – 8 minutes for medium, and 5 minutes for soft.
Summary of the 360 Cookware Review
To sum up, I consider 360 stainless steel cookware healthy and effective. Some of you have asked me if I worry about leaching of chromium and nickel into food while cooking. I don't, because I worry more about leaching of heavy metals, such as lead and cadmium, from ceramic cookware and PFAS from non-stick cookware. For this reason, I choose not to use non-stick, aluminum, and ceramic cookware.
Although stainless steel is not 100% perfect for everybody, I consider it one of the safest cookware materials. That is why I was so happy to receive a stainless steel slow cooker from 360 Cookware along with a pie pan and a cookie sheet. I'm very happy with their performance and easy care. So far, I haven't had any issues with sticking food, and I do not even use parchment paper for baking cookies.
To ensure a long life for your stainless steel cookware, I encourage you to read the Use & Care Guide first. In addition to care instructions, it elaborately explains how to cook various kinds of food with Vapor® Seal technology. It is a waterless and oil-free cooking method that uses the moisture from the food and keeps it trapped in the pan. This technology allows you to cook food without oil in stainless steel pots and pans instead of potentially harmful non-stick cookware. You can buy 360 Cookware best stainless steel cookware and bakeware, including baking sheets, on their website. Please use the IREAD25 code to get a 25% discount.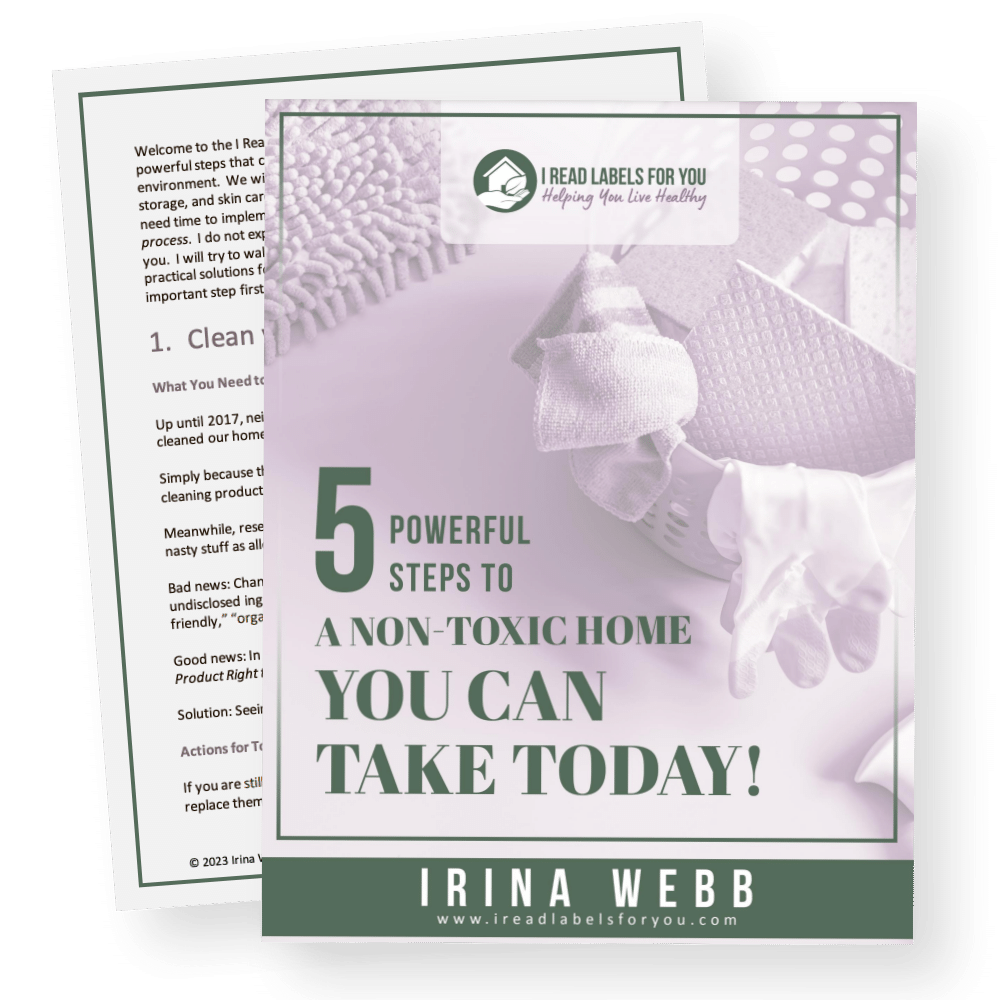 Download The Free Guide!
5 Powerful Steps To A Non-Toxic Home
Join our informed consumer community and get our free guide the "5 Powerful Steps To A Non-Toxic Home".