Guide to Safe Cutting Boards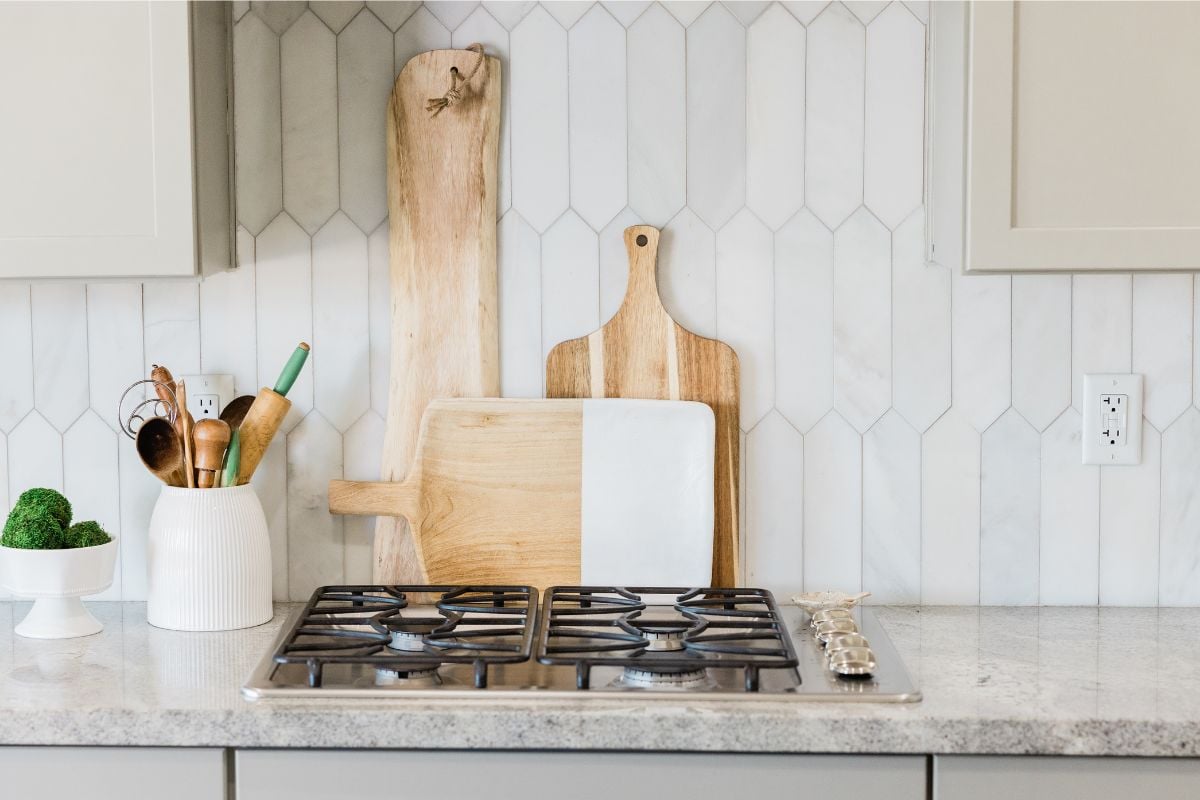 This post may contain affiliate links. To read our affiliate policy, click here.
Because I cook a lot and mostly from scratch, one of the kitchen appliances I use every day is a cutting board. There was a time I did not give much thought to this kitchen accessory. Now, however, I realize how important it is to have not only a safe non-toxic cutting board but also a steady one that won't slip off the countertop. It cost me time, money, and trial and error to find one just like that. If you consider buying one for yourself or as a gift, this guide to safe cutting boards will save you time, money, and trial and error. Keep reading to find out which natural cutting boards are absolutely my favorite.
Similar to the other guides on my website, this one will also consist of four categories – worst, bad, better, and best. My goal is to educate you and present you will all the information that will help you make a quality decision about your purchase.
The worst cutting boards
Without a doubt, plastic boards are worse than any others, in my opinion. The reasons I consider them the worst are as follows:
Plastic is harmful and its particles may penetrate the body with the food.
Boards made of plastic may contain an anti-bacterial chemical triclosan.
Plastic cutting boards are prone to deep scratches which collect bacteria.
So, let's talk about each of these reasons briefly.
The harm from plastic
To begin with, plastic is a common term for a broad range of synthetic and semi-synthetic solids. Further, the most common raw materials used to manufacture plastic are crude oil and natural gas. I don't believe that these are materials that belong in a non-toxic cutting board.
Additionally, many chemical additives that help create specific texture, colors, clarity, heat, durability, light resistance, and flexibility are not good for us.
BPA and its replacements
For example, one of these additives is bisphenol A (BPA), works as a plasticizer to make plastic clear and stiff. One of the reasons to avoid BPA is that it mimics the female hormone estrogen and can act in the body as such. Moreover, as an endocrine disruptor, it may produce a variety of adverse effects on the developmental, reproductive, neurological, and immune systems. In addition, studies show that it can increase the risk of insulin resistance and heart disease. Surely, these cannot be the characteristics of safe cutting boards.
Because BPA is notorious, many manufacturers replace it with something else. However, the problem is that the BPA-replacement may not be any better than BPA itself. Thus, recent research reveals that common BPA replacements, such as Bisphenol S (BPS) and Bisphenol F (BPF), are just as harmful (source).
Although some kinds of plastic are safer than others, we do not fully know what is in the plastic we use every day. That is to say, most chemicals have not been fully studied yet. For instance, according to the Green Science Policy Institute, 85% of 20,000 chemicals added to the US market since 1976 have no health data. And 67% of them have no data at all (source). Therefore, I encourage you to avoid all types of plastic if possible.
The hazards of triclosan
Here are the reasons triclosan does not belong in a non-toxic cutting board.
First, scientists suspect triclosan of endocrine disruption (source). Second, it may play a role in cancer development, perhaps through its ability to act as estrogen or inhibit fatty acid synthesis (source).
In fact, the FDA banned the sale of any hand and body soaps containing triclosan and 18 other disinfecting ingredients. The FDA explained that these products were no more effective at preventing illness than regular soap and water. By the way, if you are looking for safe hand soap, check out my non-toxic hand soap guide.
Lastly, triclosan is very toxic to aquatic life with long lasting effects and causes serious eye and skin irritation (source).
The danger of bacteria
For sure, safe cutting boards must be able to handle the issue of bacteria.
The thing about bacteria is that because we do not see them, we may wave off their potential danger. However, for people with a weak or developing immune system, bacteria can be a real threat. There are multiple studies presenting the evidence of that. Please, read my overview of scientific research on bacteria in the WaterWipes Baby Wipes post.
As you know, moisture is an ideal environment for bacteria growth, and the deep knife cuts in plastic boards are a perfect place for them to multiply. Even though you may use some anti-bacterial substance to clean your plastic board, there is no guarantee that it actually kills them all. Therefore, when you look for a non-toxic cutting board, keep in mind the issue of bacteria.
The bad cutting boards
I put Epicurean cutting boards in this category. Although they are better than plastic, we do not know exactly all the properties of the material they are made from.
Thus, the company says that they make their products out of a material called Richlite. Basically, it is layers of paper saturated with a thermosetting resin and pressed under even heat and pressure, which bonds the layers of paper together and cures the resin. To laminate the paper, they use phenol-formaldehyde.
On the one hand, phenol-formaldehyde is not supposed to release free formaldehyde as much as urea-formaldehyde, for example. So, I am not too concerned about formaldehyde emissions. On the other hand, the material of the cutting board is resin, which is more like plastic than wood. So, I am concerned that bacteria can be trapped inside the grooves. We have an old Epicurean board that we do not use, and it has multiple scratches.
The better safe cutting boards
For those who already own and use bamboo boards there is good news – your boards are in the "better" category. What keeps them out of the "best" non-toxic cutting board category, though, is glue and mineral oil for the coating. In fact, 99% of bamboo boards use mineral oil.
Mineral oil as a cutting board coating
For starters, the International Agency for Research on Cancer (IARC) has classified untreated and mildly treated mineral oil as "carcinogenic to humans."
Besides, petroleum is the source for mineral oil derivation.
As a rule, mineral oil used in products is supposed to be highly refined and treated. Nevertheless, I choose not to use products with mineral oil for the following reasons. First, it is made of an unsustainable resource. Second, mineral oil production is toxic to the environment and workers. Third, there are other choices that are much better for us and for the environment.
At the same time, I want you to know that mineral oil does not stay on your board forever. After the first couple of times it will be washed off, and you can forget about it.
Bamboo safe cutting boards
If you want a bamboo cutting board, choose organic bamboo without harmful glue and mineral oil.
As an option, consider Bambu cutting boards made in China from organic bamboo. From my personal correspondence with them I found out the following.
First, Bambu cutting boards are made from laminates that use a water-based glue imported from Finland, free of formaldehyde and heavy metals. Actually, the presence of glue prevents them from getting an organic certification.
Next, the products are finished with a food safe wood oil whose ingredients are based on naturally produced vegetable oils and waxes (e.g. sunflower oil, soybean oil, thistle oil, and carnauba wax).
Also, no animal products are used as ingredients or in the manufacturing process.
The best non-toxic cutting board
What are the main characteristics of the best safe cutting boards?
Solid hardwood
No glue
No mineral oil
Undoubtedly, the best natural cutting boards, in my opinion, are Treeboard .
Indeed, they are thick and smooth, look gorgeous, and are of such great quality! We have started using this hard maple cutting board by Treeboard. Honestly, no other cutting board can compare to it even remotely. Treeboard makes their cutting boards from such kinds of hardwood as maple, ash, and oak. Instead of mineral oil, the maker uses organic linseed oil (aka flaxseed oil) and organic plant-based carnauba wax to finish the boards. To specify, carnauba wax is a food-grade wax which the USDA National Organic Program allows for use on organic food.
Above all, wood is a good material for cutting boards because it dries and does not leave moisture for the growth of bacteria.
To learn more about Treeboard cutting boards, please read my post Best Solid Wood Cutting Boards.
Conclusion about safe cutting boards
To sum up, the best non-toxic cutting board is made of solid wood and has no glue or mineral oil. As a tip for you, look for hardwood as opposed to softwood to avoid deep scratches that can harbor bacteria.
Additionally, buy two boards to use: one for plant food and the other for the other kinds of food.
As for glass cutting boards, the biggest issue with them is that they dull kitchen knives and are made in China. Plus, I have not found any glass cutting board made in the USA.
Finally, I would like to encourage you to contact manufacturers and ask them questions. Your voice matters and can actually affect the market.
If you seek help with living healthy, feel free to book a consultation with me. Also, check out my e-books and visit my shop for various non-toxic products for you and your family. And join the Savvy Consumer Circle to learn more about everyday healthy living.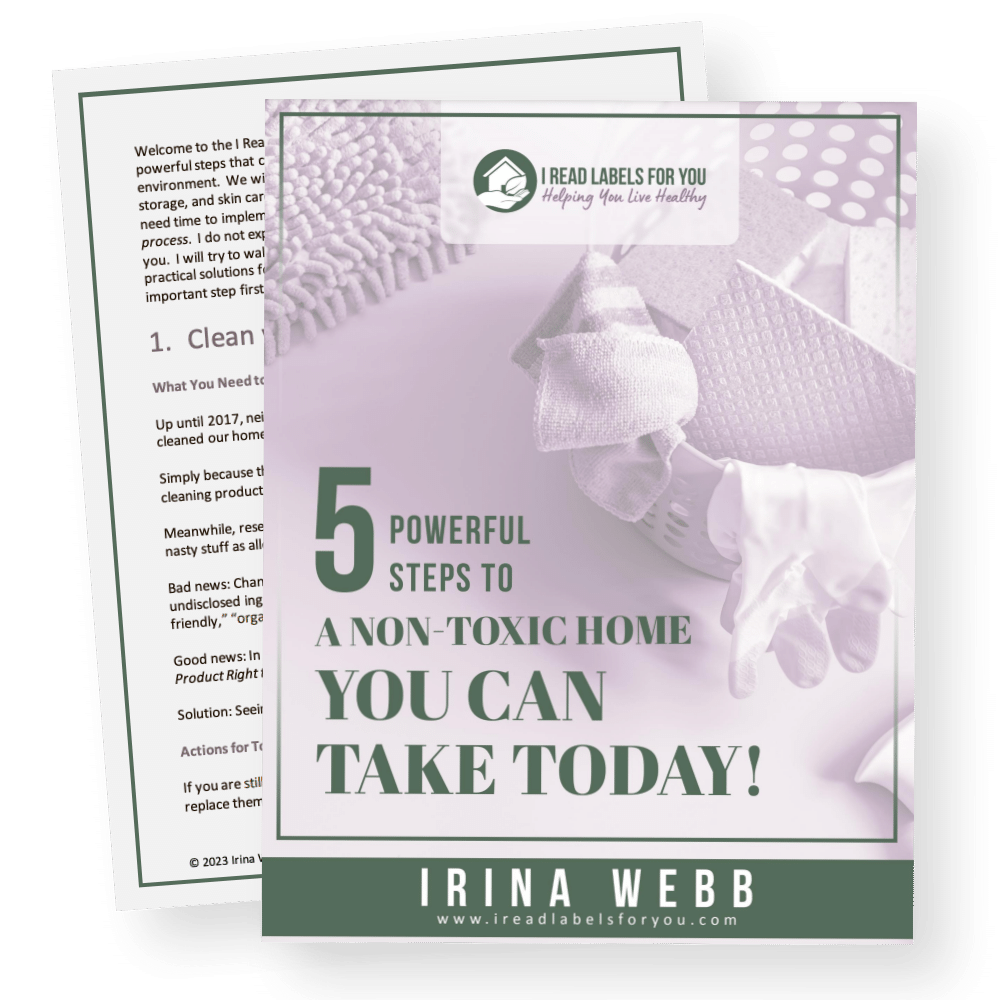 Download The Free Guide!
5 Powerful Steps To A Non-Toxic Home
Join our informed consumer community and get our free guide the "5 Powerful Steps To A Non-Toxic Home".