Is the Instant Pot Pressure Cooker Healthy?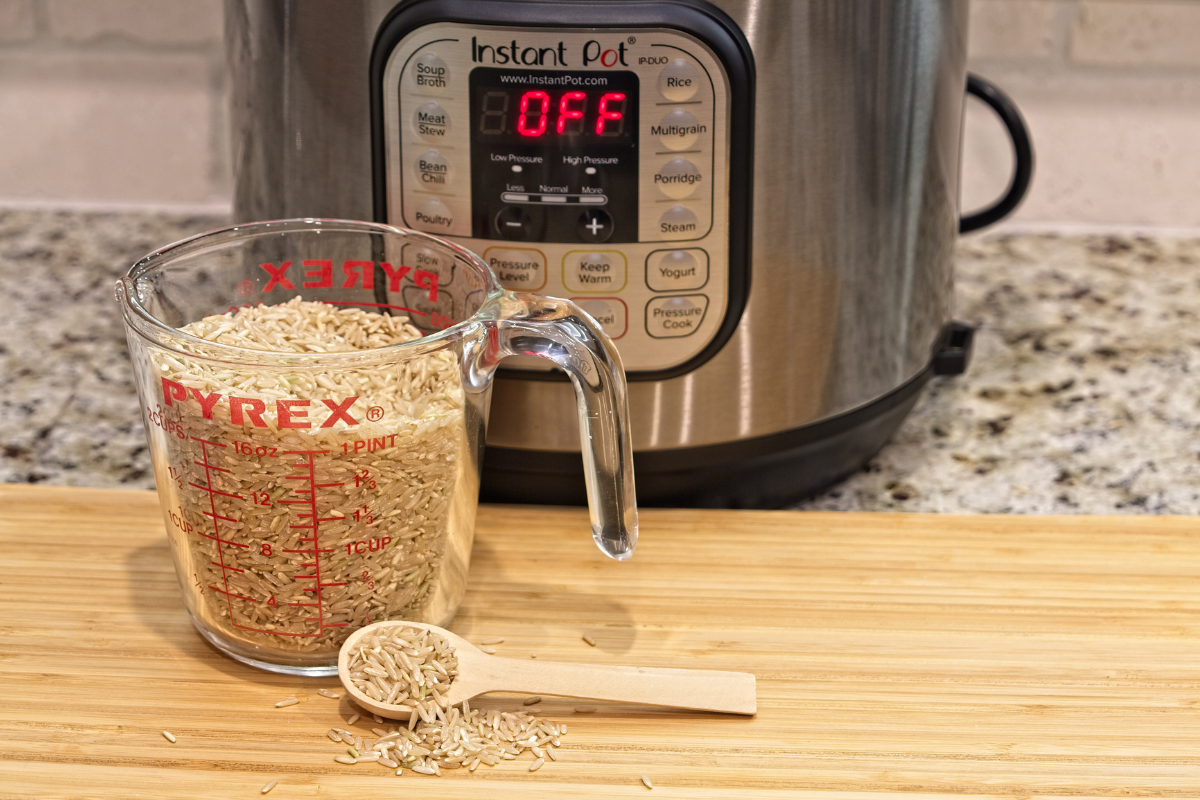 This post may contain affiliate links. To read our affiliate policy, click here.
In 2017, I bought a pressure cooker called the Instant Pot. In this post, I'd like to share with you my conclusions about an Instant Pot pressure cooker as a good choice for people seeking a healthy lifestyle. Before I bought an Instant Pot, I had investigated whether pressure cookers preserved the nutritional value of food. I also looked into the safety of the materials used in their construction.
How does a pressure cooker work?
At first, to start cooking, it takes a few minutes for a pressure cooker to get pressurized. The Instant Pot has a valve that releases traces of steam as the pressure increases inside. During the cooking process, steam does not escape, which significantly shortens the cooking time and makes the food moist and delicious.
The food also remains moist because, under pressure, the boiling point of water goes up. You can think of it this way. At high altitudes, where air pressure is low, water reaches a boiling point at a lower temperature. In a pressure cooker, where the pressure is high, the moisture in the dish and the food gets to the boiling point at a higher temperature.
As you may know, the boiling point of water is 100º C or 212º F at sea level. The working temperature inside the Instant Pot using the high-pressure setting is 115º C – 118º C (239º F – 244º F). The boiling point at the low-pressure setting is 110º C – 112º C (229º F – 233º F).
Does a pressure cooker destroy nutrients?
Before I learned how a pressure cooker worked, I had concerns about the impact it had on the nutritional value of food. However, I discovered that it was not a problem for two reasons.
First, even though the boiling point is higher, the maximum temperature is still well below the cooking temperatures of conventional ovens.
Second, I looked into the scientific literature for answers and this is what I found.
This study concludes that broccoli loses 47% of its nutrition when cooked in a pressure cooker while it loses 66% when boiled, and 87% when microwaved (yet another reason to avoid microwaves).
These findings say that "when water-soaked beans were cooked in a regular pan, the highest percentage of bioaccessible iron obtained was 8.92%, whereas when they were cooked in a pressure cooker without previous soaking, the highest percentage was 44.33%." It means that you will absorb over 4 times more iron from beans cooked in a pressure cooker versus a regular pan.
This study concluded that pressure-cooking of Bathua and fenugreek leaves results in better retention of beta-carotene and vitamin C as compared to open pan cooking. It means that pressure cooking is a good way of preserving the nutritional value of food.
The safety of the Instant Pot pressure cooker materials
There is a removable bowl inside the Instant Pot pressure cooker where the food goes. Pressure cooker bowls are normally made of aluminum, ceramic non-stick, or stainless steel. Out of these three, I recommend stainless steel. The Instant Pot inner pot is made of stainless steel – and this is one of the main reasons I chose it.
Stainless steel as the Instant Pot inner pot material
The stainless steel used in the Instant Pot pressure cooker is 18/8 gauge. 18/8 stainless steel means that it consists of 18% chromium and 8% nickel, which is "food grade" stainless steel. Let's talk about the safety of stainless steel.
I use stainless steel as one of the safer cookware options available; however, stainless steel is not perfect. Stainless steel leaches chromium, nickel, and iron into food during cooking. While iron and chromium are essential nutrients for which stainless steel may be useful, nickel is not. Moreover, some people may be allergic to nickel.
Here is something exciting. This study determined that the amounts of chromium and nickel significantly increase with longer cooking times. Since a pressure cooker significantly shortens cooking times, the study concludes that leaching is minimal. To take advantage of that, I recommend using the "quick release" method described in the instructions versus a "natural release." Which reminds me: be sure to read all the instructions, including the safety instructions, very carefully before using your unit.
Heavy metals in the Instant Pot pressure cooker
The model I bought in 2017 had gone through the test by Tamara Rubin, the producer and director of the movie MisLead: America's Secret Epidemic. Apparently, she tested it with XRF technology, which shows the amounts of heavy metals in the material tested.
These are the results of that test, as reported by Carissa of Creative Green Living:
Stainless steel inner cooking pot: Non-Detect for Lead, Cadmium and Mercury
Stainless steel lid (outside of lid): Non-Detect for Lead, Cadmium and Mercury
Inner portion of steam release valve: Non-Detect for Lead, Cadmium and Mercury
Anti-Block shield: Non-Detect for Lead, Cadmium and Mercury
Power Cable: Non-Detect for Lead, Cadmium and Mercury
Float Valve: Non-Detect for Lead, Cadmium and Mercury
Steam Release: Non-Detect for Lead, Cadmium and Mercury
Steaming rack: Non-Detect for Lead, Cadmium and Mercury
Plastic tools: Non-Detect for Lead, Cadmium and Mercury
Exterior pot: Non-Detect for Lead, Cadmium and Mercury
Heating unit disk: 1,400 PPM lead +/- 90 and 46 PPM cadmium +/- 11
Safety button in base of unit: 303 PPM for Lead +/- 36, Non-detect for Cadmium and Mercury
As you can see, the parts that come in contact with food tested negative for lead, cadmium, and mercury.
In 2018, Tamara Rubin tested another model of this pressure cooker, and the testing results are as follows. She detected 617+/-44 ppm of lead in the heating element. which is under the stainless-steel Instant Pot inner pot. And, there was 30+/-9 ppm of lead in the silver plastic button in the middle of the heating element. But, just as with the model I bought, there was no lead, cadmium or mercury in the elements that touch the food. For a more detailed report on Tamara Rubin's tests head here.
Functionality of this pressure cooker
I am excited about the fact that in addition to being a pressure cooker, the Instant Pot has other functions such as sauté and yogurt making. (By the way, the model of the Instant Pot pressure cooker without the yogurt making function is $20 cheaper.) On top of that, it can serve as a slow cooker.
Instant Pot as a lead-free slow cooker
Generally, slow cookers have ceramic inserts that may contain lead. It is either added or comes in the raw materials used to make the ceramic cookware. I resolve to reduce exposure to heavy metals because they are bio-accumulative and persistent. It means that once ingested, they accumulate and stay in the body for a long time. That is why it is vital to own safe cookware. You can read more about it in my Safe Cookware Guide That Makes Sense.
We used to have a Cuisinart slow cooker. However, Cuisinart admitted that they had not tested their inserts for lead or cadmium because they knew they did not add them. It didn't sound very reassuring to me because these metals can be contaminants. In other words, the ceramic inserts of slow cookers may contain heavy metals.
Thus, though not perfect, stainless steel is better than ceramics. Therefore, I am really happy that the Instant Pot can serve as a lead-free slow cooker in my kitchen.
What is the manufacturing location
The manufacturing location for this product is China. Generally, I am not a big fan of products from China; however, this is one of those cases where, after having done my due diligence, I am comfortable recommending it even though it is made in China.
Conclusion about the Instant Pot pressure cooker
In conclusion, I would like to say that if you are looking for lead-free cookware, the Instant Pot can be an option for you. Not only does it utilize one of the safest materials such as stainless steel but also it performs multiple tasks. Plus, the nutritional value of the food out of the pressure cooker seems higher than that of the food cooked in a conventional oven.
You can buy the model I bought here and the cheaper model without the yogurt function here. This is the model of the Instant Pot that Tamara Rubin tested in 2018. For more healthy kitchen products, please visit the IRLFY Shop.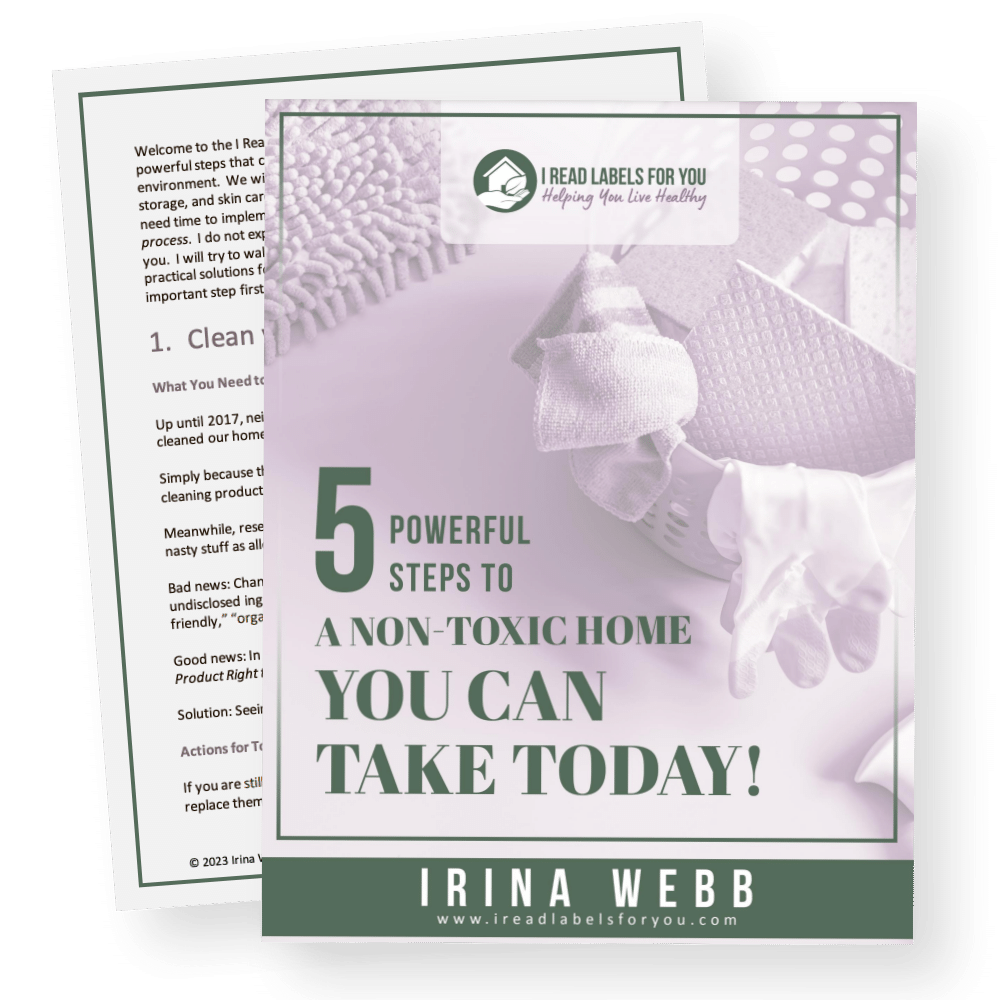 Download The Free Guide!
5 Powerful Steps To A Non-Toxic Home
Join our informed consumer community and get our free guide the "5 Powerful Steps To A Non-Toxic Home".