Yummy and Safe Coconut Milk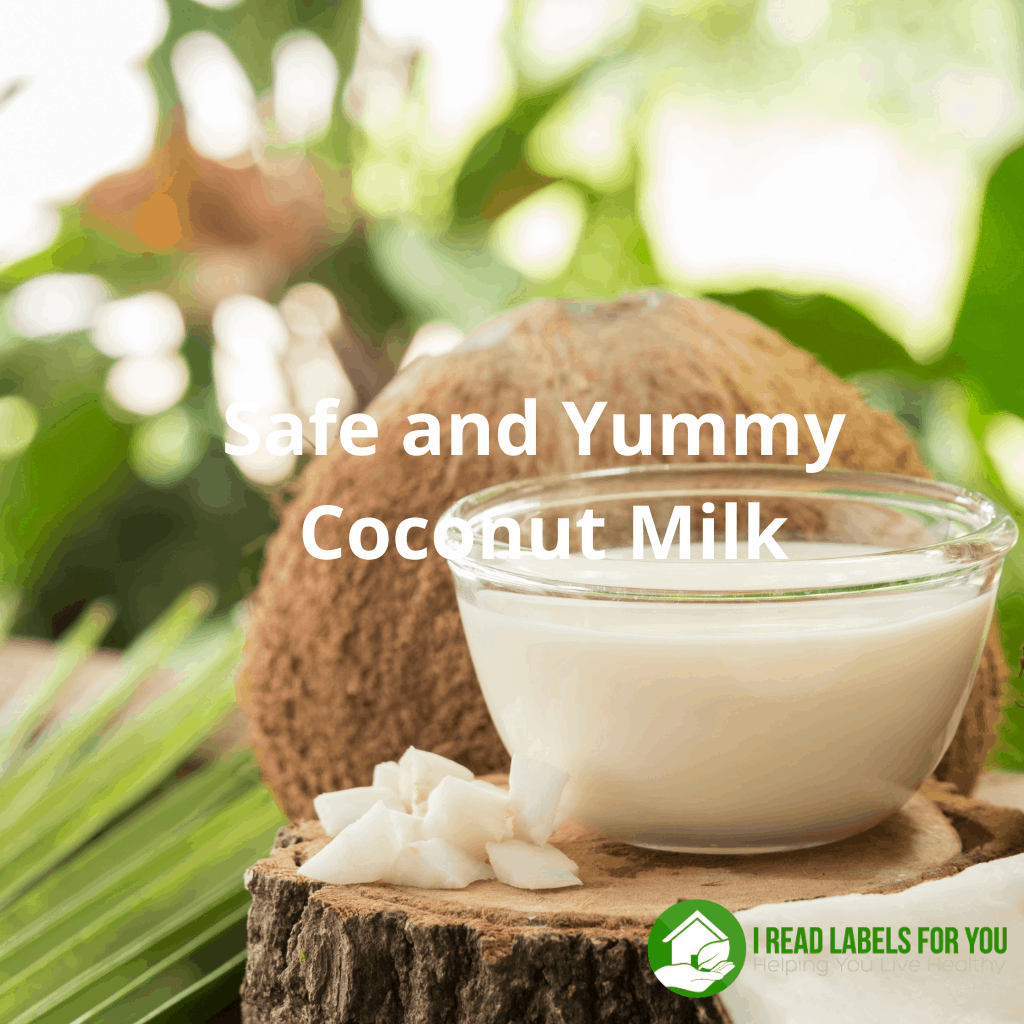 This post may contain affiliate links. To read our affiliate policy, click here.
Do you use coconut milk in cooking? I use it to make curry – a dish where taste, nutrition, and ease of preparation meet. However, buying the right kind is not easy because even organic coconut cream may come in a chemical-leaching container. You may have noticed "BPA-free" claims on many food containers. What I learned about the BPA-free claims is disappointing, but I am happy to offer you a solution. Read on to learn about a safe coconut drink alternative to those that come in metal cans and tetra paks. Also, stay with me to discover what company offers healthy food choices tested for glyphosate, a carcinogenic herbicide.
They use BPA to make epoxy-resin linings of metal cans for coconut milk.
According to the Buyer Beware: Toxic BPA and Regrettable Substitutes report, BPA-based epoxy lining is one of the five major can lining types.
Allegedly, bisphenol A (BPA) may mimic estrogen in people and animals, which may cause obesity, infertility, heart disease, and cancer (source).
In cans, including organic coconut cream cans, BPA epoxy-resin lining forms a barrier between the metal and the food. That is to say, it helps create a seal to keep the contents of the can safe from bacterial contamination. The bad news is that BPA leaches from the can lining into the food exposing consumers to its toxic effects. Besides, BPA is not the only "bad guy."
As an example, to make BPA-based epoxy anhydride, they use 13 different chemicals:
Cyclohexanone
2-butoxyethyl acetate
2-n-butoxyethyl acetate
Naphtha-light aromatic
Titanium dioxide pigment
Epichlorohydrin-based polymer
A flow additive (no specifics given)
Carboxylic acid anhydride-based polymer
Ethylene glycol monomethyl ether acetate
Propylene glycol monomethyl ether acetate
A dispersing agent (no specifics given, but amines are common)
One of four possible cross-linkers (three of which contain melamine)
Would you like any of these in your coconut milk? This shows why it is important to know what is in can linings.
As a result of BPA's notoriety, many canned food manufacturers claim they stopped using cans with BPA epoxy lining. But what do they use instead? Unfortunately, few companies are willing to reveal their materials, as many consider it "proprietary information."
The substitutes to BPA in organic coconut cream and milk metal can lining can be harmful, too.
In addition to BPA-based epoxy, manufacturers use acrylic resins, oleoresin, polyester resins, and polyvinyl chloride (PVC) copolymers in can linings. However, the Buyer Beware report states that little is known about both the addi­tives used in these linings and the amounts of chemicals that may leach into food. Sadly, US government regulations are not strong enough to motivate manufacturers to find safe alternatives. Indeed, manufacturers must only label food ingredients, and are not required to list all the substances with which the food comes into contact.
In search of non-toxic coconut drink, I contacted the manufacturers of Native Forest and Natural Value canned organic coconut milk. As a result, both companies assured me that they did not use cans with BPA-based epoxy lining anymore.
Alternatively, Native Forest uses titanium dioxide-based white lacquer lining, and Natural Value uses aluminized polyester and organosol.
Titanium Dioxide
Before buying organic coconut cream or milk in a titanium-based lining can, let us see what we know about this substance.
Many kinds of processed food have it: candy, chewing gum, white powdered doughnuts, and products with white icing. Importantly, emerging research suggests that it is not as good for human bodies as previously assumed.
For example, this study indicates that titanium dioxide may cause inflammation in the small intestine. And this research shows that it can accumulate in organs and cause physiological changes.
Aluminized Polyester
Further, the Buyer Beware report suggests that polyester is a toxic substitute to BPA in cans, e.g., coconut milk cans. Thus, the 2016 report states that "[a] large number of monomers can be used to form polyester resins. Melamine-formaldehyde resins or polyisocyanates, both of which have health concerns, are sometimes used as cross-linkers." According to the International Agency for Research on Cancer, melamine can cause cancer in animals, and formaldehyde is another carcinogen.
As for aluminum, it has some health concerns, too, as it may leach aluminum salts. There is a hypothesis that aluminum contributes to Alzheimer's disease and to the body's depletion of phosphorus, calcium, magnesium, and iron. Besides, aluminum is bioaccumulative, meaning that it accumulates in the body over time. Therefore, I would not purchase organic coconut cream or milk in a can with aluminized polyester lining. Neither do I consider aluminum a non-toxic material for healthy cookware (check out my Safe Cookware Guide).
Organosol
Finally, organosols are "industrial coatings where resins such as polyvinyl chloride (PVC) are suspended or dispersed in an organic fluid." I urge you to stay away from PVC as it is created from repeated monomers of vinyl chloride. To clarify, vinyl chloride is consid­ered a human carcinogen and may be inhaled or absorbed through the skin (source and source). In addition, there may be traces of vinyl chloride in PVC products (source). My post PVC Yoga Mats will give you details about both vinyl chloride and PVC and their toxicity to health.
In sum, I feel a little better about Native Forest's can lining than about Natural Value's lining. However, what I learned about lining substitutes convinced me to avoid canned coconut products altogether.
I avoid coconut milk stored in plastic containers.
My search for organic coconut cream or milk brought me to other containers than metal cans – Tetra Paks and plastic.
To begin with, plastic is a common term for a broad range of synthetic and semi-synthetic solids. The most common raw materials for plastic are crude oil and natural gas. First, manufacturers extract compounds from these materials and link them into polymers. Then, they modify plastics with chemical additives to create specific textures, colors, clarity, heat, durability, light resistance, and flexibility.
However, these additives are not always permanently bonded to the plastic and are free to leach out under certain conditions. Namely, these conditions include heat, dishwashing, microwaving, and contact with fatty or acidic foods. This is a big problem because many of these additives are highly toxic.
Seemingly, the scariest additive is bisphenol A (BPA) which mimics estrogen and can act in the body as such. Therefore, seeing a "BPA-free" label, consumers may think that the product is safe. But it is not necessarily so. Remember that when one ingredient is gone, another one takes its place. For example, common BPA substitutes Bisphenol S (BPS) and Bisphenol F (BPF) are just as harmful (source).
Are plastics that are free of BPA, BPS, and BPF better?
In 2011, George Bittner, a neurobiology professor at the University of Texas-Austin, the founder of CertiChem lab, tested all types of plastics. He concluded that almost all commercially available plastics that he tested leached synthetic estrogen (source).
Tetra Pak organic coconut cream and milk containers consist of paperboard and plastic.
In the mode of experimentation, I bought USDA-certified organic So Delicious Unsweetened Coconut Milk.
It comes in Tetra Pak cartons which are made of paperboard sandwiched between polyethylene plastic. On the one hand, this plastic is a safer kind of plastic and definitely better than can linings. But on the other hand, it is still plastic with undisclosed ingredients that touch your food. So much for paperboard.
Besides, the problem with carton packaging is that not many communities compost or recycle it. This means that we are adding to the ever-growing landfill.
Then, there is Let's Do Organic Creamed Coconut that comes as a brick of USDA organic coconut cream. You need to dilute it with hot water and in a few strokes with a fork, you have creamy milk. We loved the taste of this milk!
Nevertheless, there is some exposure to plastic as the brick comes in a plastic wrap. Although it is a safer kind with a low risk of breaking down and leaching, it is still plastic. Therefore, I was glad to find the ultimate solution, and I am excited to share it with you.
Glass jars are the safest choice for storing coconut milk.
For starters, with a few exceptions, clear non-crystal glass is the safest material for food containers, cookware, and tableware. Indeed, glass normally does not leach lead, cadmium, and other heavy metals (unlike ceramics or clay). Neither does it leach hormone-disrupting chemicals (unlike plastic). To make the best decision for your kitchen and health, read my post about Lead Free Glass Brands.
So, of course, I was happy to come across coconut cream concentrate in a glass jar!
Healthy Traditions offers pure coconut cream concentrate with no additives.
When I first saw Healthy Traditions Coconut Cream Concentrate, I was skeptical. Unlike my previous finds of USDA-certified organic coconut cream and milk, this one was not certified organic. But after I contacted Healthy Traditions, I became convinced to buy this product.
First, they source their coconut cream concentrate directly from small farmers in the Philippines who implement organic farming practices but are not certified by the USDA.
Second, it is often referred to as "coconut butter" because it is nothing but coconut with no water or additives. Therefore, it contains ALL the fiber of the coconut. They make it by drying coconut meat and then grinding it very finely. Its high fat content gives the product a creamy consistency like that of other nut butters. Hence, the concentrate may solidify. To get it out of the jar, place the jar in a saucepan with hot water for several minutes.
Third, it will save you money because you need just 1 or 2 teaspoons. Mix the concentrate with water to make creamy coconut milk. As an option, you can put it in your coffee as a non-dairy creamer or blend it with smoothies. Also, you can make it into ice cream or spread it on bread and crackers. Although it has no USDA certification as organic coconut cream, it is healthy, safe, and delicious.
That said, I want to emphasize that Healthy Traditions carries many other kinds of healthy food. Namely, they carry pasture-raised chicken and pork, and grass-fed and grass-finished beef.
Healthy Traditions tests for glyphosate and offers a big variety of healthy food.
As an online store, Healthy Traditions carries healthy food and consumer products labeled with their house brand. They do not allow any products with GMO ingredients.
Moreover, they have an in-house program to test for glyphosate, a carcinogenic herbicide. It is impressive that Healthy Traditions has zero tolerance for glyphosate, unlike the United Stated Department of Agriculture (USDA). In fact, the latter allows manufacturers to use the USDA Organic label if the product has up to 5% of the "Environmental Protection Agency's tolerance for the specific residue detected or unavoidable residual environmental contamination" (§205.671 Exclusion from the organic sale). It means that even USDA Organic produce can contain traces of glyphosate.
I highly recommend checking which products Healthy Traditions found glyphosate-free, especially if you eat wheat products.
Why we buy Healthy Traditions meat
In addition to the coconut cream concentrate that we buy to make coconut milk, we buy Healthy Traditions meat. Just as they do not carry organic coconut cream or milk, they do not carry certified organic meat.
In an ideal world, of course we want to eat certified organic, pasture-raised, and glyphosate-tested meat. However, it is a tall order and for many of us the task is unattainable. If the choice is between organic meat where animals were not raised in pastures, on the one hand, or pastured meat, on the other, I would choose pastured meat. Besides, I really like the fact that cows are 100% grass-fed, and pigs and chicken had only non-GMO feed. Thus, we bought pasture-raised chicken and pork from them, and they are delicious.
As for packaging, the frozen foods, such as meat, arrive in boxes with a biodegradable foam type insulation and a plastic bag for the dry ice. You can put the plastic into a plastic recycle bin, and the "foam" – in the trash or compost. Supposedly, it is safe for the earth and melts away in moisture.
Summary about coconut milk
After trying several brands, including organic coconut cream brands, I definitely have a favorite – coconut cream concentrate by Healthy Traditions. It has so many benefits as a healthy, economical, and delicious product. Additionally, it gives me peace of mind because it comes in a glass jar, not a metal can or plastic container.
Along with coconut products, Healthy Traditions offers many other foods. Their meat is pasture-raised, grass-fed, and non-GMO. On top of that, they test their products for glyphosate, a carcinogenic herbicide. After contacting them and learning more about them, I can say that they seem to be trustworthy.
Nevertheless, I do not recommend their skincare products because of the use of controversial grapefruit seed extract. You can read more about it in my post WaterWipes Baby Wipes. And if you need a truly hydrating cream and safe makeup products, read my Crunchi Non-Toxic Makeup post.
Be sure to check out my shop for clean skincare and home goods for all budgets. Also, book a consultation with me to get clarification on non-toxic living. And consider joining the Savvy Consumer Circle of like-minded people for fun healthy living.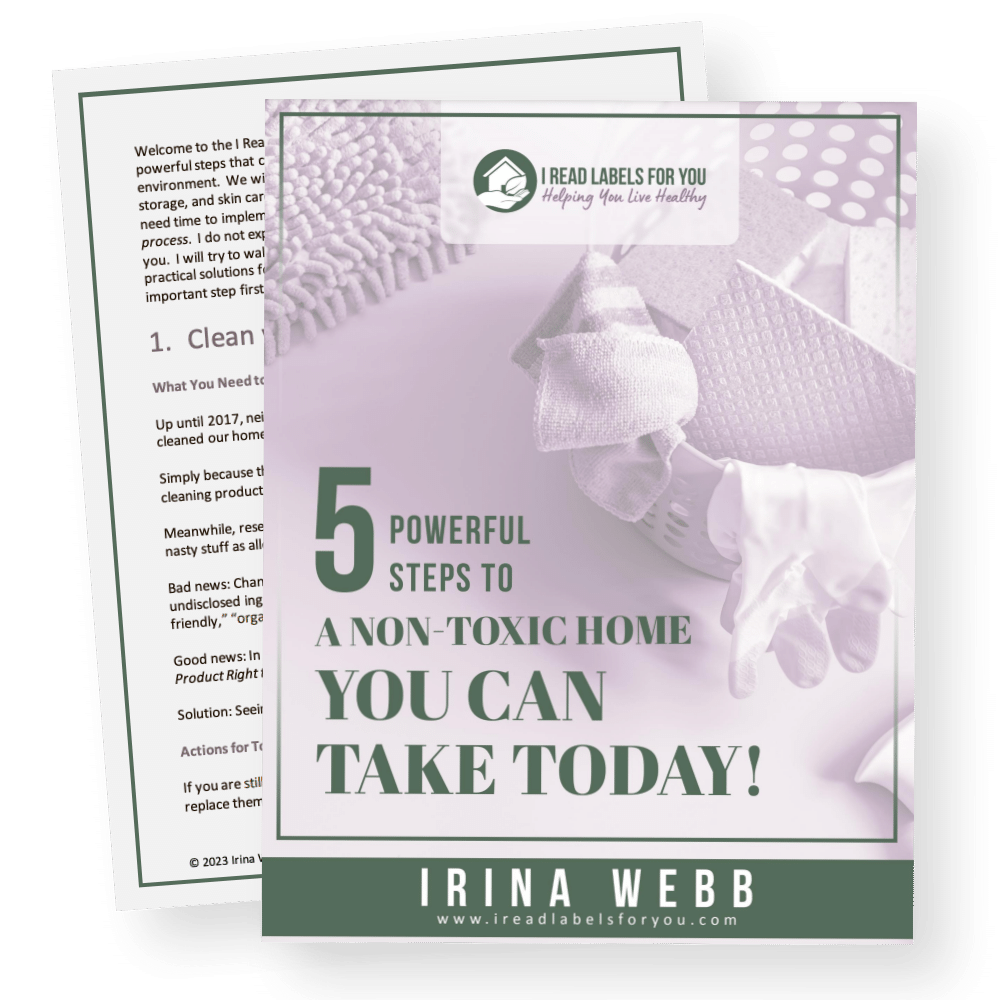 Download The Free Guide!
5 Powerful Steps To A Non-Toxic Home
Join our informed consumer community and get our free guide the "5 Powerful Steps To A Non-Toxic Home".