Lead Free Glassware Brands
This post may contain affiliate links. To read our affiliate policy, click here.
When outfitting your kitchen, you may have a lot of questions, such as: Does glass have lead in it? Does borosilicate glass have lead? What is the best glass cookware? These are all very good questions. Let's answer them and go over the best lead free glassware brands including glass dinnerware, safest drinking glasses, and glass cookware.
Before we dive into these questions, let me start by saying that with a few exceptions, glass is the safest material for items that come in contact with food. Unlike ceramics and clay, glass normally does not leach lead, cadmium, and other heavy metals. Unlike plastic, it does not leach hormone-disrupting chemicals. So, I want to praise you for looking into using glass food storage, glass cookware, and glass tableware for your kitchen. With this said, let's discuss common types of glass so you can make the best decisions for your kitchen and health.
Types of glass for glass dinnerware
It is important to know that there are two common types of glass material – soda lime and borosilicate glass.
Soda lime
Soda lime glass is more common than borosilicate, especially in the US. For example, popular Pyrex glass storage containers and glass baking dishes are made from soda lime glass. World Kitchen acquired Pyrex in 1998. And that is when World Kitchen started making Pyrex lead free glassware from soda lime, not borosilicate. A lot of glass dinnerware options are made from soda lime glass as well.
I called and emailed World Kitchen. Unfortunately, they do not disclose the materials from which their soda lime glass is made. They recommended searching on the Internet, which I did, and my blog came up (which I found extremely illuminating (just kidding, kind of)).
According to Wikipedia, "soda-lime glass is prepared by melting the raw materials, such as sodium carbonate (soda), lime, dolomite, silicon dioxide (silica), aluminium oxide (alumina), and small quantities of fining agents (e.g., sodium sulfate, sodium chloride) in a glass furnace at temperatures locally up to 1675 °C." This article tells us that soda lime glass is made of 70% silica, soda, lime, and small amounts of other compounds.
Borosilicate glass
As for borosilicate glass, Wikipedia describes its composition as follows (as a percentage of weight): 4.0% boron, 54.0% oxygen, 2.8% sodium, 1.1% aluminum, 37.7% silicon, and 0.3% potassium. This article informs us that borosilicate glass is made of at least 5% boric oxide, which makes it more heat resistant. We can see from the list of ingredients that borosilicate glassware should be lead free glassware.
Before 1998, Corning produced Pyrex from borosilicate glass. They still use this type of glass in European Pyrex, called Pyroflam, which is more heat resistant. However, if you drop it, it shatters into tiny particles instead of breaking into pieces. That can make glass dinnerware dangerous; so, you should follow the manufacturer's maintenance instructions to prevent that from happening.
Does glass dinnerware leach any heavy metals?
Aluminum in lead free glassware
As you have noticed, both types of glass contain small amounts of aluminum. I do not have the exact information on how much aluminum leaches into food. However, I found two studies here and here that pointed to the fact that trace amounts of aluminum can leach into the contents. But only trace amounts that may matter for very precise lab tests. And the trace amounts leach when the glass comes in prolonged contact with certain substances. These substances may be ethylene-diaminetetraacetic acid, nitrilotriacetic acid, citrate, oxalate and fluoride ions. I do not think we handle these substances in our kitchens.
I wish I could hear from the makers of Pyrex themselves about the composition of Pyrex glass and what may be leaching.
In the meantime, I am not very concerned about the possibility of aluminum leaching in lead free glassware. I have a feeling if there is any leaching, the amounts should be insignificant. Unlike lead, which has no safe amounts, our bodies can tolerate bigger amounts of aluminum before it becomes toxic. I have had challenge heavy metal tests done twice. My body does not store any significant amount of aluminum. And we use Pyrex glass dinnerware all the time.
In addition, I have not seen any independent tests that would raise any alarms for aluminum leaching from glass cookware or any other glass items.
Lead in glass dinnerware: Is Pyrex glass lead free?
On the other hand, I had elevated amounts of lead stored in my body over the years, so I am very concerned about exposure to materials containing lead. Let's talk about lead.
As we saw earlier, lead is not part of glass composition. In addition, independent tests have shown that neither soda lime nor borosilicate glass have lead or cadmium in them.
For example, Tamara Rubin of Lead Safe Mama tests household items including glass dinnerware with an XRF instrument. This way she determines the total amount of lead and other heavy metals. Please note that she tests for total amounts, not leachable amounts. In other words, even if she finds lead, cadmium, and other heavy metals, we do not know how much will leach into our food or liquids. By the way, heavy metals leach more with prolonged contact, and if the food or liquid is acidic.
Tamara Rubin recommends a variety of lead-free glassware brands and glass dinnerware made in the US or China. Unlike ceramic, the country of manufacture is not important in terms of heavy metal contamination. What she does not recommend is leaded crystal glass.
Leaded crystal glass
The only type of glass that is made with lead is leaded crystal. Lead replaces calcium in leaded crystal glass and imparts the crystal effect.
For example, leaded crystal is used to make wine decanters. This study found that storing wine in them for one day would pose a hazard. I would not store wine in them at all, even for an hour. We should take into consideration the fact that lead accumulates in the body. Besides, since there are so many ways of exposure to lead that we can't control, why not eliminate those that we can control?
If you live in California, leaded crystal glass should have a California Proposition 65 warning label on it. Pay attention to that. If you already own crystal glass, use it only on special occasions and drink fast.
In conclusion, I don't think we can call crystal glass lead-free glassware or lead-free glass dinnerware.
Lead in colored or painted glass cookware
This is another kind of glass that from time to time causes some concerns. Colored glass or glass with something painted on it may contain lead or cadmium. For example, Tamara Rubin, the founder of Lead Safe Mama, tested Pyrex measuring cups and found elevated levels of lead in the painted red markings on the outside.
Tamara also tested newer blue Ball mason jars and found some small levels of lead in them. However, she found that Ball is the most consistently lead-free glassware brand. Thus, it is best to use clear plain glass without any painted features, and I recommend the Ball brand. We use a lot of Ball jars at home. And yes, Ball jars are microwavable and dishwasher safe.
Lead free glass dinnerware brands
Corelle glass dinnerware
Corelle plates and bowls are made in the USA with Vitrelle® glass. Vitrelle® glass is a type of tempered glass, which has three layers of glass. This construction makes glass very durable, chip and break-resistant.
On the other hand, watch out for Corelle brand ceramic mugs. The material for mugs is not glass – it's stoneware. On top of that, China is the manufacturing location for the Corelle mugs.
While World Kitchen assured me that they test all their products for heavy metals and comply with California's Prop. 65 limits, they would not show me any proof of that. This is where Tamara Rubin's research comes in very handy. She tested Corelle plates, bowls, and mugs and found some lead in the mugs. Thus, I recommend getting a Corelle set without mugs.
I also recommend my clients to go for plain and clear glass without painted decorations which may contain lead or cadmium. Unfortunately, at this point, the dinnerware industry is not very transparent, so it is up to us to choose lead free glassware.
Duralex glass dinnerware
Duralex is a French brand that produces tableware and kitchenware from tempered glass. In this technique, the molded glass is heated to 1112 degrees Fahrenheit and then cooled very quickly. This process gives it an impact resistance twice superior to normal glass. My recommendations are Duralex glass bowls, dinner plates, and dessert plates.
Safest drinking glasses and glass food storage
Ball mason jars
We have been using Ball mason jars both as drinking glasses (some restaurants do, too) and as storage containers for years now. As I've stated above, Tamara Rubin of Lead Safe America tested mason jars and found that the Ball brand mason jars were consistently the least likely to contain lead. Avoid colored ones as they tested positive for lead.
We use these Ball Half Pint Jars and Ball Pint-sized Mason Jars as drinking glasses and glass food storage. Make sure you wash and wipe the lids to avoid rusting but do not put them in the dishwasher. And do not let food or liquid touch the lids as they may contain BPA or other bisphenol chemicals.
I store homemade tomato sauce and soup in these Ball jars. They make good space saving glass food storage in a freezer.
Anchor Hocking lead free glass mugs
We also own and love these glass mugs as part of our lead free glassware collection. Like Pyrex, they are made in the US by another reputable glass company.
Duralex lead free glass drinking glasses
Duralex glasses are our favorites as well. Made in France, they are sturdy, yet they have a chic look. You can find them in my Shop.
There are other safest drinking glasses, mugs, glass dinnerware, Pyrex glass food storage, and many other non-toxic products that you can find in my Shop.
Glass cookware
Visions glass cookware
Corning manufactures Visions cookware from glass ceramic. While the cookware is made in France, the lids are made in China. The ceramic component of the glass enables it to withstand extreme temperatures even on a stovetop.
Tamara Rubin has tested Visions cookware for lead and cadmium with XRF technology. Once in a while, she finds some small amounts of lead and other heavy metals in some pieces. She can't determine which year and models are more at risk of contamination. She does not feel comfortable using Visions cookware by Corning. Thus, I can't include it with confidence in a lead free glassware category.
We do not use Visions, but if you are interested in trying this cookware, you can find it on Amazon here and here. Please share your experience in the comments.
Conclusion about lead free glassware
To sum up, I believe plain glass with no color or paintings on it is one of the safest options for glass dinnerware and glass cookware. I hope this clarifies your options and makes your life a little easier. And please remember to check out my Shop where I have curated kitchen products (and many others) based on many years of independent research and experience as well as tests by independent researchers. In addition, in my Safe Cookware guide, you can learn what cookware I use and how I classified it into worst, bad, better, and best categories.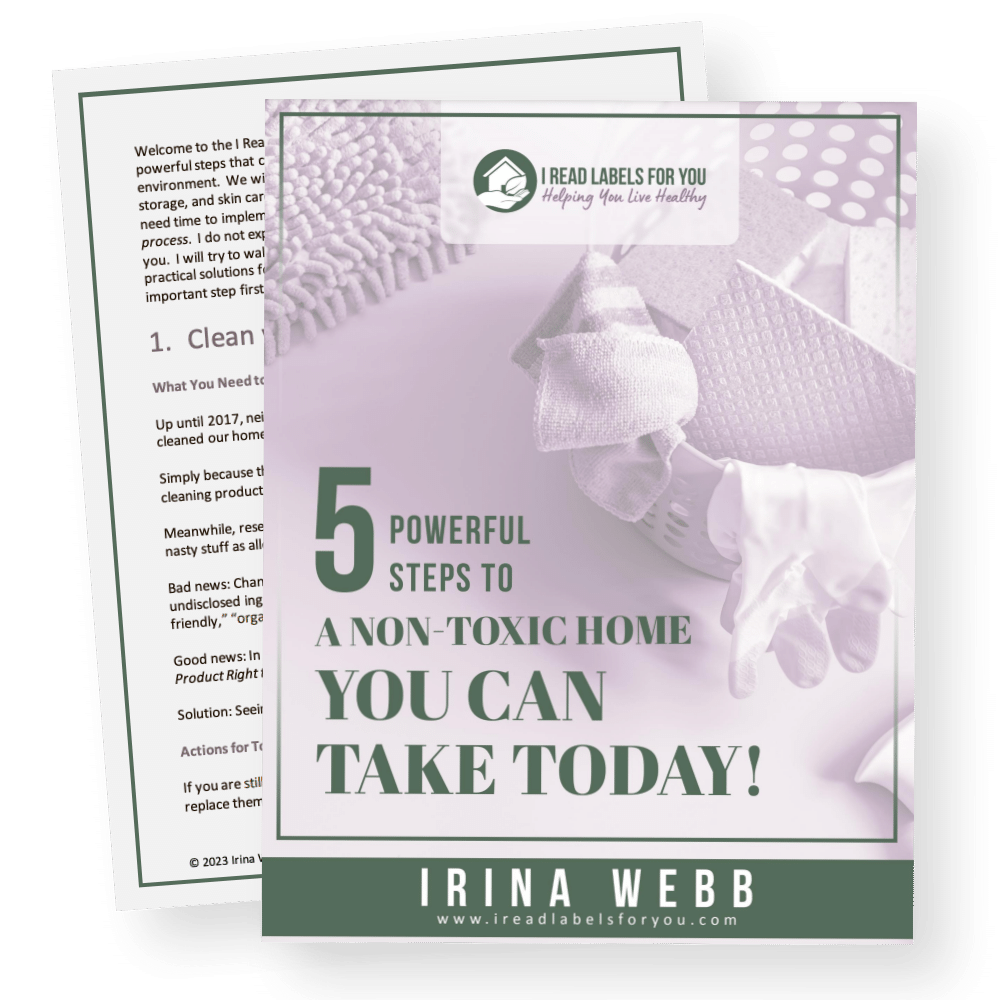 Download The Free Guide!
5 Powerful Steps To A Non-Toxic Home
Join our informed consumer community and get our free guide the "5 Powerful Steps To A Non-Toxic Home".