Lead Free Glassware Brands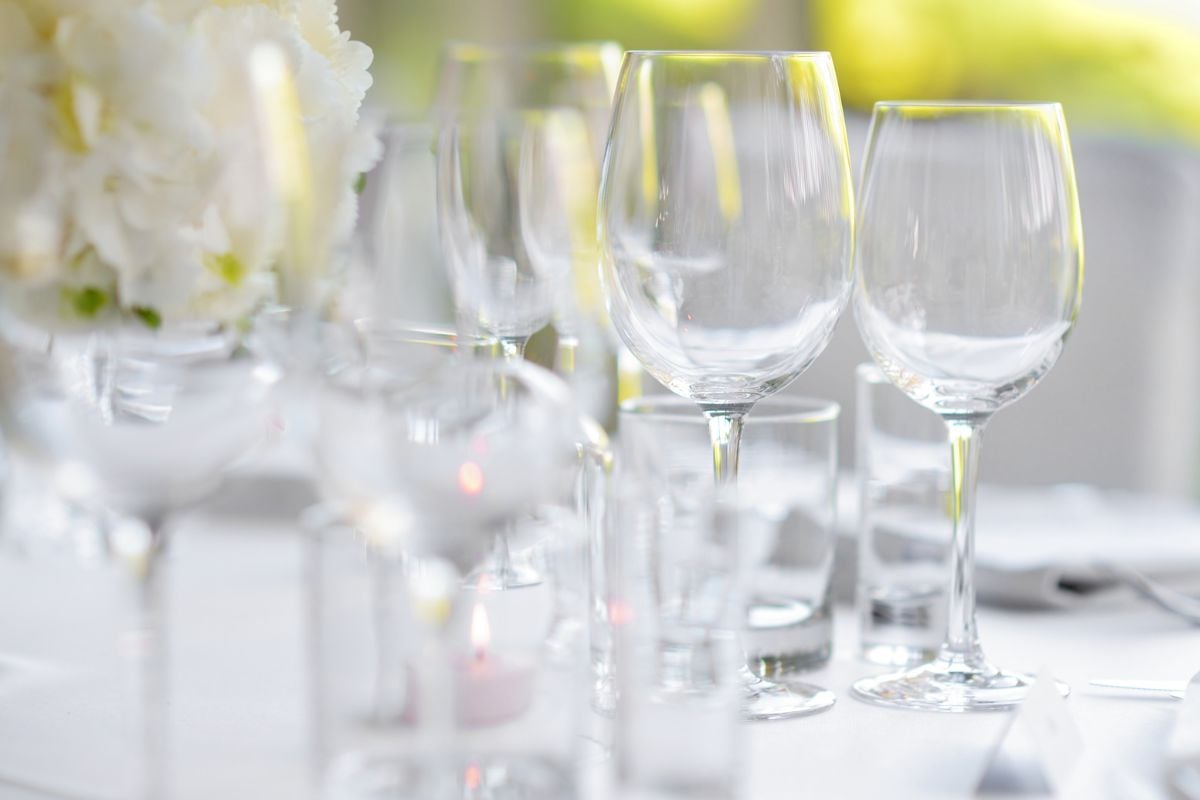 This post may contain affiliate links. To read our affiliate policy, click here.
With a few exceptions, glass is the safest material for items that come in contact with food. Normally, glass does not leach lead, cadmium, or other heavy metals unlike ceramics and clay. And unlike plastic, it does not leach hormone-disrupting chemicals. So, if you are considering using glass products, such as tableware, cookware, and food storage containers, good for you!
In this special lead free glassware review post, you will learn about common types of glass so you can make the best decisions for your kitchen and health. Specifically, you will find out what kind of glass may contain lead and what kind of glass is lead and cadmium free. Plus, you will get some options for safe glass dinnerware and safe drinking glasses. For general guidance on finding safe cookware, refer to my Safe Cookware Guide.
Lead Free Glassware Review
To begin with, let's discuss three types of glass material, commonly used for manufacturing cookware, dinnerware, and drinkware:
borosilicate glass
soda lime glass, and
lead glass.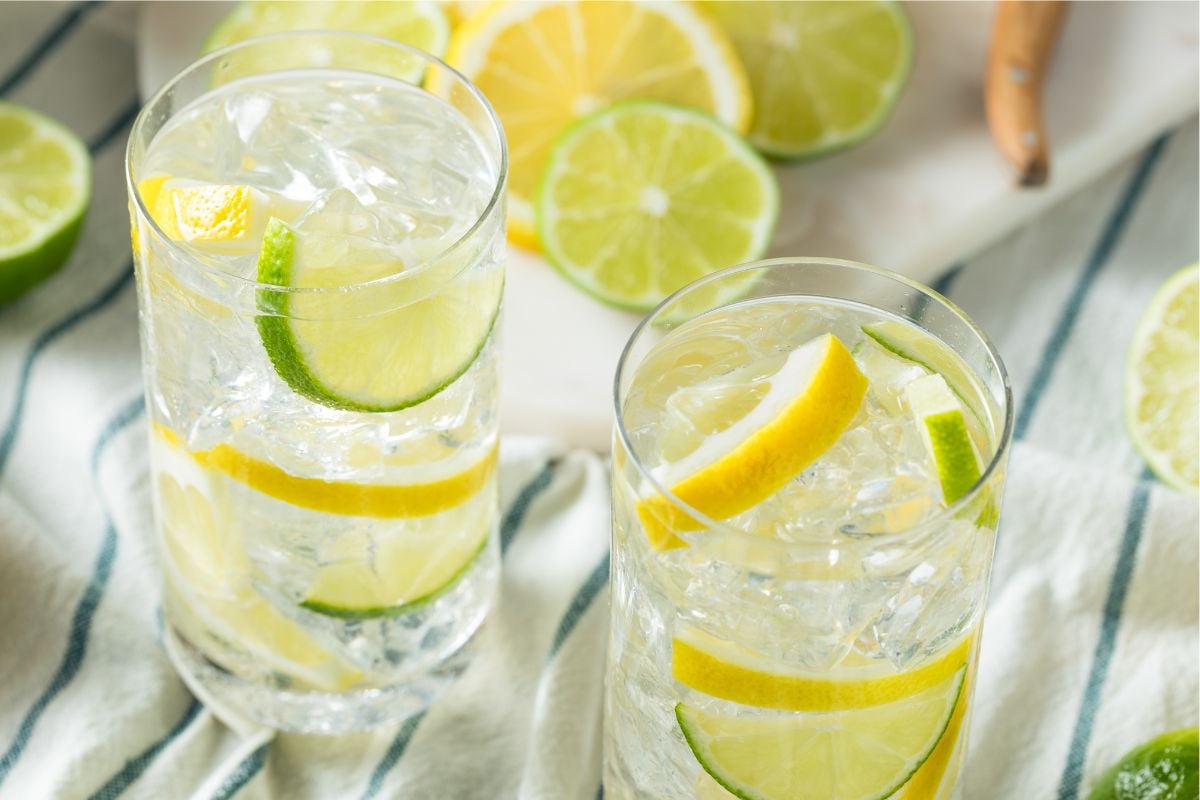 Borosilicate Glass
Typically, borosilicate glass consists of around 81% silicon dioxide (SiO2), 5-13% boron trioxide (B2O3), and smaller concentrations of sodium oxide and aluminum oxide. It is boron that provides the glass with its dimensional stability and prevents it from shrinking or expanding when the temperature changes (source and source).
As you can see from its composition, borosilicate glass should be lead free glassware. Plus, independent testing by Tamara Rubin, the founder of Lead Safe Mama, showed that household objects made of borosilicate glass were lead and cadmium free.
What about aluminum – can borosilicate glass leach aluminum?
In a lab experiment with borosilicate glass vials and buffer solutions, it was found that phosphate buffer solution had the highest possibility of forming particles containing aluminum. And this study on glass flasks and amino acid solutions relates aluminum contamination to the cysteine, cystine, glutamic acid, and aspartic acid stored in the glass flasks.
Personally, I am not very concerned about the possibility of aluminum leaching in glass dinnerware. First, I haven't seen any independent tests raising alarm for aluminum leaching from any household glass products. Second, in our kitchens, we hardly use the substances described in the experiments above that provoked aluminum leaching. Plus, if there is any leaching, the amounts should be insignificant. Furthermore, when I was tested for stored levels of heavy metals in my body as well as current exposures, aluminum was not an issue for me, and I use glassware all the time.
Soda Lime Glass
As for soda lime glass, its typical composition is 70–75% silicon dioxide (SiO2), 12–16% sodium oxide (Na2O), and 10–15% calcium (CaO) (source and source).
Soda lime glass is more common than borosilicate glass, especially in the US. For example, popular Pyrex glass storage containers and glass baking dishes are made from soda lime glass (they used borosilicate glass until 1998). Many glass dinnerware options are made from soda lime glass as well.
Based on its composition, soda lime glass should also be lead free glassware. However, beware of colored or painted glass cookware. Indeed, Tamara Rubin tested Pyrex measuring cups and found elevated levels of lead in the painted red markings on the outside. Additionally, she tested newer blue Ball mason jars and found small levels of lead in them. Conversely, clear Ball glassware seems to be the most consistently lead and cadmium free glassware.
Lead Glass
The chemical composition of lead glass includes 55–65% silicon dioxide (SiO2), 18–38% lead oxide (PbO), and 13–15% sodium oxide (Na2O) or potassium oxide (K2O). Lead oxide makes the glass dense, hard, and X-ray absorbing. Hence, you see lead glass in decorative glassware for its crystal effect and in special optical glasses (source).
Obviously, glassware made of lead glass is not lead free glassware. For instance, this study found that storing wine in lead crystal decanters even for one day would pose a hazard. Hence, crystal glasses, too, are not safe drinking glasses. If you own some, try using them only on special occasions and emptying them fast. Also, please pay attention as to whether there is a California Proposition 65 warning on your glassware (even if you are not in California).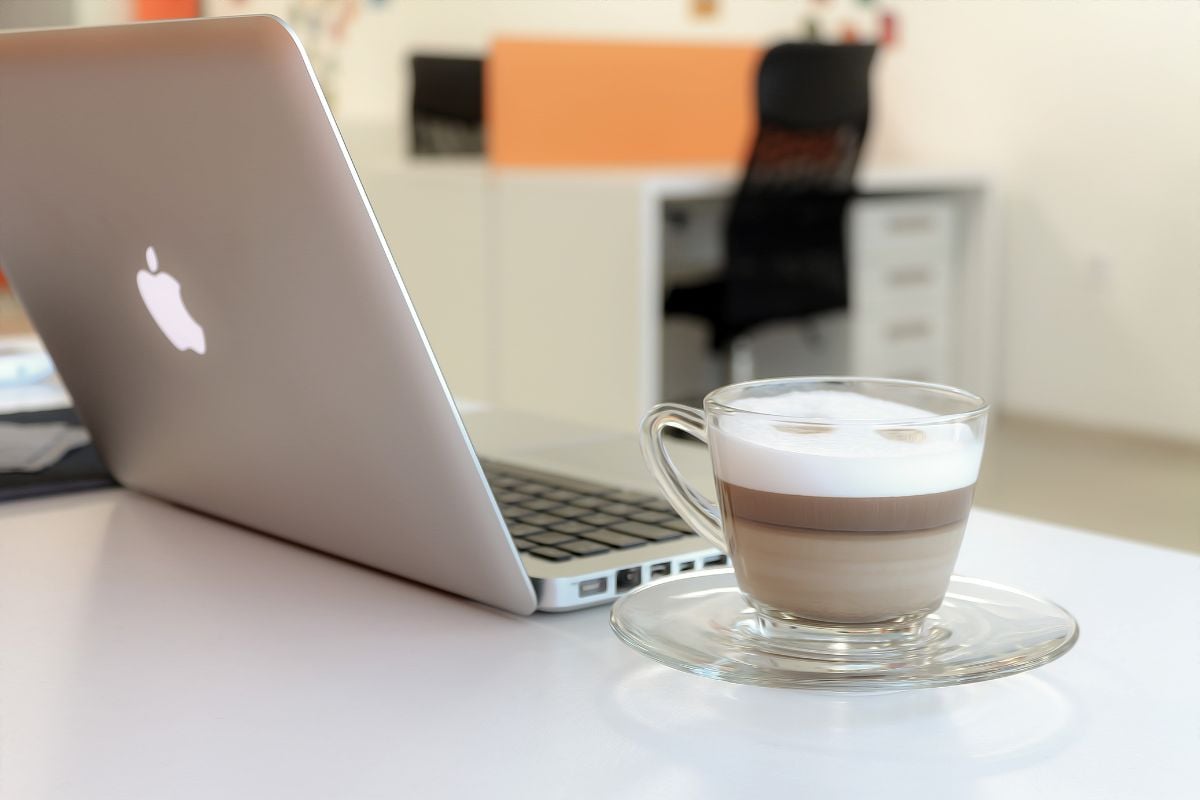 Lead Free Glassware Brands
Safe Glass Dinnerware
I have placed my favorite lead and cadmium free glass dinnerware in my Amazon shop:
Anchor Hocking (crafted in America with tempered glass)
Corelle dishes (made in the USA with tempered Vitrelle® glass; durable, chip and break resistant)
Duralex (made in France with tempered glass)
Safe Drinking Glasses And Mugs
First off, while I like Corelle dishes, I would stay away from Corelle mugs. To clarify, the material in Corelle mugs is not glass, but stoneware. When Tamara Rubin tested Corelle dinnerware, she found some lead in the mugs.
Also, remember to avoid colored Ball jars as they tested positive for lead.
As for safe drinking glasses and mugs, just like glass dinnerware, you can easily find them in my Amazon shop:
Anchor Hocking Glass Mugs
Ball Mason Jars (exclude the colored ones)
Duralex Glasses (you can buy them on the Duralex website, too)
Best Non-Toxic Food Storage Containers
You can find the best non-toxic food storage containers in my Amazon shop:
Anchor Hocking Storage Containers
Ball Mason Jars
Duralex Food Storage Containers (you can buy them on the Duralex website, too)
Pyrex Food Storage Containers
I store homemade tomato sauce and soup in Ball Mason jars. They work well for my freezer, saving good storage space. Make sure you wash and wipe the lids to avoid rusting but do not put them in the dishwasher. And do not let food or liquid touch the lids as they may contain BPA or other bisphenol chemicals. (Learn more in my post BPA-Free Cans – Safe Or Toxic?)
Glass Cookware
In my Amazon shop, you will find several options for Pyrex bakeware. Personally, I use it all the time as I consider it safe lead free glassware.
As for Visions cookware, it is made of glass ceramic. While the cookware is made in France, the lids are made in China. The ceramic component of the glass enables it to withstand extreme temperatures, even on a stovetop.
Tamara Rubin's tests of Visions cookware for lead and cadmium revealed small amounts of lead and other heavy metals in some pieces. Hence, I'm not comfortable calling it "safe." We do not use Visions, but if you are interested, you can find it on Amazon here and here.
Summary of Glass Dinnerware Review
Unlike Borosilicate And Soda Lime Glass, Crystal And Colored Glass Is Not Lead Free Glassware.
To sum up, out of the materials commonly used for manufacturing cookware, dinnerware, and drinkware, I would avoid lead glass and colored glass. Indeed, neither of them is lead free glassware.
In my opinion, some lead and cadmium free glassware brands that you can find in my Amazon shop include:
Anchor Hocking glass products
Ball Mason jars
Corelle dishes (not mugs)
Duralex safe drinking glasses and dishes (you can buy them on the Duralex website, too)
Pyrex bakeware and food storage containers.
For additional assistance on finding safe cookware, refer to my Safe Cookware Guide. Also, you can find tons of useful information on the I Read Labels For You blog and in the IRLFY shop.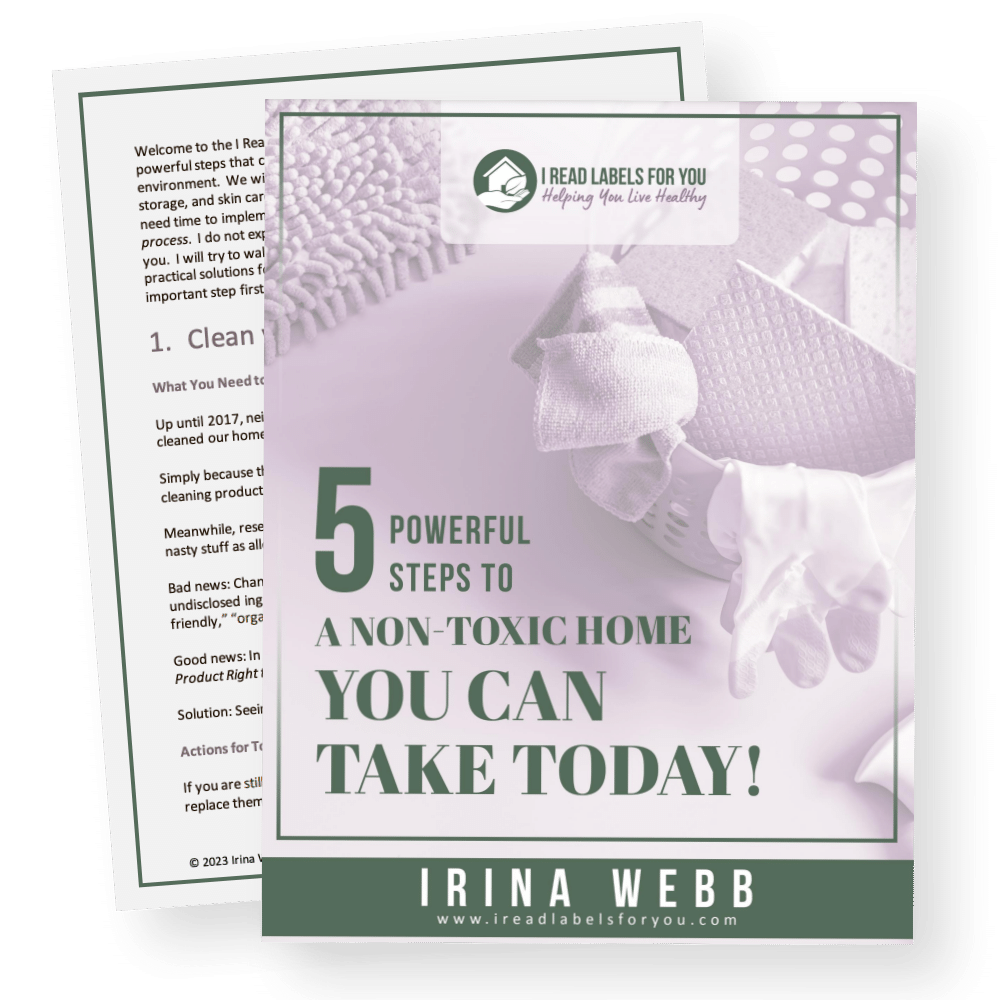 Download The Free Guide!
5 Powerful Steps To A Non-Toxic Home
Join our informed consumer community and get our free guide the "5 Powerful Steps To A Non-Toxic Home".