This Happened When I Tried Clay Cookware
This post may contain affiliate links. To read our affiliate policy, click here.
As a part of my earthenware experiment, I decided to try an unglazed clay pot for cooking in 2017. In the light of concerns about lead and cadmium in ceramic dishware and cookware, I was glad to find Miriam's Earthen Cookware. On her website, Miriam featured a report confirming that there was zero lead and cadmium in her clay cookware. After talking to Miriam in person for almost an hour, I felt confident enough to give a try to Miriam's Earthen Cookware. So, I bought her large clay cooking pot even though it was pretty expensive.
It took a while for the pot to show up, but it arrived well packed and in good order. I studied the detailed instructions on how to season Miriam's Earthen Cookware pot and followed them. Apprehensive of damaging such an expensive clay pot, I was extra careful to follow all the instructions.
My first cooking experience with clay cookware
Cooking broth in a clay pot
After seasoning the pot, I cooked a broth. I discovered that a clay pot was not a very convenient cookware for broths because the water evaporated even faster than from a stainless-steel pot. The aroma of the broth mixed with the scent of clay remained in the house for a few days. I was willing to overlook those minor difficulties because the broth was delicious. However, I could not help but taste a subtle hint of clay.
Cooking beans in earthenware
The taste of clay became more prominent when I cooked beans in my new clay cooking pot. Actually, after eating the beans, I had a clay aftertaste in my mouth for four days. Also, I felt tired. I thought something else had given me the weird aftertaste. A few days before that I had started taking probiotics and some herbs, so I stopped taking them in case they were the culprit. Finally, the aftertaste was gone. I was not quite sure whether it had come from Miriam's clay cookware, especially because my husband did not have that issue.
Cooking soup in a clay cooking pot
A week later I cooked a soup in Miriam's earthenware. The broth for the soup had been cooked previously in another pot I had been using for a long time. The clay aftertaste came back, and I felt really run down. It took me about a week to fully get rid of the haunting clay aftertaste. As for the energy, I felt a lot better after a few doses of N-Acetyl Cysteine which helps detoxify heavy metals.
Well, I talked to Miriam about that. She said the cause of my condition might be the super nutritious value of the food coming from her clay cookware. In other words, my body simply could not handle the extra nutrition. Miriam suggested I stop taking my multi-vitamins and give the clay cooking pot another try. The problem with her theory was that I was not taking any multi-vitamins.
The composition of clay
Normally, clay has a variety of ingredients. They include nutritious ones like calcium and magnesium and potentially harmful ones like aluminum and antimony. Miriam's Earthen Cookware website presents a complete list of nutrients and micro-nutrients in the pure clay they use. However, it differs from a full list of ingredients that make up clay. When I told Miriam about that discrepancy, she said that their full list of ingredients was proprietary information and refused to give it to me.
You know, I hear a lot of that from manufacturers when I ask them tough questions. So, I kind of expected that. What I did not expect was what came next. Miriam suggested that I call the lab and ask for the test results of her clay cookware directly from the lab. I did, but as you can imagine, the lab did not release any information to me as I was not their customer.
Why it is important to know the composition of clay in cookware
It is important to know the composition of the clay because if a clay cooking pot has no glaze, it doesn't have a barrier created by the glaze. And without this barrier, whatever is in the clay can leach into food.
Research on glazed and unglazed clay pots for cooking
The Science of the Total Environment journal published the results of a study that tested glazed and unglazed clay cookware. The researchers found that arsenic, the focal point of the study, leached up to 10 times more from the unglazed earthenware. They concluded that the risk of arsenic poisoning was high enough to be of concern and warrant regulation. By the way, according to the UK's Foods Standards Agency, arsenic is not uncommon in clay.
Another study assessed the incidence of heavy metals leaching from traditional, i.e. unglazed, clay cooking pots. Per the results of this study, lead, cadmium and iron transferred in considerable amounts, exceeding the safe limits in food established by the World Health Organization. The researchers concluded that as heavy metals were toxic in trace concentrations due to bioaccumulation, traditional clay pots constituted a public health hazard when serving as food contact material.
Miriam's Earthen test report on clay cookware
Miriam's Earthen website made their test report available in 2018. Unfortunately, this report does not give me any peace of mind, and here is why.
To say the least, a lab report must state the lab's name, the date of the test, and the description of the test. This is the kind of information that is normally present on third-party test reports that I have seen before in other contexts. The Miriam's Earthen 2018 test report does not provide us with these basic facts.
In addition, the report must include the minimum detectable levels. Again, it is something that I look for and have come to expect to see in test reports. They are a critical feature of any test report, especially when you are looking for safe cookware. Let me explain to you how and why.
Why it is important to know the minimum detectable levels
Let's say the government rules that a certain metal should not be in food in quantities over 1 part per billion ("ppb"). Then, let's say a lab uses equipment to search for minimum detectable levels of the metal in the amount of 1 part per million ("ppm"). This means that there could be 999 times the level of the metal that the government found safe. But the test report would show none of that metal because the lab didn't look hard enough. Therefore, when you search for a non-toxic clay cooking pot, this piece of information in tests will be very important to you.
Conclusion about clay cookware
The purpose of this write up was to share my experience with Miriam's Earthen Cookware and educate others of possible downfalls of clay cookware. I'm not suggesting that I had health issues because of substances leaching out of the Miriam's Earthen clay cooking pot. The only way to ensure that clay cookware doesn't contain toxic metals is to test every batch of clay. I believe it is something prohibitively expensive to do. Besides, none of the manufacturers I asked about doing it gave me a satisfactory answer.
You can learn more about non-toxic cookware from my guide to safe cookware. To find safe kitchenware and other safe items for you and your home, visit the IRLFY shop.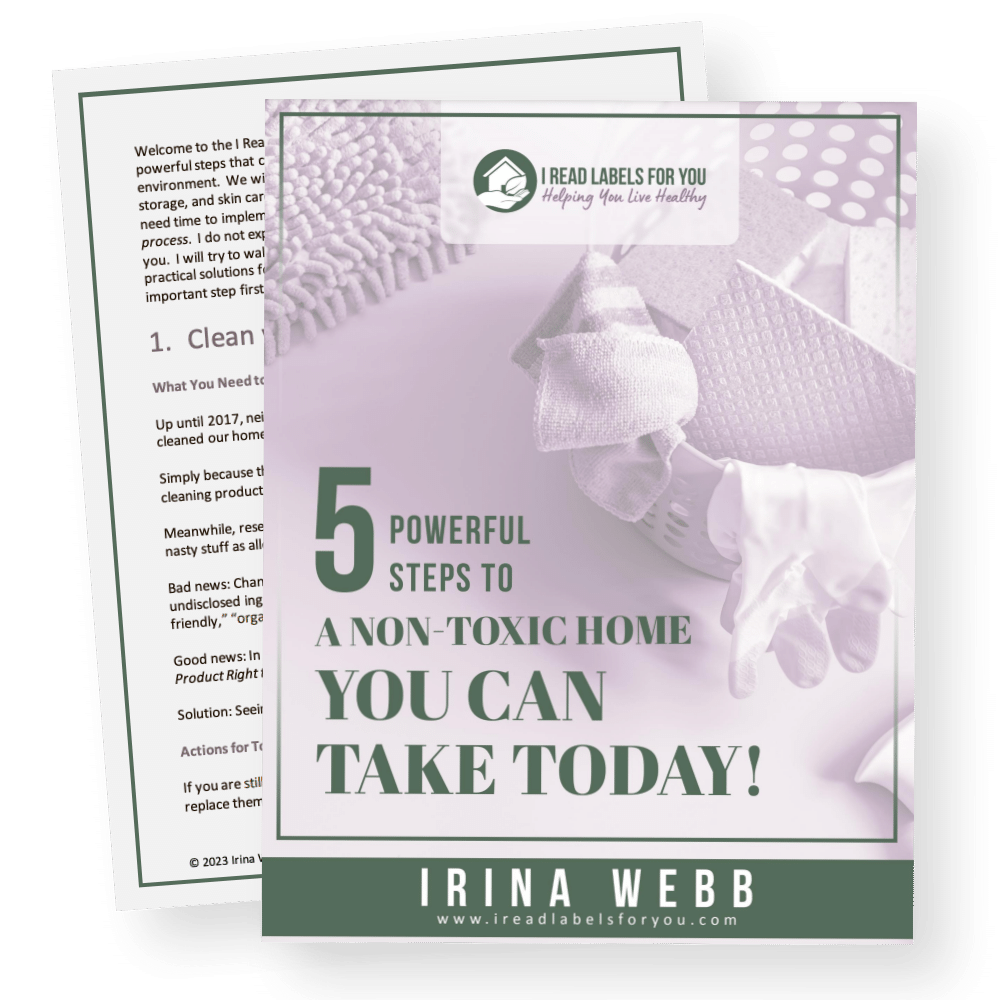 Download The Free Guide!
5 Powerful Steps To A Non-Toxic Home
Join our informed consumer community and get our free guide the "5 Powerful Steps To A Non-Toxic Home".