This post may contain "affiliate links." This means if you click on the affiliate link and purchase the item, I'll receive a commission. I disclose this in accordance with the Federal Trade Commission's 16 CFR, Part 255. I only recommend products that passed my strict criteria. Read about my research methods in the Start Here page.
Last updated on April 25th, 2018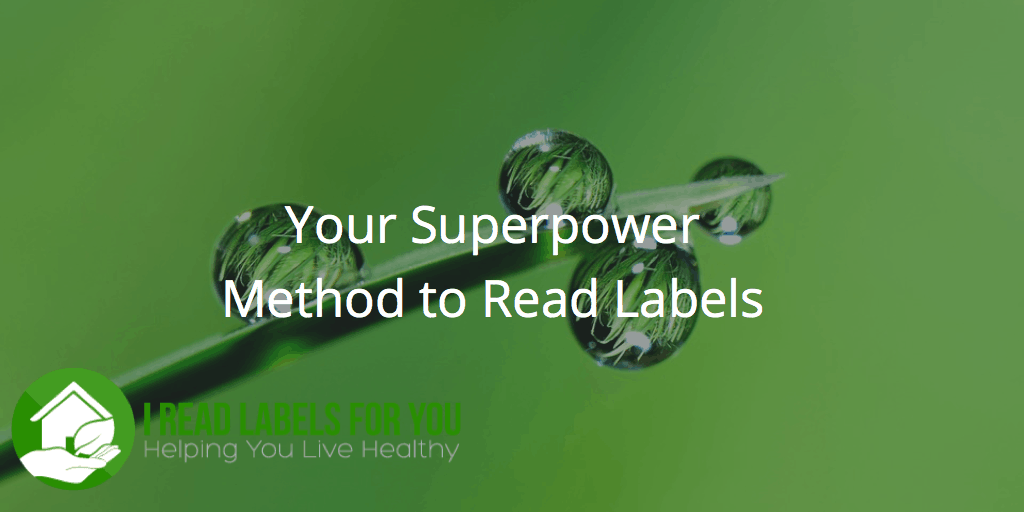 Today you will acquire a superpower to pick up any shampoo, conditioner, lotion, cream, or liquid foundation and know right away if you should put it back on the shelf.  With this easy method, you will be able to spot over 95% of potentially harmful personal care and skincare products, which may cause irritation or contact allergy, or that may increase the risk of cancer or hormone disruption. The superpower method is so easy that it will take you not more than 10 seconds to apply it.
I was able to develop this unprecedented method because I have been reading ingredients of cosmetic products since my son was born, which was 6 years ago.  I use my financial analyst background to evaluate the safety of consumer products and consult with consumers and product manufacturers to help them make informed choices.
Here's how the superpower works.
First, locate the ingredients of the product, which you can find on the website or the product packaging.  (Know that preservatives are used in all products formulated with water to prevent bacteria and mold growth.)  That's probably the hardest part.  If the ingredients are not listed on the website, do not be afraid to call or email them.  In my experience, if you do not see ingredients on the website, it is a red flag.  I think manufacturers who are proud of their ingredients list them on the website.
Now, once you've found the ingredients, move your eyes to the bottom of the list, and look to see what they use as a preservative.  If you spot one of these preservatives, my recommendation is to click out of the website or put it back on the shelf.
My theory is this: if a company is not dedicated to the principle of using non-toxic ingredients, it will usually also choose an unsafe preservative because they are cheaper and easier to use.  On the other hand, companies that are trying to do the right thing will usually use a safer and more expensive preservative.  So to get a quick snapshot of the relative safety of the product as a whole, just look at the preservative being used.
The Preservatives to Spot and Avoid
Methylchloroisothiazolinone/Methylisothiazolinone (MCI/MI): is rated 6 out 10 (10 being most toxic) in the Skin Deep database powered by the Environmental Working Group (EWG). MCI is rated 7 out of 10 in the Skin Deep database. Both MCI and MI have been associated with contact allergy. MI was named by the American Contact Dermatitis Society Contact Allergen of the Year for 2013.  Lab studies on the brain cells of mammals also suggest that MI may be neurotoxic and the EPA cautions against its use in packaging that touches food.
Benzisothiazolinone:  is rated 6-7 in the Skin Deep database. The European Union's Scientific Committee on Consumer Safety (SCCS) considers benzisothiazolinone safe for use as a preservative in cosmetics products up to 0.01% with respect to systemic toxicity.  However, the SCCS states that Benzisothiazolinone is a known to be a sensitizer.  There is no information on what may be safe levels of exposure to benzisothiazolinone in cosmetic products from the point of view of sensitization. Until safe levels of exposure have been established, the use of benzisothiazolinone in cosmetic products as a preservative or for other functions cannot be considered safe in relation to sensitization (source).
Formaldehyde-releasing preservatives:  they release a small amount of formaldehyde into a product over time. The International Agency for Research on Cancer has defined formaldehyde as "carcinogenic to humans." The Environmental Working Group has given it the highest (i.e. worst) score for its negative health impact. Formaldehyde and formaldehyde-releasing preservatives are associated with widespread allergic contact dermatitis. The American Society of Contact Dermatitis lists formaldehyde as one of the core allergens, even in concentrations as low as 1%.  Longer storage times and higher temperatures increase the amount of formaldehyde released the risk of allergic reaction higher.  The allergic reaction can happen to formaldehyde or to the preservative itself.
Formaldehyde is not listed as an ingredient; instead look for these formaldehyde-releasing preservatives:
2-Bromo-2-Nitropropane-1,3-Diol
DMDM Hydantoin
Diazolidinyl Urea
Quaternium-15
Imidazolidinyl Urea
Methenamine
Sodium Hydroxylmethylglycinate
Parabens: are associated with the disruption of the hormonal (endocrine) system, and are rated anywhere from 4 to 7 in the Skin Deep database. There is some evidence that parabens can accumulate in human breast tissue (source).
The paraben preservatives are as follows:
Benzylparaben
Methylparaben
Propylparaben
Ethylparaben
Butylparaben
Isobutylparaben
Isopropylparaben
Citrus Paradisi (Grapefruit) Seed Extract: is rated 6 in the Skin Deep database because it is often contaminated with benzalkonium chloride, triclosan, or methylparaben, that act as preservatives (sources here and here).  While grapefruit itself has some preserving properties, it is not powerful enough to act as a preservative without the help of other preservatives in the formulation (source).  So if you see certified organic grapefruit extract, you can be assured that it is probably safe, but it is also not a standalone preservative, so they are using something else as well.
Other concerning ingredients you might see in products with the discussed concerning preservatives
If you spotted one of these preservatives, there is, my opinion and experience, an approximately 95% chance that for emulsifiers and surfactants (cleansing agents used in products that make your shampoo lather), you will probably see ethoxylated ingredients.
Ethoxylated Ingredients: are a group of ingredients made by the process of ethoxylation in which carcinogenic ethylene oxide is reacted with other ingredients to make them less harsh on the skin (source).  As a result of the ethoxylation process, carcinogenic 1,4-dioxane is created and can be left behind in the product.  1,4-dioxane can be reduced or removed from a product through the vacuum-stripping process.  But independent tests show that many manufacturers fail to do so (source).  The U.S. Environmental Protection Agency (EPA) has classified 1,4-dioxane as "likely to be carcinogenic to humans."  The United States Food and Drug Administration (FDA) studies showed that 1,4-dioxane can penetrate human skin.
How do you spot ethoxylated ingredients?
Watch out for ingredients that contain the following:
PEG- at the beginning of a word, and:
Words ending in:
Here is a sample list of ingredients that might be contaminated with ethylene oxide.  The full list contains 1,813 ingredients and can be accessed here.
Polysorbate-20
Sodium Laureth Sulfate
PEG-100 Stearate
Ceteareth-20
Polysorbate-60
Laureth-7
PEG-40 Hydrogenated Castor Oil
Steareth-21
Polysorbate-80
Cetyl PEG/ PPG-10/ 1 Dimethicone
Synthetic Fragrance
I also noticed that personal care and skincare products containing the discussed preservatives will most likely contain synthetic fragrances, which are mixtures of lots of different chemicals.
The FDA does not require the disclosure of individual ingredients used to create fragrances.  The fragrance mixtures are rated 8 in the Skin Deep database.
Many ingredients of fragrances are associated with contact allergy (source).  Fragrance may contain diethyl phthalate, associated with interfering with the normal function of the endocrine system and in animal studies is found to increase birth defects (source).
The fragrance can be spotted by looking for ingredients listed as follows: parfum or fragrance.
Today's assignment:  Let's practice your superpower now.  Look at a couple products in your home and see if you can any of the discussed ingredients.
Not at home? No problem.
Here is a screenshot of a product.  Practice by looking at the picture.
Tell me in the comments whether you would want to try this shampoo and why.
And finally, to download a cheat sheet to carry in your wallet with the middle of the road preservatives, click here.