Head & Shoulders Classic Clean Shampoo Ingredients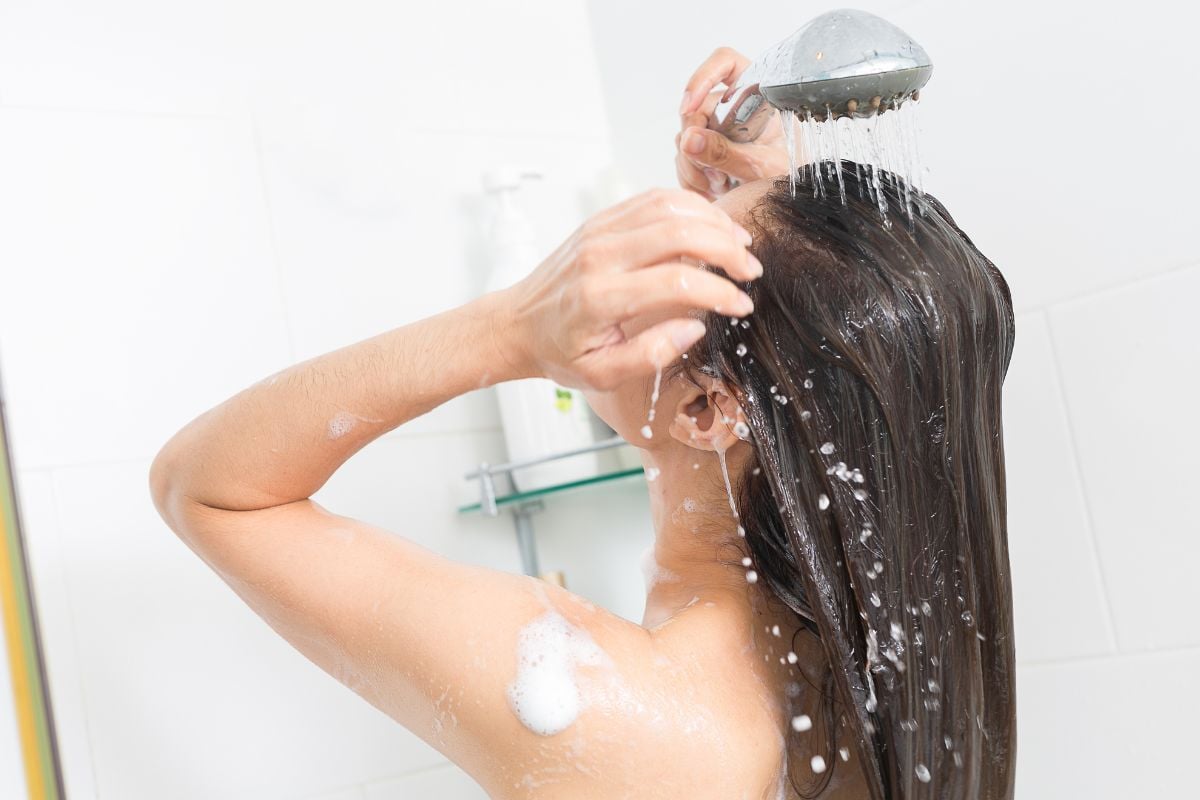 This post may contain affiliate links. To read our affiliate policy, click here.
SaveSave
In this post, you will learn about the safety of Head & Shoulders Classic Clean shampoo ingredients so you can decide whether this anti-dandruff shampoo is for you. Additionally, you will find out about an interesting twist in the story of figuring out which Head & Shoulders ingredients are accurate. So, read on! And if you would like to become a pro in gauging the safety of any shampoo in a matter of seconds, check out my Savvy Consumer Superpower e-book.
Head & Shoulders Classic Clean Shampoo Ingredients
To begin, as of September 2023, the ingredients in Head & Shoulders Classic Clean Anti-Dandruff shampoo as listed on their website are as follows: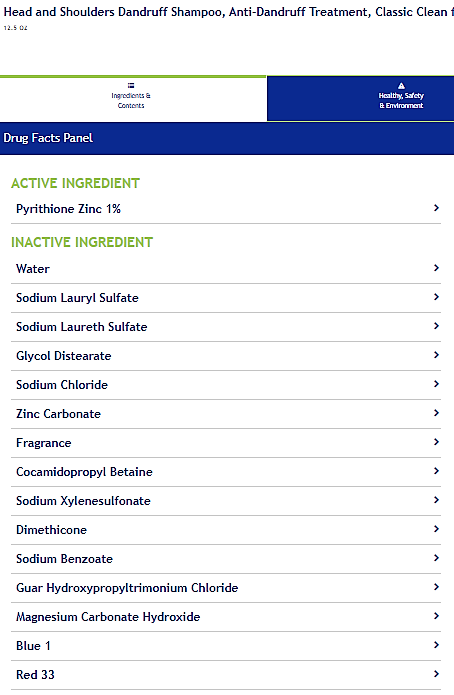 On the one hand, I believe the following ingredients don't pose significant concerns when used in small amounts in a personal care product like shampoo:
sodium lauryl sulfate
glycol distearate
sodium chloride
zinc carbonate
sodium xylenesulfonate
dimethicone
sodium benzoate
guar hydroxypropyltrimonium chloride, and
magnesium carbonate hydroxide.
Note that dimethicone is not recommended for curly hair as it might weigh down and flatten the curls. If you would like to learn more about the safety of dimethicone, you can do so by reading my blog post Does Dimethicone Belong In Toxin-Free Makeup?.
And to learn more about guar hydroxypropyltrimonium chloride, turn to my blog post Are Quaternary Ammonium Compounds Safe?.
On the other hand, we need to discuss the remaining ingredients. It's important so you can make an informed decision about the safety of this anti-dandruff shampoo:
pyrithione zinc 1%
sodium laureth sulfate
fragrance
cocamidopropyl betaine, and
blue 1, red 33.
Also, keep reading to see which two harmful ingredients in addition to the ingredients listed above may or may not be in the Head & Shoulders Classic Clean Anti-Dandruff shampoo.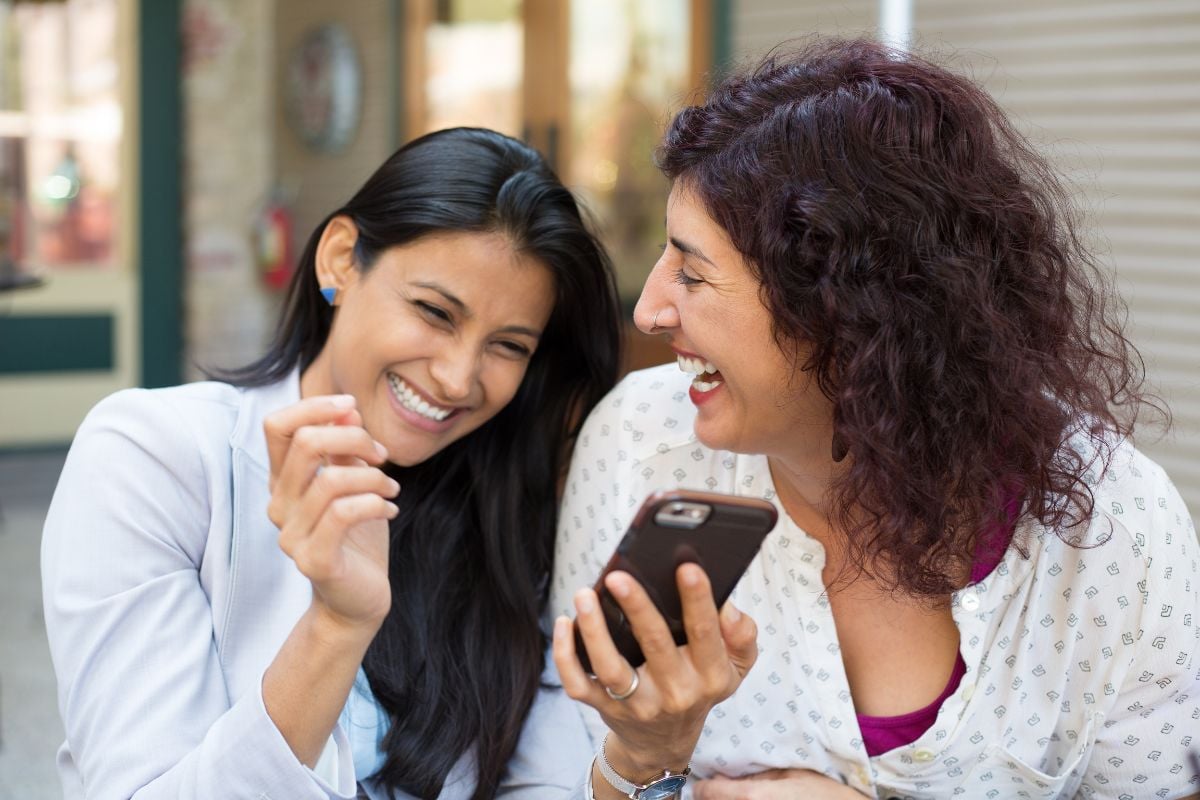 Pyrithione Zinc
First off, pyrithione zinc, or zinc pyrithione, is common in anti-dandruff shampoos and other skincare products. Its antimicrobial, antibacterial, and antifungal properties. Reportedly, it can also be effective at treating psoriasis, eczema, and acne.
The European Scientific Committee on Consumer Safety (SCCS) considers it safe when used in anti-dandruff shampoo or other rinse-off hair care products up to a maximum concentration of 1%. In fact, the committee has not found any evidence of its carcinogenic and mutagenic potential or of its reproductive toxicity among the studies available to them (source).
Conversely, the EWG rates pyrithione zinc between 3 and 6 (with 10 as "most toxic") emphasizing its potential developmental and reproductive toxicity. However, the EWG gives no references to any scientific studies to prove this point. (Learn how to use the EWG Skin Deep Database the right way.)
Along with the EWG, the European Chemicals Agency (ECHA) describes pyrithione zinc as toxic to reproduction. Also, it's potentially damaging to the unborn child. In addition, the ECHA refers to it as causing damage to eyes and other organs through prolonged or repeated exposure. As well as very toxic to aquatic life with long lasting effects. To be fair, the ECHA does not specify the amounts or ways of usage of this substance. So, we don't know if 1% of pyrithione zinc in a shampoo can cause all that.
Also, be aware that medical literature describes instances of allergic reactions to shampoos with pyrithione zinc.
Thus, this study reports that a 33-year-old man developed pruritic rash on his scalp, face, neck, and hands after using a new shampoo containing pyrithione zinc. A patch test revealed a positive reaction to pyrithione zinc and personal shampoo containing this ingredient.
Further, this study describes a case of allergic contact dermatitis in a patient who'd had stable psoriasis for 5 years and no other skin disease. Reportedly, within a week after using a shampoo containing pyrithione zinc, the patient developed severe pustular psoriasis. The patient had many lesions where the product was applied.
Similarly, this study reports a case about a patient who'd had stable psoriasis for 25 years and no other skin disease. Allegedly, within 20 days after using a shampoo with pyrithione zinc, the patient developed an aggravated scaly erythematous patch on the scalp. Simultaneously, the patient developed pustular psoriasis on both forearms. Patch testing showed a relevant sensitization to pyrithione zinc.
Sodium Laureth Sulfate
For starters, every foaming shampoo must have foaming agents, also known as "surfactants." There are two surfactants among the Head & Shoulders Classic Clean anti-dandruff shampoo ingredients:
sodium lauryl sulfate (SLS) and
sodium laureth sulfate (SLES).
Sodium laureth sulfate (SLES) is made by adding ethylene oxide to sodium lauryl sulfate (SLS). This manufacturing process is called "ethoxylation." The problem with this process is that ethylene oxide is a carcinogen (source). If the manufacturer does not use the vacuum stripping method, 1,4 dioxane, a toxic by-product of this process, may remain in the final product. There is no way for consumers to know if vacuum stripping took place. Personally, I choose not to use or promote on my blog hair care or any other products with ethoxylated ingredients. Check out my blog post Shampoo Brands To Avoid Today for other popular shampoos that have ethoxylated ingredients.
In addition, keep in mind that ethoxylated surfactants might be stripping the hair and scalp of natural moisture too much. That's probably why there is dimethicone in this Head & Shoulders shampoo because dimethicone moisturizes the hair and makes it shiny by coating it.
Fragrance
First of all, "fragrance" is a mixture of various chemicals used as fragrance dispersants. There are literally more than 3500 varieties of fragrance ingredients for manufacturers to choose from (source)! Fragrance mixes have been associated with allergies, dermatitis, respiratory distress, and potential effects on the reproductive system. I believe it's a good idea to stay away from fragrances, particularly for families with babies and small children as well as pregnant women, including those planning to conceive. (If you are this woman, you will benefit from my Helpful List Of Chemicals To Avoid During Pregnancy.)
The EWG Skin Deep database rates fragrance 8 out 10 (10 being "most toxic"). In my rating list e-books, I also rate fragrance 8, including so-called "natural fragrance."
And here is an interesting detail: US law does not require that manufacturers disclose their fragrance ingredients. Much to their credit, Head & Shoulders discloses the fragrance sub-ingredients in their Classic Clean Anti-Dandruff shampoo (which is commendable):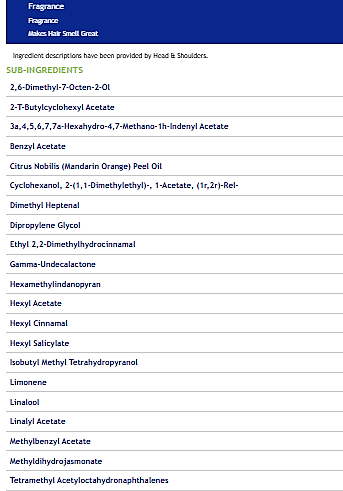 The great news is that there are no phthalates among the Head & Shoulders Classic Clean shampoo fragrance ingredients! As you may know, some phthalates are potential carcinogens and hormone disruptors (source), so it's great this anti-dandruff shampoo doesn't have them.
On the other hand, the shampoo fragrance contains potential allergens and sensitizers, namely:
hexyl cinnamal
limonene, and
linalool.
You can learn more about these isolates in my post Is Natural Fragrance Safe?.
Cocamidopropyl Betaine
The biggest concern with cocamidopropyl betaine is its potential to cause allergy and sensitization. Thus, the American Society of Contact Dermatitis listed it among allergens even in concentrations as low as 1%. Also, in 2004, it got a title of "Allergen of the Year" due to high rates of cases involving allergic reactions.
According to the Cosmetic Ingredient Review Panel's report, the primary concern is related to the presence of impurities, namely DMAPA and amidopropyl dimethylamine (amidoamine), that have the potential to induce skin sensitization. Thus, the amounts of these contaminants present in the Head & Shoulders shampoo ingredient matters a lot. I don't have any information regarding the purity of cocamidopropyl betaine in this product.
If you would like to know if cocamidopropyl betaine is the same as coco betaine, turn to my post Cocamidopropyl Hydroxysultaine Ingredients: Are They Safe?.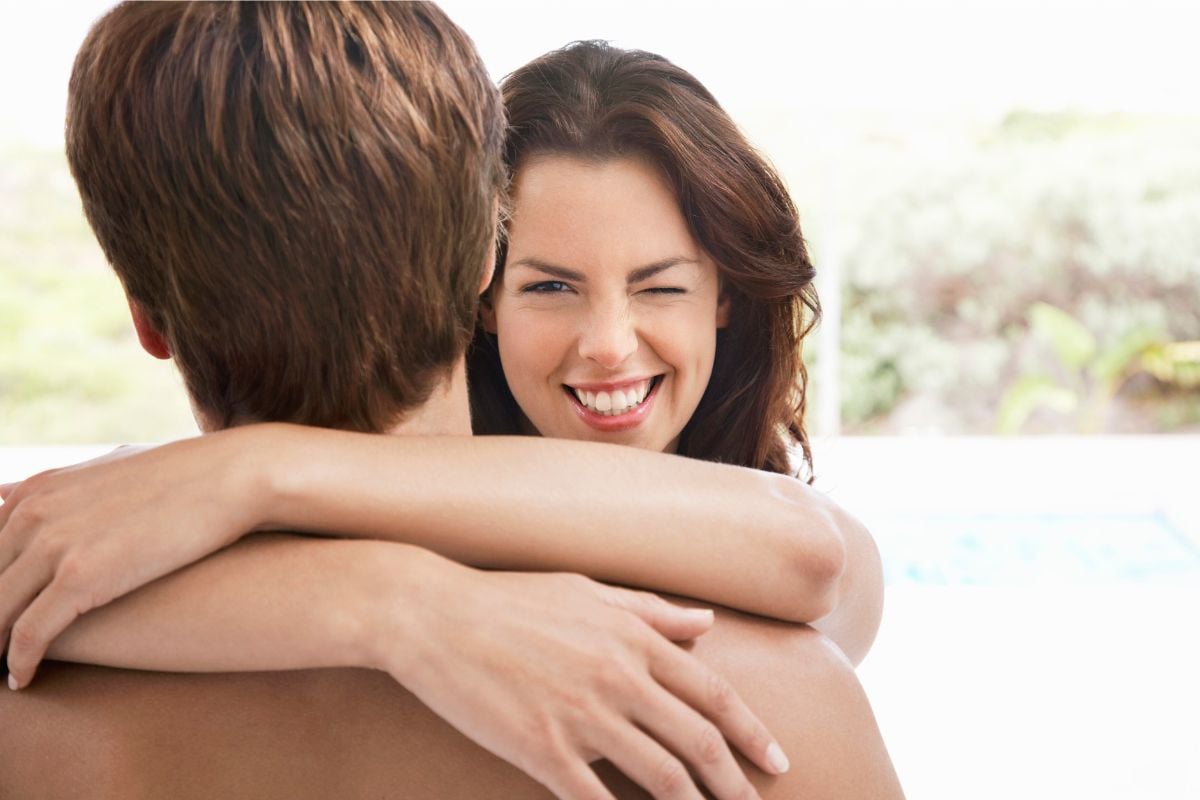 Blue 1 And Red 33
To start with, Blue 1 (CI 42090) and Red 33 (CI 17200) are synthetic colorants made from petroleum.
Generally speaking, colorants (or "dyes") can be of mineral or synthetic origin and may contain traces of heavy metals, as detailed in the Code of Federal Regulations (source).
However, in addition to heavy metals, synthetic dyes may contain traces of contaminants specific to petroleum, including carcinogenic and endocrine disrupting benzo[a]pyrene and polycyclic aromatic hydrocarbons (PAHs). I talk more about that in my post Are There Heavy Metals In Makeup? – check it out!
Further, both Blue 1 and Red 33 are used in hair coloring products. The European Commission allows their use in hair colors at a maximum concentrations of 0.5% (source and source). I don't have any information as to the amount of these dyes in Head & Shoulders Classic Clean shampoo.
Ultimately, how important are colorants in a shampoo? I hope Head & Shoulders will remove synthetic dyes from their Classic Clean Anti-Dandruff shampoo, just as they have removed a couple of harsh preservatives. Or have they? Read on!
Methylchloroisothiazolinone And Methylisothiazolinone
The main concern with these preservatives, commonly used in cosmetics and shampoos, arises from their sensitizing and allergenic potential. Thus, in 2013, the American Contact Dermatitis Society called methylisothiazolinone "Contact Allergen of the Year." You can learn more about methylchloroisothiazolinone and methylisothiazolinone in my blog posts dedicated to these preservatives.
For your information, sensitization is different from skin irritation. Specifically, a sensitizer is a chemical that causes users to develop an allergic reaction after repeated exposure. Alternatively, irritation appears after the first use. With sensitizers, you may not have an allergic reaction to a product at first but develop it after prolonged use. It's a nuisance that once a person becomes allergic to something, they stay allergic. The only way to prevent an allergic reaction is to avoid using products that cause it (source).
Anyway, why am I talking about these preservatives when they are not part of Head & Shoulders Classic Clean Anti-Dandruff shampoo (as per the screenshot above)?
Here's the confusing part: while methylchloroisothiazolinone and methylisothiazolinone are not listed among this shampoo ingredients on the Head & Shoulders website, they are listed on the label of the product sold on iHerb: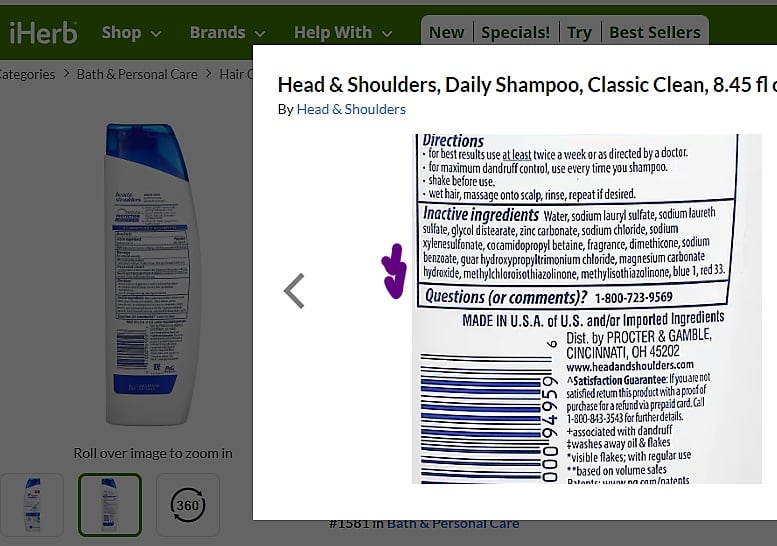 Technically, it is possible that Head & Shoulders has reformulated their anti-dandruff shampoo and removed these two harsh preservatives; hence, we don't see them on their website any longer. However, as you can see, the older formulation is still out there on the market. So, please, always read products' labels and avoid the products with potentially unsafe ingredients.
Of course, as a researcher, I wanted to clarify this confusion with the company. The IRLFY team both emailed the company and phoned them twice so we could engage different customer service representatives. However, we didn't get a satisfactory explanation. One of the reasons may be that customer service reps are not used to questions about shampoo ingredients. Therefore, I encourage you to keep contacting companies and asking them questions. Based on my experience, since I started blogging about product ingredients, I've seen many positive changes! The more we ask questions, the sooner those changes will come.
Conclusion About Head & Shoulders Classic Clean Shampoo Ingredients
Please Be Aware That Some Ingredients In Head & Shoulders Classic Clean Anti-Dandruff Shampoo May Cause Allergy And Sensitization.
In sum, I know that dandruff is a real issue for many people, and Head & Shoulders might be a go-to shampoo for them. Keep in mind that there are different reasons for dandruff and one of them can be dry skin caused by the very shampoo you are using. In other words, switching to a gentle non-drying shampoo without harsh surfactants can do the trick (source). My absolute favorite shampoo is Supergreens.
Relatively speaking, Head & Shoulders Classic Clean Anti-Dandruff Shampoo ingredients don't look as bad as those of many other conventional shampoo brands to avoid, especially if they have indeed removed the methylchloroisothiazolinone and methylisothiazolinone preservatives. Just be aware that while helping with one thing, some ingredients in this product may cause the emergence of allergies and sensitization. Specifically, look out for and avoid the following ingredients:
The I Read Labels For You blog can help you make informed decisions about purchasing safer consumer goods. Check out the hair care section of our non-toxic product shop as well as our e-books and services. Stay healthy and beautiful!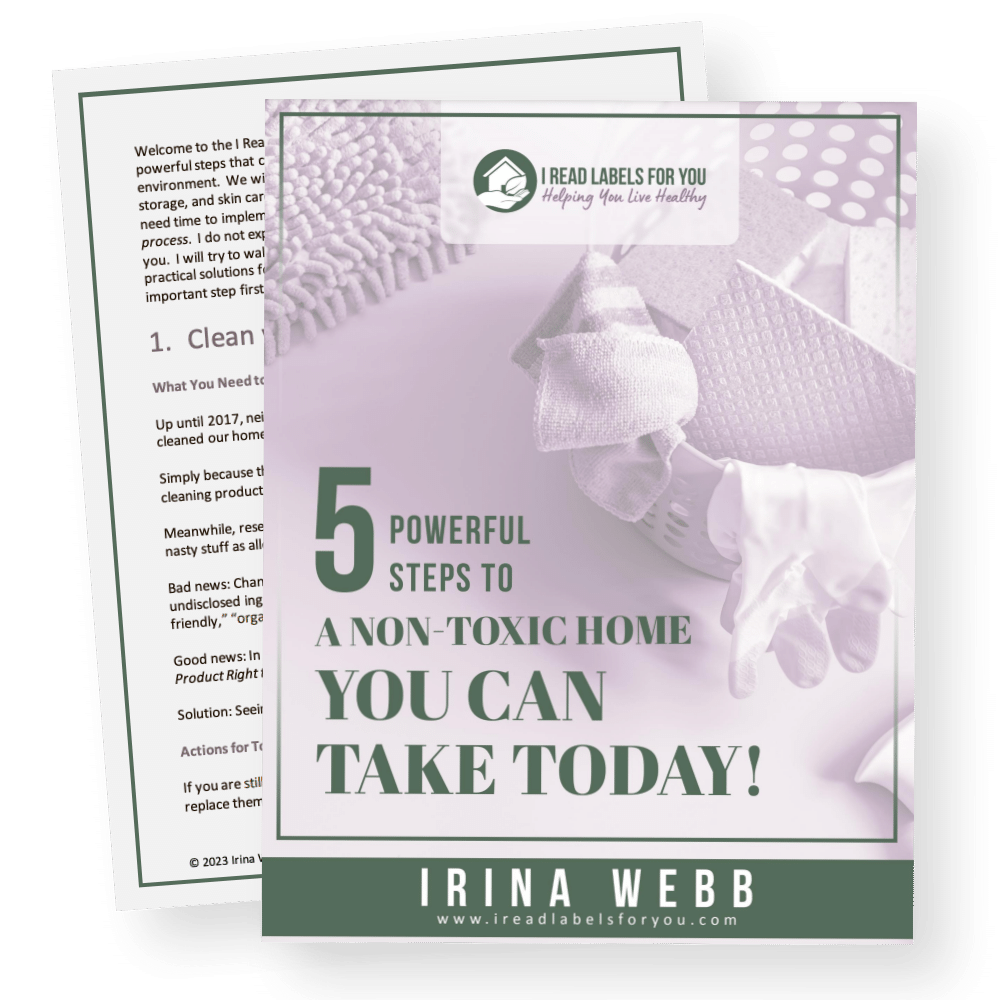 Download The Free Guide!
5 Powerful Steps To A Non-Toxic Home
Join our informed consumer community and get our free guide the "5 Powerful Steps To A Non-Toxic Home".