Is Sealy Soybean Foam-Core Crib Mattress Safe?
This post may contain affiliate links. To read our affiliate policy, click here.
Just before I went into labor, my husband and I realized that we had no crib mattress for the coming baby (I know, right!). As a born problem-solver, my husband told me not to worry and locked himself in his office. Twenty minutes later, he came out to excitingly inform me that he had just found the perfect baby mattress. At that time, we did not know anything about chemicals in mattresses. Basically, we looked for a firm and affordable one. With that particular baby mattress, there were two tipping points – soybean foam and Greenguard Gold certification. It was the Sealy Soybean Foam-Core crib mattress, and this post presents my opinion on Sealy crib mattresses safety. Read on to discover what happened when I contacted the Sealy company, and what mattress brand I ultimately have come to trust.
I study the industry and contact manufacturers.
When I was preparing to have a baby in 2012, I spent a month trying to find a non-toxic shampoo. Since then, I have learned so much that I ventured into non-toxic nursery consulting. Additionally, I have created e-books that will help you get non-toxic diapers and wipes for your baby.
When I do research, I am quite meticulous. I study the industry and contact the manufacturers to seek answers to my questions. In my experience, manufacturers are not that open and use evasive ways to answer direct questions. Therefore, when I come across a transparent company, I want the whole world to know about it. One such company is Naturepedic, which sells organic mattresses (read on to learn more).
Anyway, at the time my husband and I were shopping for a crib mattress, our focus was on safety. However, we understood safety differently – more from the perspective of the firmness or softness of the mattress, because we focused on avoiding the risks of SIDS. (Allegedly, firm bedding decreases the risk, but the risk of SIDS is way outside of my area of expertise. Plus, there is new research in this field, so I offer no opinions regarding SIDS safety. Please, do your own research).
We bought the Sealy Soybean Foam-Core crib mattress mostly because the price was reasonable, and they described it as firm. The "renewable soybeans," CertiPUR-US and Greenguard Gold certifications seemed more like a bonus to us. After all, what could go wrong with a baby mattress?
Sealy crib mattresses contain a little soy and lot of polyurethane.
It turned out that we did not have to rush into buying a crib mattress after all. For the first four months, our son slept in a bassinette. When we finally put him in the crib, his little body almost instantly got covered in sweat. It made me actually look into the ingredients of the Sealy baby mattress.
Interestingly, the mattress description states that the "soybean foam-core uses a percentage of natural and renewable soybeans" and that it is "enhanced with soybeans." Notice the words "percentage" and "enhanced" – clearly, it is not 100%. Moreover, the Sealy Soybean Foam-Core crib mattress tag says, "Polyurethane foam 76%, Blended fiber batting 24% (cotton 85%, polyester 15%)." And the website Q&A section mentions "about 22% soybean oil."
Now, let me ask you: what do you imagine a soy foam mattress should look like? Well, I had to learn from experience that it is not a bag full of soybeans.
In fact, soybean foam is mainly polyurethane foam with a fraction of soybean oil in its polyol portion. Besides, it is not illegal for manufacturers to call their product "soy-based" even if it contains just 5% soy. This kind of "greenwashing" or "false advertising" is one of the pitfalls of non-toxic mattress and upholstered furniture shopping. To learn more about this and other pitfalls and non-toxic furniture options, head over my post about soybean foam.
Polyurethane foam in the nursery emits VOCs.
So, what is wrong with polyurethane foam in Sealy crib mattresses?
Only that it is considered to be the most toxic foam because it is made from petroleum and undisclosed chemicals. The latter may release volatile organic compounds (VOCs) into the air when the mattress is in the nursery. VOCs cause such health problems as eye irritation, cough, damage of the central nervous system, and cancer (source and source). Thus, my son could have been continuously exposed to such chemicals sleeping on the Sealy Soybean Foam-Core crib mattress! (Read on to find out which baby mattress I ended up buying instead.)
Indeed, this 2014 study involved experiments using twenty new and used crib mattresses. The researchers detected VOCs in all mattress samples with total VOC values greater for new mattresses than for used ones. They also discovered that polyurethane foam released a greater diversity of VOCs compared to polyester foam.
Further, this 2019 study tested eight polyurethane mattresses to compare VOC emissions under different temperatures, relative humidity, and CO2 concentrations. The scientists detected eighteen VOCs whose emissions increased significantly under sleeping conditions. They concluded that compared to the other variables, elevated heat was the major contributor to the enhanced emissions. In other words, body heat during sleep causes VOC emission levels to rise. And all infants do is sleep most of the time.
To read about other health and environmental concerns, head over to my post about polyurethane foam in furniture.
Flame retardants in the Sealy Soybean Foam-Core crib mattress foam
Another problem with polyurethane foam in Sealy crib mattresses is that it is extremely flammable. Hence, manufacturers must do something to pass the Federal Flammability Standard. And they typically choose the easiest route – flame retardants. You can get useful information about these chemicals in my post about the California TB 117-2013 fire safety regulation. In a nutshell, flame retardants are potentially harmful to our long-term health and the environment.
So, I called the mattress company to ask them about flame retardants they use to pass the flammability test. Specifically, I asked the company representative whether they used any chemicals to meet the Federal Flammability Standard. After I got a negative response, I asked what they had done to the mattress to meet the flammability standard. The representative told me that they used a cotton felt wrapping around the foam but could not disclose its ingredients.
Then, I posted my question in the Amazon Q&A section and got a general and, in my opinion, evasive response. Basically, it said that Sealy crib mattresses "do not contain toxic fire retardants." But what exactly did they mean? What standard did they use to determine that the fire retardants the mattresses did contain were not toxic?
Obviously, I did not find their response helpful. I believe that companies with clean and safe products should go above and beyond to educate the world about them. And I had exactly that kind of experience with the Naturepedic organic crib mattress.
You don't want vinyl in your baby's crib.
Let's talk about the Sealy Soybean Foam-Core crib mattress cover. It is made of vinyl, the most toxic type of plastic. It is toxic during every stage of its life cycle, from production to disposal. Why is it so toxic?
First, polyvinyl chloride (PVC), or vinyl, is a rigid plastic, so to make it flexible, manufacturers add plasticizers. Historically, the latter typically included phthalates which acquired so much bad publicity that the Federal government banned some of them. If there are no phthalates in the vinyl cover of Sealy crib mattresses, what other plasticizers do they use instead?
Second, manufacturers add stabilizers to vinyl during its production to impact other properties of the PVC. Some common stabilizers are lead and cadmium. The Sealy baby mattress description says that it is free of lead and mercury. But the question remains: what stabilizers do they use instead?
On top of that, PVC pollutes the environment with chlorine that ends up in our water and soil. To learn more about that and PVC-free exercise mats, read my post PVC Yoga Mats.
Certifications of the Sealy Soybean Foam-Core crib mattress
The two certifications the Sealy crib mattresses hold are CertiPur-US and Greenguard Gold. What do they mean?
For starters, Certi-Pur is a certification run by the industry itself for polyurethane foam. In my opinion, there is a conflict of interest here, which may reflect on the quality of standards. Thus, they check the foam for levels of VOCs and verify the absence of flame retardants and phthalates that are already restricted.
Next, Greendguard is a third-party certifying organization that protects indoor air and certifies products with low chemical emission. The Sealy mattress that we owned was certified not only with Greenguard but also with a stricter one, Greenguard Gold.
To clarify, Greenguard Gold certification measures various gas emissions against certain limits Greenguard has established. Many mattresses get Greenguard Gold certification, even if they have materials like polyurethane foam and PVC/vinyl covers. While this certification is helpful for such products as paints, it is not that helpful for mattresses, in my opinion.
In sum, I would not rely on these two certificates in search of a non-toxic crib mattress. I believe that the only certificate a mattress needs to prove it is safe is a GOTS certificate. Thus, the Naturepedic crib mattress we bought instead of the Sealy Soybean mattress is organic and holds a GOTS certificate.
I consider Naturepedic mattresses better than Sealy crib mattresses.
First of all, I really appreciate it that Naturepedic are transparent. Indeed, my communication with the Naturepedic founder was a breath of fresh air: open, sincere, clear, and accurate. Just the way it should be.
Secondly, Naturepedic has all kinds of mattresses for every budget and physical ability. For example, they have lightweight mattresses for women who have had a C-section and cannot lift heavy stuff.
Presently, our family owns three Naturepedic mattresses: for the master, guest, and our son's bedrooms. As I have mentioned, all the mattresses are GOTS certified organic as a whole piece. It means that not just one component (e.g., cotton) but the entire mattress adheres to the standards of this certification. You may wonder how a mattress that contains so many parts, including steel coils, can get an organic certification. Actually, this is a very good question, and there is a rigid procedure the certifiers follow. You can read all about it in my post Can a Mattress Really Be Organic?.
When my son grew out of his organic crib mattress (click for a 15% discount code), we got him an organic kids mattress (click for a 15% off discount code). And we sleep on a super comfortable Naturepedic mattress with dual firmness. By the way, Naturepedic produces budget-friendly GOTS-certified organic mattresses for adults called Happsy (click for a discount code).
Thus, if I had to do it all over again, I would definitely choose a non-toxic organic Naturepedic crib mattress.
Conclusion about Sealy Soybean Foam-Core crib mattress
In conclusion, Sealy crib mattresses do not meet my strict criteria for non-toxic products. Specifically, polyurethane foam and vinyl cover are the turn-off points for me. In addition, I do not like the fact that they advertise the mattress as soy-based when there is just a small fraction of soy in it.
The non-toxic crib mattress I stand behind is Naturepedic crib mattress as well as kids and adult mattresses. Plus, Happsy is an affordable GOTS certified organic adult mattress. The company offers generous discounts, too!
As usual, I welcome you to my shop featuring numerous non-toxic items, e.g., non-toxic makeup, and my e-book page. Also, contact me for help with healthy living and/or join the Savvy Consumer Circle. Together we can exercise consumer superpower and affect the market!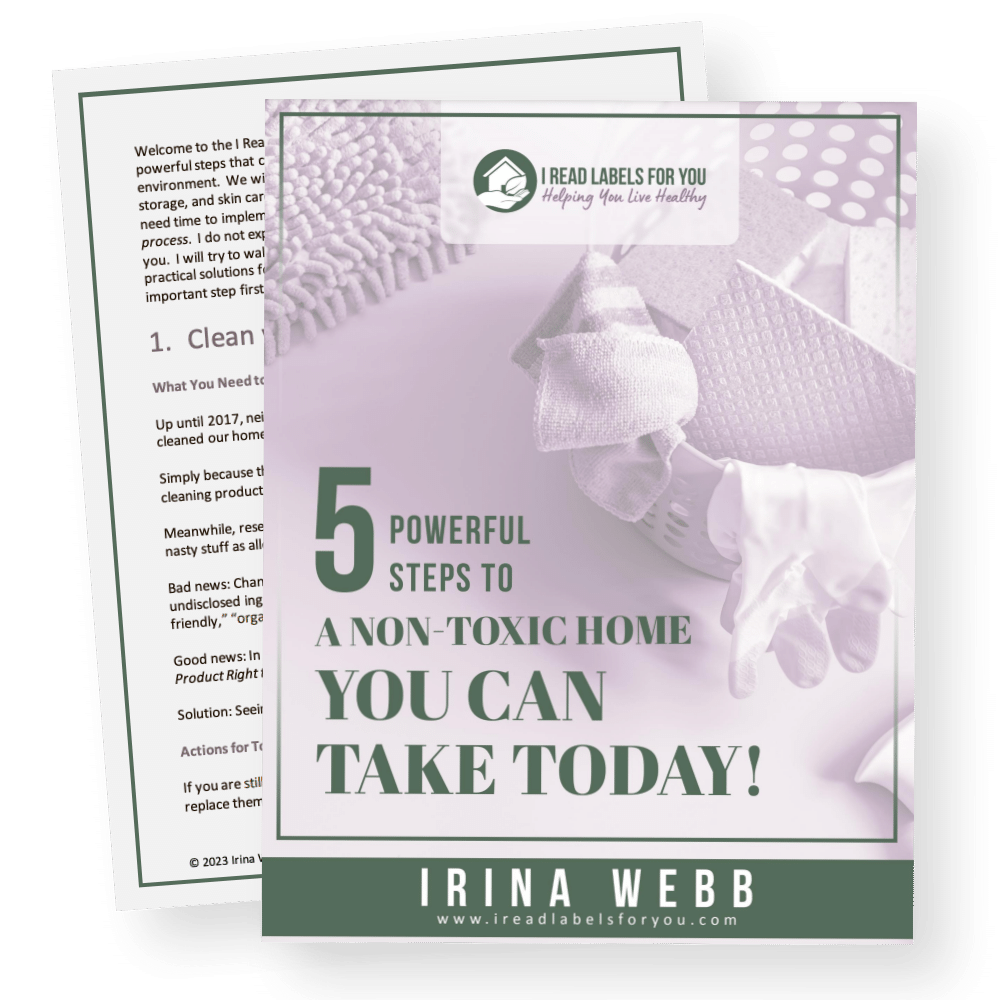 Download The Free Guide!
5 Powerful Steps To A Non-Toxic Home
Join our informed consumer community and get our free guide the "5 Powerful Steps To A Non-Toxic Home".