What Makes Tates "Miracle" Shampoo a Miracle?
This post may contain affiliate links. To read our affiliate policy, click here.
Last week I had a semi-comical conversation with Tate's The Natural Miracle Shampoo, which I thought I would share with you. It was so frustrating I didn't know whether to scream or laugh (in the end, I did a little of both. Scroll down if you want to see the conversation, which I have recreated virtually verbatim. In the meantime, I thought I would provide some context as to why the conversation is frustrating, sad, and amusing.
So, I'm a little frustrated with our whole system, frankly. This conversation with Tate's The Natural Miracle Shampoo is not very different from a typical conversation I have on a typical day. A reader asked me to look into a shampoo made by Tate's. So, I did what I first do – looked at the ingredients. On the surface, the ingredients sound wonderful, don't they?
But if you're a regular reader of this blog, you will know that they make no sense. This is a recipe for something you but into a blender and drink after a workout session; it's not a formulation for a shampoo. So I decided to dig further.
To do that, I Googled Tate's shampoo, and many articles came up – articles by other bloggers who promote non-toxic products, my brethren.
All they seem to have done is to look non-critically at the list of ingredients and reported on them. But is that really helpful? It seems to me that this is not helping our common cause but rather is doing more damage by simply adding to the noise that promotes greenwashing.
My blog reader had told me that the shampoo foamed, and wondered why it did. So I went the extra mile for you, my readers, and researched a product that I do not need. I picked up the phone and called Tate's. Here is a transcript of what transpired.
The dialogue with Tates
Me: Hi, I have some questions about your shampoo. I've read the ingredients but have some questions.
Tates: OK, what can I help with?
Me: What makes your shampoo foam?
Tates: Sodium.
Me: Sodium . . . Hydroxide? [lye used to make soap]
Tates: No, salt.
Me: Salt?!?
Tates: Yes, when we add all these natural ingredients together . . .
Me: I'm sorry, I don't understand. For a shampoo to foam, it has to have saponified soap or a synthetic surfactant. Does your shampoo have soap?
Tates: Yes, everything is very natural.
Me: What ingredient is soap?
Tates: Are you trying to make shampoo?
Me: No, I write a blog to help people reduce their exposure to toxic chemicals. I help them understand labels. I have seen a lot of shampoo labels and the ingredients of your shampoo do not make any sense. I know that your shampoo foams because one of my blog readers told me it does. But I don't understand what ingredient makes it foam.
Tates: You have the shampoo. Do you want to order more? You can order in bulk.
Me: No, I do not need the shampoo. I want to understand how it is made and what makes it foam.
Tates: Oh, we use a soy base.
Me: Soy base? What is it? Is it a lye base? I don't see it listed as an ingredient.
Tates: It sounds like you have the shampoo. Have you tried it?
Me: I don't have the shampoo and I do not want to try it. I want to understand what makes it foam. What is soy base?
Tates: It's just a base. It's natural. Everything is absolutely natural.
Me: And why is it not listed as an ingredient, then?
Tates: It's an oversight. We will add it.
Me: What makes "soy base" foam?
Tates: It is natural. If you order in bulk, I can get you a discount.
Me: The word "natural" is not legally defined. What do you mean by "natural?"
Tates: It's just natural.
Me: So when it says coconuts, are they coconut oil or a coconut-derived surfactant? When it says raspberries, what does that mean? Are they oils or extracts?
Tates: They are extracts derived from oils.
Me: What?!? What does that mean? [silence] What about nutmeg or thyme?
Tates: Everything is natural and pretty much the same.
Me: Ok, thanks. Are the ingredients organic?
Tates: Yes, everything is organic.
Me: Oh, it doesn't say that on the labels. Are they certified organic by the USDA?
Tates: What? USDA?
Me: Yes. [more silence] Ok, thanks.
Tates: [This is my favorite part] Do you have any more questions?
Me: I still have the same question. What makes the shampoo foam? Does it have saponified soap?
Tates: I will have to call you back. What it is your phone number?
Me: xxx-xxx-xxxx
Tates: And what was your name?
Me: I-r-i-n-a
Tates: And what kind of soap did you ask about?
Me: Saponified soap.
Tates: Can you spell it?
Me: S-a-p-o-n-i-f-i-e-d
Tates: I will call you back. Do you want to place your order now?
Me: Is there somebody else I can talk with who is more knowledgeable about your shampoo?
Tates: That's why I am going to call you back. Do you want to place your order now?
Me: No, thanks.
Did I want to place my order now? What was she even talking about? And yes, I am still waiting for a callback. I will update this post if I get a callback.
After this ridiculous conversation and the fact that I never received a callback, I kept digging deeper. There are about 30 one-star reviews on Amazon that you can read here
and here
. They allege that Tate's The Natural Miracle Shampoo is a fraudulent business. Also, Tate's is rated F by the Better Business Bureau, featuring 47 complaints in the past 3 years.
So there you go. I have no idea what is going on at that company, but there are enough red flags to steer well clear. It is really sad that we cannot trust what companies say about their products. And please be clear; I do not know whether Tate's is telling the truth or not. But it certainly does not make sense, and they are not answering my questions or haven't yet, anyway. If they do, I will provide an update. In any case, buyer, beware!
To learn how to estimate product's safety in a matter of seconds
Check out our unprecedented Savvy Consumer Superpower Method
If you appreciate the time and energy I put into this research, please subscribe to my blog by filling out a simple form below; it helps a great deal. Together we can demand safer products, and this post is an excellent example of that!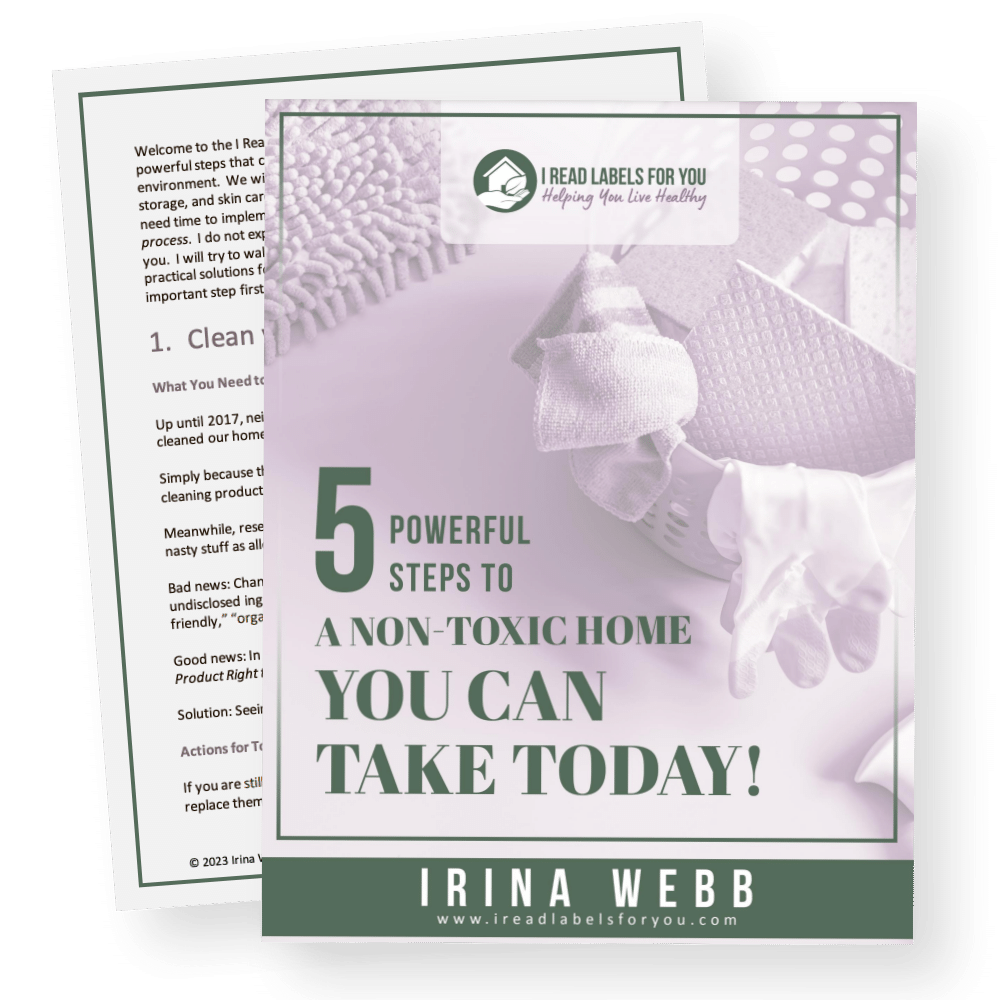 Download The Free Guide!
5 Powerful Steps To A Non-Toxic Home
Join our informed consumer community and get our free guide the "5 Powerful Steps To A Non-Toxic Home".