A lot of my friends and family are into eating organic food and living a healthy lifestyle. I have noticed when I've visited over the years that a lot of them seem to be using Mrs. Meyer's Clean Day Liquid Hand Soap. You can buy Mrs. Meyer's Clean Day Liquid Hand Soap in almost any grocery store and it is something I used when I first started reading labels… Mrs. Meyer's claims that 98% of its ingredients are naturally derived. Hmm. What does that even mean? Does that mean that the ingredients are derived from natural things or that the process of derivation is natural? Let's look at the actual ingredients.
Yay! Unlike a lot of products, the ingredients for Mrs. Meyer's soap are readily available on its website. Here is what you can find there.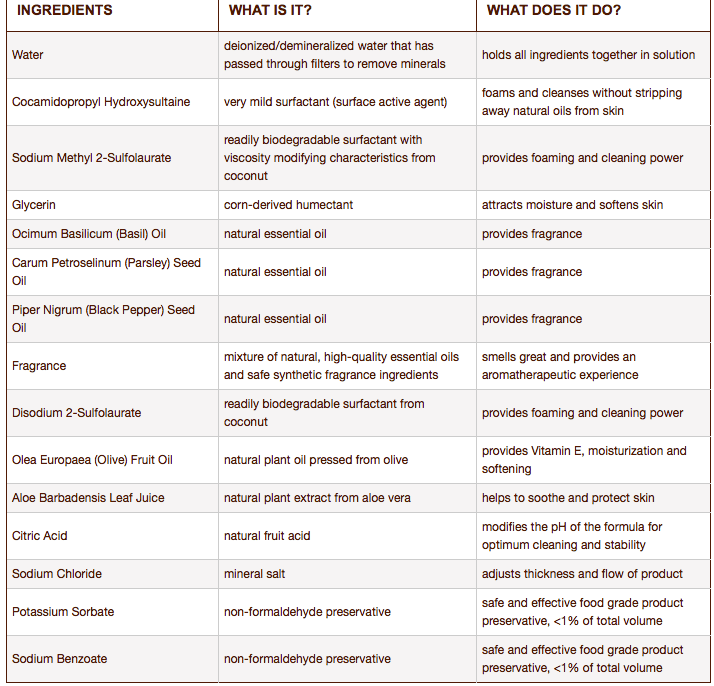 You may be thinking, "There is no way I can understand what this all means." Actually you can and let me walk through the process.
I think that it is helpful here to understand how hand soaps are made in general. Let me give you a digest version of the liquid hand soap industry.
There are two types of hand soaps.
Hand Washing Detergents: These hand "soaps" are made with synthetic surfactants often derived either from petroleum or coconut oil. Coconut oil is a step in the right direction! However, keep in mind that surfactants are made in a multi-step derivation process with many other chemicals added along the way.
For example, Sodium Laureth Sulfate (SLES) can be made from coconut oil. First, coconut oil is turned into fatty acids that are used to derive lauryl alcohol. Then lauryl alcohol is treated with sulfur trioxide gas or chlorosulfuric acid to produce Sodium Lauryl Sulfate.  And finally, Sodium Lauryl Sulfate is treated with carcinogenic ethylene oxide to make Sodium Laureth Sulfate.  This process is called ethoxylation.  As a result of the ethoxylation reaction, carcinogenic 1,4-dioxane is produced and can be left in the final product.  You won't find 1,4-dioxane disclosed on the label, because it is not an ingredient but an impurity that does not legally have to be disclosed.
Another example is that Cocamide DEA, a surfactant derived from coconut oil, is a carcinogen. Not all surfactants are known to be harmful but almost all surfactants do not have sufficient health data or environmental data from which we can know if they are safe or harmful.
Saponified Oil Soap: The second type of soap is called saponified oil soap. Saponification is how soap has been made traditionally. It is a one-step process where an alkali is reacted with plant oil. The alkali is called potassium hydroxide (if the soap is liquid) and does not remain in the final product. This liquid hand soap is safe for people and the environment.
So which one is Mrs. Meyer's Clean Day Liquid Hand Soap?
There are three surfactants in Mrs. Meyer's Clean Day Liquid Hand Soap, which are
Cocamidopyl Hydroxysultaine
Sodium Methyl 2-Sufolaurate
Disodium 2-Sulfolaurate
Cocamidopyl Hydroxysultaine: For all intents and purposes, there is really only one study about this surfactant. We also do not know much about its derivation. From Wikipedia, we know that it is a mixture of cocamide and lauric acid. And cocamide is present in other surfactants such as cocamide DEA (a carcinogen), cocamide MEA, and cocamidopropyl betaine (a common allergen). The point is that Cocamidopyl Hydroxysultaine has chemical similarities with surfactants that we know are harmful.
Sodium Methyl 2-Sulfolaurate: The Skin Deep database indicates no data on this one.   There is virtually no information on it. The EWG's Guide to Healthy Cleaning rates it C.
Disodium 2-Sulfolaurate: The same story with Disodium 2-Sulfolaurate – no data.
I do not mean to imply that surfactants used in Mrs. Meyer's Clean Day Liquid Hand Soap are harmful, but in my opinion, synthetic surfactants cannot be considered to be "naturally derived," especially because that term has no legal definition.
Fragrance in Mrs. Meyer's Clean Day Liquid Hand Soap
The other ingredients I wanted to talk to you about in Mrs. Meyer's Clean Day Liquid Hand Soap are fragrance. Fragrance is often a mixture of undisclosed ingredients. So we as consumers can't even begin to understand its safety because we do not know what is in those mixtures. Generally, fragrance mixtures have been associated with allergies, dermatitis, respiratory distress and potential harms to the reproductive system (source). I am glad to see that most fragrance ingredients in Mrs. Meyer's Clean Day Liquid Hand Soap are essential oils, which is a much safer way to make a product smell nice. However, if you read carefully, Mrs. Meyer's states that their fragrance is a "mixture of high-quality essential oils and safe synthetic fragrance ingredients." Hmm… They tell us it is safe but how do we know? How can we know that they are safe when they do not even name them?
The other ingredients are good. Anyway, while Mrs. Meyer's Clean Day Liquid Hand Soap is one of the better hand soaps, it might not be as natural as it is claimed to be.
What hand soap do you use?
To read about hand soaps you might like:
5 Reasons Why I Prefer Bar Soap over Liquid
Let's start creating a healthy home today!
When you join the I Read Labels For You community, you'll receive weekly emails with inspiration, exclusive content and coupons to gain clarity and confidence to create a healthy home. Plus, you'll get the FREE guide: "5 Powerful Steps to a Non-Toxic Home You Can Take Today!"
"I find your knowledge so helpful, to the point and like a gold mine. You have saved me so much time and have taught me so much." Toni