The Best Non-Toxic Lipstick You'll Love
This post may contain affiliate links. To read our affiliate policy, click here.
Do you like wearing lipstick? I used to like it a lot. But after I learned what went into a typical lipstick, I did not wear it for a few years. Yet, since I wanted to have something for special occasions, I took time to research the field of lip products. Because of the possibility of ingestion of small amounts of lipstick, I am very picky about lip products I use. This post is an ingredient review and color guide for my favorite non-toxic lipstick by Crunchi. Keep reading to find out what constitutes toxic lipstick and why it is important to use safe lipstick.
What are the main concerns of conventional lipstick?
To begin with, cosmetic products contain petroleum-based and mineral colorants, both of which may have traces of heavy metals. Generally, petroleum-based colorants have higher limits for lead, arsenic, and mercury (source). For example, the lead limit is doubled for many petroleum-based dyes (20 ppm versus 10 ppm for mineral pigments). Find out what you can do to protect yourself from lead in cosmetics in my post about lead in lipstick.
In addition, petroleum-based colorants may have contaminants specific to petroleum, including benzo[a]pyrene, polycyclic aromatic hydrocarbons (PAHs), and brominated resorcinol. The bad news is that some of these contaminants are human carcinogens.
Thus, a petroleum-based lipstick is not a safe lipstick, and I always recommend staying away from such products. Specifically, a non-toxic lipstick or any other cosmetic product should contain mineral pigments. However, while mineral makeup is a better choice, it still may contain traces of heavy metals. To read about independent tests on random samples of cosmetics, head over to my post about heavy metals in makeup.
How do heavy metals end up in colorants?
First of all, manufacturers do not add them intentionally. Heavy metals are a natural part of the Earth's crust where the raw materials of petroleum and minerals come from. As a result of industrial pollution, heavy metals are present in water, soil, and air. Thus, heavy metals find their way into colorants that the makeup industry uses in cosmetics.
As a rule, when manufacturers sell colorants, they include Certificates of Analysis – documents that have information about heavy metal levels. However, I believe cosmetic companies should have an independent third party conduct heavy metal tests. They can confirm that the colorants are clean and the amounts of heavy metals in their products are safe.
The reason I am so concerned with heavy metals, especially lead and mercury, is that they are bioaccumulative. That is to say, they add up in your body, and it is not easy to get rid of them.
This said, let us turn to the safest lipstick I love!
Crunchi non-toxic lipstick ingredients
The following are the ingredients of the Crunchi EverluxeTM safe lipstick:
Ricinus Communis Seed Oil (Castor)*, Helianthus Annuus Seed Oil (Sunflower)*, Theobroma Cacao (Cocoa) Seed Butter*, Simmondsia Chinensis (Jojoba) Seed Oil*, Butyrospermum Parkii (Shea) Butter, Bis-Diglyceryl Polyacyladipate-2, Olea Europaea (Olive) Oil*, Oryza Sativa (Rice) Bran Wax, Copernicia Cerifera (Carnauba) Wax*, Hydrogenated Rapeseed Oil, Euphorbia Cerifera (Candelilla) Wax, Jojoba Esters, Tapioca Starch*, Sambucus Nigra Fruit Extract (Elderberry), Rosmarinus Officinalis (Rosemary) Leaf Extract, Tocopherol, May Contain (+/-): Titanium Dioxide (CI 77891), Iron Oxides (CI 77499, CI 77492, CI 77491), Manganese Violet (CI 77742), Mica (CI 77019) *Certified Organic Ingredients
Let us break the ingredients into five major groups: butters and oils, waxes, extracts, pigments, and other ingredients.
Butters and oils in the Crunchi safe lipstick
This toxic-free lipstick is full of natural and organic oils and butters that are beneficial for your skin. Alternatively, mainstream and potentially toxic lipsticks are normally made with petrolatum and other petroleum-based ingredients instead.
Butters in the non-toxic lipstick
The two butters are cocoa seed butter and shea butter.
As you may already know, cocoa butter is a natural edible fat obtained from the roasted seeds of Theobroma Cacao. Specifically, they extract cocoa seed butter during the process of making chocolate and cocoa powder (source).
As for shea butter, it is a vegetable fat obtained from the fruit of a tree in Africa, Butyrospermum Parkii. Apparently, you can even eat shea butter, as a quick Google search reveals.
Oils in Crunchi EverluxeTM
First, castor seed oil is not used for cooking but is approved by the FDA as a food additive (source).
Second, there is jojoba seed oil, a great emollient used in natural lipsticks as a safer alternative to petrolatum. Although it is not for oral consumption because of toxic erucic acid, here the "dose makes the poison" principle applies. It means that in some instances small doses are fine, and I approve of it as a safe lipstick ingredient. Just remember to wipe off your lipstick before you eat, which you should do with any lipstick or lip gloss. To my knowledge, all lipsticks made with natural and organic ingredients contain jojoba oil.
Next, Crunchi uses sunflower seed oil which is a cooking oil with no concerns.
Yet another oil in this non-toxic lipstick is edible olive oil obtained from the ripe fruit of Olea Europaea. Commonly, people regard it as a healthy dietary oil because of its high content of monounsaturated fat. Also, it has gained popularity in cosmetics as a skin conditioning agent.
Lastly, Crunchi lists hydrogenated rapeseed oil mentioned in the 2017 CIR panel report on safety assessment of plant-derived oils. The Cosmetic Ingredient Review Panel concluded that such oils pose no significant safety concern. Generally, they function as skin conditioning, moisturizing, and soothing agents.
In sum, the oils are organic, except the last one, and most of them are edible or used in cooking.
Waxes in this safe lipstick
To start with, all lipsticks I have seen so far made with natural and organic ingredients must contain waxes. There are three kinds of waxes among the Crunchi lipstick ingredients. It should be noted that Crunchi has removed bees wax from its formulations, making the products completely vegan. The waxes they use are the safest cosmetic waxes and are approved for use in food.
First, rice bran wax is an edible species of rice. Specifically, they press this light-yellow rice oil from rice bran, so the wax comes from the rice bran.
Second, carnauba wax is a food-grade ingredient sustainably harvested from Brazilian palm leaves and used in numerous cosmetic applications. Additionally, Federal regulations (see 7 CFR Part 205.605(a)) list it as one of two non-agricultural waxes allowed in or on certified organic food.
Third, candelilla wax (E 902) is extracted from Euphorbia Cerifera, a shrub native to Mexico. The EU authorizes it as a food additive and as a glazing agent (source), so it raises no red flags.
Botanical extracts in this non-toxic lipstick by Crunchi
Although there are just two plant extracts, rosemary and elderberry, they are beneficial for any cosmetic product. Allegedly, rosemary leaf extract is a rich source of antioxidants and has a calming effect on skin. And elderberry boasts strong cell regenerative, anti-inflammatory, and skin soothing properties.
Pigments in the safe lipstick by Crunchi
The pigments among Crunchi EverluxeTM lipstick ingredients are titanium dioxide, iron oxides, manganese violet, and mica.
To begin with, titanium dioxide is common in sunscreens as a UV absorber and in cosmetics as a colorant. The Skin Deep database rates it 1-3 because it may be harmful if its particles become airborne and you inhale them. This is not the case here because this toxin-free lipstick is not powder.
Next, iron oxides are the most common mineral pigments in green and natural makeup. They function as a safer alternative to synthetic petroleum-based dyes. Without them, mineral makeup does not exist.
Further, manganese violet is another pigment popular with clean makeup products.
Lastly, mica is a mineral pigment that functions in natural cosmetics as a safer alternative to synthetic petroleum-based dyes. Crunchi makes sure that they source mica from regions that do not use child labor.
As I mentioned before, makeup pigments and dyes are at risk of heavy metal contamination. The great news is that Crunchi had an independent third party test all their products for heavy metals. Consequently, Crunchi is happy with the levels of lead, arsenic, mercury, and cadmium in all their products. Admittedly, they are way under the European Union, Canadian, and United States cosmetic heavy metal upper limits. You can learn more about the upper limits in my Crunchi non-toxic makeup review post.
EcoCert mineral pigments in Crunchi
What you should know about pigments in Crunchi non-toxic lipstick, and really all their makeup, is that they are EcoCert certified. Specifically, the EcoCert certification confirms that the mineral pigments are truly natural, without any petroleum additives or components.
In addition, to be able to meet the EcoCert standard, the pigments must adhere to European limits for heavy metals. To clarify, the EU specifies limits for 12 heavy metals, not just 3 as the FDA does here in the U.S.
Most importantly, mineral pigments in the Crunchi safe lipstick do NOT come from China or other Asian countries. In other words, they escaped the high background levels of environmental pollution in China that could cause their contamination.
Other ingredients in the Crunchi EverluxeTM lipstick
The rest of the lipstick ingredients are bis-diglyceryl polyacyladipate-2, jojoba esters, organic tapioca starch, and tocopherol.
First, bis-diglyceryl polyacyladipate-2 functions as a skin conditioning agent, and cosmetic products use it instead of lanolin. The Skin Deep database rates it 1, and the European Chemicals Agency (ECHA) finds no hazards.
Second, jojoba esters are the hydrogenation product of jojoba oil and function as a skin-conditioning agent. The Skin Deep database rates jojoba esters 1.
Third, tapioca starch is a food-grade ingredient and used in a lot of gluten-free foods. I like that it is organic.
Finally, tocopherol is vitamin E which is a great antioxidant. It is common as a food additive as well as a supplement, so I do not see a problem with it. Besides, it is non-GMO and is wholly extracted from sunflower seeds.
My experience with Crunchi non-toxic lipstick
I like all three shades – plum kiss, acai, and rosewood – because they are the shades of natural color lipstick. Below are the pictures of me wearing these shades. From top left to bottom left, the shades are plum kiss, acai, and rosewood. As a brunette, I prefer acai for evening wear and rosewood for daytime, while plum kiss is good for blondes.
What I like about this safe lipstick the most is its texture – rich and moist, yet light and not greasy. Also, it is easy to apply, stays on the lips well, and does not smear. Some lipsticks that I used before dried my lips, so I had to apply a lip balm first. But with Crunchi I do not need to take this extra step – what a relief!
Finally, I admire the Crunchi packaging: the tube material is not plastic but recyclable paperboard. Definitely, their care for the environment is one of the reasons I love Crunchi. Thus, I have been using their products since 2018 and have had only positive experience. So, check out my top favorite Crunchi non-toxic makeup, including their safe brow pomade for beautiful brows.
Conclusion about Crunchi lipstick ingredients
In conclusion, I think this lipstick is one of the safest out of the lipsticks I have seen so far. Additionally, it has the best performance out of the non-toxic lipsticks I have tried.
You can buy Crunchi EverluxeTM on their website.
As always, I invite you to visit my shop for numerous options of non-toxic products, including Crunchi cosmetics. Also, if you need any help with living healthy, please feel free to book a consultation with me. Lastly, the Savvy Consumer Circle is a great place for you to go deeper with healthy living.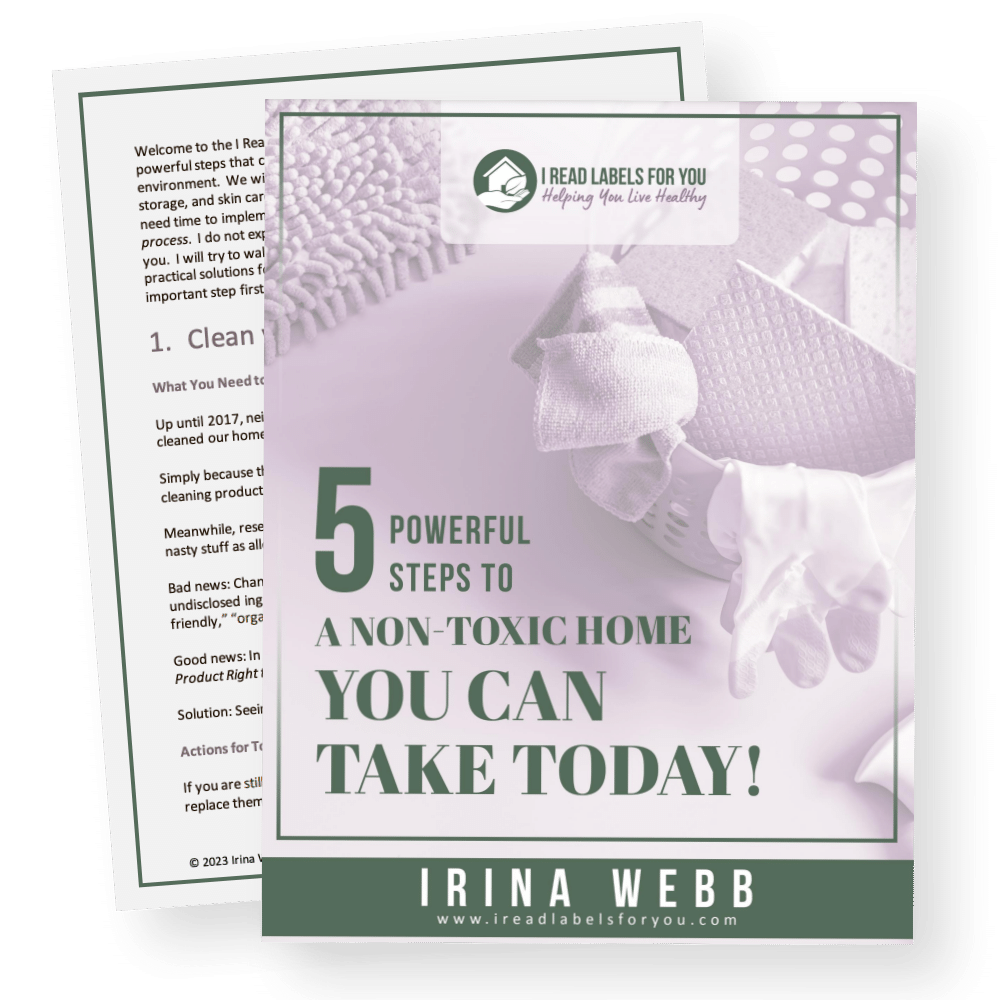 Download The Free Guide!
5 Powerful Steps To A Non-Toxic Home
Join our informed consumer community and get our free guide the "5 Powerful Steps To A Non-Toxic Home".