This post may contain "affiliate links." This means if you click on the affiliate link and purchase the item, I'll receive a commission. I disclose this in accordance with the Federal Trade Commission's 16 CFR, Part 255. I only recommend products that passed my strict criteria. Read about my research methods in the Start Here page.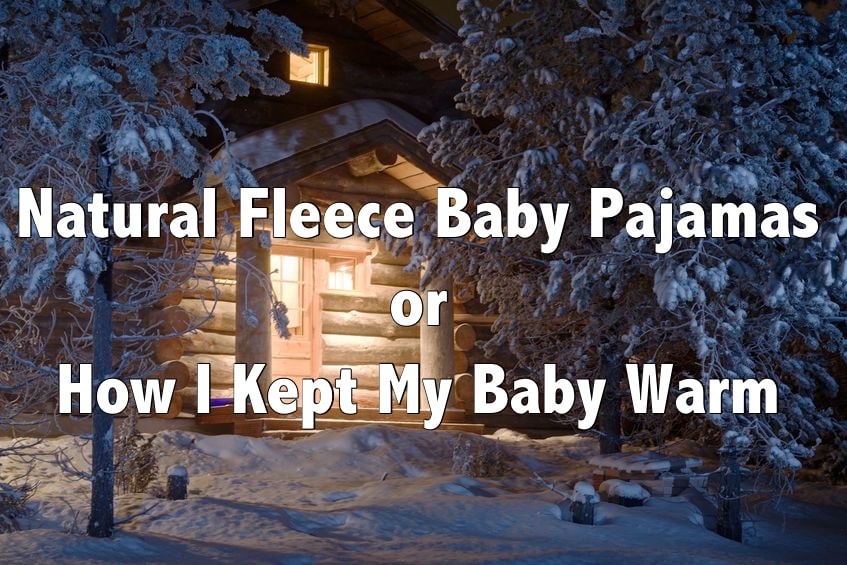 When I stopped swaddling my son, I needed to find very warm natural fleece baby pajamas for him very quickly.
The first time I did not swaddle him, I put cotton pajamas and a cotton sleep sack on him instead. To this day (over 5 years later), I remember vividly how icy cold his little hands were when I got up in the middle of the night to nurse him. I was not going to make that mistake again and looked frantically for very warm natural fleece baby pajamas.
To my dismay, I quickly learned that in this modern world, "fleece" is made of polyester.
I did not want to buy polyester fleece baby pajamas for multiple reasons.
Why I did not want polyester fleece baby pajamas
Polyester pajamas do not do a great job of regulating body temperature, and so they may overheat your baby.
Polyester pajamas are not breathable.
Most likely, polyester fabric contains flame retardant chemicals. Read more about that below.
Polyester fabric may contain other undisclosed toxic chemicals such as formaldehyde.
Most polyester is made from petroleum, which is an unsustainable resource.
Fleece sheds microfibers each wash and they travel to your local wastewater treatment plant, where up to 40% of them enter rivers, lakes, and oceans. These microfibers are particularly dangerous because they have the potential to poison the food chain.  In one study, human-made debris recovered from fish in the US consisted primarily of micro fibers. (source)
Flame Retardants in Baby Pajamas
Let's briefly talk about flame retardant chemicals and why they are in baby pajamas.  In the 1970s, the Federal Government adopted a flammability standard requiring children's pajamas (for kids between 9 months and 14 years) to withstand a 3-second open flame test without igniting.
Many baby pajamas manufacturers decided to add brominated tris flame retardant – up to 10% of the fabric's weight – to make sure that their products passed the flammability test.  Two Green Science Policy Institute scientists, Arlene Blum and Bruce Ames, published the results of their research into brominated tris.  They discovered scientific evidence that this flame retardant chemical is a DNA mutagen and carcinogen.  As a result of their research, brominated tris was banned from baby pajamas in 1978.
Unfortunately, brominated tris was replaced by chlorinated tris, but that was eventually phased out, too.  Thus, chlorinated tris and PBDE are not used any more due to health concerns; however, other supposedly less toxic flame retardants are currently used.
There is no requirement in any state (even in California) to disclose what flame retardant chemicals are used to treat baby pajamas.
Natural Fleece Baby Pajamas Options
With that out of the way, let's talk about natural fleece baby pajamas options on the market.
When I wrote the original Natural Fleece Baby Pajamas post I was unable to find natural fleece baby pajamas at first and bought a wool sleep sack instead on Amazon. The sleep sack is no longer available but it looks similar to this one.
I did not like that much – it was not soft enough. I do not recommend it now because babies can have allergies to wool if it touches their skin.
At some point, I bought Cosilana organic wool pajamas, but they were also not soft enough, the legs were short, and when washed with warm water, it shrank.
After a very long and frustrating search, I was excited to find natural fleece baby pajamas that I liked a lot. They were so soft and fuzzy inside. However, they were discontinued so you can't buy them now. Here is a picture of them. Keep reading because I have a pleasant surprise for you.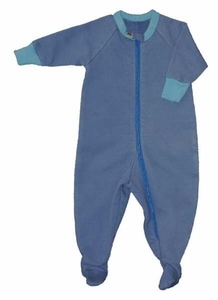 I also tried organic pajamas made by Snug Organics. They are very warm and well made but they are a little too snug fitted, have no feet, and they shrank when I put them in the dryer.
The Warmest Organic Sleep Sack
Even with the warm natural fleece baby pajamas, I ended up needing a warm organic sleep sack.  I have tried a few different sacks and the warmest one I found is the cotton sleep sack by Ergo Pouch.
Its warmth comes from the fact that it is made like a quilted blanket with organic cotton filling.  The product description says that it is designed to keep a baby warm at temperatures as low as 57F.  I do not think that my son would still be warm at that temperature, but he was a Californian baby, and maybe he would have been if he had a hat and gloves on.
Ergo Pouch is an Australian company and if you buy from them directly, shipping is very expensive. However, from time to time they are sold on Amazon. And that is where I bought them. They were lifesavers.
This organic sleepsack comes in two sizes: 2 months-12 months, and 12 months -3 years, which means that you only have to buy it twice.
Natural Fleece Baby Pajamas by CastleWare
When my son was about 2 years old, one of my blog readers asked me (you can actually see her comment below) if I could recommend a sleep sack with leg holes, and in my search for them I stumbled upon on CastleWare sleepwear. (You can read my review of their wearable blanket here.)
Since then, CastleWare has become my favorite brand. I wrote a lot of reviews of their products, which you can see below. It is a true brand of luxury – every item is impeccable. They now make organic pajamas and wearable blankets in three fabrics – rib knit, fleece, and velour.
All CastleWare products are made of 100% GOTS (Global Organic Textile Standard) certified organic cotton fabrics.  GOTS ensures that not only the cotton is organic, but also that the entire supply chain (processing, manufacturing, packaging, labeling, trading, and distribution) is environmentally and socially responsible.
CastleWare is an all-American business. The organic cotton used by CastleWare is grown in Texas; spinning and knitting are done in South Carolina; and sewing is done in California.
The natural fleece baby pajamas by Castleware remind me a lot of the first natural fleece baby pajamas that I found and that were discontinued. The fabric is the same but the cut is better. The legs are longer and sized more generously.
In fact, because my blog followers loved CastleWare products so much, it motivated Maureen, the owner of the business, to make natural fleece baby pajamas in sizes 5T and 6T, and expanded her assortment of colors and fabrics. It feels so great to be able to contribute to expanding a small business with all stages of production done in the US.
Here is what my blog followers said about CastleWare products.


In sum, your baby will sleep in luxurious, organic, flame retardant-free sleepwear and your purchases won't be polluting the environment and coming back and haunt us at our dinner tables. You will sleep better, too!
Where to buy CastleWare Sleepwear
To Read More about CastleWare:
Cotton Footed Pajamas for Family Goodnight Sleep
Organic Cotton Velour Sleep Sack with Leg Holes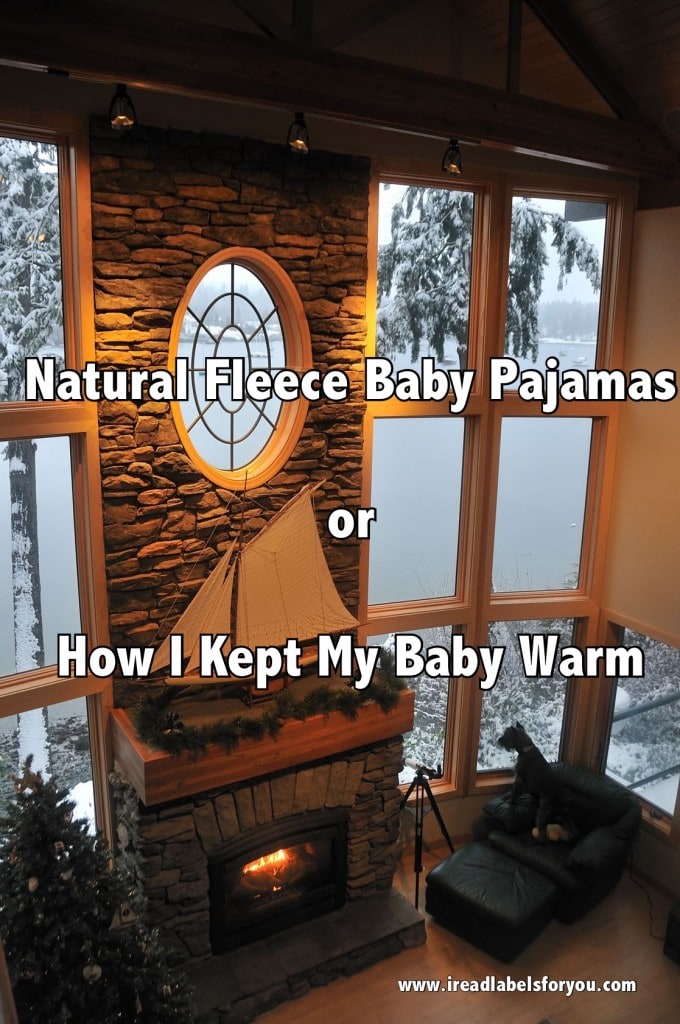 Free 5-Day Healthy Baby Registry Email Course
Are you fed up with disappointing products, being confused by product descriptions, and not knowing what questions to ask of companies?
You can learn simple techniques to get healthy non-toxic baby products with confidence! And yes, you can transform into a relaxed consumer.