The Ultimate Non-Toxic Deodorant Guide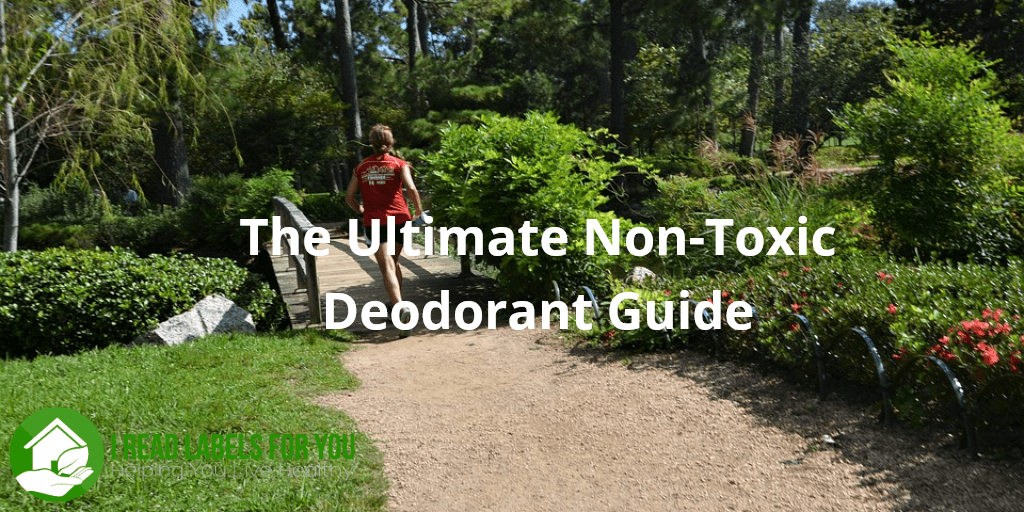 This post may contain affiliate links. To read our affiliate policy, click here.
If you have just switched to a non-toxic deodorant, give it some time. Apparently, there is a detoxifying period during which your safe deodorant may not work at its full capacity. And if you are considering improving your deodorant routine but are not sure which deodorant to choose, this ultimate guide is for you.
When my husband experimented with non-toxic deodorants a few years ago, his criteria were straight to the point. The deodorant must go on well, smell good, and just work. Therefore, in this post, I will introduce to you the best options of natural deodorants that work, which you can also find in my IRLFY shop. By the time you read this post, I might have added some other options, so be sure to check out my shop.
What is not a safe deodorant
If you are a regular reader of this blog, you probably know that the only way to decide whether a product is safe is to look at its ingredients. Some popular brands of deodorants that I'm going to mention here cannot be called non-toxic and safe, and you are going to learn why. So, before discussing ingredients of a non-toxic deodorant, let's talk about deodorants to avoid.
As I usually do in my guides to safe products, I have arranged deodorants into four categories – worst, bad, better, and best. This way you can make an informed decision with all the information at hand.
The worst deodorants
Let's jump right into reading the ingredients.
Commonly, the ingredients that make some deodorants unsafe are aluminum, fragrance, and talc. In addition, some may contain cyclopentasiloxane and ethoxylated ingredients.
Let's talk about each of them briefly.
Aluminum, fragrance, and talc
To begin, aluminum is associated with oxidative damage to cell membranes and may cause changes to the mobility of cells. Additionally, it is being investigated as a risk factor for breast cancer. A common example of this ingredient in a deodorant is Aluminum Zirconium Tetrachlorohydrex Gly. By the way, technically, an armpit product with aluminum is called antiperspirant deodorant.
Next is fragrance. The reason fragrance is unsafe is that quite often manufacturers don't disclose its formulation, and we don't know what ingredients it consists of. But it is something we would like to know because some of them are associated with allergies, endocrine disruption, and even cancer. As a result, a deodorant that contains fragrance is not a safe deodorant.
Then there is talc. What's wrong with talc? Because of its possible contamination with asbestos fibers, it can pose risks for respiratory toxicity and cancer. Studies of personal use of talcum powder have had mixed results. However, there is a suggestion that the use of talc-based products in the genital area may increase the risk of ovarian cancer (source). In fact, there is currently litigation against Johnson & Johnson for failing to notify users of the cancer risk, and juries have awarded damages against J&J (source). So, a deodorant with talc is not a non-toxic deodorant.
Cyclopentasiloxane and ethoxylated ingredients
Let's talk about cyclopentasiloxane. Decamethylcyclopentasiloxane (D5) is the full chemical name of cyclopentasiloxane which may contain trace amounts of cyclotetrasiloxane (D4). Classified as an endocrine disruptor, it has a rating of 3 (with 10 as the most toxic) in the Skin Deep database. In addition, there is evidence in the European Union that it interferes with human hormone function and human fertility. Besides, its effect on the environment is rather controversial. You can find out how the controversy started in my post about cyclopentasiloxane safety.
Lastly, ethoxylated ingredients, such as PEGs and ingredient names ending with -eth and a number or the word polysorbate and a number, may contain residues of carcinogenic 1,4-dioxane.
Which antiperspirant deodorants are the worst?
The deodorants I included in this category are Old Spice Antiperspirant, and Arm & Hammer™ ULTRAMAX™ Solid Antiperspirant Deodorant. Additionally, I included Lady Speed Stick® INVISIBLE DRY® Antiperspirant Deodorant, and Teen Spirit. In my opinion, none of them would constitute a safe deodorant. Here is why.
As antiperspirants, all of them contain a form of aluminum, called Aluminum Zirconium Tetrachlorohydrex Gly. I have mentioned above why I don't consider aluminum-containing products as a non-toxic deodorant. Regarding the other ingredients, here is what each of them has.
First, Old Spice antiperspirants have cyclopentasiloxane, talc, fragrance, and an ethoxylated ingredient, C20-40 pareth-10 (source). Even though it's great that Old Spice discloses its fragrance ingredients, it is still not as safe as an ingredient. And in my post about the Old spice antiperspirant and deodorant you can learn why this is so.
Second, Arm & Hammer™ ULTRAMAX™ contains cyclopentasiloxane, talc, and fragrance in its scented versions (source).
Next, Lady Speed Stick® INVISIBLE DRY® has fragrance, as well as an ethoxylated ingredient, PEG-8 distearate (source).
Finally, Teen Spirit Antiperspirant Deodorant also has fragrance, and an ethoxylated ingredient PEG-8 distearate, which doesn't make it a safe deodorant either (source).
The bad deodorants
This category includes Arbonne Deodorant #4112, Arm & Hammer™ Essentials™ Solid Deodorant, Bee Maternal Clean Bergamot Natural Deodorant, and Old Spice Deodorant.
Even though the deodorants in this category have no aluminum, they have some other concerns. For starters, all of them have fragrance, and in my opinion, a deodorant with fragrance is not a non-toxic deodorant. Whereas Arbonne #4112 and Arm & Hammer deodorants' main concern is fragrance, the other two brands have additional issues.
By the way, on Instagram I was told by one of Arbonne's consultants that their fragrance is made of essential oils only. I emailed them on March 15, 2020 and asked for a full list of ingredients. If I hear back, I will be happy to update this information.
Bee Maternal Clean Bergamot Natural
First of all, the fragrance in Bee Maternal Clean Bergamot Natural Deodorant is listed as "naturally-derived (phthalate-free)" (source). However, we still do not know what the ingredients are. Please, read my post about natural fragrance to draw your own conclusion about its safety.
In addition to fragrance, the Bee Maternal Clean Bergamot Natural Deodorant has optiphen, which is a preservative (source).
First of all, optiphen is not a name that the Cosmetic Ingredient Review Expert Panel (the "CIR") uses. The CIR is a trade association that reviews the safety of cosmetic ingredients. You can access its reports here. So, if you type 'Optiphen' in their database, nothing will come up. That's because optiphen is a trade name. In other words, it is a name sellers of cosmetic ingredients go by. Lotioncrafter is one of them and on the product page, they disclose that it has phenoxyethanol and caprylyl glycol. I am not concerned about caprylyl glycol, but I do have some concerns about phenoxyethanol. You can read more about it in my Phenoxyethanol in Skin Care: Consider This! post.
Old Spice
The deodorants of this brand not only have fragrance but also artificial dyes, such as Blue 1, Violet 2, and Green 6 (source). They may contain residues of heavy metals and petroleum-based carcinogenic contaminants such as PAHs. You can learn more about dyes in cosmetic products in my post called Heavy Metals in Makeup.
I wish Old Spice didn't have colorants in their deodorants because they are not vital for the product at all. Please, read my post about Old Spice antiperspirant and deodorant to decide whether it is a safe deodorant for you.
What constitutes a non-toxic deodorant
The deodorant brands that I consider safe enough to belong in the categories of "better" and "best" are as follows.
The better non-toxic deodorants
Native (ingredients), Kaia Naturals (ingredients), Crystal (ingredients), and Schmidt's (ingredients) are in this group.
Because there are so many safe deodorant choices in the market right now, we can be very picky. So, one of the main reasons these did not make it to the Best list is that the plant oils and extracts were not organic.
Keep in mind that some formulations of Native and Schmidt have natural fragrance, which is a mixture of undisclosed ingredients. Also, the term "natural" is not defined and regulated. On my blog, I do not recommend any products that have natural fragrance unless they send me a full list of ingredients. Thus, read ingredients and choose the formulations of Native and Schmidt that are either unscented or scented with essential oils only.
The best non-toxic deodorants
I am happy to share with you the best non-toxic deodorant options.
Some of the best brands are Pretty Frank, Primally Pure, Earth Mama, Pure Haven, and Meow Meow Tweet.
Let's look at their ingredients to see why I put all of them into the best category.
Pretty Frank
Pretty Frank Activated Charcoal Seaside deodorant: Magnesium Hydroxide, Organic Arrowroot Powder, Organic Coconut Oil, Organic Shea Butter, Candelilla Wax, Caprylic/Capric Triglyceride, Activated Charcoal, Lavender Essential Oil, Palmarosa Essential Oil, Lemon Essential Oil, Juniper Berry Essential Oil.
As an example, I listed the ingredients of their activated charcoal deodorant. However, they have a great number of formulations with charcoal or magnesium or baking soda or zinc. They come in sticks or jars.
Pretty Frank has a special place in my heart. When I wanted my husband to stop using Old Spice, he challenged me to find him a toxic-free deodorant that performs as well as Old Spice antiperspirant. After he tried many products, he chose Pretty Frank as the best performing deodorant. (And my husband sweats a lot.) Back then, they were called Primal Pit Paste.
Some of the essential oils are not organic, which is not ideal, but this keeps the cost of the product down. Given that essential oils are used in very small amounts, I consider it a safe deodorant. And they carry unscented deodorants as well.
Meow Meow Tweet
Meow Meow Tweet Rose Geranium: *Helianthus Annuus (Sunflower) Seed Oil, *Maranta Esculenta (Arrowroot) Powder, Magnesium Hydroxide, *Theobroma Cacao (Cocoa) Seed Butter, *Butyrospermum Parkii (Shea) Fruit Butter, Helianthus Annuus (Sunflower) Seed Wax, *Cymbopogon Martini (Palmarosa) Oil, Pelargonium Graveolens (Rose Geranium) Oil. *Certified Organic
They carry a lot of different scents and come both with baking soda and without. Their deodorants come in sticks and jars. Jars are made of glass and the stick packaging is biodegradable. I love that. Even though I still use some products that are packaged in plastic, everything else being equal, I choose plastic-free products.
Finally, if you have sensitive skin, you might want to choose Meow Meow Tweet safe deodorant cream. Rubbing action can be a cause of irritation.
To see all Meow Meow Tweet non-toxic deodorant options, please head over here.
Primally Pure
Interestingly, they have classified their deodorants into anti-inflammatory, balancing, healing, rejuvenating, cleansing, and soothing (unscented).
There is something irresistible about lemongrass that I love. So, I use their lemongrass formulation that belongs in their rejuvenating category.
Primally Pure Lemongrass Deodorant: Organic Arrowroot Powder, Organic Extra Virgin Coconut Oil*, Tallow from Grass-Fed Cows, Organic Beeswax, Baking Soda, Non-nano Zinc Oxide, White Kaolin Clay, Organic Lemongrass Essential Oil.
My only slight concern with Primally Pure is that clay may have trace amounts of naturally occurring lead. However, the company responded to me and said that the amount of clay is very small, which is true because clay is listed last among the ingredients.
I use it and consider it a safe deodorant.
You can use a discount code ReadLabels10 to get 10% off at checkout.
Please view their impressive non-toxic deodorant collection here.
Earth Mama
Earth Mama Bright Citrus Deodorant: Organic Coconut (Cocos Nucifera) Oil, Organic Corn (Zea Mays) Starch, Candelilla (Euphorbia Cerifera) Wax, Baking Soda (Sodium Bicarbonate), Organic Beeswax (Cera Alba), Magnesium Hydroxide, Organic Arrowroot (Maranta Arundinacea) Powder, Organic Grapefruit (Citrus Grandis) Peel Oil, Tocopherol, Organic Tangerine (Citrus Reticulata Blanco) Peel Oil, Organic Calendula (Calendula Officinalis) Flower Extract.
I like the fact that Earth Mama is certified by NSF, which means it contains 70% or more certified organic ingredients. The remaining 30% of ingredients are on the NSF allowed list.
I have not heard about anyone's personal experience with it yet. But if you have a baby and look for a safe baby wash, you might want to grab their deodorant as well. It is so time- and cost-effective to buy products in one place.
You can see all four formulations, including their unscented non-toxic deodorant, here.
Pure Haven
Pure Haven Non-Baking Soda Deodorant: Solanum Tuberosum (Potato) Starch, Cocos Nucifera Oil (Organic Coconut), Stearyl Alcohol, Caprylic/Capric Triglyceride, Polyglyceryl-3 Beeswax, Non-Nano Zinc Oxide, Mentha Piperita Oil (Organic Peppermint), Melaleuca Alternifolia Oil (Organic Tea Tree), Tocopherol (Non-Gmo).
This is a baking soda-free deodorant. Pure Haven also carries a safe deodorant with baking soda. I used and like the one with baking soda.
Speaking of the convenience of buying products in one place, I also love Pure Haven shampoo and conditioner and pre+probiotics hand cream.
The best non-toxic deodorant ingredients
So, what constitutes a safe deodorant?
First, botanical ingredients are organic, and non-botanical ingredients are safe.
Second, instead of aluminum and talc, a safe deodorant uses such natural ingredients as baking soda, magnesium, zinc, activated charcoal, arrowroot powder, potatoes starch, and the like.
Finally, their scent comes from essential oils only.
For my other favorites, visit my Shop, where you can find many non-toxic options, not only for deodorants but also for other body and household items.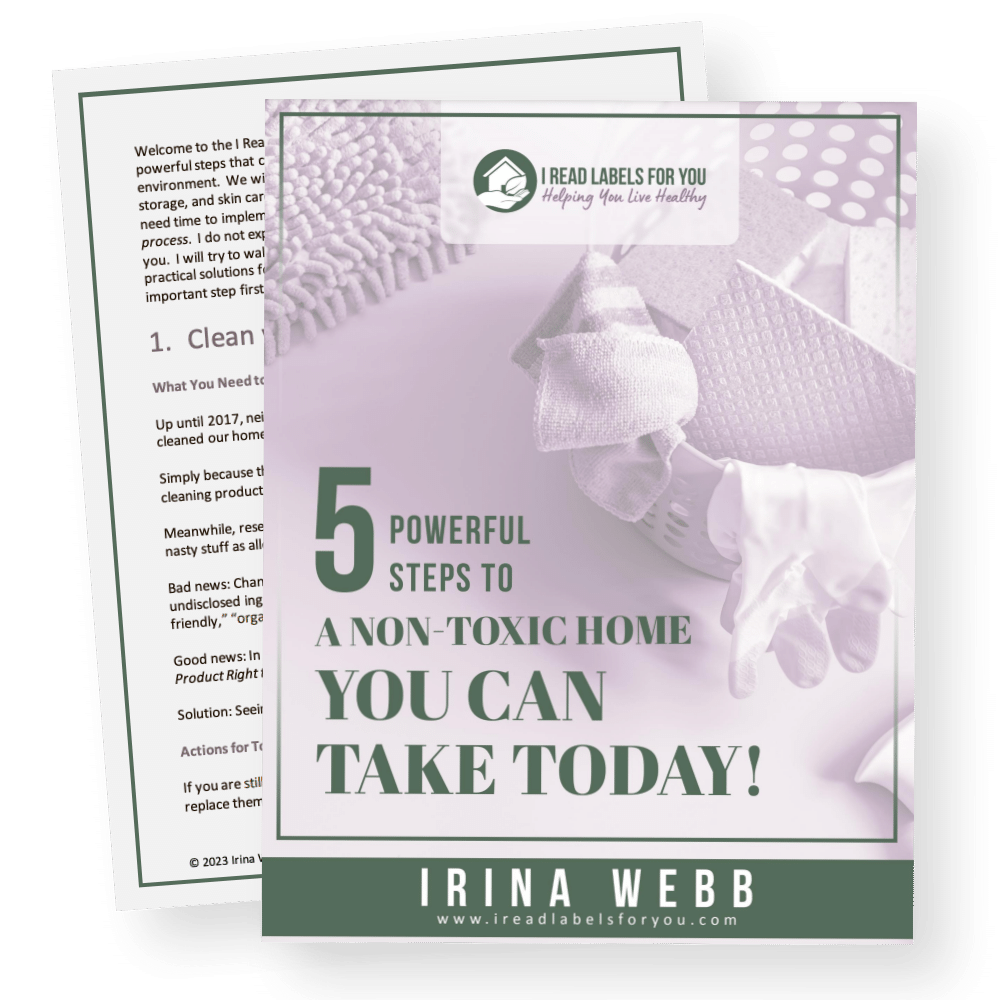 Download The Free Guide!
5 Powerful Steps To A Non-Toxic Home
Join our informed consumer community and get our free guide the "5 Powerful Steps To A Non-Toxic Home".