Non-Toxic Back to School Supplies Guide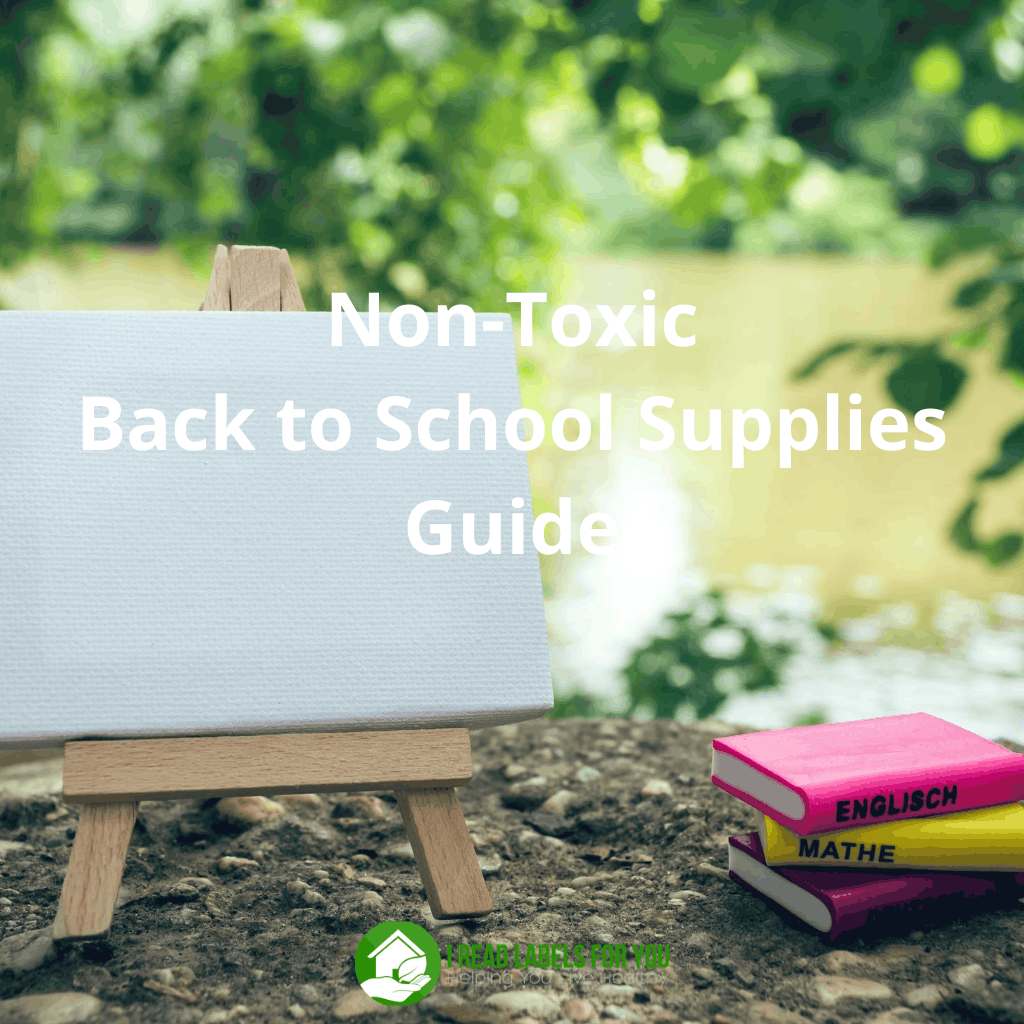 This post may contain affiliate links. To read our affiliate policy, click here.
Are you looking forward to shopping for school supplies, or dreading it? For sure, the coming school year will look a lot different for many of us. However, be it homeschooling, distance-learning, or going back to classrooms, kids need study supplies. Also, I think it is a good idea to buy non-toxic school supplies in advance to avoid rushed decisions under pressure. So, this non-toxic back to school supplies guide will help you shop for school essentials from the comfort of your home.
Personal safety classroom supplies
To begin with, the present world health situation makes the school supply list longer by at least two items – hand sanitizer and a facemask.
Hand sanitizers
The CDC recommends using an alcohol-based hand sanitizer with at least 60% ethanol or 70% isopropanol. However, they encourage washing hands with soap and water when you can (source). If you are looking for safe hand soap, check out my Non-Toxic Hand Soap Guide.
Among hand sanitizers, my favorite is Humble Suds which contains 70% ethanol and no concerning ingredients. When we were shopping for a house, we had to use it before and after each showing, but it did not dry our skin at all. Besides, the smell is amazing, and you can get a 10% discount if you use the code IRLFY10 on the Humble Suds website.
I also recommend a hand sanitizer by Evolved by Nature (use the IRLFY10 code) because it is a gel and fragrance-free, which I think is better for kids than spray.
In addition, I find these hand sanitizers safe and worth adding to your back to school supplies list:
With the growing demand, some of the hand sanitizers may be temporarily unavailable. Additionally, please be careful to purchase products by unknown brands. Thus, the Food and Drug Administration (FDA) states that some hand sanitizers are potentially toxic because they could be contaminated with methanol, wood alcohol (source).
Surface disinfectants
Further, many schools have adopted very strict disinfecting protocols. If your school suggest you bring your own disinfectant, I highly recommend looking into Force of Nature. I have done a lot of research into disinfectants and believe their disinfectant is the safest and most kind to the planet among disinfectants that I have seen so far. By the way, your schoolteachers can make a Force of Nature disinfectant in the classroom as a science project. Also, Force of Nature provides me with special discounts that I can pass along to you. Please learn more about Force of Nature and get the current discount code here.
Face masks as school essentials in 2020
It is still hard to put up with the fact that face masks are becoming "normal" back to school supplies this year.
My favorite mask manufacturer is Humble Suds who has three types of masks: 100% linen, cotton with PM 2.5 filter insert, and kids' masks with pockets for the inserts. The latter are adjustable behind-the-ear cotton face masks with three layers of 100% cotton fabric.
Additionally, I really appreciate the nose wires that help the masks fit perfectly and comfortably. Plus, they come in small (ages 2-5) and medium (ages 5-12) sizes. My husband, son, and I use these breathable, washable, and reusable masks and like them a lot. What my son likes most about his mask is that it is very soft and has a fun pattern. If you do get them, be sure to take out the filter before you wash them.
Also, you can get a 10% discount if you use the code IRLFY10 on the Humble Suds website.
Another company that carries GOTS-certified organic masks is Naturepedic. We trust this company as we have been sleeping on Naturepedic mattresses (our son used to sleep on their crib mattress, and now he sleeps on their kid's mattress) and their adjustable pillow. Besides, you can use IREAD15 code to get 15% off storewide.
Containers and bags on the back to school supplies list
The containers on the school essentials list are lunch boxes and water bottles, pencil cases and binders. And the bag is a backpack.
Lunch boxes
Without a doubt, conventional containers may affect food and water by leaching chemicals into them, and you want to avoid that. Hence, my rule number one is to avoid plastic altogether. You can read more about the dangers of this material in my post about plastic plates.
When it comes to lunch boxes, I prefer stainless steel. Actually, I refer to it as one of the best safe cookware options, too, in my Safe Cookware Guide.
You may also utilize reusable sandwich wraps made of organic cotton.
Thus, my recommendations for lunch boxes as part of back to school supplies are:
Water bottles
Just as with lunch boxes, I recommend water bottles for school essentials made of stainless steel (glass is good, too, but it is heavy and can break). One of the water bottles I own has a filter in it, which filters not only chlorine but also heavy metals, including lead, a common water contaminant.
As a matter of fact, this report from the Harvard School of Public Health states that many schools across the country have too much lead in their tap and drinking fountain water. What is more, most are not even testing for it. Hence, a water bottle with a filter is a great idea because your kid can easily refill it at school and drink clean water.
My recommendations regarding water bottles are as follows:
Pencil cases and binders as school essentials
Again, the problem is that when these common back to school supplies are plastic, they may contain phthalates, a class of chemicals that makes plastic more flexible. To clarify, scientists associate phthalates with a wide range of health concerns, including hormone disruption. Therefore, it is best to look for plastic school supplies in more natural materials such as cotton or canvas, paperboard, and uncoated paper.
In my opinion, the following are good options:
Non-toxic backpacks among back to school supplies
Since backpacks are a necessity among school essentials, to find safe backpacks and avoid toxic ones, watch out for PVC. Its main ingredient, vinyl chloride, is a known human carcinogen. You can read more about PVC and its hazards in my post about PVC Yoga Mats.
Luckily, there are lots of PVC-free backpacks made of nylon, polyester, cotton, and recycled plastic. Here are some top options:
Writing and arts & crafts back to school supplies
This section is about pens, pencils, markers, and crayons.
Pens and pencils
When it comes to such school essentials as pens and pencils, here are some better choices.
Some options are as follows:
Markers and crayons
Undoubtedly, water-based markers are the best. If, however, your back to school supplies list calls for permanent markers, make sure they are free from xylene, toluene, and other VOCs.
Further, non-toxic crayons are those that are free of asbestos and other heavy metals, such as lead. So, avoid cheap crayons and use beeswax and soy crayons instead.
Here are some options:
Fragrance in school essentials
It should be noted that many school supplies come with a scent. However, fragrance consists of dozens of different ingredients that companies do not have to disclose. The worst thing about this is that scientists link many of those ingredients, such as phthalates, for example, to cancer, hormone disruption, reproductive harm, and ADHD.
Therefore, please opt for fragrance-free school supplies. But know that products with the word "unscented" can still contain fragrance ingredients, so look for "fragrance-free" options. You can read more about fragrance in my post about natural fragrance.
Conclusion about back to school supplies
In conclusion, I want to emphasize the importance of choosing non-toxic classroom supplies for your children because it is our kids' health we are talking about. Even just by ditching fragrance and reducing plastic, you will make a giant leap into a safer and healthier zone for you and your children.
For more options of non-toxic skin care, clothing, and household products, please check out my shop. Also, you are welcome to book a consultation with me to get help with healthy choices.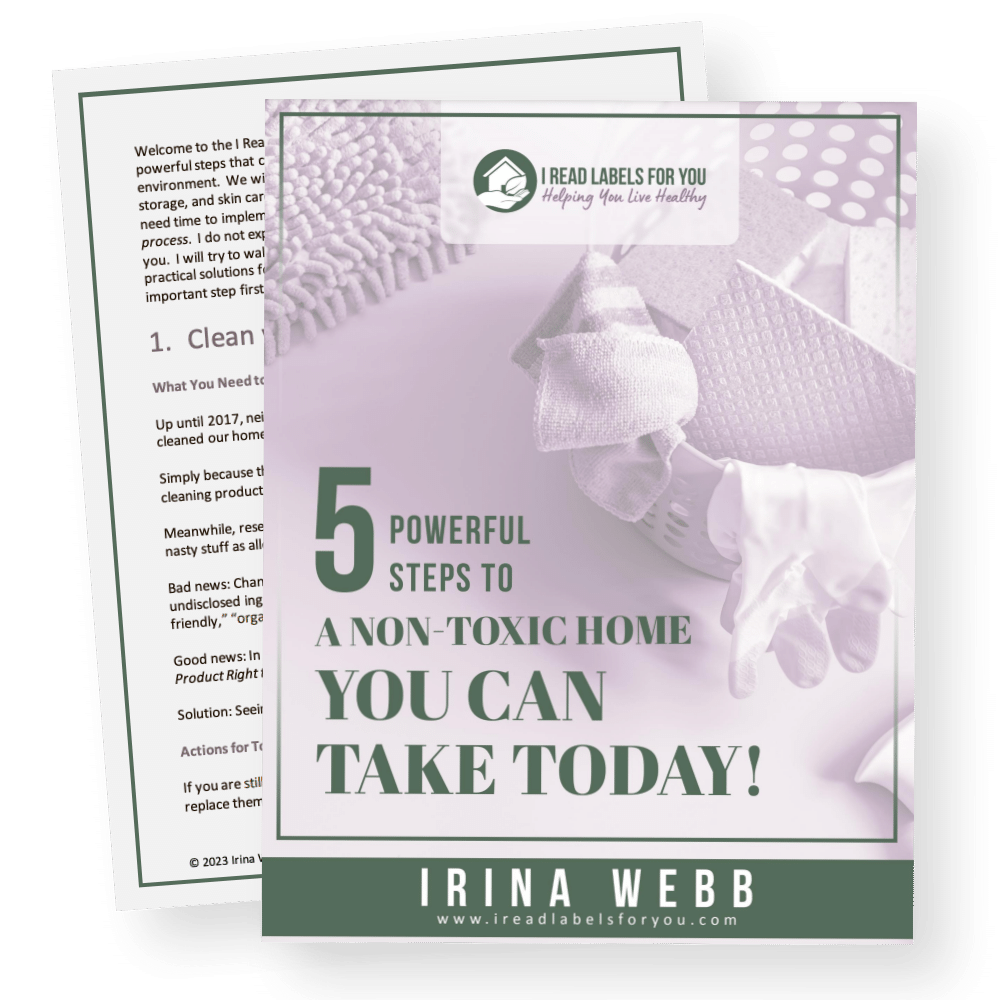 Download The Free Guide!
5 Powerful Steps To A Non-Toxic Home
Join our informed consumer community and get our free guide the "5 Powerful Steps To A Non-Toxic Home".