Here is the main reason you want to consider choosing the safest toothpaste for kids.   Toothpaste does not only get absorbed through the skin but it can also be ingested, especially when it comes to kids.  It goes right into the mouth and your kids can just swallow it.  Hence, you must be sure that what they are swallowing is safe for them.  While numerous conventional toothpastes may contain potentially harmful ingredients for your kids, a solution exists – just keep reading.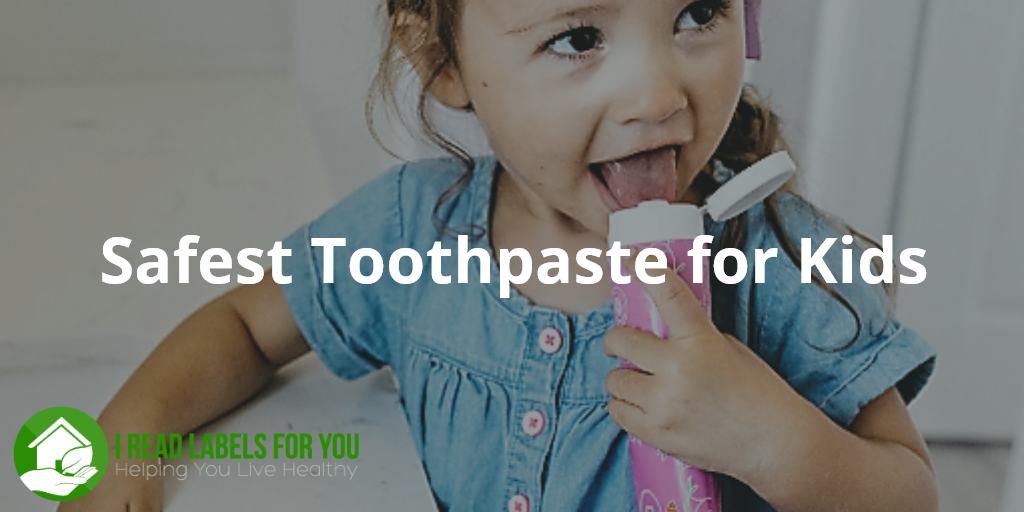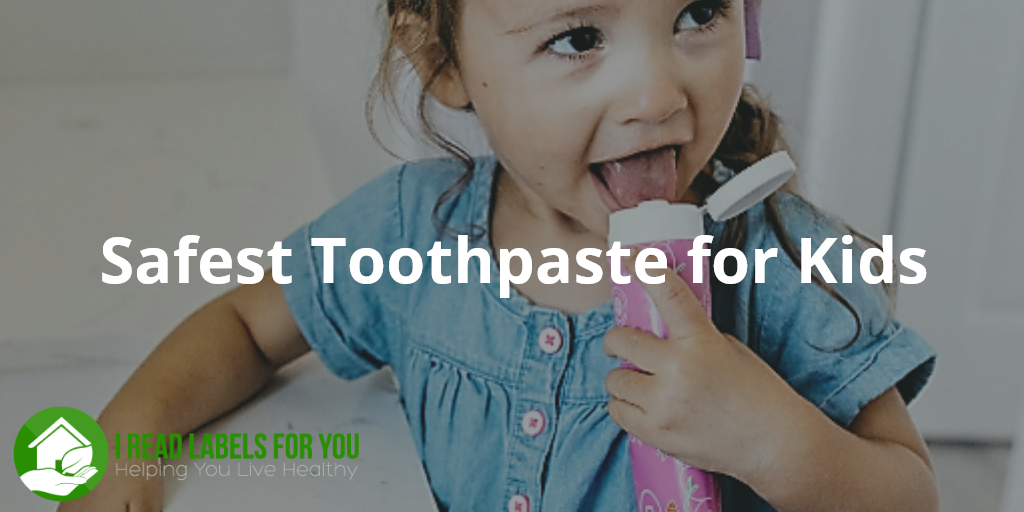 What is so bad about conventional toothpastes?
Conventional toothpastes have surfactants (aka foaming cleansers or detergents) that may be harmful to your health.  Moreover, they do not have any benefit for teeth but are there just to help the toothpaste spread easily around the mouth.  Many toothpastes contain sodium lauryl sulfate (SLS) or surfactants that do not have any health safety data available or no long-term safety data.
Besides surfactants, conventional toothpastes may have components harmful to your teeth.  These components are fluoride, synthetic dyes, artificial sweeteners, synthetic preservatives, and even microbeads.  In addition, some safe toothpastes have very few beneficial ingredients or none altogether.
Ingredients to avoid when you search for the safest toothpaste for kids
Fluoride, clay, ethoxylated ingredients, and colorants are the ingredients that should not be in your kids' toothpaste.
Fluoride
Despite speculations on the use of fluoride, everybody agrees that it is toxic and can be deadly in big doses.  Since kids are prone to swallowing stuff, it would be best if they did not have any toxic substance in their mouths.  To learn more about fluoride, please visit here.
Clay
The thing about clay is that it comes from the earth, which means it may contain lead.  Naturally, everything that comes from the earth may contain lead including water and veggies.  The good news is that the amounts of lead in clay used for hygiene and cosmetic purposes is very low, and it is acceptable for adults.  However, since we are talking about the safest toothpaste for kids, I advise against clay in kids' toothpaste.
Ethoxylated ingredients
To begin, manufacturers may use harsh petrochemical raw materials.  To make them less irritating to the body, they employ the ethoxylation process which calls for adding ethylene oxide.  At the end of this process, traces of leftover ethylene oxide can remain in the final product.
Moreover, such substance as 1,4-dioxane is produced during the ethoxylation process.  Unless a manufacturer uses the vacuum-stripping method to get rid of 1,4-dioxane, the dangerous chemical may remain in the toothpaste, and there is no way for us as consumers to know whether the manufacturer has used this method.
Both ethylene oxide and 1,4-dioxane are potent skin irritants and are carcinogens.  So, I recommend avoiding toothpastes with ethoxylated ingredients.  In fact, I do not recommend any products with ethoxylated ingredients on my blog.
Colorants
Out of the two types of colorants – mineral and petroleum-based – the former type does not have contaminants associated with petroleum.  However, both types of colorants may have heavy metals residue.  Besides, mineral pigments can come from China, which is infamous for its high background levels of pollution and lenient regulations.
An option for the safest toothpaste for kids
The toothpaste that I like and have bought for my son is Dr. Brite Kids Mineral Toothpaste.  We already had an experience with this toothpaste a while ago when it contained charcoal, but its new formulation has no charcoal any longer.
Let us look at the updated list of ingredients for Dr. Brite Kids Mineral Toothpaste and see if it truly is the safest toothpaste for kids.
Ingredients: Aqua (Purified Water), Vegetable Glycerin (Soy Free), Hydrated Silica (Mineral), Calcium Carbonate (Mineral), Xylitol, Cocos Nucifera (Virgin Coconut) Oil*, Maranta Arundinacea (Arrowroot Thickener) Powder*, Potassium Cocoate (From Organic Coconuts)*, Calcium Ascorbate (Vitamin C), Camellia Sinensis (Green Tea) Leaf Extract*, Quillaja Saponaria Molina (Soapbark)*Extract, Fragaria Sinensis (Strawberry) Fruit Flavor Extract/Powder*, Azadirachta Indica (Neem) Extract*, Stevia Rebaudiana (Stevia) Leaf/Stem Extract *, Sodium Cocoyl Glutamate (from Coconuts), Mentha Arvensis (Menthol)*.
*Organic
Soy-Free Vegetable Glycerin
Glycerin is a safe moisturizing ingredient when it is of plant origin.  It has a rating of 1 and good data available in the EWG Skin Deep database.
Hydrated Silica
A natural part of the Earth's crust, silica (aka sand) acts as an anticaking agent in food with no known adverse health effects.  It polishes teeth and removes plaque from them in a gentle fashion.
Calcium Carbonate
I am happy to see calcium in this toothpaste which leads me to conclude that it is the safest toothpaste for kids.  Studies show that calcium is as effective as fluoride in remineralization of teeth.  It is a safe alternative to fluoride (read more here and here). 
Xylitol in the safest toothpaste for kids
It is a plant sweetener that has no side effects associated with sugar (please read more about it here).  Moreover, xylitol reduces dental caries and reverses the process of early caries (source).
Arrowroot Powder
Maranta Arundinacea (aka arrowroot) is a white, flavorless powder that serves as a thickening component in food.  The EWG Skin Deep database rates it at 1 with no data.
Potassium Cocoate
This ingredient is the safest surfactant.  It is saponified coconut oil, a traditionally safe way to make natural soap.
Mentha Arvensis
This organic ingredient, aka menthol, has a rating of 1 in Skin Deep database with limited data.
Sodium Cocoyl Glutamate
Skin Deep Database rates this ingredient at 1 with limited data.  Sodium Cocoyl Glutamate is a result of the reaction between coconut acid chloride and glutamic acid.  As a part of their 2017 review of 115 amino acid alkyl amides, the Cosmetic Ingredient Review (CIR) Expert Panel found this component safe (source).
Botanical extracts in the safest toothpaste for kids
The Dr. Brite Kids Mineral Toothpaste contains a lot of botanicals.  They are Green Tea Leaf Extract, Soapbark Extract, Strawberry Fruit Flavor Extract/Powder, Neem Extract, and Stevia Leaf/Stem Extract.  I really like the fact that they are all organic.
Preservatives in the safest toothpaste for kids
Dr. Brite Kids Mineral Toothpaste uses a combination of ingredients that have some natural antibacterial properties, such as glycerin, coconut oil, and neem extract.  The packaging that restricts access of air and water helps, too.  Dr. Brite recommends using up the non-toxic toothpaste within 9 months after opening it and within 2 years after the manufacturing date that you can see on the tube.
Conclusion about the safest toothpaste for kids
In conclusion, I can say that in my opinion, Dr. Brite Kids Mineral Toothpaste is the safest toothpaste for kids because it consists of natural organic ingredients, and is devoid of ethoxylated ingredients, colorants, clay, and fluoride.  The toothpaste's ingredients are meant to improve oral health, not the commercial appeal of the toothpaste.  This is the toothpaste that I use on my 7-year-old son.
Where to buy
Dr. Brite website
Please know that Dr. Brite makes a variety of toothpastes, safe and effective mouthwashes, and even safer and cheaper alternative to professional teeth whitening.
Your Superpower To Read Ingredients
Imagine looking at the ingredients of any shampoo, conditioner, lotion, or cream and in a matter of seconds being able to decide if it is safe to use!
With this easy unprecendented method, you will be able to spot potentially harmful personal care or skincare products that may cause irritation, an allergic reaction, or increase the risk of endocrine disruption or cancer.