Pure Effect Water Filtration Systems
This page contains affiliate links, which means that if you click on the affiliate link and buy an item, I'll receive commissions.
Back in 2015, I found Pure Effect – a company that claimed that their water filtration systems are as powerful as Reverse Osmosis (RO) but they do not remove beneficial magnesium and calcium from the water and thus do not demineralize water. In addition, there are no water storage tanks in the Pure Effect water filtration systems.
If you're familiar with my work, you know that I do not rely on advertisement promises and always prefer to see some evidence. So, I was initially skeptical about Pure Effect's claims. Over the years (seriously – years!), I've asked numerous questions of the Pure Effect owner, Igor Milevskiy.  By the way, my questions never annoyed him, and he took the time to educate me and answered all my questions to my satisfaction.
Further, I bought this Pure Effect Ultra-UC Disinfect water filter system and tested it with the Tap Score service.  By the way, I believe that the best way to know how a particular water filter works on your water is to test your tap water and then your filtered water.  The reason for that is that water has different contaminants, pH, and hardness.
In my case, Tap Score testing showed that the Pure Effect filter worked well.  Among other things, it removed 100% of uranium.  Can you believe that we had uranium in our water?  You can learn more about that in my What You Can Do About Uranium in Water post.
However, it did not remove fluoride 100%.  (By the way, my clients showed me their Tap Score test reports and Pure Effect removed their fluoride 100%.  That makes me think that our insanely hard water was the culprit, not the Pure Effect filter.)
As perfectionist as I am, I decided to get an Aquasana Reverse Osmosis and test it. Unfortunately, it leaked when an Aquasana-approved plumber installed it.  When I called them about that, they made me feel that it was my fault.  It took Aquasana 2 weeks to ship the replacement cartridge, and I paid for expedited shipping.  The Tap Score test showed that the Aquasana filter removed 100% of the fluoride.  However, it also removed beneficial magnesium and calcium and added potassium only to our water.  By the way, over the years (literally) I kept calling Aquasana and asked what minerals they put back and how much.  I could not get any satisfying answers.  Moreover, it raised the water's pH to 9.5, which, according to my doctor Myrto Ashe, MD, MPH, IFMCP is too high for our natural stomach acidity and can interfere with digestion and absorption of nutrients.  Furthermore, we did not like the taste of water.
In the end, I returned the Aquasana filter and re-installed the Pure Effect water filter.  To sum up, here is what we like about the Pure Effect water filtration systems:
The owner of the company himself provides customer service; he was the one who designed the water filtration system, so he is both knowledgeable and courteous.
Pure Effect systems reduce fluoride, radioactive elements, arsenic, chromium-6, and pharmaceuticals — essentially, the pollutants that reverse osmosis systems are designed to filter.
Pure Effect systems do not have water tanks so the water does not sit in a tank lined with plastic.
Unlike RO water filtration systems, Pure Effect systems do not waste water.
The filtered water retains beneficial minerals such as magnesium and calcium. I am chronically deficient in magnesium so it is very important for me to have magnesium in water.  Most RO systems do not add back magnesium, only calcium.
The filtered water's pH is below 8, which is the level the EPA and health experts recommend.
The filtered water tastes really good. My son loves drinking it.
Over the years, I have never heard any complaints about the quality of Pure Effect water filtration systems from my clients who bought the water filtration. In fact, my clients who bought the filters rave about them. And now that we own it, I can attest to the great quality and customer service.
Recently, Igor at Pure Effect introduced a UVLED Module you can upgrade to in addition to the standard Membrane for maximum disinfection.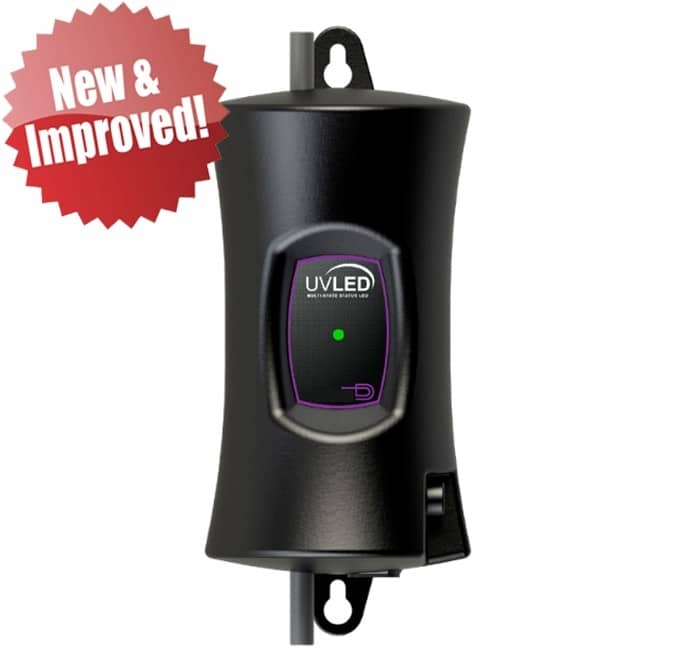 The UVLED is the latest innovation in safe, chemical-free, and maintenance-free disinfection technology using UV light to sterilize the water independent of organism size. Generally speaking, virus sizes are smaller than bacteria. For example, COVID is around 0.1 microns but some of the COVID molecules, including the variants, can be smaller than 0.05 microns.
With this said, I'm often asked whether we need the UVLED disinfection Module for the Pure Effect filter.
At first, I was saying people who were on well water and didn't want to use toxic chemicals to disinfect or people who had a compromised immune system would benefit from it.
Now I think in the face of uncertainty with viruses and their variants that anybody can benefit from having that peace of mind. The main reasons for having in-home UVLED disinfection are:
1. City disinfection failures/boil advisories/late warnings
2. Organisms that may become resistant and survive to city disinfection chemicals.
3. Well Water
4. Peace of mind
The good news is that you do not have to re-buy the whole Pure Effect filter; you can add the UVLED to your existing under-counter PureEffect filter system and most other brands (contact PureEffect to confirm if your under-counter filter brand is compatible).
To learn more about the UVLED Module, click here.
For full disclosure, the same water filter can work differently on different water and ultimately should be chosen based on the contaminants in your water. Ultimately, a filter should be chosen based on the contaminants in your water. Tap Score is the water testing service I use and recommend using to determine the quality of your tap water and then how well a filter of your choice works on your water.
To learn more about the need for a water filter and my take on the well-publicized Berkey systems, read my Best Water System for You post. 
To get peace of mind that you are making the right decision about your drinking water, please book a consultation.