OPI Nail Polish Ingredients Review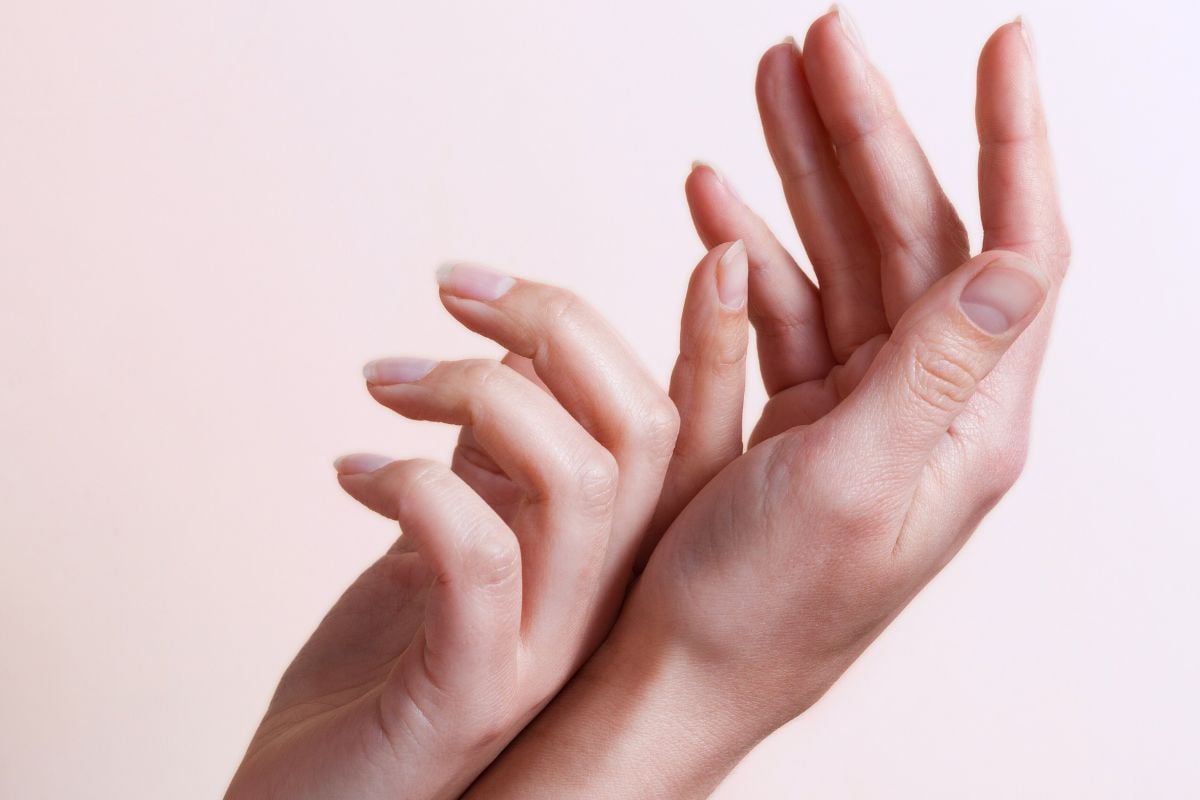 This post may contain affiliate links. To read our affiliate policy, click here.
Nail polish, as well as makeup and permanent hair color, can give you an emotional boost and help you feel better about yourself. However, it's important to make sure that you are not paying for positive emotions with your physical health. Hence, knowing the ingredients of beauty products is vital in making safer choices.
In this OPI nail polish review, you will learn about conventional nail polish ingredients and potential concerns for your health caused by some of them. You will see the ingredients of an OPI Infinite Shine nail polish, an OPI Nature Strong nail lacquer, and the OPI Nature Strong top coat and base coat side by side to draw your own conclusion about their safety. In addition, you will learn if OPI nail products are cruelty free and if they contain triphenyl phosphate which is under assessment as a potential endocrine disruptor by the ECHA. To learn about toxic chemicals in makeup, refer to my 12 Potentially Toxic Chemicals In Makeup List.
OPI Nail Polish Ingredients Review
To begin, the OPI Nature Strong line is reportedly cruelty free and vegan, which means that the nail polishes are not tested on animals and are free of animal derived ingredients. They are formulated with ingredients derived from sugar cane, manioc, wheat, potatoes, corn, and clay. (I didn't see such claims about the Infinite Shine collection.)
Additionally, their nail polishes are "9-free," i.e., their formulas do not contain certain toxic chemicals. You may have heard of so-called non-toxic nail polishes free of the "toxic trio" or the "Big Five." In the table below, you can see what chemicals constitute these three groups.
Toxic Trio
Big Five
9-Free
– dibutyl phthalate (DBP)
– formaldehyde
– toluene
– dibutyl phthalate (DBP)
– formaldehyde
– toluene
– formaldehyde resin
– camphor
– formaldehyde
– formaldehyde resin
– toluene
– xylene
– dibutyl phthalate (DBP)
– camphor
– parabens
– ethyl tosylamide, and
– triphenyl phosphate
I applaud OPI for removing endocrine disrupting and toxic to reproduction dibutyl phthalate (DBP) from their formula in 2006 (source). However, even being "9-free" does not automatically make OPI nail polish safe. Why? Because when one ingredient is gone, another one comes in to perform the function of the removed one.
For instance, as one of the nail polish ingredients, dibutyl phthalate functioned as a plasticizer to help prevent chips and cracks. Obviously, removing it from the formula requires a substitute to maintain the quality of the product. So, let's take a closer look at the OPI nail products ingredients.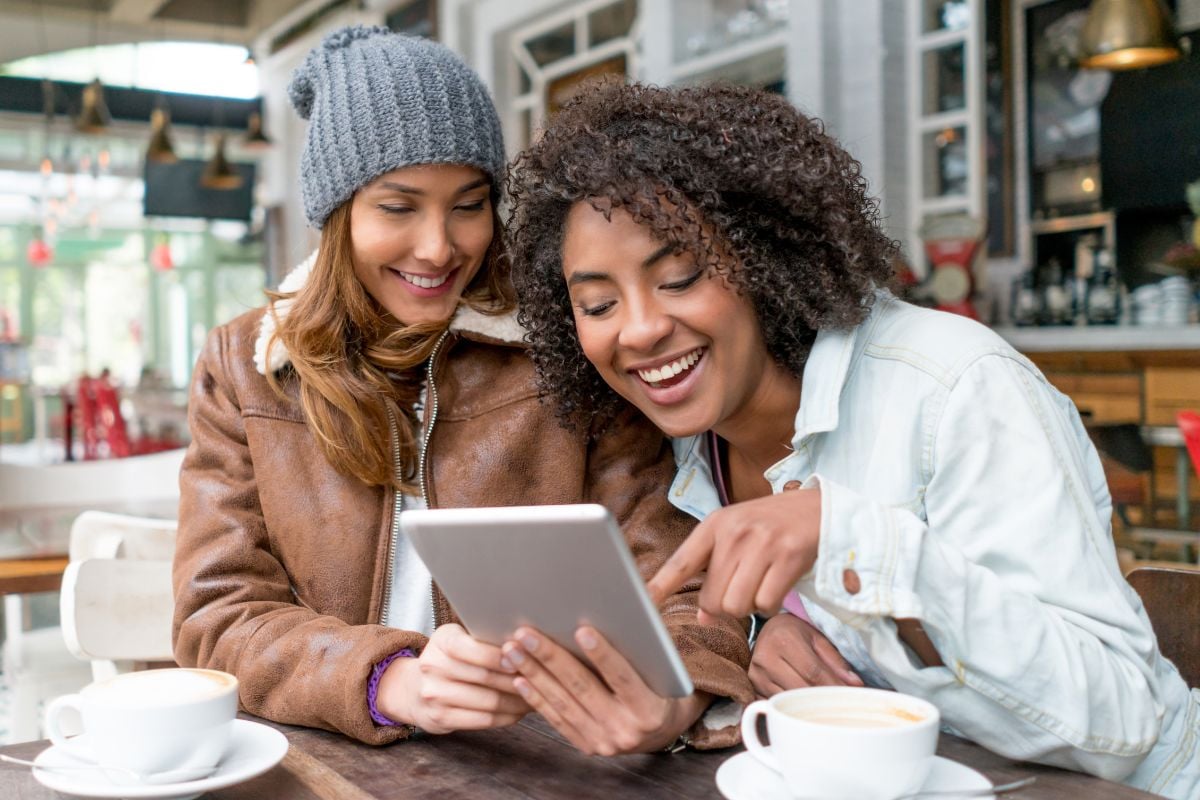 OPI Nail Polish, Nail Lacquer, Top Coat, And Base Coat Ingredients
As of July 2023, the ingredients of the selected OPI nail products are as follows:
| | |
| --- | --- |
| Product | Ingredients |
| OPI Infinite Shine Nail Polish (Let's Be Friends) | Ethyl Acetate, Butyl Acetate, Nitrocellulose, Acetyl Tributyl Citrate, Adipic Acid/Neopentyl Glycol/Trimellitic Anhydride Copolymer, Isopropyl Alcohol, Stearalkonium Bentonite, Styrene/Acrylates Copolymer, Benzophenone-1, Silica, Diacetone Alcohol, Di-HEMA Trimethylhexyl Dicarbamate, Trimethylpentanediyl Dibenzoate, Phosphoric Acid, Barium Sulfate, Titanium Dioxide (CI 77891), Red 6,7 (CI 15850), Yellow 5 (CI 19140), Ferric Ammonium Ferrocyanide (CI 77510). |
| OPI Nature Strong Nail Lacquer (Natural Mauvement) | Butyl Acetate, Ethyl Acetate, Nitrocellulose, Adipic Acid/Neopentyl Glycol/Trimellitic Anhydride Copolymer, Acetyl Tributyl Citrate, Alcohol, Stearalkonium Bentonite, Isopropyl Alcohol, Diacetone Alcohol, Sorbic Acid, Hexanal, Lithothamnion Calcareum Extract, Phosphoric Acid, Mannitol, Barium Sulfate, Diatomaceous Earth, Zinc Sulfate, n-Butyl Alcohol, Silica, Tocopherol, Titanium Dioxide (CI 77891), Manganese Violet (CI 77742), Red 6 (CI 15850), Ferric Ammonium Ferrocyanide (CI 77510), Yellow 5 (CI 19140), Iron Oxides (CI 77499). |
| OPI Nature Strong Top Coat | Ethyl Acetate, Butyl Acetate, Cellulose Acetate Butyrate, Isopropyl Alcohol, Acetyl Tributyl Citrate, Violet 2 (CI 60725). |
| OPI Nature Strong Base Coat | Ethyl Acetate, Butyl Acetate, Nitrocellulose, Adipic Acid/Neopentyl Glycol/Trimellitic Anhydride Copolymer, Acetyl Tributyl Citrate, Alcohol, Glycolic Acid, Water, Gluconolactone, Malic Acid, Squalane, Lactic Acid, Helianthus Annuus (Sunflower) Seed Oil, Trimethylpentanediyl Dibenzoate, Bambusa Vulgaris Sap Extract, Vaccinium Myrtillus Fruit/Leaf Extract, Saccharum Officinarum/Sugar Cane Extract, Tocopherol, Citrus Aurantium Dulcis (Orange) Fruit Extract, Citrus Limon (Lemon) Fruit Extract, Acer Saccharum (Sugar Maple) Extract, [May Contain: Yellow 5 Lake (CI 19140), Ferric Ammonium Ferrocyanide (CI 77510)]. |
Core Nail Polish Ingredients
The key nail polish ingredients in the OPI nail polish are:
solvents
film formers
plasticizers
UV absorbers/stabilizers, and
colorants.
Let's discuss each of these ingredient groups.
Solvents
For starters, solvents are the carriers of the other ingredients and help the nail polish flow smoothly. There are four solvents in the OPI nail polish as well as in the nail lacquer:
ethyl acetate
butyl acetate
isopropyl alcohol, and
diacetone alcohol.
According to the European Chemicals Agency database (ECHA), ethyl acetate, butyl acetate, and isopropyl alcohol may cause drowsiness or dizziness. Although these risks are more applicable to occupational settings, it is good to minimize inhalation of these nail polish ingredients by applying the nail polish in a very well-ventilated room.
As for diacetone alcohol, the US OSHA lists various respiratory issues with its use, including even damage to the liver and kidneys. Plus, it limits airborne exposure to 50 ppm over an 8-hour work shift (source). In addition to respiratory irritation, the ECHA indicates that diacetone alcohol is suspected of damaging fertility and the unborn child. However, the agency does not mention exposure amounts or the routes of exposure. So, it's unclear if it can significantly impact fertility or the fetus through an occasional nail polish application. To exercise caution, if you are pregnant or trying to conceive, you might want to stay away from nail salons. Also, check out my helpful list of chemicals to avoid during pregnancy.
Film Formers
As nail polish ingredients, film formers help the OPI nail polish, nail lacquer, top coat, and base coat become hard, resilient, and shiny. Some film formers in these nail products are:
nitrocellulose
acetyl tributyl citrate
adipic acid/neopentyl glycol/trimellitic anhydride copolymer
styrene/acrylates copolymer, and
di-HEMA trimethylhexyl dicarbamate.
First, according to the 2016 CIR report on nitrocellulose, while formaldehyde is not listed as a potential contaminant, there is a rare possibility of an allergic reaction. Thus, French dermatologists reported an allergic reaction to nitrocellulose in nail varnish. Moreover, allegedly, nitrocellulose can contain triphenyl phosphate as a fire-retardant agent and plasticizer (source). (As you remember, triphenyl phosphate is on the OPI "9-free" list of chemicals due to its potential endocrine disruptive hazards (ECHA).)
Second, acetyl tributyl citrate has no hazards according to ECHA and was deemed non-genotoxic, non-sensitizing, and non-irritating by the CIR expert panel.
Third, the 2020 CIR report deemed adipic acid/neopentyl glycol/trimellitic anhydride copolymer to be safe for use in nail polishes. Yet, there was not enough data to determine its safety in other cosmetic products.
Fourth, the CIR expert panel describes styrene/acrylates copolymer as non-sensitizing and non-irritating, and the ECHA lists no hazards.
Finally, according to the CIR, di-HEMA trimethylhexyl dicarbamate must have no contact with the skin, only the nail. And per the SCCS report, it poses a risk of sensitization if it gets on the skin.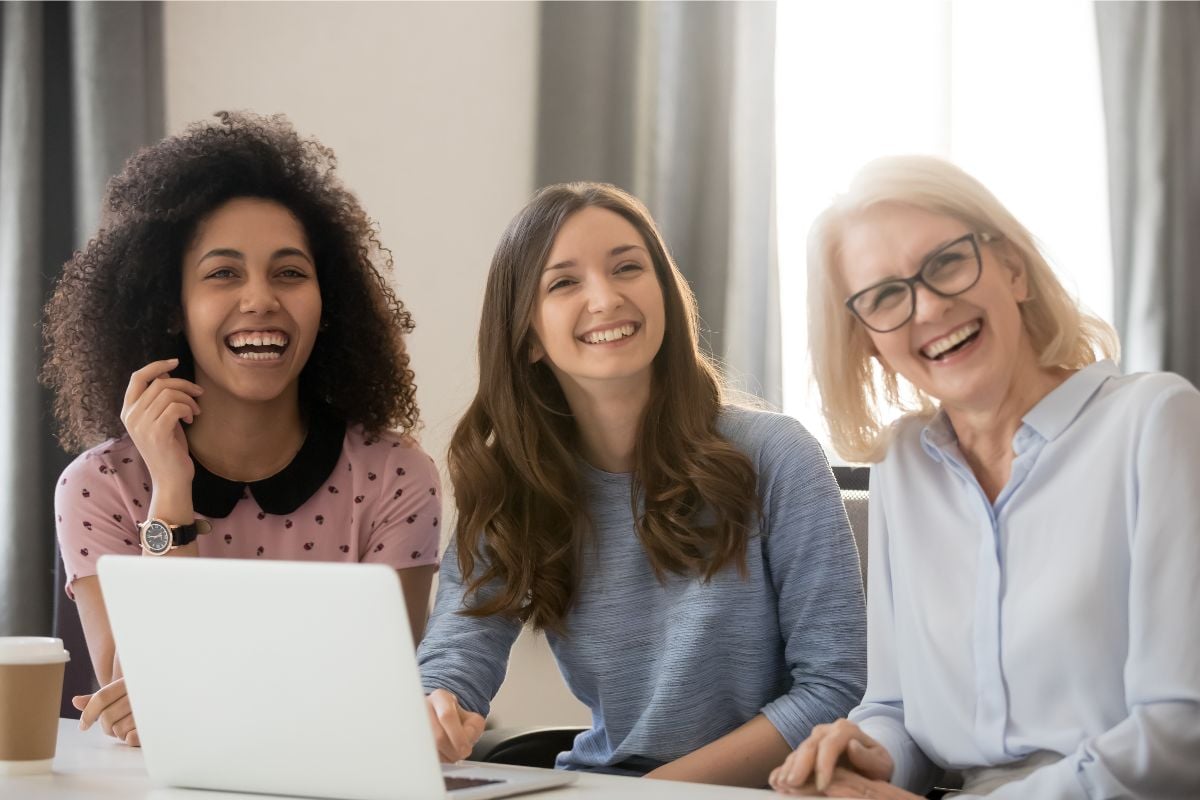 Plasticizers
As already mentioned, plasticizers are nail polish ingredients that prevent chips and cracks in the product. The plasticizer in the OPI nail polish and base coat used instead of dibutyl phthalate is trimethylpentanediyl dibenzoate.
The bad news is that the CIR Expert Panel has not assessed trimethylpentanediyl dibenzoate for safety; the good news is that the ECHA does not list any hazards.
UV Absorbers/Stabilizers
The UV absorber in the Infinite Shine OPI nail polish is benzophenone-1, and it blocks color fading.
For your information, benzophenones range from benzophenone-1 to benzophenone-12. For example, benzophenone-3 is also known as oxybenzone which is commonly used in sunscreens. (Find a sunscreen without this ingredient in the best non-toxic face sunscreen guide.)
I consider benzophenone-1 one of the most concerning nail polish ingredients for the following reasons.
First, benzophenone-1 is linked to endocrine disruption. The Endocrine Disruption Exchange Database provides a list of in vitro medical studies so we can read up on the subject matter.
Further, the 2020 CIR report mentions the studies on the effects of benzophenone-1 on the proliferation and metastasis of MCF-7 human breast cancer cells expressing estrogen receptors. The scientists concluded that benzophenone-1 may accelerate the growth of MCF-7 breast cancer cells. In another in vitro study, mentioned in the CIR report, benzophenone-1 statistically significantly increased BG-1 ovarian cancer cell growth.
To be fair, there are no animal, clinical or epidemiological studies. In other words, we do not know whether the usage of a nail polish may harm the human hormonal system. However, the presence of benzophenones, including benzophenone-1, in human urine means that general human exposure to these chemicals is meaningful.
Thus, because of the endocrine disruption and cancer concerns, benzophenone-1 is, in my opinion, one of the most concerning ingredients in the OPI nail polish.
Colorants
First of all, there are two types of colorants used as nail polish ingredients:
organic pigments/dyes, derived from petrochemicals, and
inorganic mineral pigments, such as iron oxides.
While both types may contain traces of heavy metals, as detailed in Federal regulations, organic pigments may also contain traces of contaminants specific to petroleum, such as carcinogenic and toxic to reproduction benzo[a]pyrene and polycyclic aromatic hydrocarbons (PAHs). Hence, mineral inorganic pigments are a better choice for nail polish ingredients, in my opinion.
The selected OPI nail products use both petroleum-based pigments (e.g., red 7, yellow 5, violet 2) and mineral pigments (e.g., titanium dioxide, iron oxides).
Note thatcolorants are also used in makeup. To avoid heavy metals in makeup and find truly safe makeup products, check out my Crunchi non-toxic makeup review.
Conclusion About OPI Nail Polish
Due To Certain Ingredients Of Concern, I Do Not Consider OPI Nail Polish Safe And Non-Toxic.
In sum, it is great that the list of OPI nail polish ingredients is "9-free," meaning it doesn't have the following chemicals:
formaldehyde
formaldehyde resin
toluene
xylene
dibutyl phthalate (DBP)
camphor
parabens
ethyl tosylamide, and
triphenyl phosphate.
However, this does not mean that OPI nail polish has no other ingredients of concern. Thus, in my opinion, benzophenone-1 and di-HEMA trimethylhexyl dicarbamate are rather concerning ingredients due to their potential negative effect on health. Therefore, when you apply a nail polish, do it in a ventilated area and do not paint over your skin.
Browse the I Read Labels For You blog for the information on the ingredients in other products, visit my shop to find non-toxic products for home and body care, and consider using one of my services if you need help with healthy living on a daily basis.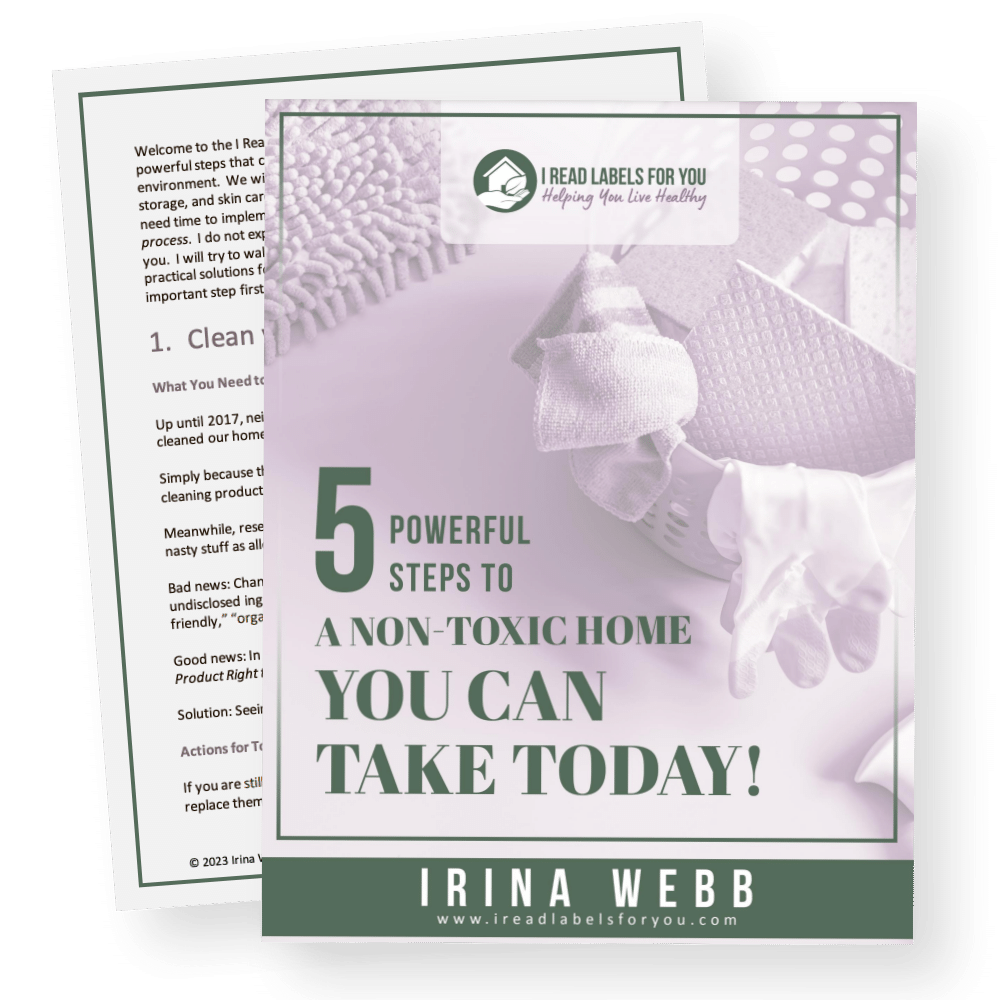 Download The Free Guide!
5 Powerful Steps To A Non-Toxic Home
Join our informed consumer community and get our free guide the "5 Powerful Steps To A Non-Toxic Home".