Your Non-Toxic Yoga Mat Guide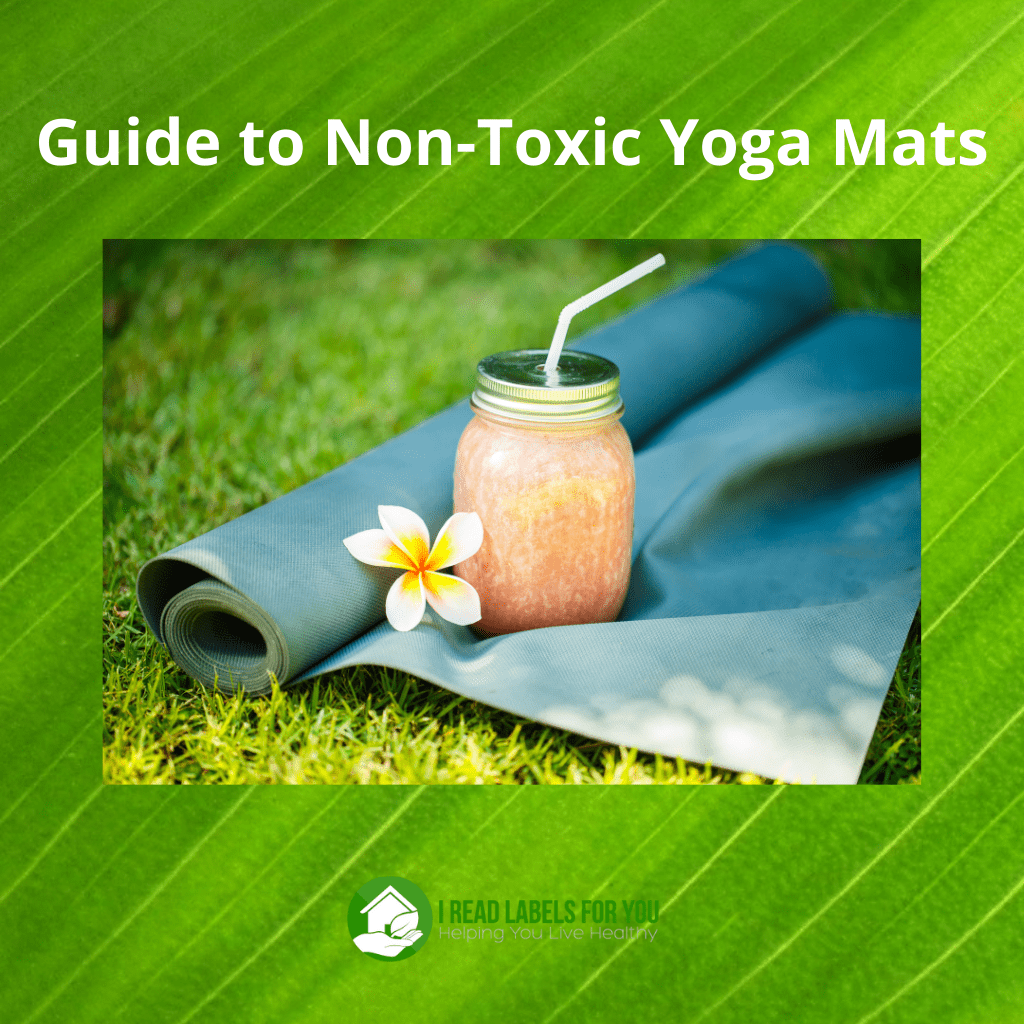 This post may contain affiliate links. To read our affiliate policy, click here.
Looking for a clean yoga mat? You probably expect it to be comfortable for your yoga practice and to have no bad chemical smell. You may also want it to contain zero potentially harmful chemicals and cause no environmental issues. Clearly, looking for a comfortable natural yoga mat can be frustrating in and of itself. And it only gets more complicated when you try to factor in potential harm to your health from its materials. Here is the good news: this non-toxic yoga mat guide will give you a comprehensive idea about yoga mats. With this knowledge, you will be able to make an informed decision about what a truly toxin-free yoga mat is for you. As a bonus, you will learn how to clean yoga mat materials. Read on to find out what healthy yoga mat I use and like practicing yoga and Pilates on.
I have divided yoga mat materials into four categories: worst, bad, better, and best.
To begin with, I have been reading product labels since 2012. What used to be a hobby has turned into a full-time job which I love. My consulting services are popular with both consumers and manufacturers. To get to the true essence of an ingredient, I incorporate a wide range of materials into my research. Hence, I study scientific literature and utilize credible sources such as the European Chemicals Agency and the Scientific Committee on Consumer Safety. I also employ the EWG database, but one must know How to Use the Skin Deep Database the right way.
In addition, I constantly try new products to be able to speak of their performance from my own experience. Thus, I have bought my share of exercise mats while searching for the perfect non-toxic yoga mat. I have smelled them, read Amazon reviews, and practiced yoga on them. At this point, having maxed out my yoga mat budget, I have finally found a keeper. Stay with me to learn about my favorite natural yoga mat.
In my opinion, PVC is the worst material.
Conventionally, yoga mats are made from polyvinyl chloride (PVC) which is toxic during every stage of its life cycle. The main component in PVC is vinyl chloride, which is a human carcinogen (source). We get exposed to it through inhalation and skin contact when we exercise on a PVC yoga mat.
Further, dioxins are byproducts of PVC manufacturing and disposal, and they have also been classified as human carcinogens. Sadly, dioxins build up in the human body and do not break down easily in the environment.
Furthermore, PVC needs plasticizers to become soft and flexible. The most common plasticizers are phthalates, some of which are rather toxic. Scientists link them to birth defects, asthma, neurodevelopmental problems in newborns, fertility issues, obesity, and cancer (source). Clearly, a PVC yoga mat is not an option for a non-toxic yoga mat and is out of the question.
Another reason I prefer a natural yoga mat to a PVC yoga mat is that PVC needs additives to make it more durable. These additives can be heavy metals, such as lead and cadmium. Because of their cumulative effects, heavy metals are very toxic to humans (source). (Note that there may be Heavy Metals in Makeup and Lead in Lipstick, too.)
You can read my post about PVC Yoga Mats to learn more about this material and what it entails.
I place PER and TPE material into the bad category.
Recently, both PER and TPE have been used as materials for eco-friendly yoga mats. Conversely, my research shows that neither of them is the right material for a non-toxic yoga mat.
As I mentioned, I have tried several yoga mats for the sake of the experiment. One of them was a ThinkSport TPE yoga mat that I had received as a gift. Unfortunately, it did not pass my smell test as it had a clear toxic odor. As for a PER yoga mat, I have not tried any, but I know that some Aurorae mats are made of this material.
What exactly are TPE material and PER? Are they natural yoga mat materials?
First, TPE, i.e., thermoplastic elastomers, are a blend of polymers, such as rubber and plastic (source). Basically, TPE is a petroleum product with undisclosed ingredients. Moreover, there are seven types of thermoplastic elastomers, some of which are made of carcinogenic styrene. Feel free to read more about TPE and Eco-Friendly Yoga Mats in my post on this subject.
Second, PER stands for "polymer environmental resin" which does not sound bad, right? However, in essence, PER is petroleum-based plastic whose main ingredient is carcinogenic vinyl chloride monomer. Even though it is made without phthalates and heavy metals (unlike PVC), there is almost no information on their substitutes. As we have discussed above, plastic needs additives to be flexible and durable. Therefore, lack of clarity in this aspect arouses my concern regarding PER.
Natural rubber is a better option for a non-toxic yoga mat material.
For starters, natural rubber is made from rubber trees. First, they make incisions in the tree bark and collect latex in the process called 'tapping'. Then, they turn latex into rubber by adding vulcanizing agents and chemical additives. Because it is not completely free of chemicals, natural rubber is not a totally non-toxic natural yoga mat material. Nevertheless, it is safer than synthetic rubber, which is made of petroleum-based materials including 1,3-butadiene, a human carcinogen.
Have I exercised on a natural rubber yoga mat? Sure, why not?!
Jade Harmony made natural rubber yoga mats with a good grip on the floor. I also appreciated the fact that they were open-cell mats allowing a continued good grip for my hands. Their downside is that you must clean them often because the mat absorbs the sweat. Keep reading to find out how to clean yoga mat products.
However, later it turned out that German scientists tested this eco-friendly yoga mat and found a concerning ingredient. You can read more about that in my post about Eco-Friendly Yoga Mats.
The best natural yoga mat materials are cotton, jute, and cork.
I have defined a non-toxic yoga mat as one made from plant fiber or cork tree bark. This is my experience with some of them.
The Original Eco yoga mat
Pros: The bottom layer was natural rubber and the top layer was jute fiber. Unlike cotton, jute plants do not require many fertilizers or pesticides to grow (source).
The rubber allowed the mat to stay put on the floor. And jute fiber allowed even heavy sweaters not to slip and feel stable. It was on the thinner side, so if you need extra cushion like me you might wish for more. Overall, I found this healthy yoga mat comfortable enough to use. Plus, the manufacturing location is the UK, not China.
What I liked the most about this natural yoga mat was the absence of a toxic smell. At first, it had a mild smell resembling diluted vinegar – nothing unpleasant. But when I pressed my nose against it, the smell did not bother me at all.
Cons: Because of poor bonding, the jute layer started coming off and shedding all over me after four months. The seller recommended washing it in the tub and drying it with towels. That did not help either. Now it looks like The Original Eco mat is not available for sale anymore.
Yoloha non-toxic yoga mat
Pros: It is made of two materials – cork for the top layer and recycled synthetic rubber for the bottom layer.
The synthetic rubber layer on the bottom prevents this cork yoga mat from slipping. It does not seem to have a bad chemical smell. Also, it is made in the US and looks durable.
Cons: My concern with the synthetic rubber is that it may contain Polycyclic Aromatic Hydrocarbons (PAHs) and heavy metals. However, the manufacturer informed me that the recycled rubber went through a triple washing process to dispose of heavy metals. The fact that this layer is on the bottom, not in your face, helps as well. Additionally, the Yoloha mat is on the expensive side.
Yogasana cotton natural yoga mat
Pros: This non-toxic yoga mat is handmade of cotton in India. Except fertilizers or pesticides used to grow cotton, you won't find other chemicals or smell in this mat.
Cons: It won't grip to the floor, so it is best to use it on a carpeted floor or over another yoga mat.
Organic cotton yoga mat
Pros: If you want to be sure there are no potentially harmful chemicals in your yoga mat, consider this mat. It has cotton batting, so it should be good for people who need extra cushion.
Cons: Definitely, it will require some adjusting and figuring out how to use it on a wood floor. Unlike rubber, cotton just does not have any gripping power.
My favorite non-toxic yoga mat is Scoria cork mat.
Scoria natural yoga mat is what I currently use and love. I think it is the safest out of the practical options.
Pros: The top layer is made of cork and the bottom layer is made of natural rubber.
The cork is made from the bark of cork oak trees grown in Portugal. Cork production is sustainable because they do not cut the trees down to obtain cork. Instead, they strip the bark every 9 years leaving the trees to live up to 300 years.
Further, the Scoria cork yoga mat does not slip because of the natural rubber layer on its bottom. For backing, natural rubber is a better option than synthetic rubber. The chemical smell is only detectable if you press your nose to the natural rubber side. However, you do not need to do so because you will be facing the cork layer.
In addition, it is thick enough for me, is not heavy, and does not smell like tires. Read my review of this cork yoga mat for more details.
Cons: The manufacturing location of this non-toxic yoga mat is China.
How to clean yoga mat materials
After researching how to clean yoga mats, I can conclude that the easiest way is to use soap and water.
Basically, a solution of two cups of warm water to every four drops of soap will be fine. Too much soap can leave a slippery residue on your mat, making future yoga practices dangerous. You can wet your washcloth (not paper towels!) in the solution or use a spray bottle. Be sure to rub the mat gently, though, to keep its naturally sticky nature intact.
Note that your natural yoga mat may have special care instructions. For example, cork is anti-microbial, so there is no need to clean cork yoga mats frequently. Just lay the mat flat to air dry after practice. To get rid of dirt or body oils, wipe the mat down with a soft cloth wet in warm water. You can also use mild soap with water now and then. And, of course, do not use a washing machine for rubber or cork yoga mats.
So, do you need a special yoga mat cleaner? I have looked at several "special" yoga mat cleaners and can say that their ingredients are the same as those of a laundry detergent or an all-purpose cleaner. As an option, you can use Dr. Bronner's Castile Soap. Also, check out these safe cleaning products that will give you peace of mind and help you save your money.
Conclusion about finding a non-toxic yoga mat
In conclusion, there are several types of materials for yoga mats. In my opinion, polyvinyl chloride (PVC) is the worst material for your mat. Then come polymer environmental resin (PER) and thermoplastic elastomers (TPE). Natural rubber falls into the better category, and cork, cotton, and jute are the best natural yoga mat materials. My favorite yoga mat is the Scoria cork yoga mat.
In sum, unless a yoga mat is made of plain cotton or thoroughly tested by an independent agency, we cannot be sure that it is 100% void of any potentially harmful chemicals. However, the materials I detailed in the post are better for our health and the environment.
To get a concise PDF file of 11 types of yoga mat materials, subscribe to receive it by email here.
Visit my shop for non-toxic product options and book a consultation with me for help with healthy living. Also, join the Savvy Consumer Circle of people who are passionate about turning their homes into a non-toxic habitat.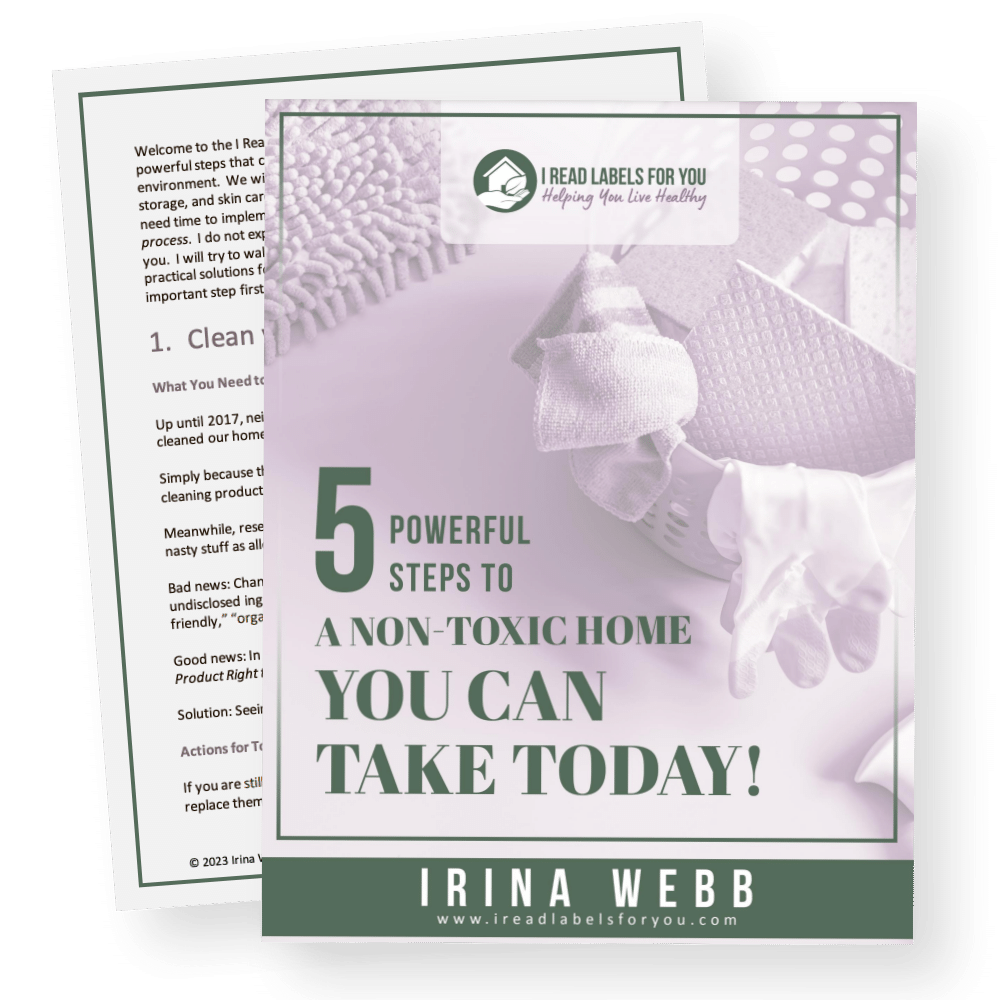 Download The Free Guide!
5 Powerful Steps To A Non-Toxic Home
Join our informed consumer community and get our free guide the "5 Powerful Steps To A Non-Toxic Home".