Why I Chose This Cork Yoga Mat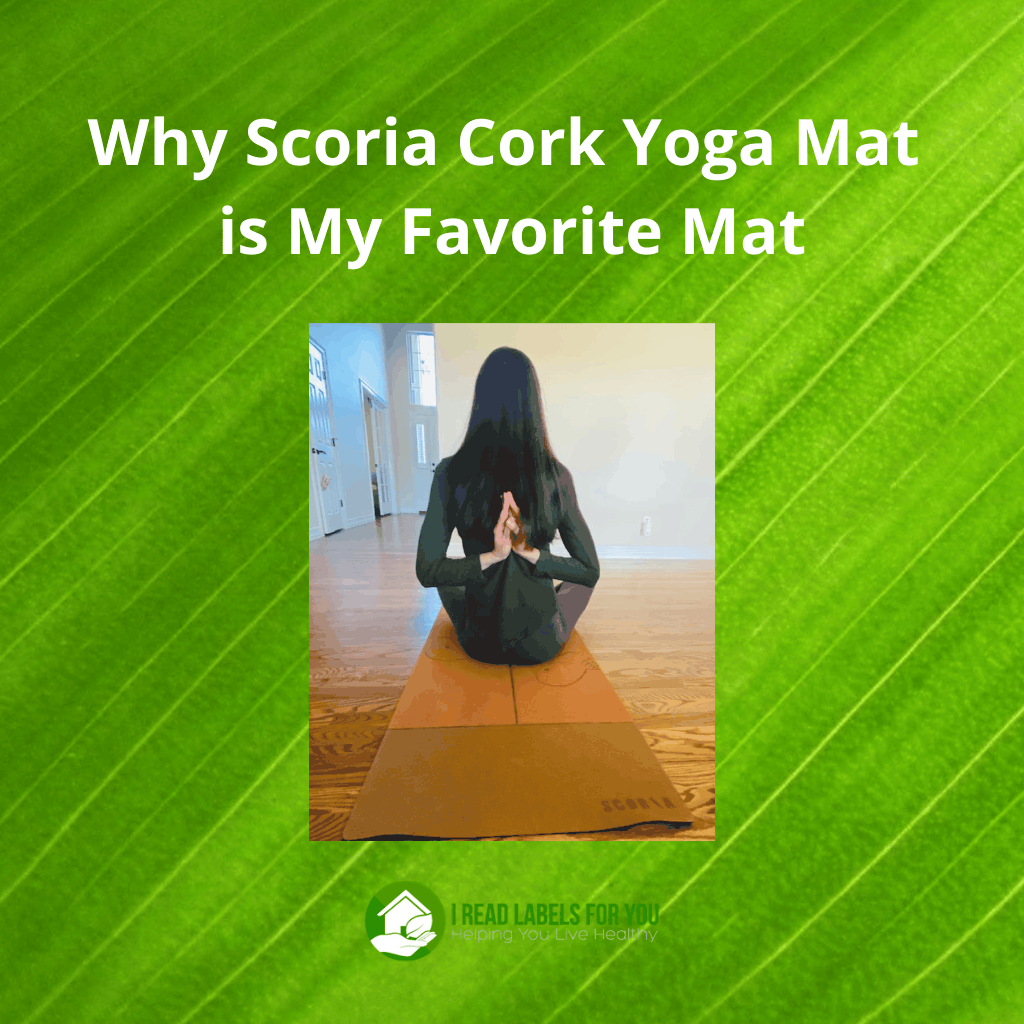 This post may contain affiliate links. To read our affiliate policy, click here.
When you exercise, how much do you care about your athletic accessories? I have discovered that I care a lot. Indeed, unless I wear the right clothes and use the right mat, I do not feel motivated enough. Since my exercise routine involves yoga or Pilates, a good non-toxic yoga mat is a must-have for me. I had tried my share of mats before I found the perfect cork yoga mat that provides good support. In addition, it does not leach potentially harmful chemicals and hardly has any smell. So, if you are looking for a non-toxic exercise mat, this post about Scoria yoga mats is for you. Read on to find out how cork is made, how to clean cork mats, and why I like the Scoria yoga mat so much.
Before writing about products, I research them using a five-step approach.
To begin, I have been doing product ingredient research since 2012. Before I write about any product, I research it thoroughly using a five-step approach. One of the steps is to research the industry and the manufacturing processes to understand a product better. Thus, this information helps me see potentially unlisted contaminants in a product and harmful by-products of the manufacturing process.
When I study ingredients, I rely on scientific databases such as the Cosmetic Ingredients Review and the OSHA Occupational Chemical Database. As for the EWG database, it has its limitations. Therefore, to make the most of it, it is a good idea to know how to use the Skin Deep Database the right way.
Additionally, as a part of my research, I actually test some products for an extended period by using them myself. This cork yoga mat by Scoria was one of the products I tested along with several other mats. To learn about numerous mats I have tried and looked into, read my Non-Toxic Yoga Mat Guide. I placed Scoria yoga mats into the best category because, I believe, cork is the best material for a yoga mat. And here is why.
I consider cork the best material for making a yoga mat.
Mainly, I consider cork the best material for a yoga mat because it is durable, environmentally friendly, and non-toxic. Cork is made from the bark of oak trees grown in Portugal that live up to 300 years! Importantly, it is sustainably re-harvested from the same tree every 9 years.
Have you ever wondered how they make cork?
First, using a special hatchet, the harvester slices through the cork layer on the trunk of the tree. With horizontal and vertical cuts, he makes sections of an appropriate size. Then, he strips each panel of cork from the tree.
Second, the harvester leaves the planks outdoors for up to six months to cure, flatten out, and lose moisture. The fresh air, sun, and rain encourage chemical changes that improve the quality of the cork.
Then, they treat the planks with boiling water containing a fungicide to remove dirt and water-soluble components. This process also makes the cork softer and more flexible.
Next, after scraping off the poor-quality outer layer, they stack the planks in a dark cellar. They stay there drying and curing for a few more weeks.
Lastly, they trim the planks to a uniform rectangular shape and sort them by quality.
In sum, except for the use of a fungicide, it is an environmentally friendly process. That is why I consider a cork yoga mat an eco-friendly product. All Scoria yoga mats are made from cork. But what other materials besides cork do they use to make yoga mats?
Other materials include plastic, rubber, and fabric.
The most common material some manufacturers use is polyvinyl chloride (PVC). Personally, I would not use a PVC yoga mat because of potentially harmful substances involved in its production. Feel free to read my PVC Yoga Mats post to learn how they make PVC and why I prefer to avoid PVC products.
Then, there is thermoplastic elastomer (TPE) that has become popular in the yoga mat industry. However, it raises my concern because, in essence, it is a blend of undisclosed ingredients. In my post about Eco-Friendly Yoga Mats you will learn more about the TPE material. You will also find out which TPE yoga mat I have tried and did not like.
Next is natural rubber made from rubber trees, but the manufacturing process involves adding vulcanizing agents and chemical additives. We do not fully know what those agents and additives are. In 2015, a German magazine published a test that revealed that two natural rubber yoga mats contained carcinogenic nitrosamines. This means that it is possible for natural rubber to contain nitrosamines, but only a lab test can confirm that. Also, natural rubber normally smells of chemicals.
And, finally, there are plant fibers, such as cotton, hemp, and jute. Their downside is that without backing they are slippery. And the backing material is usually rubber – either natural or synthetic. I described my experience with them in my Non-Toxic Yoga Mat guide.
Scoria cork yoga mat consists of cork and natural rubber.
Scoria yoga mats have cork as the top layer and natural rubber as the backing. Cork is the best material for me as it provides the cushioning and support I need so much. Plus, there are no known health or environmental concerns associated with it.
Unfortunately, cork mats without backing are unlikely to stay in place – they will slide. That is why backing is a must. Some other cork yoga mats, e.g., Yoloha, use synthetic rubber backing. As a petroleum-derived material, synthetic rubber may contain polycyclic aromatic hydrocarbons (PAHs) and heavy metals (source). (More on Yoloha yoga mat in my Non-Toxic Yoga Mat Guide.)
Therefore, I was happy when I found a Scoria cork yoga mat with natural rubber backing. Though not perfect, natural rubber is much better than synthetic rubber. Indeed, it is not a petroleum product, and, reportedly, is biodegradable.
To make rubber, harvesters make incisions in the bark of rubber trees. Then they collect latex fluid into vessels in the tapping process. After that, they turn the fluid into rubber by adding vulcanizing agents and chemical additives. And, as I mentioned above, we do not know what those agents and additives are.
While natural rubber is not ideal, it is the only natural material I know of they use for backing. Again, natural rubber is a much better choice than synthetic rubber. Besides, you are not going to face the natural rubber side as it is used only as backing.
In my opinion, Scoria yoga mats perform very well.
This cork mat comes in two thicknesses – 3.5 and 4.5 mm. My cork yoga mat is 3.5 mm, because back then Scoria made only 3.5 mm non-toxic yoga mats. The mat rolls well, is not bulky, and has no smell. When it was new and just out of the box, it had a tiny bit of smell which dissipated quickly. When four days later I was doing the child's pose, there was no detectable smell any longer. I did detect some smell when I pressed my nose against the rubber backing. But it is not something you would do under normal conditions.
Scoria yoga mats grip better with sweat, and, thus, are excellent for hot yoga. Therefore, for colder practices, it is good to spray the non-toxic yoga mat with water until you are warmed up. I do not do hot yoga and felt that spraying water was not necessary as the mat was not slippery. But I might be not doing the yoga poses that require extra support, so use your own judgement.
All in all, I am excited about these non-toxic cork yoga mats by Scoria, a Canadian company, by the way. So, whether you live in the US or Canada, Scoria will ship these healthy yoga mats to you. They also carry kids' yoga mats with beautiful, unique, and creative artistic designs.
In addition, the founder, Yara Kamal, is passionate about making a difference. She cares about health, the environment, and social justice. With every purchase, they give 10 meals to hungry children.
How to clean your cork yoga mat
The good news is that the cork is naturally antimicrobial. It means that you do not need to worry about germs, mold, and mildew or frequent cleaning. Just lay the mat flat after practice to air dry. Of course, no washing machine needed.
If there is dirt or body oils, wipe the surface with a damp soft cloth wet in warm water. I consider these safe cleaning products a good option for an occasional mild cleaning of your mat surface. These safe cleaners will not only give you peace of mind, but also help you save your money.
Conclusion about Scoria yoga mats
In conclusion, my decision to go with a Scoria yoga mat was based on my experience with many other mats. Every time I tried a new mat, there was something wrong with it – either with its quality and materials or my level of comfort. Meanwhile, Scoria cork yoga mat seems to check every box for me. Most importantly, it is sustainably made from natural materials and poses no risk to health. I am pleased with how it performs and the support and cushioning it gives me.
If you would like to try this cork mat, visit Scoria website.
To get a concise PDF file of 11 types of yoga mat materials, subscribe to receive it by email here.
Feel free to browse my shop for healthy products for your home, skin, and wardrobe. Also, book a consultation with me to get timely help with non-toxic living. Join the Savvy Consumer Circle to share your interest in healthy living with the community of the like-minded people.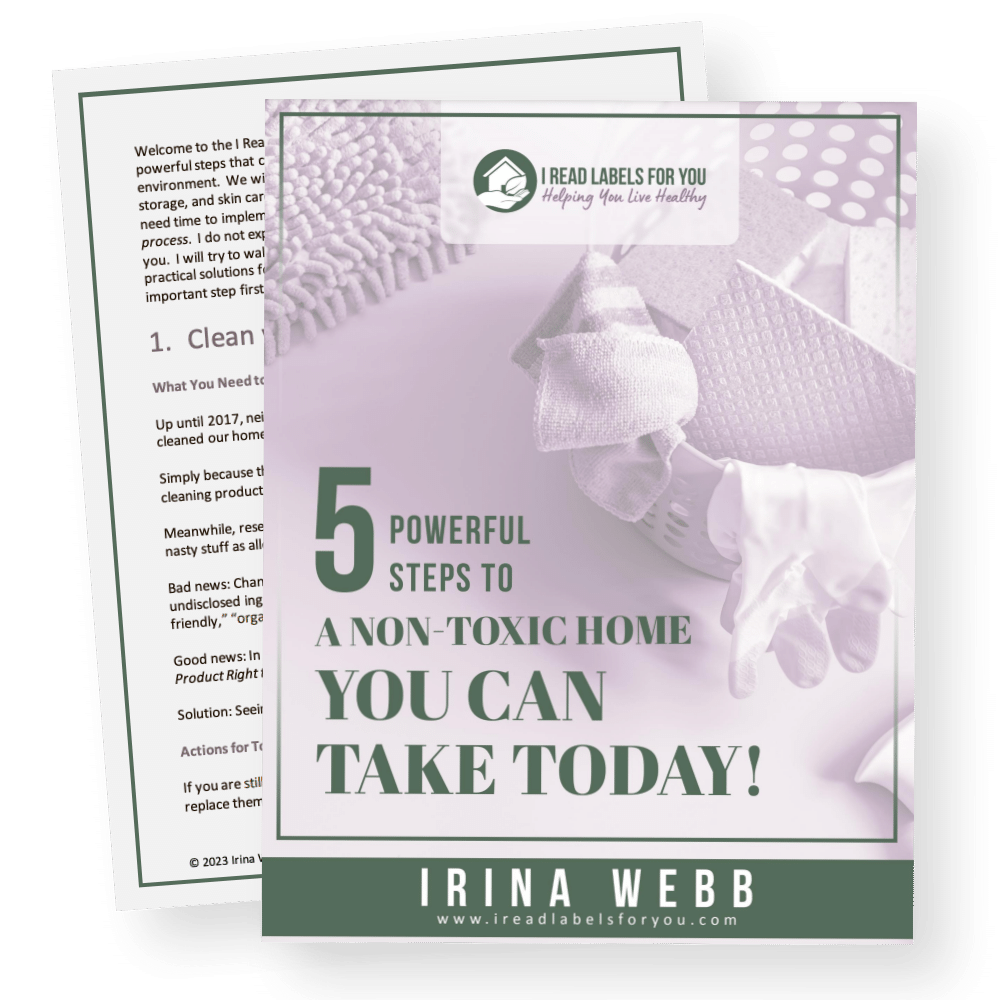 Download The Free Guide!
5 Powerful Steps To A Non-Toxic Home
Join our informed consumer community and get our free guide the "5 Powerful Steps To A Non-Toxic Home".