Eco-Friendly Yoga Mats: Safe or Toxic?
This post may contain affiliate links. To read our affiliate policy, click here.
Eco-friendly yoga mats have become a popular search term on internet search engines. More and more manufacturers recognize growing consumer demand for sustainable yoga mats. But what does it mean exactly? Does eco-friendly automatically mean that a product is safe for your health? In this post, you will read about my experience with three yoga mats, namely, ThinkSport, Jade Harmony, and Scoria. At first, some of them appeared non-toxic. But then, as I dug a little deeper, they did not seem as safe as they claimed to be. Read on to find out which mats I do not fancy and why, and which one is my favorite.
In assessing product information, I rely on scientific sources and the expertise of a medical doctor.
To begin with, I have been researching consumer product ingredients since 2012. I dove into this subject because I was looking for non-toxic products for my newly born son. Do you know what I discovered? First, that manufacturers' claims often do not mean much. And second, that as consumers we should take responsibility for raising our own awareness regarding product materials and ingredients.
So, using three university degrees and my bank analyst experience, I started doing research. The scientific sources I use are comprised of reports from Cosmetic Ingredient Review Panel, the European Chemicals Agency, PubMed publications, the Scientific Committees on Consumer Safety, and so on. I also use the EWG Skin Deep database, despite its flaws. (Learn how to use the Skin Deep Database the right way.) Plus, functional medicine doctor Myrto Ashe, MD, MPH, IFMCP reviews medicine-related information in my posts.
As a result of my commitment to reading ingredients, large consumer goods companies seek my professional counsel on their products. (Visit our About Us page.)
Eco-friendly yoga mats are not made with PVC.
When I started looking for sustainable yoga mats, I quickly discovered that PVC mats were out of the question.
To begin, polyvinyl chloride (PVC) is made from petroleum and is the most toxic plastic for health and the environment. Its advantages are that as a building material, PVC is cheap, easy to install and to replace. That is why it replaces wood, concrete, and clay in many areas. However, as consumers, we hardly know the entire scope of its high environmental and human health costs.
Thus, PVC emits toxic compounds throughout its life cycle, starting with its manufacture and ending with its disposal. When in use, PVC products can leach toxic additives, such as phthalates. On top of that, PVC cannot even be recycled. So, it continues emitting toxic substances in the landfill, or if incinerated, emits dioxins and heavy metals. As of today, there is no safe way to manufacture, use or dispose of PVC products (source).
Is there such a thing as eco-friendly PVC? No.
Wouldn't it be great if eco-friendly yoga mats were made with eco-friendly PVC? It would definitely narrow down our search for sustainable yoga mats. But does eco-friendly vinyl exist, in the first place?
For starters, the term 'vinyl' encompasses a range of thermoplastic chemical compounds derived from ethylene. In addition to polyvinyl chloride (PVC), there is ethylene vinyl acetate (EVA), polyethylene vinyl acetate (PEVA), polyvinyl acetate (PVA), and polyvinyl butyral (PVB). What differentiates PVC from the other types of vinyl is a chlorine molecule (the "C" in PVC). One of the concerns of PVC, a carcinogenic dioxin emission to the environment, is linked to this compound.
The US Environmental Protection Agency classifies dioxins as highly toxic persistent organic pollutants. Indeed, they increase the risk of cancer, reproductive and developmental problems, damage the immune system, and interfere with the normal production of hormones. Consequently, the Stockholm Convention on persistent organic pollutants prioritizes the restriction of processes that produce dioxin.
Although manufacturers have begun to replace PVC with non-chlorinated vinyl, the mere absence of chlorine does not make them safe. Any petrochemical product has many toxic challenges and untested chemicals in its life cycle. And most plastics pose some risk to the environment and contribute to the global waste crisis.
Therefore, to answer the question, no, I do not believe there is such a thing as eco-friendly PVC. Hence, PVC is not the right material for eco-friendly yoga mats. To learn more on this subject, head to my post about PVC yoga mats.
Is TPE material the answer for producing sustainable yoga mats? No.
A while ago, I got a ThinkSport yoga mat as a present from a family member. Since another non-toxic blogger had researched the product and gave it the thumbs-up, I relaxed. Obviously, there was nothing else for me to do but to practice yoga. Then, while holding my pose, I took a deep breath on the mat. It smelled of toxic chemicals.
After the yoga session, I went straight to my computer and saw tons of posts about ThinkSport yoga mats. Apparently, many bloggers had received this so-called non-toxic yoga mat made of something called "TPE" in exchange for their enthusiasm. So, I emailed the manufacturer and asked who tested it to make sure that it was non-toxic. The answer is yet to come, and I asked years ago.
What is TPE? It is a mix of undisclosed ingredients.
In the meantime, thermoplastic elastomers (TPE) are a mix of polymers, such as rubber and plastic (source). Do these sound like proper materials for eco-friendly yoga mats?
According to the British Plastics Federation, there are seven main TPE groups available commercially. For example, one of the most common and least expensive ones is Styrenic Block Copolymers. To clarify, these are based on two-phase block copolymers with hard and soft segments. Thus, the styrene end blocks provide thermoplastic properties, and the butadiene mid-blocks provide elastomeric properties. Considering its properties and areas of application, I venture a guess that some so-called sustainable yoga mats are made with this kind of TPE.
If we look at the individual chemical polymers, this is what we will see.
First, they produce styrene in industrial quantities from ethylbenzene and use it to make plastics and rubber. The International Agency for Research on Cancer (IARC) considers styrene a possible human carcinogen (source).
Second, butadiene is a chemical that they produce from petroleum and use to make synthetic rubber. The Department of Health and Human Services, IARC, and EPA classify it as a human carcinogen (source).
Based on this, I am skeptical about TPE. If a manufacturer describes their yoga mat as made of TPE material without specifying the ingredients, I interpret it as lack of transparency. In short, TPE is a blend of undisclosed synthetic materials that have not been proven safe.
Are TPE eco-friendly yoga mats biodegradable? No.
You would expect sustainable yoga mats to be biodegradable, right?
However, the term "biodegradable" is hard to regulate, in the first place. How long does the break down process take – days or years? What conditions can the object break down in – a plastic bag in the landfill, a compost bin, a specialized municipal facility? What chemicals will it break down into? Some biodegraded compounds may be more toxic than the original ones.
So, I am not buying the ThinkSport claims that TPE is free of BPA, PVC, lead, phthalates, dioxins, or other offenders. Such claims make me wonder what they use instead of these toxic chemicals.
Additionally, according to CertiChem, founded by George Bittner, a professor of neurobiology at the University of Texas-Austin, "substitutes for BPA or phthalate containing products can leach other chemicals having more total estrogenic activity (EA) than the EA released by the original products; the solution can be worse than the problem."
My strong recommendation is not to rely on BPA-free labels but to avoid all type of plastic, to the extent possible.
Is rubber better than TPE? It depends.
After my disappointment with ThinkSport yoga mats, my research led me to Jade eco-friendly yoga mats. When I received the mat, it had a smell, too, but not as strong as the ThinkSport mat. Despite its excellent properties – non-slippery and thick – I did not like it because it still smelled after several weeks.
According to the website, all Jade's sustainable yoga mats are "made with natural rubber and contain no PVC or other synthetic rubbers." However, the description also says that the mats contain both natural and man-made components, and the precise components are proprietary. In my correspondence with the company, Jade revealed to me that "these other ingredients are necessary to give our mats their properties (including color)."
Additionally, Jade states that their yoga mats contain no heavy metals, ozone-depleting substances, PVC, TPE, phthalates, and formaldehyde. (Note that they list TPE as one of the things you do not want in your yoga mat.) Plus, in their email to me they said that they had changed their production process to eliminate all nitrosamines. So, there are no nitrosamines in Jade eco-friendly yoga mats now. (This is in reference to the fact that a German agency tested Jade yoga mats and found nitrosamines that have a link to cancer.)
It sounds good, but what bothers me is that there is no proof of any of those claims. I requested third party reports from Jade that would confirm the statements above. When I get them, I will update this post.
In my opinion, the best exercise mat is Scoria cork yoga mat.
After having no luck with ThinkSport and Jade Harmony, I was excited to try one of Scoria's sustainable yoga mats.
This biodegradable non-toxic yoga mat is made of cork and has a natural rubber backing against sliding. Also, it comes in two thicknesses (which is important for me), is not bulky, and is not slippery. It does have some smell, but it is minimal, and it rolls well.
I really like this yoga mat! It is comfortable, has a unique design, and makes me feel good.
You can learn more about it by reading my review of Scoria yoga mats. So far, it has been the best workout mat I have used. You can purchase it on the Scoria website. It is a Canadian company, but they ship to the USA without any taxes and duties.
Conclusion about eco-friendly yoga mats
In conclusion, out of the three yoga mats I have tried – ThinkSport, Jade Harmony, and Scoria – Scoria is my favorite. It is a cork mat with a natural rubber backing. I find it safe and well performing.
As for the ThinkSport yoga mat, it is made of TPE material which is a mix of undisclosed synthetic ingredients. And Jade Harmony yoga mats contain both natural and man-made components which are not disclosed either.
While sustainable yoga mats are convenient for your yoga practice, they are not a must. I mean if your body type permits, you do not have to do yoga on a mat. Thus, there are options of organic cotton rugs that do not arouse the health concerns that mats do. In my case, thickness is important; that is why I choose a mat over a rug. I hope you will find this post useful.
Check out my shop for healthy products for your home, body, and wardrobe. Book a consultation with me to get timely help with healthy living. Join the Savvy Consumer Circle to improve your savvy consumer skills and save your time and money on an ongoing basis.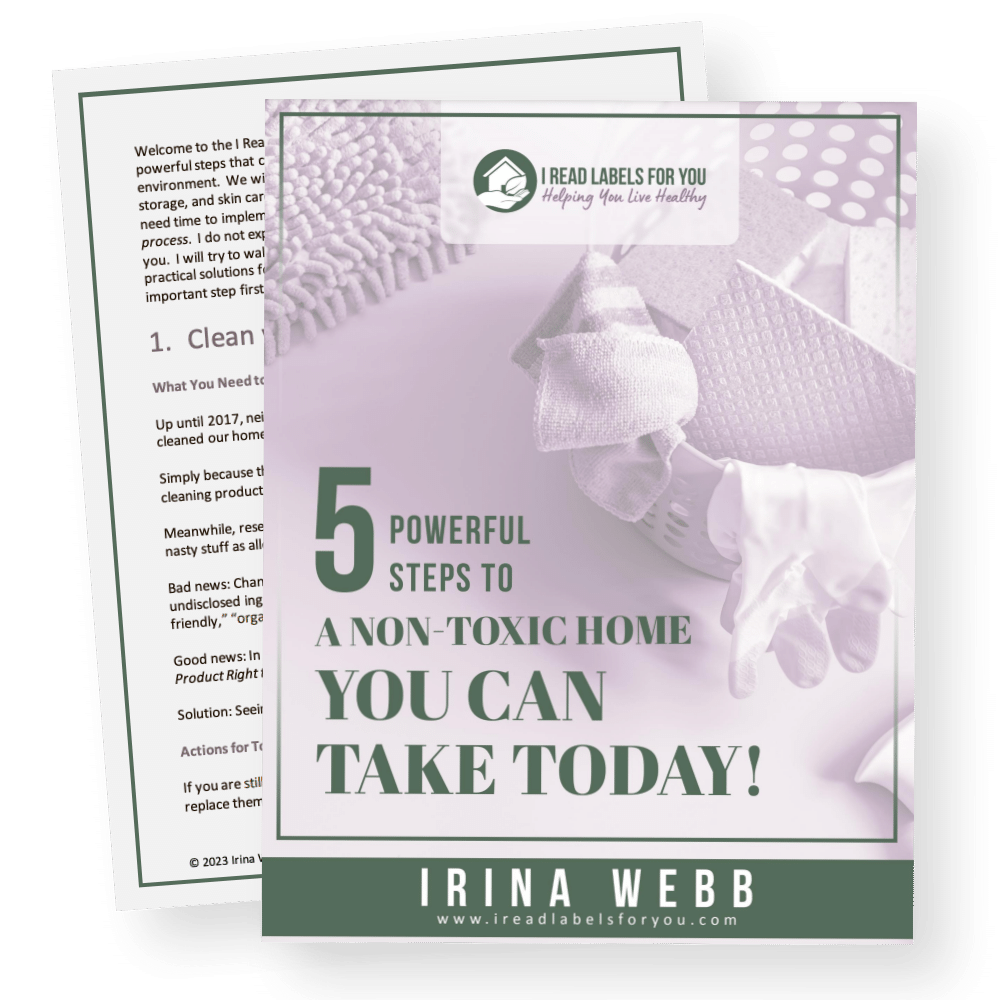 Download The Free Guide!
5 Powerful Steps To A Non-Toxic Home
Join our informed consumer community and get our free guide the "5 Powerful Steps To A Non-Toxic Home".