How to Buy a Non-Toxic Mattress
This post may contain affiliate links. To read our affiliate policy, click here.
Today you are going to learn a very simple step you can take to make sure that you get a truly non-toxic mattress. You might think that a so-called natural mattress is good enough for you and your family. You might believe that you cannot afford an organic mattress. Instead, you will learn why you might not be able to afford a so-called natural mattress. (I say, "so-called natural mattress," because the word "natural" has no official definition and means different things to different people.)
Picture this. It's almost midnight. The house is quiet except for the occasional clicking sound of the computer mouse. It's been a few hours since you started your search for a non-toxic mattress online. You did not expect it to take this long – everything seemed clear at first. But then you clicked and clicked and clicked on one link after another, one website after another. You are now completely confused about all these organic mattresses. And you regret wasting your time.
Has that happened to you? It was totally me before I started researching consumer products for a living. Even now researching products is very time-consuming. Back when I first started researching mattresses, it took me a year to decide which mattress to buy for my husband and me. Finally, we bought an organic mattress we had fallen in love with. But I kept researching other mattresses for my clients. And still do.
Why did it take me a year to look for a non-toxic mattress?
This is a good question. First of all, I did not want to buy a mattress online because I wanted to lie down on it and try to gauge if it was comfortable. After all, comfort is an absolute must. I also wanted to talk to a salesperson in person.
After I talked to a few different salespeople, I started to notice that they often gave me conflicting information. For example, one salesperson said that Talalay natural latex foam was better than Dunlop natural foam. And other ones said just the opposite. Then I wanted to go and ask other salespeople. Then I emailed companies directly to see if the floor salespeople had given me accurate information about their organic mattresses.
Doing that, I developed a set of questions to ask each company. After I had contacted many companies, I realized I needed to organize my notes. While organizing my notes, I realized that I was not sure if I remembered some information correctly, and so I had to call back some mattress companies.
Some questions I asked while researching a safe mattress
What materials are used in the non-toxic mattress to pass the flame-retardant test?
Because I had just completed researching organic mattresses for cribs (and found the best non-toxic crib mattress for my son) I knew that all mattresses had to pass flammability testing. Called the Federal Open Flame Mattress Flammability Standard, 16 CFR 1633, it went into effect in July 2007. This test is not a cigarette test, but a test imitating burning clothes. The test is so severe that adding flame-retardant chemicals to the mattress foam does not always prevent a mattress from igniting.
From my prior experience, I also knew that mattress manufacturers were not always transparent. In fact, they can trick you into thinking that you are buying a non-toxic mattress, while you are not. You can learn about a mistake I made here.
So, when I heard them say that they did not use flame-retardant chemicals, I asked them what they used instead, and how exactly they passed the severe flammability regulations.
What is the foam of the mattress made of?
Foam is a big part of any mattress, whether it is an organic mattress or not. The bad news is that mainstream mattresses have polyurethane foam, which is a combination of two main ingredients—a polyol, a type of alcohol that can cause death if ingested, and a diisocyanate, a petroleum derivative. While both substances are deadly, the major concern lies with diisocyanates. This is definitely not an eco-friendly mattress.
According to the Centers for Disease Control and Prevention (CDC), deaths were attributed to workers' exposure to diisocyanates via skin or inhalation (source). As a result, the workers who make the polyurethane foam that we sleep on must wear full-body protective gear and respirators!
Natural latex foam is a great alternative for a non-toxic mattress. There are two types of natural latex: Dunlop and Talalay. Dunlop is denser, and Talalay is softer and airier.
Eventually, I learned that in order to get the healthiest foam that is as natural as it can be without concerning additives, I needed to look for a foam with the Global Organic Latex Standard (GOLS) certification. And then it took me a while to realize that there was no GOLS-certified Talalay foam. I spent weeks trying to make sure that GOLS-certified Talalay foam did not exist and most importantly why that it was.
Are wool and cotton in this mattress organic?
Non-organic wool may contain chemicals used to process it, and these chemicals may cause allergies. As for cotton, according to the Pesticide Action Network (PANNA), there are more insecticides in conventionally grown cotton than in any other single crop. This means that by buying goods made with such cotton, we are significantly contributing to contamination of the environment.
Is there any innerspring system in the non-toxic mattress?
One of the benefits of writing a popular blog is that I receive a lot of emails from readers. I have heard from a lot of people who bought mattresses made of 100% latex without innersprings. They tell me that these mattresses are not comfortable, which makes sense to me. I believe that innersprings help provide proper spinal alignment and support. (Hint: We bought an innerspring organic mattress, and it is super comfortable.)
In addition, people were telling me that mattresses without innersprings grew mold inside. This is definitely not a good thing, especially if you have an autoimmune disease.
And yes, I looked into the electromagnetic fields (EMF) issue. Some of you may have heard about a hypothesis made by two Swedish scientists linking left-sided breast cancer and melanomas of the arms and feet to standing radioelectric waves that may be created above innerspring beds.
Concerned, I hired bau-biologists to measure EMF levels in my bedroom and the whole house. To my relief, our non-toxic mattress was not a problem. We did discover some EMF problems in our house, which we were able to fix.
What material are the mattress coils wrapped in?
I wanted to make sure that the fabric wrapping the coils didn't emit toxins while I was sleeping on them. By the way, coil wrapping is important because it prevents noise and improves comfort.
What type of adhesives are used in the non-toxic mattress?
Another good question I asked was about adhesives. You do not want glues that contain formaldehyde, a chemical known to the State of California to cause cancer. Make sure you get as much information as possible about the glue, ideally the name of the glue and the list of its ingredients. If the seller tells you that there are no adhesives, find out what method they use to hold things together in the mattress. The best methods include sewing, sealing with heat, and using metal clips.
What is the mattress binding ("tape edge") made of?
This question arose after one of the mattress sellers told me that they had Teflon binding. Surely, I didn't want Teflon in my bed. So, I wanted to know what others were using.
What kind of facility was the non-toxic mattress made in?
You want to make sure that there is no cross-contamination. Ideally, the facility is used to make only non-toxic organic mattresses without flame-retardant chemicals.
Is your organic mattress GOTS-certified?
At some point, I learned about the Global Organic Textile Standard (GOTS) and about its importance. GOTS can certify a mattress cover, a facility, and a whole non-toxic mattress.
GOTS does not only guarantee that cotton is of organic origin and that the wool comes from organic sheep. In fact, that is the USDA National Organic Program's job. GOTS also certifies that the entire supply chain (processing, manufacturing, packaging, labeling, trading, and distribution) is environmentally and socially responsible. It also does not allow harmful chemicals during the mattress manufacturing process. Among other things, heavy metals, aromatic solvents, formaldehyde, GMOs, and nanoparticles are prohibited in the sourcing, manufacture, and distribution of GOTS-certified products.
Double-checking GOTS certificates
Once I learned of the importance of GOTS certification for an organic mattress, I started asking for GOTS certificates. I still remember how unpleasant it was. Back then, I was not quite sure what a typical GOTS certificate should look like. Some male salespeople made me feel small (and I'm almost 6 feet). They questioned why I even asked for a certificate when they already told me that their organic mattress had GOTS certification. Neither could I get any convincing answer as to why the certificate expiration date was overdue. So, I had to double-check my information.
Now you probably understand why it took me a year to be ready to buy a non-toxic mattress.
The Great News about an organic mattress
Now mattress companies show their certificates more readily. In fact, many companies post them on their websites. You just must make sure that the certificates the manufacturers show you are the right ones and are not transaction or supplier certificates. And, of course, you should check that the dates have not expired.
And now the Greatest News Ever about finding a non-toxic mattress
Now I am going to tell you something simple and super helpful that I did not know back then. I wish I knew it at the time. But, apparently, for me to find it out I had to go through the long journey.
You can check whether the whole organic mattress is GOTS-certified and is made in a GOTS-certified facility by searching for it in the GOTS public database. You do not even need to talk to the mattress company customer service or salespeople.
If a mattress has GOTS certification, I think you can rest assured that you are buying a truly non-toxic mattress. And if you can't find it in the database, you must decide whether you want to go through a similar long list of questions I outlined above and trust their words or move on.
Luckily, there are many GOTS-certified mattresses on the market today. So, your choice is quite expansive.
Conclusion about buying a non-toxic mattress
May I make some suggestions? You are more than welcome to follow my lead and go for a GOTS-certified organic mattress that we bought. You can read about it in my review of the best organic mattress. Keep in mind that the same company now makes a budget-friendly organic option. You can read about my review of the affordable non-toxic mattress here. You are also welcome to book a consultation with me – I will be happy to assist you! For the details, please click here.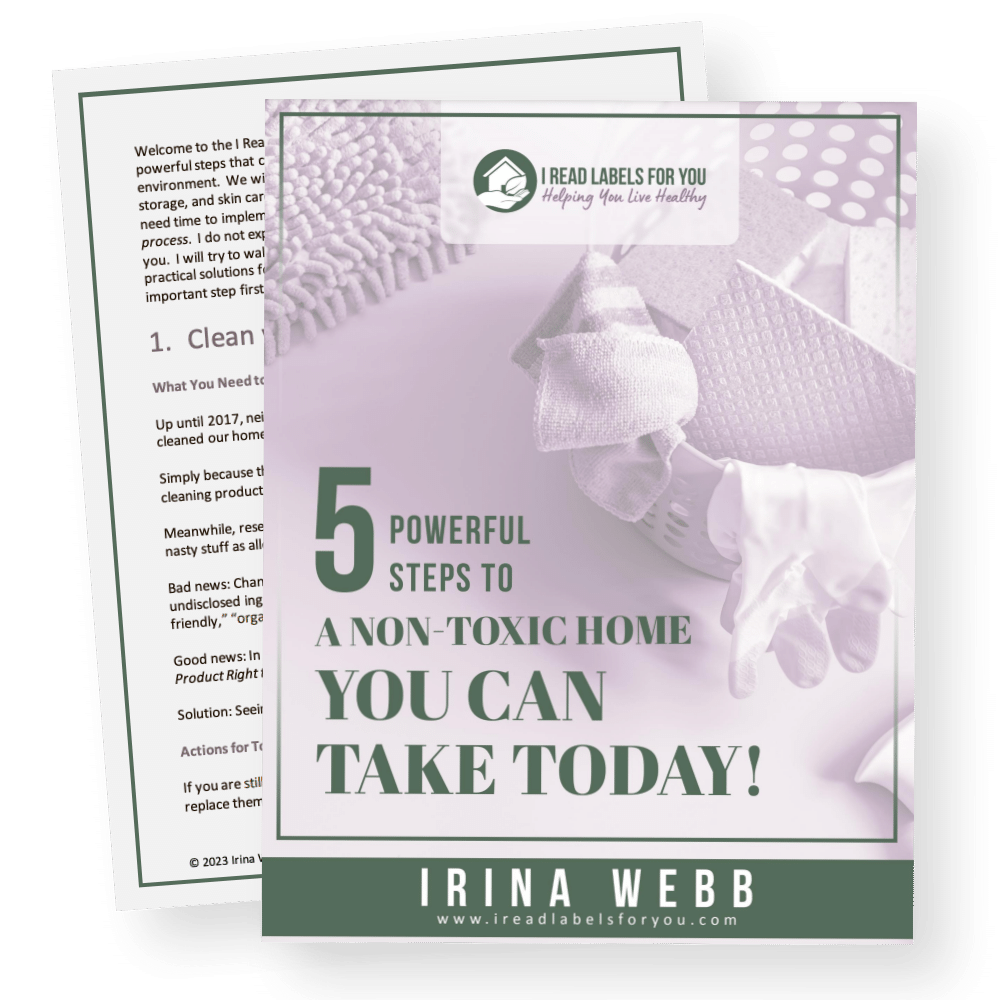 Download The Free Guide!
5 Powerful Steps To A Non-Toxic Home
Join our informed consumer community and get our free guide the "5 Powerful Steps To A Non-Toxic Home".