The Best Organic Fleece Footed Pajamas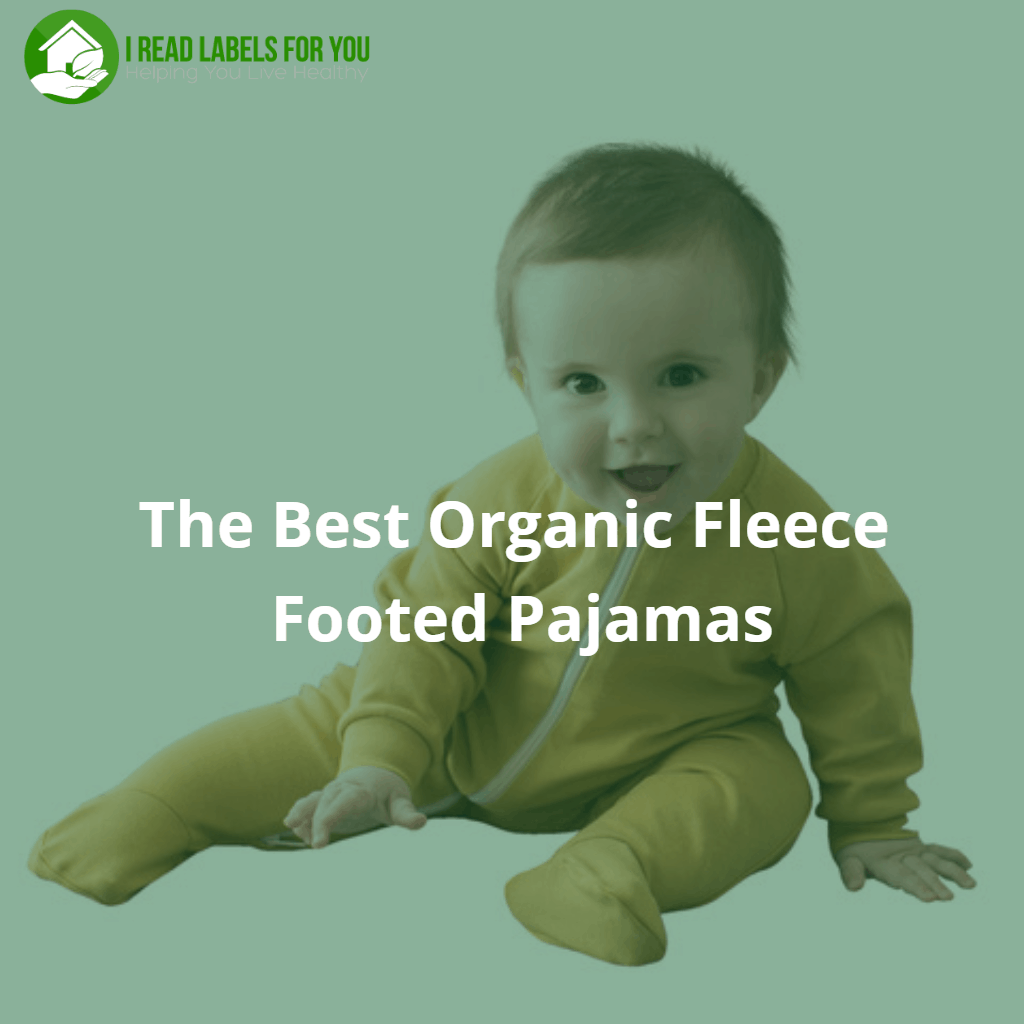 This post may contain affiliate links. To read our affiliate policy, click here.
"The little boy pats the fabric of his fleece baby pajamas approvingly and then rubs them gently as he is drifting to sleep. My 4-year-old son is extra cozy tonight – he is wearing his fleece footed pajamas made by CastleWare."
This was a few years ago. Luckily, I found CastleWare sleepwear products when my son was a baby. It was a lifesaver. I learned from the experience that when your baby sleeps better, the whole family is happier, not just the baby.
When my son was a baby, I looked high and low for warm natural fleece footed pajamas. You can read the whole story about my search in my post about natural fleece baby pajamas. And I was disappointed to find out that all those warm fleece baby pajamas were 100% polyester. Actually, it shocked me. It took me a while to find a warm footed pj free of polyester.
Why I wanted polyester-free footed pajamas
I am not a fan of polyester because it is a petroleum-based fabric made with undisclosed ingredients (even including flame retardants).
Besides, polyester pajamas do not do a great job of regulating body temperature, and so they may overheat your baby. And, they are not breathable.
Polyester is a product of crude oil synthetization. A polymer that results from the process of synthetization must be turned into a fabric. The process of fabric manufacturing consists of various stages that call for antistatic, wetting, and sizing agents, lubricants and bleaches. You don't want any of these substances in your baby's fleece footed pajamas, do you?
Even though manufacturers say that they normally remove these chemicals from the final version of the fabric, they may add other chemical agents that are not subject to removal. Those chemicals are there to create such features of polyester as softness and color resilience as well as resistance to shrinking, wrinkling, stains, bacteria, static and flame retardance (source).
Why are there flame retardants in baby pajamas?
According to the Consumer Product Safety Commission, children's sleepwear sized above 9 months in the U.S. must meet a federal flammability standard. To assure that children's sleepwear must be flame resistant and self-extinguish if a flame from a candle, a match or a lighter causes it to catch fire. However, no state (even California) has a requirement to disclose flame retardant chemicals in children's sleepwear. I have found no reassuring information that polyester fleece baby pajamas are not treated with flame retardant chemicals.
The two flame retardant chemicals – brominated tris and chlorinated tris – that baby pajamas manufacturers used at first, were found toxic and are not used any longer (source). It doesn't mean, though, that the manufacturers stopped using flame retardants in baby sleepwear such as fleece footed pajamas altogether.
There is no requirement to add flame retardants to tight-fitting pajamas for any age and sleepwear for children up to 9 months of age. If a footed PJ label says, "garment should fit snugly," "is not flame resistant," "loose-fitting garment is more likely to catch fire," or "not intended for use as sleepwear," that usually means that the fabric is free of flame retardants. But in my experience, such pajamas are quite tight and uncomfortable. Luckily, I found CastleWare.
Why I like Castleware baby sleepwear
Castleware makes sleepwear that I was unable to find anywhere else, including warm organic cotton wearable blankets with foot openings and warm organic cotton footies for kids through age 6.
Over the years, my son has slept in CastleWare footies and wearable blankets. CastleWare's luxury and quality have impressed us greatly! Every piece is handmade to perfection, with love and care.
Recently CastleWare has added a fleece line to their velour and knit rib fabric collections. I personally prefer fleece baby pajamas because of their fuzzy lining that makes your baby very cozy inside.
Testimonial about CastleWare fleece footed pajamas
I think many of you may relate to what one of my readers, Kendra, said about the CastleWare footie:
"We won a pair of the rose fleece footed pajamas and absolutely LOVE them. They are soft and keep my 17-month old very warm and cozy at night. She loves putting them on and "zip, zip" (as she says) to go to bed at night. I don't worry about her being cold at night, as I did in the past because we only used cotton pajamas before finding these. I also like how the zipper zips in the opposite direction so there are no snaps or zippers pushing on her chin when she snuggles up on her belly. My 3-year-old is now requesting a pair so they will be on her Christmas list. Love that we have now found safe, warm cotton footed pajamas for our girls for these cold nights."
CastleWare work ethic
The company's work ethic is another reason to love it. CastleWare is Green America certified and is doing all the right things, refusing to compromise. Despite thin profit margins, Maureen, the owner of the business, sets the following goals: to use organic cotton from the US, to make the products by hand, and to run a socially responsible business. The spinning and knitting of the cotton are done in South Carolina and the sewing in California.
For their organic cotton pajamas, CastleWare uses cotton from Texas that has the certification of the Global Organic Textile Standard (GOTS). GOTS ensures that not only the cotton is organic, but also the entire supply chain (processing, manufacturing, packaging, labeling, trading, and distribution) is environmentally and socially responsible.
Why do we want cotton in fleece baby pajamas to be organic?
Conventional cotton depends on the heavy use of pesticides and fungicides. According to the Pesticide Action Network (PANNA), the conventional way of cotton growth utilizes more insecticides than any other single crop. Cotton manufacturers spray nearly $2.6 billion worth of pesticides on cotton fields every year, which accounts for over 10% of total pesticide use and nearly 25% of insecticide use around the world. Allegedly, for its 3% of the world's farmland, cotton uses about 25% of the world's pesticides. Unfortunately, the main user of these pesticides is the USA.
In addition, before harvest, cotton manufacturers use herbicides to cause the leaves to fall off the plants to prevent the cotton fibers from staining (1).
On top of that, in 2015 the USDA approved genetically modified cotton. This cotton resists 2,4-D herbicide, meaning that more of this herbicide can be used. Not only is 2,4-D herbicide linked to cancer, but it is also toxic to fish, and pollutes the world's water supply.
Because of that, it is important for your fleece footed pajamas to be made of certified organic yarn. The organization that certifies textiles is called the Global Organic Textile Standard (GOTS).
Dyes used in CastleWare cotton footed pajamas
The other reason to love the CastleWare footed PJ is the low-impact, fiber-reactive dyes they use in their fabrics.
An international certification process known as Oeko-Tex Standard 100 classifies low-impact dyes as eco-friendly. They do not contain toxins or mordents (which fix the dye to the fabric), need less rinsing and have a high absorption rate in the fabric (~70%).
Fiber-reactive dyes are low-impact synthetic dyes that directly bond with the garment fibers instead of merely remaining as an independent chemical entity within the fiber.
Thanks to the fact that these dyes in fleece baby pajamas contain no heavy metals and do not need mordents, no chemical residue comes into contact with a baby's saliva. This is a huge benefit of these dyes!
Fabrics used in CastleWare footed pajamas
Castleware offers three levels of warmth through their fabrics – summer, fall, and winter. Baby Rib Knit is light/mid-weight fabric for summer. Fleece is cuddly all year round. And velour is the fall and winter fabric.
I would especially like to draw your attention to the fleece and velour. These fabrics are so luxurious, soft and plush that I wouldn't mind getting one of those footies for me! Seriously, I haven't come across such quality fabrics in any other brand.
Conclusion about fleece footed pajamas
To conclude, I'll emphasize how crucial a good night's sleep is for a developing baby and the health of the whole family. From my personal experience, I can say that CastleWare fleece baby pajamas definitely help with that. To see more options for non-toxic clothing, please visit my Shop.
Where to buy
Castleware website
Sources
Chen, H., & Burns, L. (2006). Environmental Analysis of Textile Products. Clothing and Textiles Research Journal, 24(3), 248-261.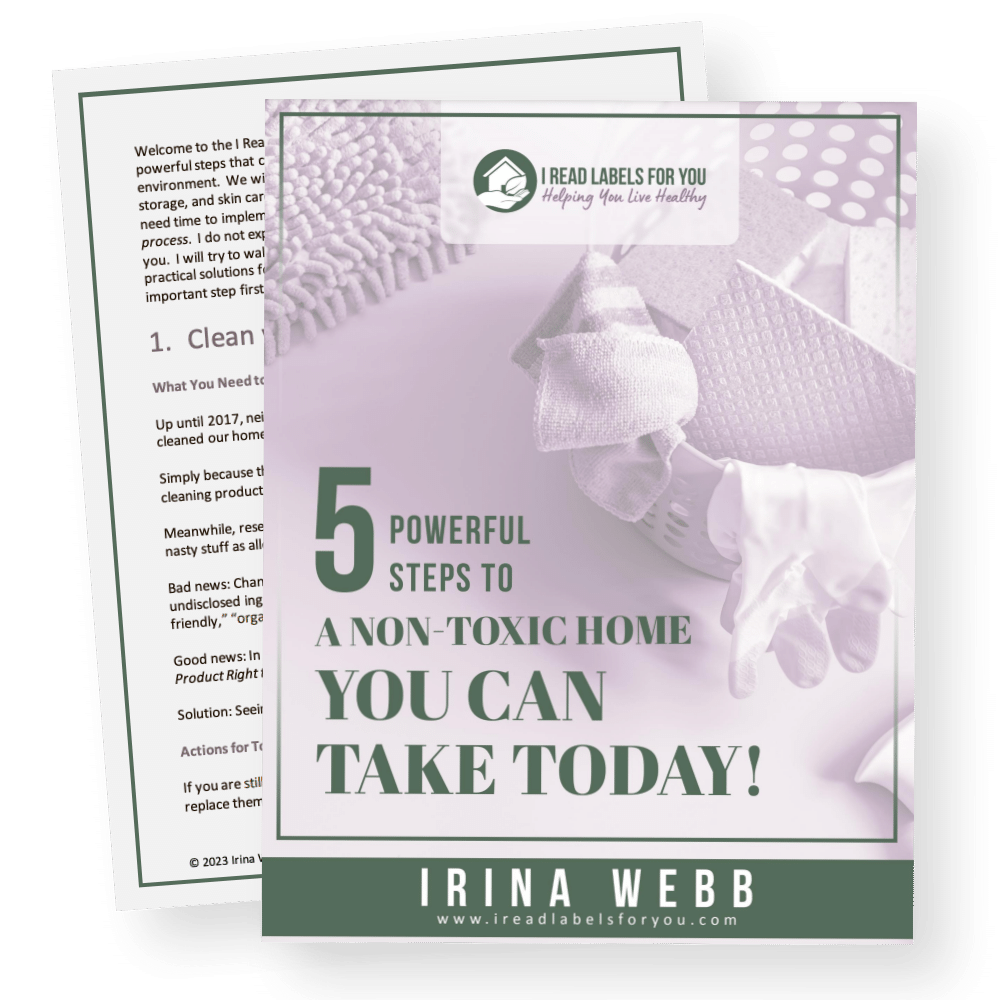 Download The Free Guide!
5 Powerful Steps To A Non-Toxic Home
Join our informed consumer community and get our free guide the "5 Powerful Steps To A Non-Toxic Home".