Cute Organic Clothes That Won't Break the Bank
This post may contain affiliate links. To read our affiliate policy, click here.
My husband was the one who turned me onto organic food when we started dating. When I first saw him buy organic tomatoes for twice as much as conventional ones, I wondered why he would do that. To me it was all just food and the cheaper the better. With time, as I studied the subject, I realized that for a truly healthy lifestyle it is not only food that should be organic, but also clothes. This post will introduce you to my favorite organic clothes brand that I love and use because it carries affordable organic clothing of high quality.
Ideally, we want to wear beautiful clothes made of the material grown without toxic stuff. That is to say, toxins can find their way into clothes from pesticides, heavy metal-containing fertilizers, and sewage water. We would also like our clothes to be processed without any harmful substances that we can absorb via the skin, especially when we sweat. And, of course, we want to look good without breaking the bank. I might have found an organic clothing brand that meets all these requirements. Read on to find out the name of the brand.
Organic clothing certification
What are organic clothes anyway?
To begin, there is a way to make sure that the clothing material is truly non-toxic. What makes it possible is the Global Organic Textile Standard (GOTS) which is a comprehensive certification of all the stages of fabric production. In other words, GOTS inspects the entire manufacturing process, from the harvesting of raw materials to the dyes, bleaches, and processing agents used in the finishes of the fabric. Also, it certifies manufacturing facilities. Most importantly, GOTS has certified Pact organic clothing, my favorite organic clothes brand, which sells a variety of stylish affordable organic clothing items.
Two levels of GOTS
It is important to mention that GOTS certification has two levels, as shown in the table below.
| | |
| --- | --- |
| Organic | The product contains at least 95% certified organic fibers. |
| Made with X percent organic materials | The product contains from 70 to 95% certified organic fibers. |
For the second level, the remaining percentage can be non-organic fibers, including some synthetic and recycled fibers. Nevertheless, in both cases, the non-organic fibers must comply with GOTS requirements, which means that they should be free of harmful chemicals.
The best way to make sure that a clothing brand has a GOTS certification is to search for it in the GOTS database.
The importance of GOTS certification for organic clothing brands
Before purchasing my affordable organic clothing, I made sure that the brand had GOTS certification.
So, why is GOTS certification important? Because that way, we know that the raw materials used to make the fabric were grown without the use of toxic pesticides, fertilizers, and water. Additionally, we know that they were processed without the use of hazardous chemicals, something we'll talk about next.
Chemicals that cannot be in organic clothes
In the table you can see harsh chemicals that are best to avoid in clothes.
| | | | |
| --- | --- | --- | --- |
| Alkylphenols | Azo dyes | Chlorinated solvents | Cadmium |
| Phthalates | Organotin compounds | Chlorophenols | Chromium |
| Brominated flame retardants | Perfluorinated chemicals | Short-chain chlorinated paraffin | Mercury |
| Chlorinated flame retardants | Chlorobenzenes | Heavy metals | Lead |
The good news is that you will not find these chemicals in organic clothing. Firstly, the compounds in the table are known to be toxic, persistent, and bioaccumulative. Secondly, they are carcinogenic and mutagenic. Moreover, they are reprotoxic and act as hormone disruptors. Above all, their use poses risks for the environment and human health (source).
For example, the European Union tested 9 national football jerseys. On the one hand, the good news was that flame retardants, phthalates, arsenic, PAHs, formaldehyde, and azo dyes were either below the level of detection or were not there. On the other hand, however, the tests revealed that 6 jerseys contained lead and one jersey contained antimony, another toxic heavy metal. As a result, the organization recommended that athletes wash jerseys prior to wearing them. Additionally, they were to wear cotton shirts underneath the jerseys when participating in sports, as this partially prevents the absorption of lead (source).
Hence, purchasing clothes from organic clothes brands gives me peace of mind that my affordable organic clothing will have none of the chemicals from the table above.
The dangers of lead
You might have heard that lead is toxic to the developing brain and nervous system in children. But it does more harm than that.
To begin with, the International Agency for Research on Cancer (IARC) has classified lead as "probably carcinogenic to humans" (source).
Further, recent epidemiological studies have shown that ongoing non-occupational exposure to lead is associated with higher death rates due to cancer (source). This is probably because lead causes DNA damage and inhibits DNA repair. Consequently, if you want to be sure that your clothing is lead-free, go for organic clothes.
Moreover, there is a link between lead toxicity and the increased risk of autoimmune diseases (read more here and here).
Therefore, if you are a cancer patient or survivor, please contact me for a free consultation to identify the most impactful steps you can take right now to reduce exposure to cancer-feeding chemicals. To clarify, lead can hide in unexpected places. So, we can go over the products you use to make sure that there are no hidden sources of exposure to lead and other heavy metals.
My favorite organic clothes brands
So, the brand that I like is called Wear Pact, and you can see its GOTS certification here. To clarify, the brand carries clothing pieces from underwear to outerwear for women, men, and kids.
Since I discovered the Wear Pact affordable organic clothing brand several years ago, I have already bought several items from them, including underwear.
For instance, I work out in Wear Pact organic yoga leggings and organic tops. Also, I wear their organic cotton t-shirts almost exclusively around the house. What I like the most is the fact that their organic clothing looks good, is comfortable, and is of good quality. Besides, none of the garments have unraveled over the years, and I wear them a lot. Thus, in the picture below I am wearing my favorite leggings and a hoodie. The hoodie is very soft on the inside and so cozy.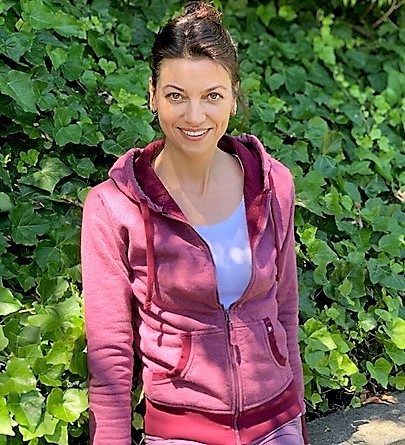 Safety of the Wear Pact affordable organic clothing
Speaking from a safety standpoint, Wear Pact carries mainly three types of clothing, made with:
100% GOTS-certified organic cotton
95% GOTS-certified organic cotton
70%-95% GOTS-certified organic cotton
Therefore, please read each product's description page for more information on each garment. Also, Wear Pact assured me that all the products made of at least 70% organic cotton are GOTS-certified.
Conclusion about one of my favorite clothing brands
To sum up, Wear Pact has a variety of different clothing options depending on how much organic cotton you want your clothes to contain.
Even though Wear Pact affordable organic clothing is not cheap, I believe it is not more expensive than conventional clothing. Moreover, they have a clearance section and run frequent sales, especially during holiday seasons. Therefore, I encourage you to check out these organic clothes on the Wear Pact website.
In addition to clothes, Wear Pact carries GOTS-certified organic towels and GOTS-certified organic sheets. Please check out my shop for other sheet options, so you can compare prices and make an informed decision.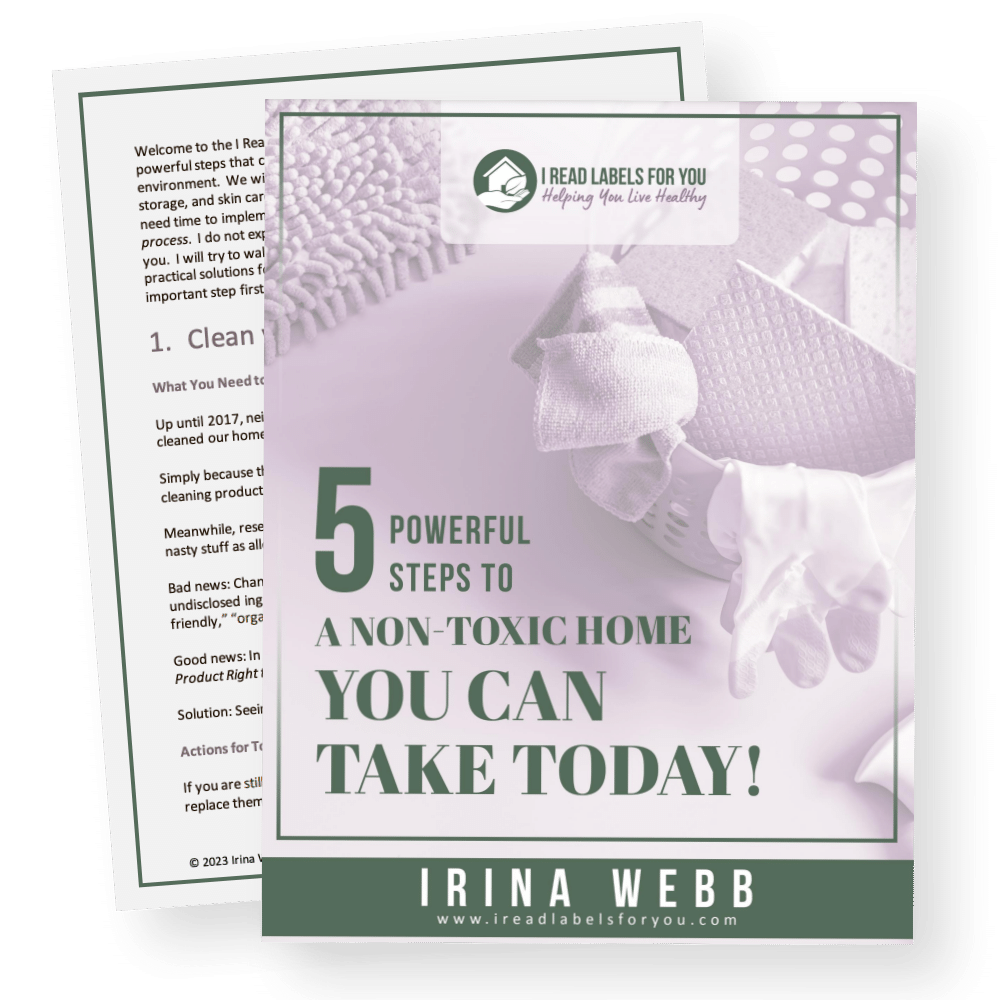 Download The Free Guide!
5 Powerful Steps To A Non-Toxic Home
Join our informed consumer community and get our free guide the "5 Powerful Steps To A Non-Toxic Home".