Acne Skincare
This page contains affiliate links, which means that if you click on the affiliate link and buy an item, I'll receive commissions.
In addition to salicylic acid, a common ingredient in acne skincare, there are other ingredients nowadays that can help the skin find its balance and, thus, stop breaking out.  Some products to consider:
For more information on each product, their anti-acne ingredients, users' reviews, and additional skincare products, read below.  To shop now for Blissoma correcting serum that helps my occasional breakouts like magic, click on the purple button.
More info
To begin with, the issue of acne is something I am familiar with all too well. Believe it or not, I even skipped school because I was too ashamed to go out and show my face to the world. I was so ashamed of my skin that I was willing to use gasoline on my pimples to burn them! For real, I thought the burn marks were less evil than acne.
So, well into my thirties, I used anti-acne products with conventional ingredients: benzoyl peroxide and salicylic acid. While they did help somewhat, they didn't eliminate the problem. You see, the primary purpose of these ingredients is to kill bacteria, including beneficial bacteria, and to cause the skin dry and peel, not to heal your skin. To put it bluntly, they don't care about your skin's condition, biome, or overall safety. Thus, the US Poison Control and the FDA warn about life-threatening allergic reactions to over-the-counter (OTC) acne products that contain benzoyl peroxide or salicylic acid, or a combination of both (source).
The good news is that nowadays, there are acne skincare products with safe and effective ingredients, and I am a living proof of that! I haven't had skin problems for years now. Below is a list of anti-acne products I consider safe and helpful.
Versin Skincare
Versin Calm & Hydrate Serum for Acne-Prone Skin
Anti-acne ingredients: azelaic acid, niacinamide.
If you are used to salicylic acid and are willing to try another ingredient, azelaic acid is a good option for you. Indeed, azelaic acid is a naturally occurring acid found in grains such as barley, wheat, and rye. It has antimicrobial and anti-inflammatory properties, which make it effective in the treatment of skin conditions like acne.
Niacinamide is anti-inflammatory and helps reduce the swelling and redness associated with acne. Plus, it should regulate the amount of acne-causing oil produced by the glands in your skin.
Beauty by Earth
Beauty by Earth Acne and Blackheads Products (use the IREAD12 code for 12% off)
Anti-acne ingredients: aloe vera leaf juice, tea tree oil, bakuchiol.
As you know, aloe vera is rich in antioxidants. It fights inflammation and soothes irritated and dry skin, which helps combat acne and eczema.
Next, thanks to its anti-inflammatory agents, tea tree oil is good at treating and preventing acne. It helps clear out all the bacteria and oils that can lead to breakouts.
Bakuchiol is rich in antioxidants and is a plant-based alternative to retinol but gentler than retinol. In addition to anti-aging properties, it has antibacterial properties that make it effective against acne and breakouts. (If interested, read my research into bakuchiol in my Non-Toxic Anti-Aging Beauty Routine Guide.) Here are several anti-acne products with bakuchiol:
Beauty by Earth Youth Restoration Bakuchiol Face Serum (IREAD12)
I have tried it and liked it as far as how it feels. However, the sweet smell is too strong for me! If you are sensitive to scents, this serum is not for you.
Beauty by Earth Youth Restoration Bakuchiol Face Moisturizer (IREAD12)
Beauty by Earth Youth Restoration Bakuchiol Trio Bundle (IREAD12)
Primally Pure
Primally Pure Clarifying Series (use the READLABELS10 code for 10% off)
Anti-acne ingredients: green tea oil, turmeric essential oil, manuka essential oil, neroli essential oil, colloidal silver (in the mask).
First, green tea is an acknowledged antioxidant that should be able to fight acne and inflammation powerfully. Reportedly, it is good at reducing sebum secretion while also balancing the skin's natural moisture barrier.
Second, turmeric has antibacterial and anti-inflammatory properties and helps reduce redness and breakouts.
Third, manuka's antimicrobial, antifungal, and anti-inflammatory properties make it effective at fighting bacteria and minimizing breakouts.
Next, neroli is a potent antioxidant that helps renew cells and reduce the appearance of acne, scarring, and pigmentation due to its anti-inflammatory support.
Lastly, colloidal silver has anti-bacterial, anti-inflammatory, and anti-fungal properties that help calm inflammatory skin conditions.
Note that Primally Pure skincare products are not vegan and contain essential oils. So, if you are trying to avoid essential oils, these products are not for you. Also, their serums are more like oils, and creams are more like butters.
Here are several products you can check out:
Primally Pure Clarifying Serum (READLABELS10)
Primally Pure Clarifying Cream (READLABELS10)
Primally Pure Clarifying Face Mask (READLABELS10)
Primally Pure Clarifying Mist (READLABELS10)
Primally Pure Clarifying Kit (READLABELS10)
Blissoma
Blissoma Smooth A+ Correcting Serum
Anti-acne ingredients: 13 herbs, niacinamide.
So, the 13 herbs in this serum have a healing effect and work together to restore the health of your skin. And niacinamide is known for its great anti-inflammatory properties.
I have used this serum, and it does work – I would even say it is magical! When I had breakouts, I would put it on my skin at night, and the next morning my skin was clear. It is also oil-free and not drying at all!
If you have hormonal acne problems with dryness, consider using Blissoma Restore Omega Miracle Facial Oil on top.
If you tend towards oily skin or have blackheads, try Blissoma Flawless – Clear Condition Facial Oil. It could be excellent for periodic facial massage and additional daily nourishment. When you add a little oil to your skin, it tells your pores not to have to produce as much sebum to keep the skin comfortable.
Crunchi
This is the skincare line I use now, and I am very pleased with my skin look and condition. Although Crunchi does not market its products as acne skincare, the ingredients used in Crunchi products help balance your skin and restore its condition.
Plus, high-quality non-toxic ingredients free of heavy metals and harmful contaminants help, too. (I have studied their every ingredient and vetted them for safety.) On top of that, Crunchi skincare products contain anti-aging ingredients, such as peptides, hyaluronic acid, and others. Importantly, they are vegan, cruelty-free, and packaged in glass.
Anti-acne ingredients: niacinamide, organic green tea.
Here are the Crunchi products that are great for acne-prone skin:
Crunchi Charcoal Cleansing Bar ($10 off on the first purchase of $50+ is embedded in the link)
The charcoal bar is perfect for cleansing acne-prone skin because it contains charcoal and tea tree oil. The Gentle Bar does not contain them and has oatmeal to soothe the skin. I use the Gentle Bar because I do not have acne.
Crunchi Clarilight Facial Toner ($10 off on the first purchase of $50+ is embedded in the link)
It is a must product for acne-prone skin as it helps cleanse the skin further with witch hazel and gently exfoliates it with fruit acids. While it has witch hazel, it does not dry the skin because it has hydrating ingredients that work together.
Crunchi Goldenlight Multi-Peptide Serum ($10 off on the first purchase of $50+ is embedded in the link)
This is my favorite serum (and I have tried LOTS of serums!). First, it is formulated with multiple powerful peptides that work overtime to visibly plump fine lines, firm and tighten the appearance of the skin to help reduce the signs of aging, leaving the skin with a natural glow. It also tightened the pores on my nose.
This is what one of the happy customers said: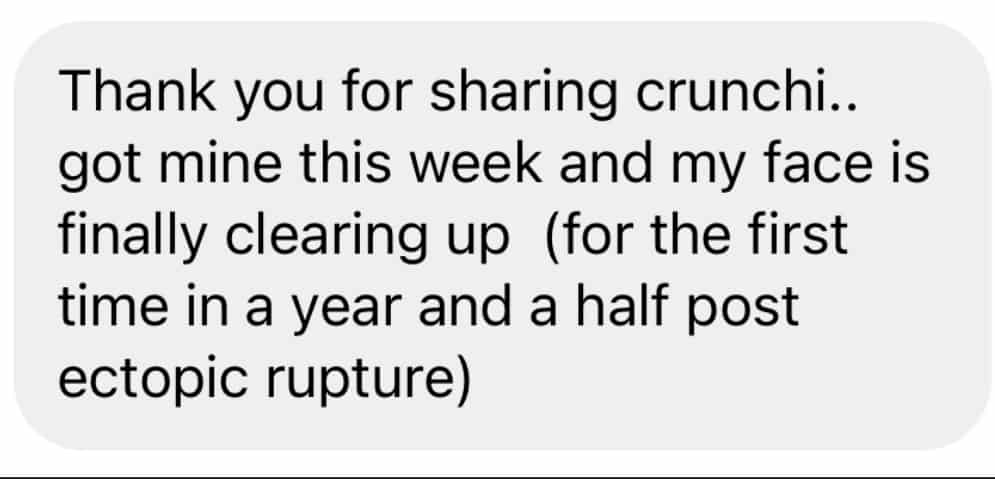 Crunchi Beautifully Flawless Foundation ($10 off on the first purchase of $50+ is embedded in the link)
And while your skin is in the process of healing, this non-toxic foundation will cover up the blemishes well while helping the skin heal (it contains Tremella mushroom extract). It provides full coverage, and at the same time, it is light and not cakey.
This is what some recent happy customers said: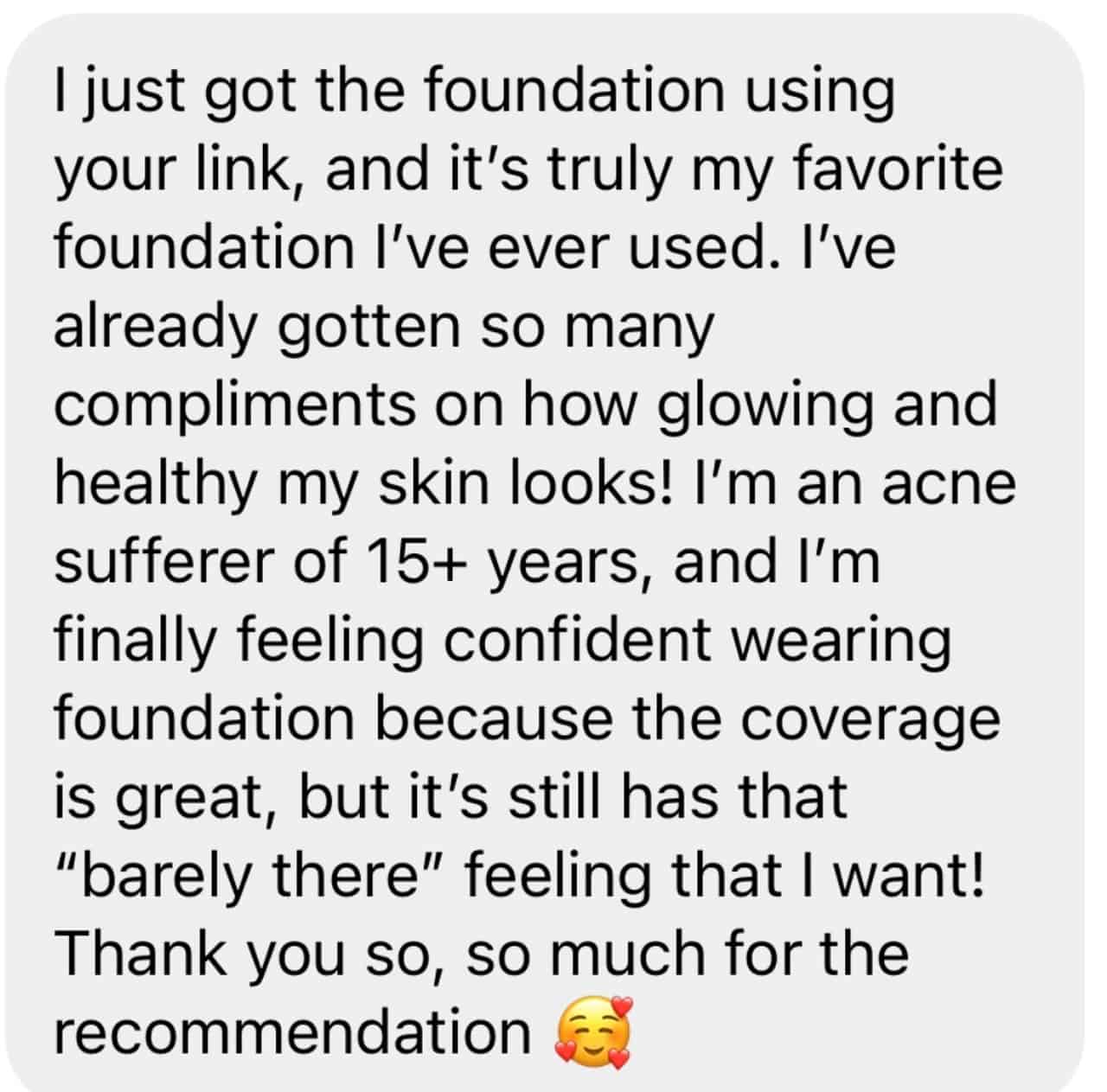 Pure Haven
Pure Haven 3-Piece Clear Up Set (salicylic acid)
If you are pregnant, consult your doctor about using products with salicylic acid.
Related: A Helpful List of Ingredients to Avoid During Pregnancy