Is Hydroxyapatite as Effective as Fluoride?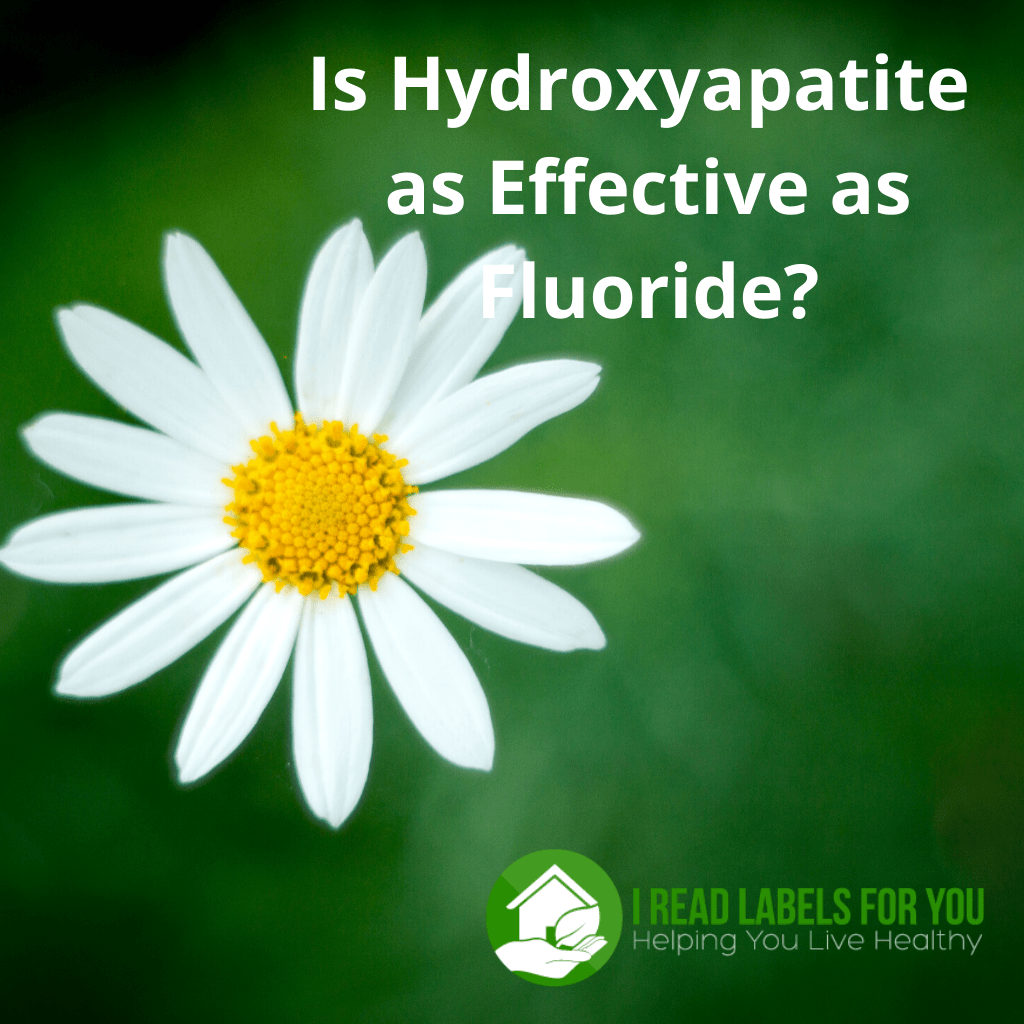 This post may contain affiliate links. To read our affiliate policy, click here.
Like all kids, I was afraid of visits to the dentist. The main reason was that dentists never used any anesthetic on us, so we felt everything while they were working on our teeth. Even though now the situation is different, I still want to do whatever it takes to protect my teeth from cavities. Hence, I am always on the lookout for a toothpaste that will help my teeth stay healthy and strong. Recently I discovered a hydroxyapatite toothpaste which promises to be as effective as a fluoride toothpaste but without any side effects. To make sure that hydroxyapatite is a safe and useful ingredient, I have done my research on it and present you with its summary.
Fluoride as a remineralizing agent
Since enamel is under constant acid attacks caused by imperfect modern diets, it needs help to build strength and resilience. Hence, toothpastes with active ingredients such as fluoride have become popular tools to harden and fortify enamel. That is to say, the widespread use of fluoride over the last 25 years brought a decline in dental cavities in most industrialized countries.
Although it is an effective remineralizing agent in cavity prevention, fluoride has some concerns. Firstly, with the wide array of both prescription and over-the-counter fluoride products, total fluoride intake has increased to perhaps harmful levels. In addition, there is fluoride in water, food, and other unexpected sources.
Health concerns related to fluoride
Before the 1950s, fluoride was considered an environmental pollutant resulting from the aluminum and phosphate fertilizer industries. When governments decided to add fluoride to the public water supply in the 1950s, very little health research was performed. Later, some concerning health information emerged.
Thus, a recent study requested by the EPA reported that even current levels of fluoride may cause tooth and bone damage. There is also growing evidence that fluoride is associated with an underactive thyroid. Moreover, studies show that even 2 ppm (or 2 mg/L) in drinking water can damage kids' kidneys and livers. Even if you remove fluoride from your drinking water, chances are you will get it from other sources such as tea and processed food made with fluoridated water.
Consequently, hydroxyapatite toothpaste is a response to the necessity to seek alternative non-fluoride methods to protect teeth. In other words, scientists believe that hydroxyapatite, aka HAP, is one of the most biocompatible and bioactive materials and a non-fluoride agent that can provide a complete defense against the formation of cavities (source).
What is hydroxyapatite?
According to its medical definition, it is "a major component and an essential ingredient of normal bone and teeth. It makes up bone mineral and the matrix of teeth and gives bones and teeth their rigidity." That is to say, it forms a unique crystal structure that makes up 97% of enamel, 70% of dentin, and 60% of our bones (source).
Apparently, NASA pioneered microcrystalline HA in 1970 as a remineralizing agent for astronauts who experienced mineral loss in their teeth and bones as a result of zero gravity. Subsequently, a Japanese company purchased the rights from NASA and launched a hydroxyapatite toothpaste in 1978. Additionally, in 2006, the first toothpaste containing this ingredient as an alternative to fluoride appeared in Europe (source).
How hydroxyapatite works
The book "Toothpastes" (by C. van Loveren) states that HAP "functions by directly filling up micropores on demineralized tooth surfaces. When it penetrates the enamel pores, it also acts as a template in the remineralization process by continuously attracting large amounts of calcium and phosphate ions from the remineralization solution to the enamel tissue, thus promoting crystal integrity and growth." (source)
Research on the remineralization properties of hydroxyapatite
There has been a lot of research on this ingredient and its use in the dental field.
Literature review
Firstly, this study summarizes the literature about HAP and focuses on its application in preventive, restorative, and regenerative dentistry.
Thus, studies have shown that HAP has significant remineralizing effects on initial enamel lesions, superior to fluoride, and good results on the sensitivity of the teeth. In addition, as HAP is a mineral part of human bone and teeth, it makes it an excellent material in oral implantology without inducing toxicology and inflammation.
Comparative efficacy of a fluoride and hydroxyapatite toothpaste
Secondly, this randomized study was conducted via intra-oral appliance worn by 30 adults of toothpastes with hydroxyapatite and fluoride. As a result, scientists confirmed that HAP was as effective as fluoride in teeth remineralization. Moreover, scientists believe that HAP is superior to fluoride because it does not have its limitations.
To clarify, fluoride becomes less effective below a pH of about 4.5. Also, it needs calcium and phosphorus ions in a bioavailable form in saliva and other sources to be effective. Besides, fluoride remineralization of initial lesions is most effective at the outer 30 micrometers of the lesion. Thereby, it leads to surface-zone remineralization at the expense of the lesion body, making full remineralization difficult to achieve.
Furthermore, although the efficacy of fluoride is dose-dependent and increases with increased dose, there is a limit to which you can increase the dosage of fluoride to avoid the risk of fluorosis in children and toxicity in all ages.
Enamel and dentine remineralization by hydroxyapatite toothpaste
Thirdly, the aim of this study was to evaluate the effects of daily treatment with different nano-hydroxyapatite toothpastes on the remineralization of bovine enamel and dentine subsurface lesions stored in a remineralizing solution. Thus, with the in vitro conditions chosen, toothpastes containing nano-HAP revealed higher remineralizing effects compared to amine fluoride toothpastes with bovine dentine, and comparable trends were obtained for enamel.
Comparison of CPP-ACP, tri-calcium phosphate and hydroxyapatite
Furthermore, this in vitro study evaluated and compared CPP-ACP, tri-calcium phosphate and HA on remineralization potential of artificial cavity-like lesions on primary enamel.
To clarify, CPP-ACP (casein phosphopeptide – amorphous calcium phosphate) is derived from bovine milk protein, casein, calcium, and phosphate. It has shown anti-cavity potential in a laboratory, animal, and human in situ experiments.
As for tri-calcium phosphate, it has remineralization properties with the advantage of the calcium phosphate system. That is to say, the system is stable in an aqueous environment and does not affect the fluoride activity when added to dentifrices.
Lastly, hydroxyapatite is one of the most biocompatible and bioactive materials formed of nano-sized particles similar to the apatite crystals of tooth enamel morphology, crystal structure and crystallinity. Thus, in the experiment, it showed significantly more remineralization when compared to CPP-ACP and tri-calcium phosphate.
Effects of hydroxyapatite toothpaste on enamel carious lesions
To continue, the purpose of this study was to analyze the protective effect of remineralizing agents on enamel caries lesions. That is to say, the remineralizing agents were fluoride varnish (Duraphat), nano-HAP paste (Desensibilize Nano P), and casein phosphopeptide-amorphous calcium phosphate (CPP-ACP) paste (MI Paste Plus).
As a result, fluoride varnish and nano-hydroxyapatite paste turned out to be effective in rehardening the initial enamel caries lesion after artificial cariogenic challenge. Moreover, nano-HAP showed better results than the varnish. On the other hand, CPP-ACP paste with fluoride did not show any protective effect on artificial enamel caries development.
Thus, the scientists concluded that the nano-HAP paste could be an alternative agent for treating initial enamel caries lesions (i.e. cavities in their very early stages).
Effect of nano-hydroxyapatite concentration on remineralization of enamel lesion
The purpose of this research was to determine the effect of nano-HAP concentrations on initial enamel lesions under dynamic pH-cycling conditions. To clarify, four different concentrations of nano-HAP (1%, 5%, 10% and 15%) were selected as the treatment agents.
Thus, the study showed that nano-HAP particles were regularly deposited on the cellular structure of the demineralized enamel surface, which appeared to form new surface layers. Therefore, the researchers concluded that nano-HAP had the potential to remineralize initial enamel lesions.
In addition, the study showed that a concentration of 10% nano-HAP may be optimal for the remineralization of early enamel cavities with regular daily usage.
Microcrystalline hydroxyapatite is not inferior to fluorides
To continue, this randomized controlled trial evaluated the effectiveness of the use, twice daily, of a microcrystalline HAP toothpaste in 150 patients. To specify, a toothpaste that contained 350 ppm amine fluoride and 1050 stannous fluoride served as a positive control. In conclusion, the scientists said that microcrystalline HAP toothpaste is as effective as fluoridated toothpaste in the prevention of cavities.
Enamel remineralization and repair results of Hydroxyapatite toothpaste on deciduous teeth
In these in vitro and in vivo studies, scientists compared a nanostructured micro-particle hydroxyapatite toothpaste with two other toothpastes containing 500 ppm and 1,400 ppm of fluorine. As a result, the studies proved that nanostructured micro-particles in hydroxyapatite toothpastes are valuable prevention against cavities.
Also, scientists noted that although the use of toothpastes with high concentrations of fluorine (1,500 ppm) allows greater prevention against cavities, using these products on children under 6 years of age increases the chance of fluorosis.
Furthermore, the scientists encouraged us to consider the cumulative exposures to fluorine. For example, the potential sources include water, supplements in diet, fluoride toothpastes, and local fluoride applications.
In sum, considering the risk of fluorosis, they believe that HAP is superior to fluoride, especially in children under the age of six.
The safety of this remineralization ingredient
Above all, in the European Union Chemicals Agency (ECHA) database, HAP shows no hazards. And if you like to use the Environmental Working Group (EWG) Skin Deep database, please know that the EWG rated it a 1 (on a scale of 1-10, with 10 as the most toxic) with a fair amount of safety data.
Conclusion about hydroxyapatite
To sum up, I believe that this ingredient is a safe and effective alternative to fluoride, especially for young children.
For more information, please read my review of a hydroxyapatite toothpaste.
Additionally, for other healthy products that you can use on your body and at home, please visit my shop.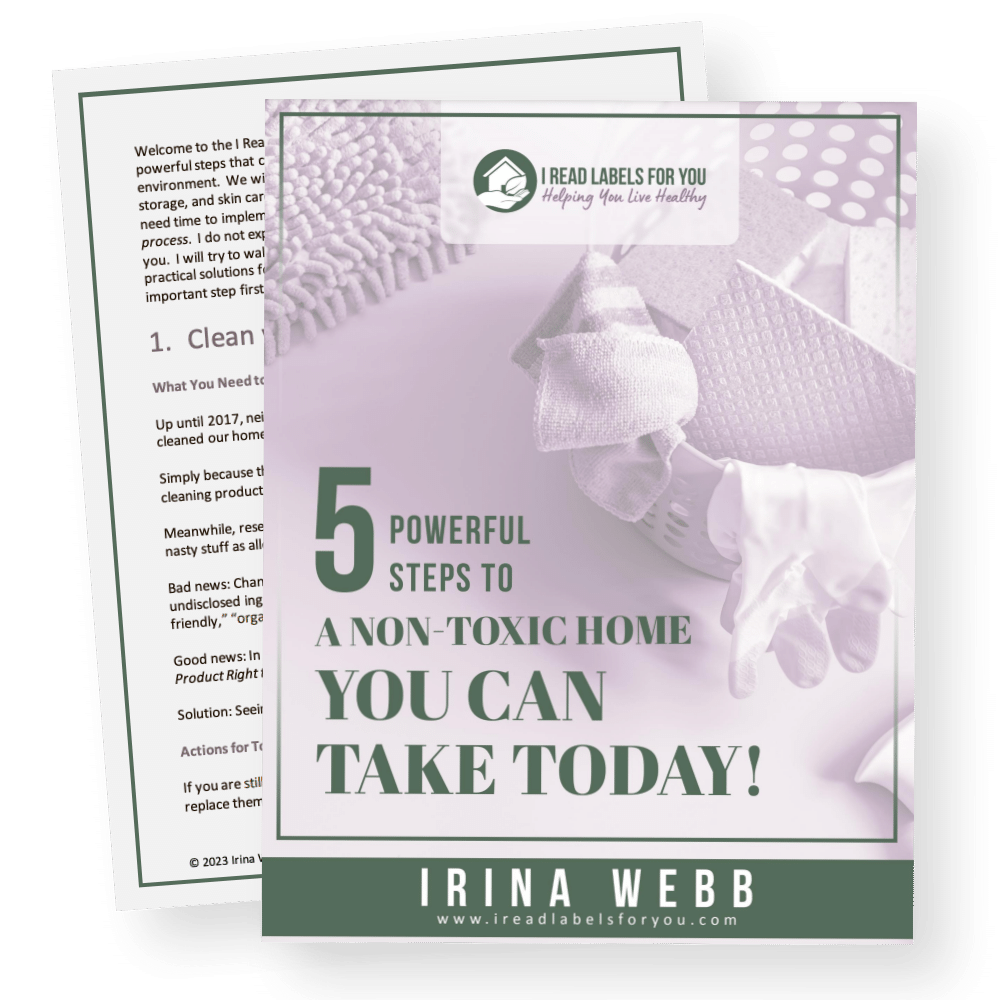 Download The Free Guide!
5 Powerful Steps To A Non-Toxic Home
Join our informed consumer community and get our free guide the "5 Powerful Steps To A Non-Toxic Home".