Crunchi Mascara
This page contains affiliate links, which means that if you click on the affiliate link and buy an item, I'll receive commissions.
This non-toxic vegan Crunchi mascara does not contain harmful preservatives; yet, it has an effective preservation system, which is so important to keep our eyes free from infections.
It is clinically tested to be found non-irritating to the eyes (and I can attest to that).
Crunchi mascara contains EcoCert-certified high purity mineral pigments sourced NOT from China, which reduces the risk of heavy metal contamination.
In fact, Crunchi third-party tested all their products for heavy metals and the results were outstanding!
Crunchi tests their products for toxic PFAS chemicals. Mamavation featured Crunchi products including this safe mascara in her PFAS study in the best category because all Crunchi products had no detectable levels of organic fluorine, which is an indicator of the presence of PFAS associated with infertility, high cholesterol, insulin resistance, diabetes, impaired immunity, and cancers. You can read more in the Environmental Health News.
Packaged in a glass tube so you won't be contributing to plastic pollution with this product
On June 23, 2021, Crunchi reformulated their mascara to improve adhesion to the eyelashes. This was the third time Crunchi reformulated its mascara.  The original mascara didn't provide enough volume for people who wanted big eyelashes.  The second one provided the volume but shed for some people, especially for those who lived in humid climates and/or had oily skin around the eyes.  The June mascara decreased the volume (which made some unhappy who never had the shedding issue) but solved the shedding issue for most.
As with all makeup products, and mascaras especially, how you apply it matters.  Your expectations (do you like BIG eyelashes?) also matter.  And then what others products you use matters too.  This is what I found for me (I like big eyelashes):

I can use only 3 coats at the most (I alternate between the eyes to give time to each coat to adhere); otherwise, I run the risk of shedding.
I use Crunchi eyeliner to accentuate my eyes so I don't have to rely on mascara to achieve that.
After I apply concealer and foundation, I use finishing powder around the eyes, too.
So, all in all, if you like big lashes, live in a humid climate, or have oily eyelids, you might not be happy with it.  But considering that it is extremely challenging to find a truly non-toxic mascara (so many are greenwashers) without toxic PFAS and other potentially harmful ingredients and contaminants, I think it is a good idea to give this toxic-free mascara a try.
Here is a comment of a happy buyer: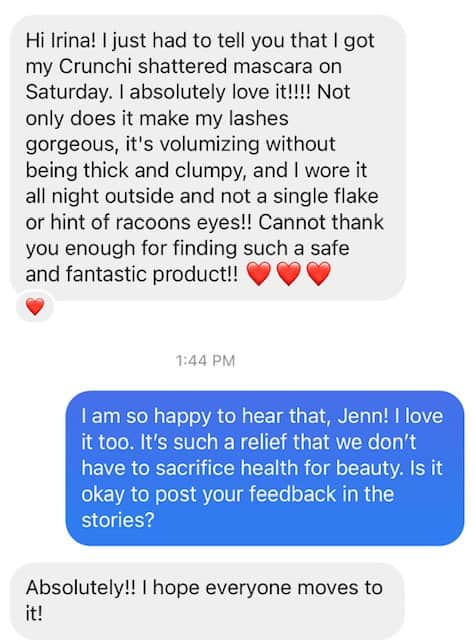 To learn more about Crunchi, please read my Crunchi Non-Toxic Makeup review.