I want to share with you today something special and dear to my heart. I'd like to tell you about a beauty line that I trust and love.
Over 2 years ago, I emailed Manuela Valenti, the founder and CEO of By Valenti Organics and asked a few questions. To my surprise, she did not just answer them. Instead, she took time to educate me about how skin care products are made. Since then, we have been corresponding, and I have learned a great deal about skin care products – knowledge that I have verified by independent means, so I am not just taking her word as a formulator of products.
Through our interactions, Ms. Valenti strikes me as a person of integrity who is truly passionate about doing the right thing. She is an avid advocate for transparency in the skin care industry. Ms. Valenti refuses to compromise even when it hurts her bottom line. For example, she does not sell liquid shampoos because she has not figured out how to avoid plastic packaging yet. Currently, By Valenti Organics tops my list of safe clean effective and affordable beauty products.
Reasons You Might Want to Try By Valenti Organics
As you are about to learn, I really like not only the products they offer, but also the process they use to make their products. Ms. Valenti goes to great lengths not only to appear like she is making good products, but she goes above and beyond, taking steps that most consumers will not even appreciate, in order to ensure that her products are beyond reproach.
Plant oils are certified organic and cold-pressed.
It is not easy to create an effective broad line of skin care products without making excuses for not using organic ingredients. But Ms. Manuela managed to do that!
There are no petroleum-based ingredients or ingredients that may be derived with petroleum chemicals.
Unfortunately, I have seen petroleum ingredients in skin care lines marketed as "natural" and "organic." For example, often I find polysorbate-20 in so-called "natural" skin care products. (Let me know in the comments if you are interested in learning how to spot petroleum ingredients in products.)
All botanical extracts are either organic alcohol or water extracted or dry powders – the safest types of extracts.
Ms. Valenti does not use any extracts derived with solvents such as hexane, heptane or ethanol, traces of which can remain in the extract and irritate the skin. When extracts are listed, often we consumers do not know how they are derived, which can be frustrating.
All products formulated with water have sufficient and non-toxic preservation systems.
Water-based products are tested to protect against both mold and all types of bacteria, including a very bad bacteria called E.coli.   I have noticed that often water-based skin care products such as creams and lotions do not have sufficient preservation systems to withstand exposure to sunlight, moisture, touch, and temperature without potentially getting contaminated with harmful bacteria. I use By Valenti Organics with confidence that I will not be exposed to harmful bacteria. This becomes extremely critical when your immune system is compromised with immune system-suppressing drugs. (To read more about this topic, head over here.)
There is no palm oil in By Valenti Organics beauty products.
I know some of you like to avoid palm oil altogether. It is almost impossible to find a skin care line void of palm oil. While sustainably sourced palm oil is widely available on the market, the sustainability criteria remain controversial.
And last but not least, my skin feels and looks great with the help of By Valenti Organics products.
My Most Favorite By Valenti Organics Products
Bulgarian Lavender & Mandarin Facial Foaming Cleanser: By Valenti Organics cleansers are saponified soaps meaning that plant oils are reacted with an alkali that does not remain in the final product. This is a one-step process. This is how soaps had been made before a proliferation of synthetic surfactants came about. The saponification process is a more natural process than the process of making surfactants where it can take at least 5 steps to travel from coconut oil (the most common raw ingredient) to the chemical you see on the label.
Saponified soap does not have adverse health effects, whereas some surfactants are carcinogens or skin sensitizers (i.e., can result in rashes, etc.). By Valenti Organics cleansers are packed with beneficial plant oils and are not drying for the skin at all. I use it at night and in the morning.
It is important to note here that because the cleanser is mild and gentle on the skin, it may not remove makeup well. I use makeup remover first to remove mascara and then use the cleanser.
Lavender & Bulgarian Roses Facial Toner: This is a very mild toner suitable even for dry skin. It does not dry my skin at all.
Squalane + E Facial Oil: There are only two ingredients in this facial oil – squalane oil and vitamin E. Both ingredients are not only hydrating and moisturizing but have also helped me diminish the appearance of wrinkles. Squalane occurs naturally in the body but with age our body does not produce it well. There are two sources for squalane oil, which are shark livers and olives. By Valenti Organics uses squalane oil derived from olives.
It is important to apply it on damp skin. That way it will spread over the face well and the skin will take as much as it needs. Especially if you have oily skin, you should use this method. I apply it in the morning and my skin remains hydrated throughout the day.
Moroccan Argan & Rosa Mosqueta Balancing Facial Oil: This facial oil contains squalane and vitamin E as well, and lots of other plant oils and extracts, as well as CoQ10, a crucial antioxidant for cellular energy production that diminishes with age. Studies showed that topical application of CoQ10 reduces free radicals and increases the skin's antioxidant capacity. The oil absorbs quickly and does not leave any oily residue.
Liquid Rose Gold Night Eye Serum: Besides squalane, vitamin E, vitamin C, CoQ10, it also contains vitamin A. All these ingredients are known to have powerful anti-aging properties. While it is sold as an eye serum, I use it all over my face. By Valenti Organics is coming out with a facial serum formulated with very similar ingredients in a bigger bottle soon.
By Valenti Organics emphasizes that this product should be applied only at night and you will need to wash your face in the morning to remove any traces of vitamin A. Vitamin A is known to interact with the sun and may speed the development of skin tumors and lesions, so be sure to follow the product's instructions for use.
Lavender & Lime All Over Oil: I like this oil for the whole body. I apply it after the shower on damp skin.
True Castile Soap: By Valenti Organics might be the only business that carries true castile soap. True castile soap is when only olive oil is used to make soap. I have recommended it before for newborn and infants as it has great moisturizing properties. It can also be used as a facial wash for sensitive skin.
There are many other great products. Look around! When you buy a product, look in the drop-down menu and you will find that lots of products come in a sample size, which can be a good way to try By Valenti Organics products.
[btn text="BUY THE PRODUCTS HERE!" tcolor=#FFF bcolor=#693069 thovercolor=#FFF bhovercolor=#007229 link="https://www.byvalenti.com/?referrer=BVO_11181408074156″ target="_self"]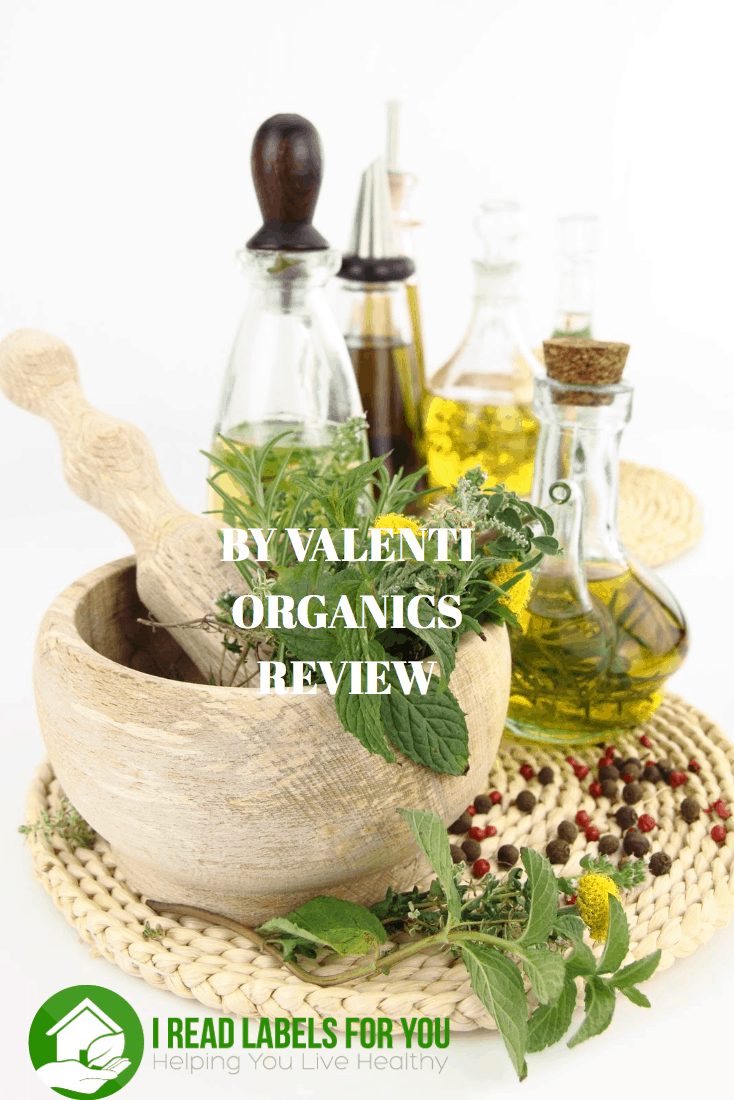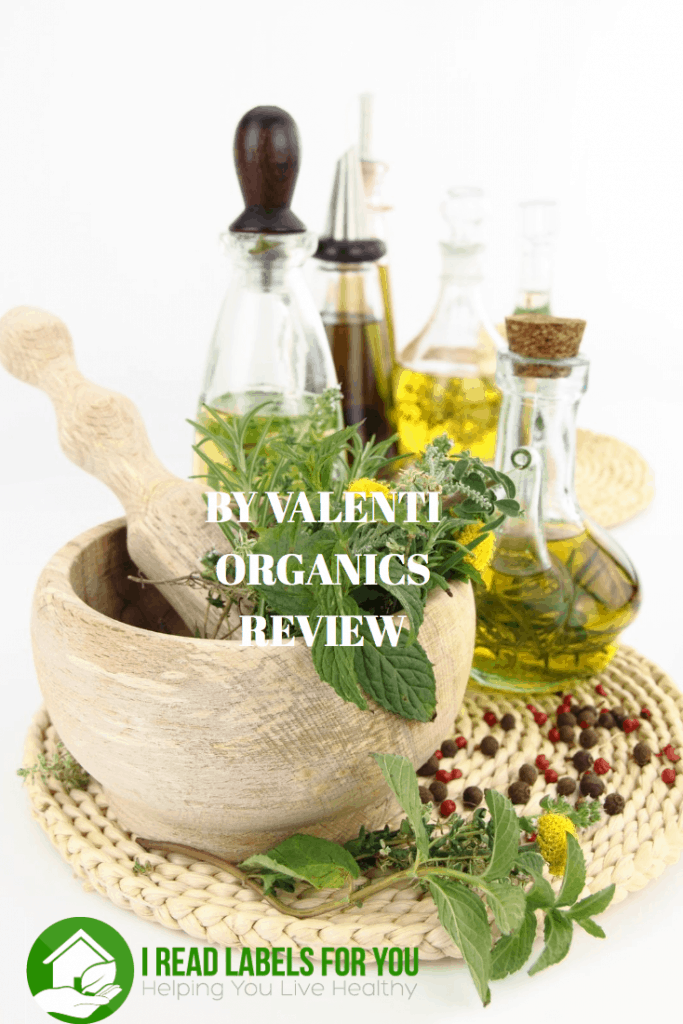 Disclosure: This post contains affiliate links, which means that I will receive a small commission if you make a purchase by clicking on one of the affiliate links.  Thank you for supporting my blog at no cost to you.  
Let's start creating a healthy home today!
When you join the I Read Labels For You community, you'll receive weekly emails with inspiration, exclusive content and coupons to gain clarity and confidence to create a healthy home. Plus, you'll get the FREE guide: "5 Powerful Steps to a Non-Toxic Home You Can Take Today!"
"I find your knowledge so helpful, to the point and like a gold mine. You have saved me so much time and have taught me so much." Toni