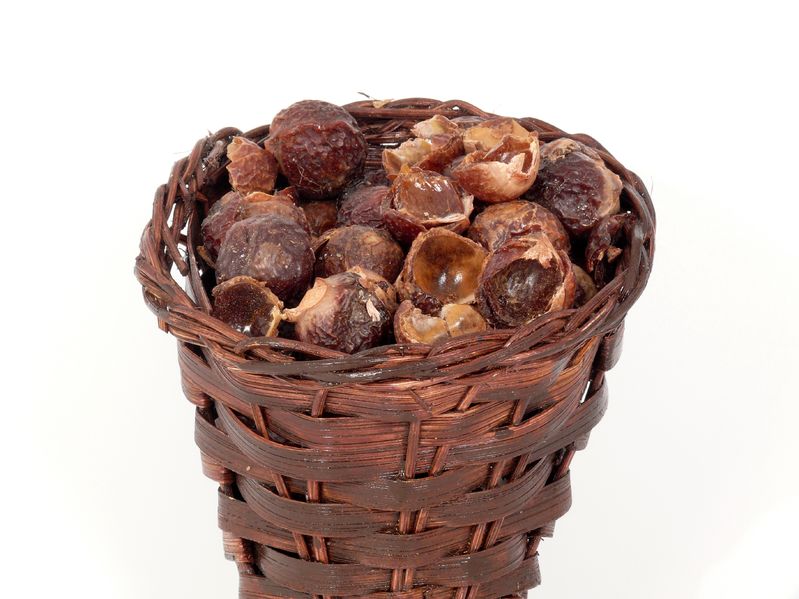 A few months or so ago I started using cloth diapers. They worked fine at first and then they started leaking. I was at a loss. I talked to their maker and she suggested changing the detergent. I did that but we still had occasional leaks. I tried vinegar, which worked better than a detergent but I was afraid to use too much or too little. Later, I read that vinegar is not good for diaper covers (I wash covers and diapers together). Finally, I had a breakthrough.   I found something that worked absolutely perfectly. It eliminated the ammonia smell from the urine, it made the cloth diapers fluffy and thus absorbent, and there is no harm to the baby or the environment. What do you think this mystery product is? Soap nuts. Never heard of them? In this post we will talk about soap nuts and how to use them as a natural cloth diaper detergent. By the way, you can use them on all your laundry.
Soap nuts are actually not nuts but dried berries that come from small trees or shrubs, primarily harvested in India. When soap nut shells come in contact with water, they release the saponins which circulate as a natural surfactant (cleansing agent, soap) in the wash water, freeing dirt, grime, and oils from clothing. Crazy, right?
I got some soap nuts a few months ago tried them as a dishwasher detergent. However, they did not work well (the dishes came out greasy), and so I put them aside.
I then decided to try them in the laundry with the diapers, since I was depsarate and nothing else seemed to work. I was skeptical at first, but the soap nuts worked like a charm! According to multiple reviews I read online, soap nuts work in any type of washing machine and in soft or hard water. And I have hard water, which makes any type of washing more challenging.
How To Use Soap Nuts on Cloth Diapers
I always thought that soap nuts are for people who are willing to forgo certain convenience for the sake of the preserving environment and health. It turned out that it is very easy to use as a cloth diaper detergent. This is what I do:
Do a quick wash and rinse with cold water (cold water does not let stains set in; I read that using baking soda helps for the stains but have not tried that yet);
Put 5 soap nuts in a muslin bag that came with the soap nuts;
Put the bag into the washer;
Set machine to hot-cold cycle and start (most machines have a cold rinse).   Don't worry about the bag with the soap nuts still being in the washer during the rinse, as saponins are not released in cold water);
Remove the bag when the laundry is done and dry it (I use the same soap nuts 3 times).
That's it – don't add bleach or detergents or fabric softeners – none of them are needed.
And the best part is that you do not have to do an extra rinse as you have to with detergents!!!
So it is pretty much the same way you wash cloth diapers with detergent, except that you have to use a bag. You can wash any type of laundry with the bag of soap nuts, just make sure you use a cold rinse.
How to Buy Soap Nuts
There are about 12 species of soap nut trees. I can't say for sure which one is better but I read more positive reviews about Sapindus mukorossi, and am going to try them next. Also, Sapindus mukorossi is used in Ayurveda, a system of traditional Hindu medicine. When buying soap nuts, I recommend you look for the following:
Do not buy cheap soap nuts that come from China;
Buy soap nuts certified organic by USDA;
Make sure that they are de-seeded as the seed may stain laundry and add to the weight;
Where To Buy Soap Nuts
Bubble & Bee Soap Nuts, $9.99 for 5.5 oz
This is where I bought mine. They are the Sapindus Delavayi variety and come from India. Since it was my first purchase of soap nuts, I do not know if they work better or worse than other varietals of soap nuts.
Other Places You Might Want to Try Soap Nuts
Eco Nuts, $9.99 for 8 oz
They are grown in Nepal and packaged in the US. The variety is Sapindus Mukorossi, which is, according to this source, one of the best. They are sterilized. Apparently, they are the only producer that sterilizes USDA certified soap nuts. Eco Nuts say that it is necessary because the conditions they are harvested in are not sanitary. It is a pretty strong claim. Also, they do not disclose how they sterilize them but assured me that they do not use any harmful chemicals or any chemicals for that matter. At this point, it seems that to me that the sterilization is more of a marketing technique but I can't say for sure. When I get new information, I will update the post. In the meantime, if you have tried Eco Nuts, please let us know about their performance.
NaturOli Soap Nuts
, $39.95 for 4 lb
This is a really good price. They are Sapindus Mukorossi, come from India and are processed in the US. The online reviews are 5-stars.
Conclusion About Soap Nuts
I highly recommend them. There are numerous benefits to the environment and the wallet, and are healthy to boot. My only regret is that I have not tried them sooner. Please let me know what you think and share your experience using soap nuts.