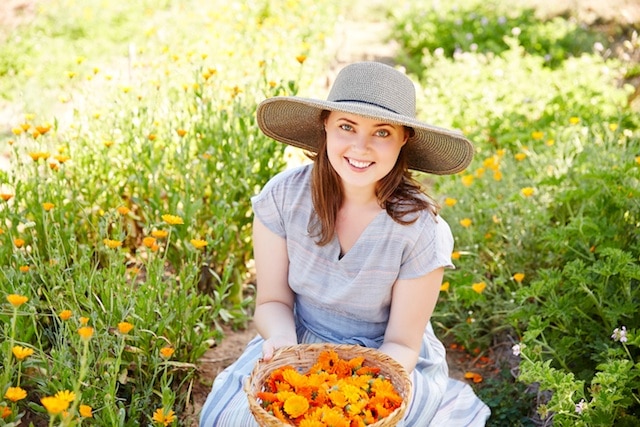 Editor's Note: I recently tried Sequoia Beauty skin care products and shared my wonderful experience in the "Products I Like – Blemish Treatment" post.  I caught up with the owner and formulator of Sequoia Beauty, Laurel Shaffer, and asked her about the skin care secrets you need to know. Laurel offers 10% off to my blog subscribers. Subscribe and email me for the discount code.
What issues do women face when they buy skin care products?
I think one of the 'challenges' women face is a decision: do they buy something effective or do they buy something that is clean and toxin-free.  Unfortunately, this choice is a common misconception.  The average woman still has yet to understand that purer skin care is typically more effective, and clinical skin care is simply mimicking plants in order for them to be effective.  Clean and effective skin care is now available in abundance… However, it can be hard to find, which is another challenge.  It's often sold online only, through small spas, or specialty stores.
What are the top three things you recommend women avoid in skin care products and why?
I recommend women avoid carcinogens of all kinds, foaming cleansers, and alcohol.  Carcinogens should be avoided for the obvious reason – our health, but also because, carcinogens are aging us slowly over time, so eliminating carcinogens is essential in any anti-age regime.  I suggest avoiding foaming cleansers and alcohols for all skin types, because they both strip our skin of our lipid layer and our acid mantle.  That is not a natural state for our delicate facial skin.  It causes inflammation, leaves the skin vulnerable for bacteria growth, creates an imbalance of oil production, and it leaves our skin vulnerable to sun and other elements; thus, accelerating the aging process unnecessarily.
What are the top three things you recommend looking for in skin care products?
1. Look for whole plant ingredients, with words you can easily pronounce;  2. Search for smaller companies – I have yet to find a large big box company that uses quality ingredients and makes products with more in mind than their own bottom line; and 3. when in doubt – less is more, e.g. coconut oil is a far stronger anti-aging tool than the $150 toxic bottle from your dermatologist.
Why did you decide to start making Sequoia Beauty skin care products?
I started making my own skin care when I noticed there was a gap in what was perceived as 'green' or 'natural'… most green products still contained far too many synthetics or highly manipulated 'natural ingredients', and not enough whole plants.  I also noticed that spas & estheticians didn't have access to incredibly pure lines that offered equally noticeable results.
How long did it take you to come up with the formulation for Sequoia Beauty skin care products? What did the process involve?  I was formulating for about 3 years before I launched Sequoia Beauty.  However, I think it's important that the products be always evolving.  I constantly learn about new plants that I would love to include.  And Green science is also always evolving around preservatives and emulsifiers – and we always want to stay on top of the most current research in that regard.  The overall process is a lot of trial and error… I use all the products myself, as do friends, family, and the whole Sequoia Beauty team.
What type of ingredients are you using in Sequoia Beauty skin care products?
What really sets us apart Sequoia Beauty skin care products is our use of WHOLE plants only.  Instead of using something like Vitamin E for example – which is far from what I would personally consider natural –
we find a whole plant that will achieve the same result – or a plant that is high in our desired constituent.  And we don't cut any corners when it comes to organic certification.  Every single plant we use is certified organic, unprocessed, and unrefined  – and we have over 100 whole plant ingredients.
Where do you source Sequoia Beauty skin care products' ingredients?
We source as much locally as we can.  We have relationships with a handful of farmers around the Bay Area that grow as much as possible for us.  We also have a few small farms we work with in Oregon, Washington, New Mexico, and even one in Missouri.  We only source outside of the US for tropical plants that don't grow abundantly here.  And that alone is very unusual for the beauty industry.
How do you know they are safe and beneficial for women's bodies short-and long-term?
Using whole plants is one of the safest things I can think of… they are balanced by nature and are completely unmanipulated.  Of course, there will always be negative stuff out there about plants too – but in my own intuition and senses they are safe when used properly. I think intuition is much more valuable to a formulator than studies.  When it comes to more 'unnatural' ingredients like preservatives and emulsifiers, we research our options extensively.  We choose only those that are well respected in the green beauty industry, are minimally processed, and have been studied and tested extensively for health consequences.
What are the biggest challenges you have been facing as the business owner of Sequoia Beauty skin care products?
The biggest challenge I face as a business owner would I'm sure be commercialism.  It's a constant struggle to be true to myself, and make what I know is good for women's health and skin – but at the same time make a product that is popular.  It's a struggle to educate beyond standard marketing of what is a 'normal' beauty care product – because in reality what is considered a 'normal' and accepted beauty product in the industry is something that isn't doing anything beneficial long-term for your skin.
How can my readers contact you? Will you offer a discount on Sequoia Beauty skin care products for subscribers to my blog?
I love answering customer questions!  [email protected], and I'd be happy to extend a 10% discount to any of your readers!  www.sequoiabeauty.com
[mc4wp_form]
Update as of 6/1/14: the discount code is no longer valid. Sequoia Beauty has gone through re-branding.