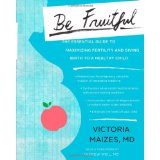 Victoria Maizes, M.D. has crafted a beautiful book called Be Fruitful: The Essential Guide to Maximizing Fertility and Giving Birth to a Healthy Child
. It provides a comprehensive overview of a variety of methods from which women can choose to improve their fertility and increase their chances of having a healthy child. While conventional medicine has made strides in helping infertile couples to conceive, conventional medicine tends to take a narrow approach that does not address the mind-body connection, the spirit-body connection, nutrition, stress levels associated with modern living, or the negative impact of toxic chemicals in the environment and consumer products. These critical aspects are addressed by integrative medicine.
Be Fruitful is written by an experienced integrative medicine doctor, an expert on women's health and the executive director of the Arizona Center for Integrative Medicine. Dr. Maizes encourages us not to forget that fertility can't be viewed in isolation. With her non-judgmental approach, she invites us to take a look at our bodies as a whole, at the environment we live in and the harms that may pose, at the mind-body connection, traditional Chinese medicine, traditional Indian medicine, and the spirit-body connection.
I strongly believe that Be Fruitful is an excellent guide to how to increase fertility, and have a healthy pregnancy and baby. Dr. Maizes' open-minded approach allows her to masterfully synthesize conventional medicine methods with alternative medicine views on fertility, making it compelling and informative reading. I especially enjoyed how she included her patients' stories, which makes it easy to read and inspires the reader to make changes in her own life.
I wish I knew about Be Fruitful when my husband and I were trying to conceive. It took us longer than we had anticipated. From a conventional medicine standpoint, we were considered healthy and there was nothing that would prevent us from having a baby. But we could not conceive. As I did not want to take Clomid (a common drug that increases the chances of conceiving, but also increases the chance of twins), conventional medicine offered little else.
How I wish I knew about Be Fruitful back then. Instead, I was left to strike up conversations with random people and I gradually gathered bits of information on what I could do to improve my fertility. Bit by bit, I learned about monitoring phases of my cycles, the impact of stress, the benefits of acupuncture and Chinese herbs – all of which is in Be Fruitful – and so much more. To my surprise, I did get pregnant shortly after a course of treatment with an acupuncturist and a Chinese medicine doctor, Laurie Terzo, DAOM, L.Ac., FABORM.
It is so great to see Dr. Maizes devoted a whole chapter to environmental toxins. While studies have shown the negative impact of toxins on fertility, environmental toxins often are not discussed in doctors' offices. And unless you are spending a lot of time with me (sorry, Claire), this is not what you would normally hear from your friends either. Thus, back in the days when I was struggling with conception, I never learned about toxins.
Dr. Maizes emphasizes that there are at least two good reasons to attend to environmental toxins while planning a pregnancy. First, a lot of toxic chemicals are endocrine disruptors, which means that "they can alter levels and actions of estrogen, androgen, and thyroid – the most essential hormones for becoming pregnant as well as for steering the development of the fetus in the womb." (pg. 104) Second, exposing your baby in the womb to toxic chemicals can have not only immediate birth defects but also "these early-life exposures can increase the risk for diabetes; heart disease; and breast, vaginal, testicular, and other cancers." (id.)
I highly recommend Be Fruitful to any woman who is planning to have a baby, whether you have had fertility difficulties or have not yet tried to conceive. It is a must read! Enjoy!
Where to Buy:
Be Fruitful is a perfect complement to this blog. All of the products listed here help us to reduce exposure to environmental toxins, something Dr. Maizes discusses in her book.
Let's start creating a healthy home today!
When you join the I Read Labels For You community, you'll receive weekly emails with inspiration, exclusive content and coupons to gain clarity and confidence to create a healthy home. Plus, you'll get the FREE guide: "5 Powerful Steps to a Non-Toxic Home You Can Take Today!"
"I find your knowledge so helpful, to the point and like a gold mine. You have saved me so much time and have taught me so much." Toni