This post may contain "affiliate links." This means if you click on the affiliate link and purchase the item, I'll receive a commission. I disclose this in accordance with the Federal Trade Commission's 16 CFR, Part 255. I only recommend products that passed my strict criteria. Read about my research methods in the Start Here page.
Last updated on September 13th, 2018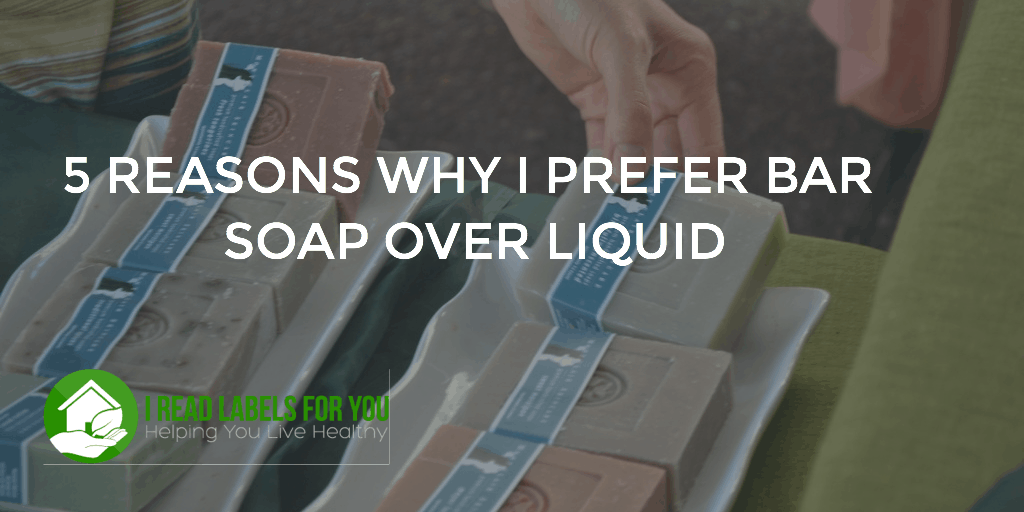 I started this blog after I had been searching for a toxin-free baby shampoo for over a month. Somewhere in the midst of the research I realized that most liquid soaps are not even soaps but detergents made of synthetic ingredients that make bubbles and lather. During this process, I found a few manufacturers that still make real soap. Real soap is made by the process of saponification, where oil is reacted with an alkali (if made correctly, no alkali remains in the final product). If you are a regular reader of this blog, you know that I recommend only saponified soap – both liquid and bar soap. Recently, I have come to prefer bar soap over liquid. In this post, I will tell you five simple reasons why I prefer bar soap.
Reason 1: Bar Soap is better than liquid because there is no plastic involved
Plastic is everywhere and it is really difficult not to use it without making sacrifices. But sometimes it is easy to avoid it. I don't like to use plastic because there is emerging evidence that even BPA-free plastic may release estrogen-mimicking chemicals. When the balance of the hormone system is disrupted, there is an endless number of health problems that may arise (read more about hormone disruptors here). We can't fully know what is in the plastic we use and how it may potentially impact our health and the health of our children. So it is better to avoid it, if possible. So using bar soap is a great opportunity to cut down on the usage of plastic.
Reason 2: Bar soap is better than liquid because it reduces carbon emissions
Liquid soap is packaged in plastic. Making the plastic increases emissions of greenhouse gasses, which leads to climate change – not a good thing. In addition to that, liquid soap is heavier than bar soap so transportation of liquid soap to your house produces more greenhouse gasses.
Reason 3: Bar soap is better than liquid because it is cheaper
When you buy liquid soap, you pay for the plastic bottle it comes in and for the extra transportation costs. And in most cases, you are paying for the water that makes soap liquid. According to Dr. Bronner, a soap maker of both bar and liquid soaps, bar soaps are 5% water; liquids are 61% water (for more information, visit here). Dr. Bronner's bar soap costs $4.69, which makes it $0.94 per ounce; while their liquid soap with 12 times more water is $1.12 per ounce. As you can see, it is not a good deal. By the way, you can always make your own liquid soap out of bar soap. It is easy. The only difficulty is to know how to prevent bacteria and mold growth. Ask me how if you are interested in knowing how to do this.
Reason 4: Bar soap is better than liquid because it does not need preservatives
Preservatives are needed when there is water or a water-containing ingredient in the formulation. Obviously, liquid soap does have water, and so (with a few exceptions) requires a preservative.   One exception is when the pH is high enough to prevent mold and bacteria growth. However, high pH might be too drying on the skin.
Reason 5: Bar soap is better than liquid because I find it easier to use
I am impatient. I tend to squeeze the soap bottle too hard to get soap faster. As you can imagine, I get more soap than I need, which I end up wasting. I do not have this problem with bar soap because I can stop lathering as soon as I see enough lather. And I also like the feeling of holding a bar of soap in my hand. Something about it makes me feel in control.
The list of soap bars I tried and like
I tried these soaps and every one of them makes great soap. I included locations where they are shipped from so you can (I hope) find a local soap-maker.
By Valenti Organics Michigan By Valenti Organics is the only one that makes truly castile soap (olive oil soap), which is perfect for baby's skin.  This is what I use on my son.
Benecia, California
Staten Island, New York
Oklahoma
Meliora Means Better (this is what I currently use!  It lathers well, moisturizes, and does not get soggy, which is so important. I had my share of soap bars that became gooey after a few uses. Not this one.  Of course, like with any bar soap you should use a soap dish that allows water to drain well.)
Illinois
And Dr. Bronner's soap
It is critical to get the right soap dish so your soap won't get soggy.  We tried a few different soap dishes before we found this one that actually works the best.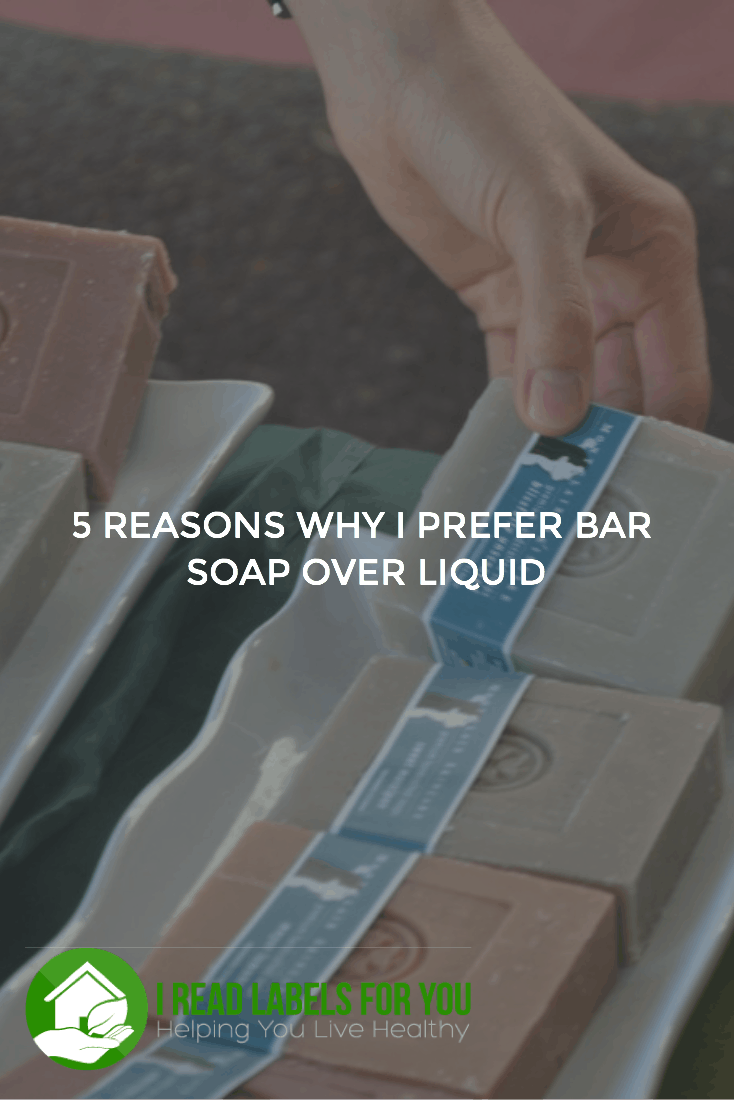 So these are my five simple reasons to choose bar soap over liquid soap. Please tell me which soap you prefer to use and why.
FOR MORE INFORMATION:
Natural Bar Soap – The Mystery Revealed
Let's start creating a healthy home today!
When you join the I Read Labels For You community, you'll receive weekly emails with inspiration, exclusive content and coupons to gain clarity and confidence to create a healthy home. Plus, you'll get the FREE guide: "5 Powerful Steps to a Non-Toxic Home You Can Take Today!"
"I find your knowledge so helpful, to the point and like a gold mine. You have saved me so much time and have taught me so much." Toni