This post may contain "affiliate links." This means if you click on the affiliate link and purchase the item, I'll receive a commission. I disclose this in accordance with the Federal Trade Commission's 16 CFR, Part 255. I only recommend products that passed my strict criteria. Read about my research methods in the Start Here page.
Last updated on December 2nd, 2016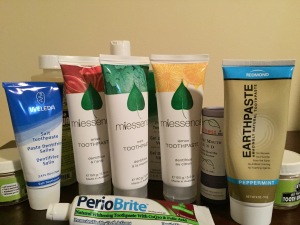 In this post, I will tell you about one of my top three picks of fluoride-free toothpastes. I kissed a lot of frogs before I found these three fluoride-free toothpastes. It was not easy. I wanted to find fluoride-free toothpastes that had a combination of baking soda, clay, silica, or sea salt as cleansing agents. I also wanted to see a very small number of ingredients. In other words, I chose fluoride-free toothpastes that are free of synthetic dyes, artificial sweeteners, foaming agents, plastic beads, and synthetic preservatives. I also wanted to see plant or herb extracts and essential oils that are known to have healing, anti-inflammatory, antibacterial, and soothing properties. And lastly, I wanted the plants extracts and essential oils to be organic or wild-crafted. I also wanted the fluoride-free toothpastes to be effective, pleasant to use, affordable, accessible, etc. Short order, isn't it?
During the 2-week period of toothpaste research, I ended up cleaning my teeth four times a day, dreaming about the fluoride-free toothpastes, and nagging my husband and my son into brushing their teeth with all the toothpastes I was constantly buying. They both put up strong fights (in different ways – one of them would scream and curl up into fetal position and the other wasn't too much better). In the meantime, my house was a mess and I was grumpy because I have had a lot of disappointments with so-called natural toothpastes.
Once I delved into the study of essential oils used in the fluoride-free toothpastes, I thought that I would be able to conquer the science of aromatherapy in the span of a few days. After reading a fair amount, my conclusion is that essential oils have the potential to be both therapeutic and harmful. I believe that essential oils are beneficial for oral hygiene, and I like to have them in these fluoride-free toothpastes. However, I have concerns over the safety of ingesting toothpastes with essential oils, which means that I do not recommend these fluoride-free toothpastes for toddlers and children.
With this said, I am excited to present you with my findings. In the near future, I will be posting a list of fluoride-free toothpastes that are "almost there but not quite" and a list of fluoride-free toothpastes I consider safe for children.
Pick number 2 of fluoride-free toothpastes: Earthpaste Peppermint Toothpaste, $7.99 for 4 oz (cheaper on Amazon)
Other Flavors: Spearmint, Cinnamon, Lemon Twist, and Wintergreen
Ingredients: Purified Water, Food Grade Redmond Clay®, Xylitol, Peppermint Essential Oil, Menthol, Redmond Real Salt®, Tea Tree Oil.
What I Think About the Ingredients: I like that it is simple, transparent, and that every ingredient is beneficial for the health of teeth and gums. Salt and clay are gentle cleansers and they are believed to help with remineralization.
I also like the fact that the company is not afraid to disclose that the clay has trace amounts of lead. Lead is a natural mineral present in our environment. I am not worried about it in the toothpaste for two reasons: 1. This is not industrial lead that is much more powerful and harmful; 2. Clay carries a negative charge and binds with positively charged lead thus it is used for getting ridding of lead from the body. (I grew up in a country where numerous health resorts were founded upon the application of clay for various illnesses.) To read about Redmond clay and the amount of lead in it, visit here and here.
Redmond is a name brand of bentonite clay. The company that makes the toothpaste mines the clay and sea salt, which gives them more control of the quality of the clay and salt.
I also like that it has xylitol, which adds a sweet taste to the toothpaste, and is found to be effective in preventing teeth caries. Also, xylitol is found to help with teeth remineralization.
The other ingredients, peppermint essential oil, menthol and tea tree oil, are wildcrafted essential oils that are beneficial for oral hygiene because they possess anti-inflammatory and antibacterial properties. The menthol used in Earthpaste is a component of essential oils, not synthetically produced.
What I am learning about essential oils is that they have both therapeutic and harmful properties. For example, some people might have an allergic reaction to tea tree oil as they may have to many other plant-based ingredients. (There are probably very few natural ingredients that nobody has allergy to.) Also, tea tree oil has become highly controversial since a 2007 study that linked it with enlarged breast tissue in three boys before puberty.   In the conjunction with clinical observation, an in-vitro study found that tea tree oil mimics estrogen (female sex hormone) and decreases the effect of androgens (male sex hormones). The National Association for Holistic Aromatherapy issued a rebuttal to the study. A lot of points made in the rebuttal made sense to me.
I personally feel comfortable using toothpaste with tea tree oil. However, to be on the safe side, I do not recommend this toothpaste for children (and they won't like the taste anyway, most likely). By the way, the Lemon Twist flavor does not have tea tree if you are concerned about tea tree.
Application: I like it. My mouth feels clean and refreshed. It does not foam, may fall off your toothbrush and the color of the toothpaste is brown so you have to get used to it.
Where to Buy: on the company's website:
Amazon:
Lemon Twist

Wintergreen

Peppermint

Spearmint

Cinnamon

To see pick number 1 of fluoride-free toothpastes, click here.  To see pick 3, click here.
Disclaimer: My research is independent; I will benefit from Amazon sales.  The price to you is the same.