This post may contain "affiliate links." This means if you click on the affiliate link and purchase the item, I'll receive a commission. I disclose this in accordance with the Federal Trade Commission's 16 CFR, Part 255. I only recommend products that passed my strict criteria. Read about my research methods in the Start Here page.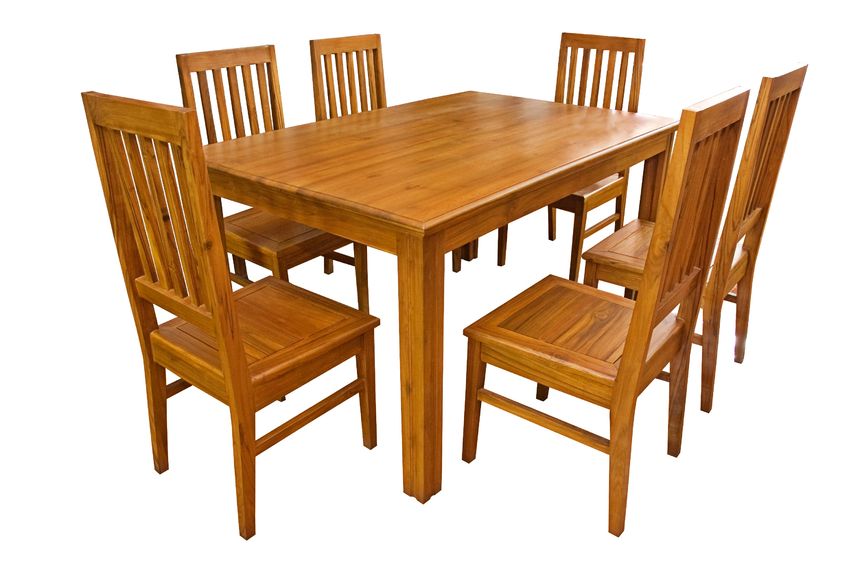 This post is for anybody who's been looking for a truly non-toxic crib or any wooden furniture and felt frustrated with search results. This post is also for anybody who'd like to learn more about wood furniture, wood finishes, why boiled linseed oil may contain lead or manufacturers that you use non-toxic wood finish. Possibly, you found a lack of non-toxic wood furniture finishes and decided to buy it unfinished and finish it with a non-toxic wood finish. Today, we will discuss non-toxic wood finish. I have been trying to find a non-toxic wood finish for a long time, and am pleased to report the results of my search to you.
Non-Toxic Wood Finish for a Dining-Room Table
I've been in the market for a dining room table for some time now. While I found a few furniture makers who satisfy my requirements of solid wood and glue, unfortunately, I have not been able to find a dining room table maker that would use a truly non-toxic wood finish. So at the moment I am leaning toward buying an unfinished table and finishing it myself. To do this, I searched the market of wooden furniture finishes up and down. And finally, I found something that would be robust enough for a dining-room table and is also made with only natural ingredients.
Non-Toxic Wood Finish by Tried and True
Tried and True makes three types of non-toxic wood finishes. Each of them contain ingredients that are not your typical wood finish/paint ingredients. The ingredients are linseed oil (aka flaxseed oil), beewax, and a resin that comes from tree sap. There are no VOCs (harmful fumes that may increase risk of cancer), heavy metal drying agents, plastic, or latex. I spoke with Tried and True and I was assured that they use only these three ingredients without any hidden additives.
The Ingredients of 3 Types of Non-Toxic Wood Finish by Tried and True
Danish Oil: linseed oil
Original Wood Finish: linseed oil and natural beeswax
Varnish Oil: linseed oil, beeswax, and natural resin (hardened tree sap)
What is Linseed Oil?
Linseed oil has confusing terminology. Flaxseed oil that you can buy in our grocery store is called linseed oil when used for purposes other than eating. While linseed oil has polymerizing properties that allow it to be used for finishing wood, in its natural form it will take a very long time to dry. That is why it has to be processed first before it is used on wood.
What is Boiled Linseed Oil?
If you go to your local hardware store, most likely you will see boiled linseed oil. You might think that there is nothing bad about boiled linseed oil and use it on your baby crib. The pitfall is that the terminology is confusing. "Boiled" means heated and treated with heavy metal driers such as lead that interfers with the development of the nervous system. As you can see, boiled linseed oil – widely available in hardwood stores – is not what you want to finish your baby crib with.
Manufacturers that use the linseed oil you want
The confusing part of it all is that the linseed oil you want to use is boiled linseed oil. And by that I mean the linseed oil that is literally boiled without anything added to it. When linseed oil is boiled, it cures faster when applied.   According to Tried and True, it takes 8 hours to dry a coat – i.e. it won't cure within the same working day. That is why there are only a few manufacturers who use true linseed oil. On my blog I recommend other products made with linseed oil: Green Cradle (cribs), Urthware (cutting boards), and Elves and Angels (wooden toys).
I used linseed oil for a high chair about a year ago and am satisfied with the results. I applied three layers and even when my son gets strawberry juice all over it, a simple wiping works well. The wood does not get impacted. However, for an expensive dining room table that is meant to last a lifetime, I wanted a finish that would protect from spills, sunlight, and scratches.
Original Wood Finish or Varnish Oil by Tried and True
Whether you want Tried and True's original wood finish or their varnish oil depends on what kind of wood you have, how much protection you want from scratches, and how much you want the surface to shine. Varnish oil protects the best from scratches. It also adds shine to the wood. But if you are interested in showing the beauty of wood such as maple, Tried and True's original wood finish will work great. For more information about the application, visit the Tried and True website.
Where to Buy the Non-Toxic Wood Finish
Let's start creating a healthy home today!
When you join the I Read Labels For You community, you'll receive weekly emails with inspiration, exclusive content and coupons to gain clarity and confidence to create a healthy home. Plus, you'll get the FREE guide: "5 Powerful Steps to a Non-Toxic Home You Can Take Today!"
"I find your knowledge so helpful, to the point and like a gold mine. You have saved me so much time and have taught me so much." Toni