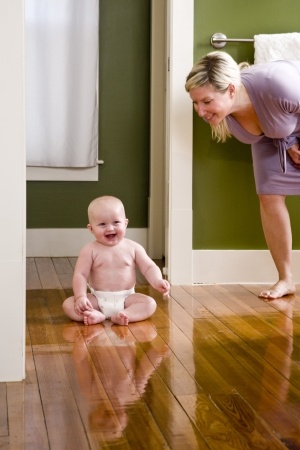 What do you do if you are an expectant mother who needs the nursery's hardwood floor to be re-finished? It is not an easy thing to find a truly non-toxic hardwood floor finish.  First, you should not think that you there are no non-toxic hardwood floor finishes available and that you have to subject yourself to fumes. But first things first, you have to know what is wrong with typical hardwood floor finishes and why simply airing out the place after applying it might not work.  Not that I am trying to scare anyone, but I want you to be aware of potential dangers.  Knowledge is power, and I am glad I can provide it to you.
Most wood finishes, including so-called non-toxic hardwood floor finishes, are laden with VOCs (volatile organic compounds), gasses emitted by toxic chemicals.  VOCs cause a number of health problems – short-term and long-term – including liver and kidney damage, muscle weakness, and cancer.  Following application of a new hardwood floor finish, VOC level can be 1000 times higher than outdoors.  I have not seen any studies on how long wood finish off-gasses.  What I have seen though is that many people say that some wood finishes may off-gas for days, weeks, and months.  What complicates things is that your nose is not always the best barometer as to whether there are VOCs.
Before we talk about non-toxic hardwood floor finishes, let me say two things.  First, the EPA warns us about labeling confusion where the term VOCs is applied to both outdoor and indoor pollution.  When a manufacturer or third-party certifier asserts that their finish is a non-toxic hardwood floor finish, they might be referring to outdoor pollution.  For example, the Green Seal organization certifies varnishes with less than 350 grams per liter and the limit for stains is 250 gram per liter.  That sounds like an awfully lot and is not safe for indoors.  A lot of varnishes and stains could be considered low-VOCs but the real is question is whether they really are low, especially for an expectant mother and her baby.  Even so-called zero-VOC wood finishes may still contain some level of harmful VOCs.
Ecos Paints – Truly Non-Toxic Hardwood Floor Finish
You can now see why I am so excited to find a truly non-toxic hardwood floor finish.  The non-toxic hardwood floor finish I found is produced by a company called Imperial Paints under the Ecos Paints label.  Imperial Paints explicitly state on their website, "Always No VOCs Guaranteed."  In my interview with him, Bob Emptage, the President of the company playfully suggested that the only hazard pregnant women may encounter while applying their paints is overstretching.  There are no VOCs or odors while the non-toxic hardwood floor finish is being applied whatsoever!  For details how they were able to achieve that see the interview with Bob Emptage.  But in short, there are no solvents that would produce VOCs.
Imperial Paints manufacture an acrylic varnish available in satin, semigloss, and gloss finishes.  They are durable enough for floors.  In fact, they have a varnish designed specifically for high traffic areas.  As for the application process, ideally, they should be applied on surfaces that are clean, dry, and free from any loose dirt or grime.  After the application of the first coat, the surface should be sanded and de-glossed.  Three coats are recommended.
In conclusion, this is the best product I have found so far for hardwood floors, both in the nursery and throughout the whole house.
Let's start creating a healthy home today!
When you join the I Read Labels For You community, you'll receive weekly emails with inspiration, exclusive content and coupons to gain clarity and confidence to create a healthy home. Plus, you'll get the FREE guide: "5 Powerful Steps to a Non-Toxic Home You Can Take Today!"
"I find your knowledge so helpful, to the point and like a gold mine. You have saved me so much time and have taught me so much." Toni