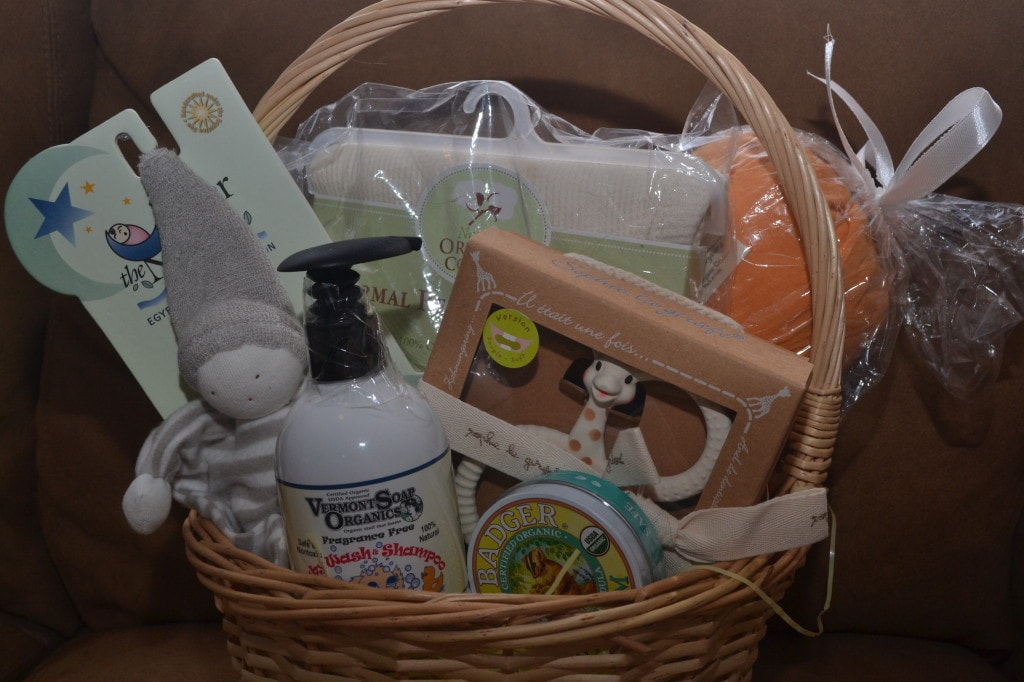 Our friends had a baby boy.  Exciting news!  That was my first thought.  Do you know what my second thought was?  Yes, baby gifts.  Non-toxic.  Organic.  Safe.  In fact, after I heard the news, I put together this newborn baby organic gift basket in my head in a minute.  I wanted to put things in there that offer great value.  You will spend under $75 but will have a lot of great presents for your money.  I found all the items on Amazon in order to take advantage of free shipping when possible.
You have no idea how happy I am that I can share my knowledge with expectant mothers.  I remember how lost I felt when I was pregnant and started researching baby products.  It took me a month to understand how to read a label on a bottle of baby shampoo.  I was worried that I would buy the wrong thing.  And I did buy a wrong thing, several times.  Since my baby was born I have learned how baby shampoos are made, what crib mattresses are made of, what finishes are typically used on a crib, which materials to avoid in baby toys, and that's just a start.  I can recite those things in my sleep.  But once I learned what to look for and what to watch out for, the challenge became where to buy these safe products and where to find deals that won't break the bank.
If you know somebody who is expecting a baby, here is a quick and easy gift basket you can assemble.  And when you deliver it (or have it delivered) be sure to send your friends my way for any questions they may have.  Without further ado, here is what I put in the newborn baby organic gift basket for our friend's newborn baby.
Diaper Balm by Badger – Newborn Baby Organic Gift Basket
This is a safe diaper cream made of organic ingredients you can eat if you want to: organic olive oil, organic castor oil, organic bee wax, essential oil of organic chamomile, and extract of organic calendula.  In fact, this newborn baby organic gift basket item is certified as organic by the US Department of Agriculture.  The balm can be used all over a baby's body, and on your skin as well.  This newborn baby organic gift basket balm is a perfect substitute for Vaseline (aka petrolatum) that is often used on newborns in hospitals.  I used Vaseline too before I learned about natural alternatives.  The reason Vaseline is used is that it forms a protective barrier from moisture that may irritate the baby's skin.  However, Vaseline is made from petroleum and may contain contaminants.  This organic balm offers the same protective barriers but does not have any impurities, and instead nourishes and heals the skin.  What could be better?  Use it with every diaper change.  The only drawback is that it may stain your cloth diapers if you use a lot of it.  A little goes a long way, making it a great value.
Cotton Thermal Blanket by American Baby – Newborn Baby Organic Gift Basket
This newborn baby organic gift basket item is made from organic cotton.  According to the Organic Trade Association, conventional cotton is considered the dirtiest crop due to a very heavy use of insecticides, the most hazardous pesticide to human and animal health.  This organic cotton blanket by American Baby is very soft and stretchy enough to be used as a great swaddle for a newborn.  Because it says thermal, you might think that it is thick.  It is not thick and "thermal" means textured knit.  For colder temperatures, it will work great as the first layer, and in a warmer climate, it will work well on its own.  It is not big enough to swaddle a bigger baby but after the baby outgrows it can be used for many other purposes.  It is a good blanket to have around the house.
Sleeping Toy Lovie by Under the Nile – Newborn Baby Organic Gift Basket
This newborn organic gift basket item is made by Under the Nile, a manufacturer of organic cotton baby products.  Under the Nile products are certified as organic by GOTS (Global Organic Textile Standard), which means that not only the raw material (cotton) is organic but also that the entire supply chain (processing, manufacturing, packaging, labeling, trading and distribution) is environmentally and socially responsible.  Also, because cotton is breathable, there is no danger of suffocation if the toy ends up on a baby's face and nose.  It is a great toy for a baby to learn how to cuddle.
Crib Sheet by Magnolia Organics – Newborn Baby Organic Gift Basket
This organic crib sheet is another newborn organic gift basket item that is certified by GOTS.  I am in love with these sheets made by Magnolia Organics. I tried a lot of different crib sheets before I discovered Magnolia Organics sheets. The fabric is sturdy but very soft.  It is stretchy enough to put on the mattress easily but not too stretchy to be flimsy and wrinkly.  Best of all, it is very affordable and represents a great value.
 Baby Shampoo and Wash by Vermont Soap – Newborn Baby Organic Gift Basket
You won't find any synthetic ingredients in this newborn organic gift basket item.  This soap is made by Vermont Soap from only organic and plant ingredients (except for an alkali that is essential to make soap and that does not remain in the final product).  The soap is made by the process of saponification where organic olive oil, organic coconut oil, and organic jojoba oils are saponified.  The combination of these oils creates a rich lather but is gentle on a baby's skin.  In addition, aloe vera and glycerin are great natural skin conditioners.  To make the soap thick enough to be used easily, organic guar gum is used.  And lastly, to preserve the soap, rosemary's natural preserving properties are utilized.  I love using this soap on my baby.  It is so smooth and easy to apply!  And it produces a very rich creamy lather.  One drop of it goes a long way, so you can use it sparingly, making it a great value.
Sophie the Giraffe Teether – Newborn Baby Organic Gift Basket
Most baby toys are made from plastic.  Plastic may contain BPA, phthalates, and other chemicals that may disrupt the normal function of the hormone system.  Even if manufacturers explicitly state that the plastic they use is free of BPA and/or phthalates, the question becomes what are they using instead?  Often the substances are not disclosed, or not yet studied, or both.  Thus, when possible, it is better to forgo plastic for safer alternatives.  Sophie the Giraffe is made of rubber that is not derived from petroleum but from a rubber tree, which makes it a safe toy for a baby to chew on. The toy has two rings that have different textured surfaces for the baby to choose from.
This newborn baby organic gift basket is very easy to put together.  You can click here on Amazon, and select the items you want from the Amazon online store I have set up.  I tried to select items that would total about $75.  Be sure to post in the comments any suggestions you may have for "must have" items that would go in your newborn baby organic gift basket.  I will try to review any suggestions, and if the suggested products meet my standards, I will put them in my Amazon online store so you can mix and match and create your own unique gift basket with only the best products.