This post may contain "affiliate links." This means if you click on the affiliate link and purchase the item, I'll receive a commission. I disclose this in accordance with the Federal Trade Commission's 16 CFR, Part 255. I only recommend products that passed my strict criteria. Read about my research methods in the Start Here page.
Last updated on March 2nd, 2018
Today I write about Joonya Eco Wipes, the newcomer to the field that scored number 1, (meaning that they are the safest baby wipes) in the Baby Wipes Rating List.  These are natural baby wipes meaning that they contain healing chamomile extract, jojoba oil, aloe vera juice, and the cloth is derived from wood pulp versus plastic.
All disposable baby wipes whether they are natural baby wipes or not have something in common. They all contain a synthetic cleaning agent, water, and a preservative. Preservatives can be problematic, especially if they are formaldehyde-releasers or parabens. However, because baby wipes are wet, i.e., they contain water, literally a breeding ground for bacteria and mold, baby wipes need preservatives.
Some disposable baby wipes contain fragrance, emulsifiers, and agents that make the wipes slide better. Each of these can present problems.
The founders of the Joonya brand, Leanne Sexton and Richard Sexton, wanted to create baby wipes with the safest ingredients that would not give their babies a rash. They read my blog and when their wipes were ready to be sold in the US, they contacted me so I can tell you about their baby wipes.
When I first learned about these natural baby wipes, I liked the ingredients but I was surprised that they chose to make them in China. It turned out that they had a good reason to do so. They really wanted to use silver dihydrogen citrate as a preservative and biodegradable chlorine-free wood pulp cloth, but, unfortunately, there were no manufacturers in either Australia or the US that would use these ingredients.
Without further ado, let's look at the Joonya Eco Wipes ingredients.
Joonya Natural Baby Wipes Ingredients
Purified Water: Because the wipes are made in China, I asked a lot of questions about water purification. They informed me that the water used in the baby wipes goes through a powerful and exhaustive purification process, which includes UV light, reverse osmosis, and electro deionization. From my prior research of home water filters, this filtration process sounds effective to me.
The water used in Joonya Eco Wipes is tested by an independent party. They showed me a testing report, which showed that the water they tested contained 0.154 mg /L of TOC (total organic carbon). Since the early 1970s, TOC has been an analytic technique used to measure water quality during the drinking water purification process. TOC comes from industrial pollution, detergents, pesticides, etc.
For a point of reference, the California Water Board only treats water for high levels of TOC if it exceeds 2 mg/L. (source)
While we all know that water in China is polluted, we should not forget that it is possible to treat sewage and extract drinkable water from it – they do so in Singapore, for example. It sounds gross, but it can still be done (for more information, visit here).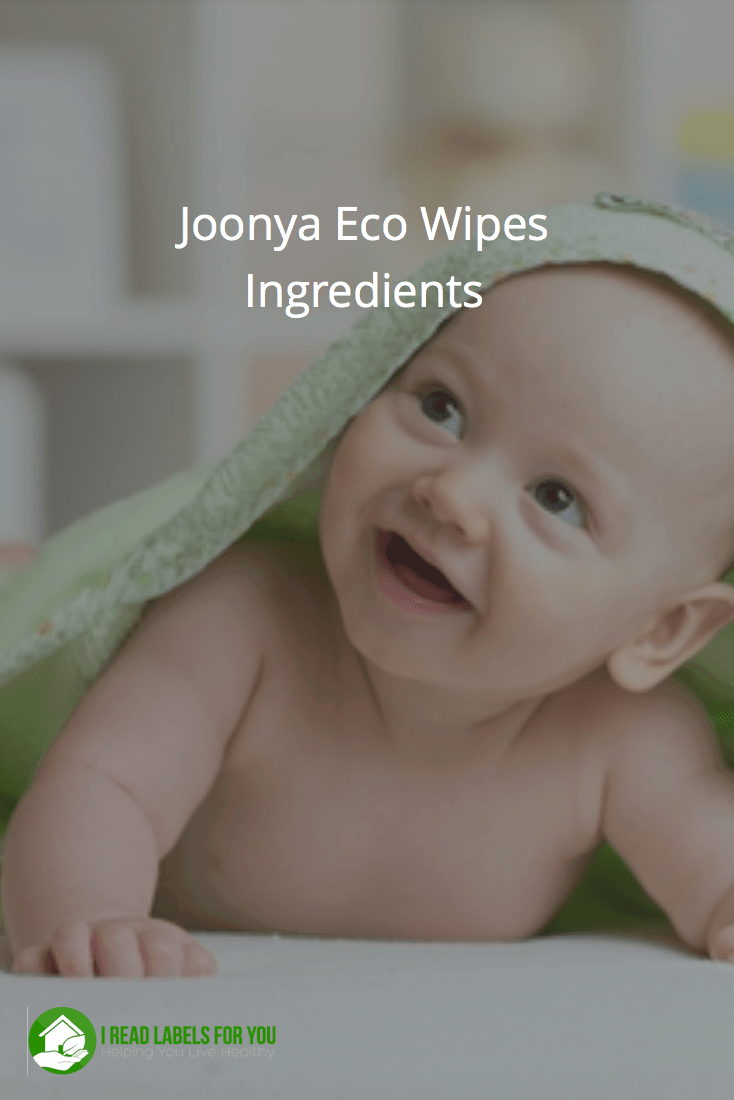 Jojoba Oil: I really like that jojoba oil is used in the Joonya natural baby wipes. I have not seen it used in other baby wipes. It is an effective moisturizing oil because it absorbs easily, like sebum. And it has antibacterial and anti-inflammatory properties, which is so important in this case (source).  The jojoba oil is cold-pressed, meaning that hexane is not used to extract the oil. This is good because oil extracted with hexane may irritate the skin.
Silver Dihydrogen Citrate: This is a broad-spectrum preservative, meaning that it protects the product from both bacteria and mold, which is very important. All baby wipes contain water, a breeding ground for bacteria and mold, which means that they have to have a preservative; otherwise, baby wipes may pose a risk to the health of the baby.
Silver Citrate is a mixture of silver in citric acid. According to the EU Scientific Committee on Consumer Products report, silver citrate is non-irritating to the skin, is a non-sensitizer, and is non-carcinogenic. The World Health Organization accessed silver citrate for water sanitization and concluded that there are no adverse health effects at concentrations of 0.1mg/l in drinking water. (Source)
On the other hand, there is evidence to suggest that silver nanoparticles (very small, less than 100mn) pose risks to fish and other animals after oral exposure to silver nanoparticles, they are found in the animal organs. However, the EU Scientific Committee on Consumer Products concludes that silver released from industries at concentrations toxic to some aquatic organisms is possible, although unlikely.
In the light of this controversy, what I found comforting is that the dermal penetration of silver nanoparticles is found to be under 0.1% even in the severely damaged skin. I am more concerned about skin penetration of nanoparticles in so-called "leave-in" products where generous amounts have to be applied, such as sunscreens.
With this said, considering that alternative preservatives used in the baby wipes are not void of controversy either, I believe silver citrate is one of the best options for a preservative. It does a good job protecting from possible bacteria and mold contamination.   And it is not known to irritate the skin or cause health effects with topical application.
Aloe Barbadensis Leaf Extract: This is a good skin-conditioning agent as it has anti-inflammatory, antioxidant, and even skin regenerative properties (source).
Chamomilla Recutita Flower Extract: Chamomile is a great skin conditioner. It has been used for centuries in medicine as it has anti-inflammatory, healing properties. (source)
Decyl Glucoside: It is a glucose-based surfactant (cleansing agent). Unfortunately, all baby wipes have to contain a synthetic surfactant. While I am wary of using products with synthetic surfactants, I consider the surfactants of the glucoside family the safest. They are biodegradable and mild; are not known to contain petroleum contaminants and are least likely to cause contact allergy.
Sodium Citrate: It is found in almost all disposable baby wipes and is used to neutralize the acidity of a product. It is rated 1 in the Skin Deep database, with fair data.
Citric Acid: This is another ingredient that it is used in almost all baby wipes to adjust the acidity of the product. It is rated 2 in the Skin Deep database with good data.
Cloth: Joonya Eco Wipes are made of 100% viscose material which is derived from wood pulp. It is chlorine-free and bleached with oxygen bleach instead. This is one of the two safest materials used for making a baby wipe cloth. Many manufacturers still make baby wipes cloths from plastic.
I used these natural baby wipes and I like how they work. They are moist and big enough to get the job done.
In conclusion, while water and plain soap is the best option for washing a baby when disposable baby wipes have to be used, Joonya Eco Wipes offer the next best option, in my opinion.
Where to buy Joonya Eco Wipes
You can buy these natural baby wipes directly from Joonya.com  Please use the IREAD code at the checkout to receive 10% off through the end of June 2017.
Do you want to learn about other natural baby wipes that did well in the Baby Wipes Rating List, click here?
Let's start creating a healthy home today!
When you join the I Read Labels For You community, you'll receive weekly emails with inspiration, exclusive content and coupons to gain clarity and confidence to create a healthy home. Plus, you'll get the FREE guide: "5 Powerful Steps to a Non-Toxic Home You Can Take Today!"
"I find your knowledge so helpful, to the point and like a gold mine. You have saved me so much time and have taught me so much." Toni