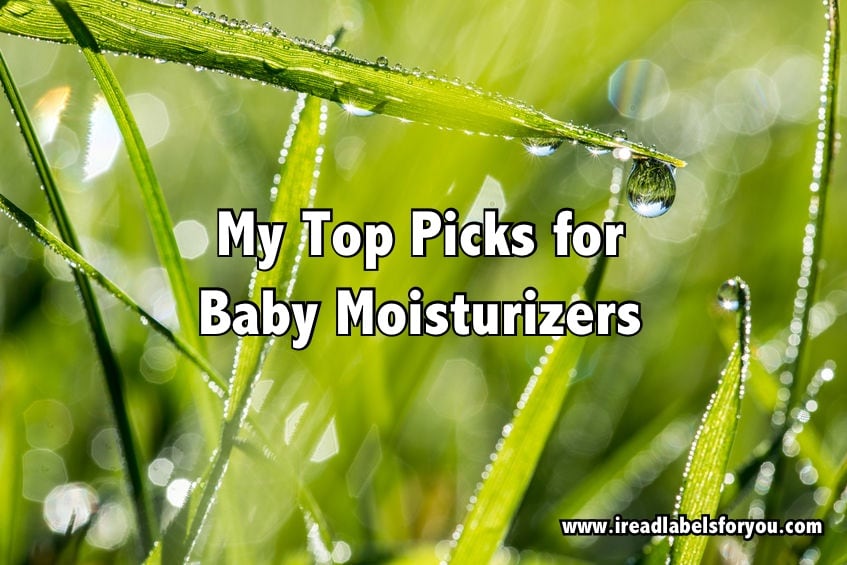 I believe less is more – especially when it comes to a baby. For example, your baby does not need to have a bath with soap every day. And if you use one of those moisturizing soaps/body washes I told you about in my Seven Safest Shampoos/Body Washes List, chances are you might not need to use any baby moisturizers at all. I speak from my own experience.
Generally, for baby moisturizers, I prefer baby oils instead of creams and lotions. Why? I believe oils are safer and more beneficial for the baby's skin. Here are my three reasons to think that.
Preservatives in Baby Moisturizers
Creams and lotions are made with water, and as a result they need preservatives. Some preservatives are better than others but overall a lot of preservatives have some health concerns. To find out which preservatives are okay and which to avoid, head over here.
Emulsifiers in Baby Moisturizers
Cream and lotions need emulsifiers to bind the ingredients and keep the creams and lotions smooth and easy to apply. For example, I noticed that a lot of natural creams and lotions – even those with organic ingredients – carry polysorbate 20 as an emulsifier.
In its original form, polysorbate is a harmless sorbitol, or sugar alcohol. However, for its use in personal care products, it is treated with 20 parts of carcinogenic ethylene oxide. The problem with any ingredient treated with ethylene oxide is that it can then become contaminated with 1,4-dioxane, a carcinogen, too. Therefore, even though 1,4-dioxane will not be listed as an ingredient, it still could be present in the baby cream or lotion. Do you want to take that chance? I don't.
What works best
I recently switched from creams to facial oils. When I did that, I noticed a big improvement in my skin – I had no more peeling on my nose. I believe that oils are better at protecting the skin to hold moisture. And this is what we want. We want the skin to learn to hold moisture as opposed to rely on cream and lotion to keep it hydrated, which makes it more sustainable – and a money saving option to boot.
My Top Picks for Baby Moisturizers
With that said, here are two top picks for baby moisturizers. They are both made with 100% certified organic ingredients and nothing else.
Badger Organic Baby Oil, $15.99 for 4 oz
Ingredients: *Olea Europaea (Extra Virgin Olive) Oil, *Simmondsia Chinensis (Jojoba) Oil, CO2 Extract of *Calendula Officinalis (Calendula), and Essential Oil of *Anthemis Nobilis (Roman Chamomile). *Certified Organic
My Comments: I like this oil. It is certified organic by the USDA. The ingredients are not only pure but also are least likely to cause any allergy. Calendula and chamomile have anti-inflammatory and healing properties. I also like that this baby oil is packaged in glass.
Where to Buy: Badger website or Amazon or check your local health store
Angel Baby Oil, $12.99 (right now only $7.77) for 4 oz
Ingredients: Vitis vinifera (grape) seed oil, Simmondsia chinensis (organic jojoba) seed oil, Calendula officinalis (organic calendula) flower extract
My Comments: This is another baby oil made with 100% organic ingredients. There are only three ingredients and all of them are great for the baby's skin.
Where to Buy: Earth Mama Angel Baby website or Amazon
This concludes my recommendations for the best baby moisturizers that you can use for your baby. I would love to hear from you. Let me know in the comments what baby moisturizers you use and why. And let me know how you liked it if you give one of these baby oils a try.