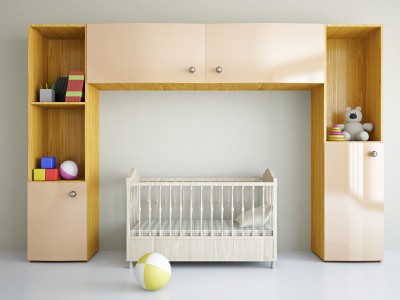 As you know from my previous post "How to Find a Non-Toxic Crib," there are two things to look for in a crib: solid wood and a non-toxic finish.  It sounds pretty simple, but, unfortunately, it is not.  Cribs made from solid wood come with hefty price tags, hovering over $1000 at the minimum.  That is why I was pleasantly surprised but skeptical when, after hours and hours of research, I saw a wide selection of solid wood cribs made by the Million Dollar Baby company sold in an affordable price range ($200 — $400).  I decided to do some digging into the Million Dollar Baby cribs.
I asked the manufacturer questions, and read the answers to questions other people asked on the manufacturer's website to determine whether the Million Dollar Baby cribs are what they claim to be – truly non-toxic.
Let me start by saying that Million Dollar Baby has several different collections and there are a variety of models within those collections.  The least inexpensive crib collection is DaVinci.  I specifically looked at the Babyletto Modo crib, which is sold for $379.  But I started with Baby Mod ParkLane, and Baby Mod Olivia sold exclusively at Walmart for $279 and $299 respectively.  It is important to note here that the Million Dollar Baby company assured me that the same standards and the information they provided apply to all their collections.
I started by reading the Q&A section on the Walmart website.  It was not very helpful because questions pertaining to formaldehyde and wood finish were either not answered completely or were ignored altogether.  So I thought that the best way would be to reach a corporate representative, which I did.  Besides that, I read the Q&A regarding the Million Dollar Baby cribs' toxicity here and here. So what are my findings?  Let me present them in a "pros" and "cons" format so you can make your own decision as to whether you would be comfortable with your baby sleeping in a Million Dollar Baby crib.
Pros:
Affordable price, a wide selection of models, sold in a lot of different places.
The Million Dollar Baby cribs are made from 100% solid wood with a very few exceptions (see the cons sections).
Made from sustainable wood (New Zealand pinewood).
All the Million Dollar Baby cribs (even including the ones made from 100% solid wood) are "formaldehyde safe," which means that there is formaldehyde but at a trace level.  This is because there is formaldehyde-based glue used to join the pieces, but not used throughout.

 Formaldehyde emissions are compliant with the California Air Resource Board (CARB) phase II standard, currently the strictest standard available in the US.
CARB says that "formaldehyde emissions standards are set at low levels to protect public health."
The Million Dollar Baby cribs have met strict Japanese and European standards on formaldehyde emissions.
The Million Dollar Baby cribs have met current CPSC (Consumer Product Safety Commission) regulations regarding formaldehyde emissions.
The Million Dollar Baby cribs have met the ASTM (American Society of Testing Materials) formaldehyde standard.
Paint used on the Million Dollar Baby cribs has toxic chemicals, but only under 2 parts per million, whereas the Juvenile Products Manufacturers Association (JPMA) safe paint limit is under 300 parts per million.
Cons:
Although the Million Dollar Baby cribs are made from solid wood, there are two exceptions:

The support board of the DaVinci Emily Mini Crib is made from MDF (medium density fiberboard).
The drawer bottom panel is made of MDF in any crib with an under the drawer.

The Million Dollar Baby cribs are not formaldehyde-free.
There is no guarantee that your baby won't be impacted.
Keep in mind that CARB phase I compliant products can be legally sold until December 31, 2013, so ask your seller to make sure that you buy a phase II compliant crib.
If the formaldehyde standards get stricter and stricter, there might be a reason for that.
The Million Dollar Baby cribs are made in Asia.

The Million Dollar Baby company might not be in full control of the manufacturing or quality control process, and there might be variations from their standards.
Pinewood is a softwood, which might lead to scratches.
I could not get enough information from Million Dollar Baby about their so-called "non-toxic" wood finish.

I was told that they could not name each brand of wood finish each manufacturer is using.
Their statement that the paint has toxic chemicals less than 2 parts per million is not clear to me.  Are they VOC-type chemicals such as formaldehyde, acetaldehyde, toluene, isocyanates, xylene, or benzene? Which chemicals?  For a point of reference, CARB II limit on formaldehyde, one of the VOCs, is 0.05 parts per million. By the way, except for formaldehyde, there are no government standards in the U.S. that have been set for VOCs in non-industrial settings.
I was not able to locate JPMA specifications on the internet for paints and wood finishes to better understand JPMA standards (which is very suspicious to me – if these standards are so important, why are they so hard to find?).
The finish is not VOC-free and Million Dollar baby told me that there are no studies as to how long VOCs will be emitted.
The Million Dollar Baby company does not provide any information as to what type of VOCs the wood finish might be emitting and their potential impact on health.
By the way, it may well be a coincidence, but in the this Q&A, the Million Dollar Baby customer service representative stopped answering people when they started asking about the non-toxic finish.
The Million Dollar Baby cribs are not sold unfinished.
If you decide to purchase a Million Dollar Baby crib, I recommend buying it as early as possible and air it out for as long as you can before using it.  And when your baby sleeps in it keep the temperature cool and keep the humidity low because VOCs are emitted at higher rates in hot temperatures and high humidity.  And regardless of what crib you buy, be sure to air out your house as often as possible as the levels of toxic emissions from all household products are always higher inside than outside.
And as always, when you purchase a crib, be aware of safety issues.  Do your homework by making sure that the crib meets the latest safety regulations and has not been recalled by the Consumer Product Safety Commission.  In short, do your homework.