This post may contain "affiliate links." This means if you click on the affiliate link and purchase the item, I'll receive a commission. I disclose this in accordance with the Federal Trade Commission's 16 CFR, Part 255. I only recommend products that passed my strict criteria. Read about my research methods in the Start Here page.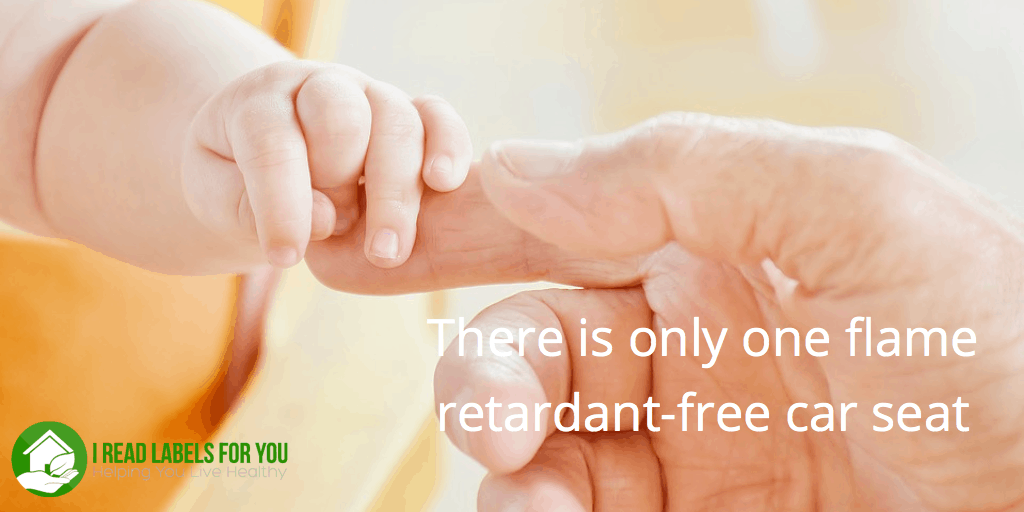 Before we talk about non-toxic car seat options, I want to start by saying that, in my opinion, when choosing a car seat, car seat road safety should be a priority.
As you know, I am passionate about helping you reduce exposure to potentially harmful substances commonly found in products we use every day at home and on our bodies. And I believe we should look at the big picture, which helps make an informed and practical decision. And when it comes to car seats, in my opinion, road safety is the most important consideration. I am not an expert in road safety, and encourage you to do your own research and to draw your own conclusions in this regard. Consumer Reports is a good place to look for road safety ratings. I highly recommend doing so before you buy a car seat.
That said, here, we will address non-toxic car seat options.
Until April 2017, all car seats sold in the U.S. contained flame retardant chemicals in order to pass the Federal Motor Vehicle Flammability standard FMVSS 302. (Note that TB 117-2013, which was revised in 2013, does not apply to infant or toddler car seats.  You can read more about TB 117-2013 here.)
To meet the FMVSS 302 standard, unfortunately, historically, most manufacturers have chosen to add flame retardant chemicals to the foam and the covers of car seats. Note that if there is an insert with foam in a car seat, generally that means more flame retardant chemical exposure.
The flame retardant chemicals historically used in car seats are associated with cancer, endocrine disruption, and developmental issues. The exposure occurs through the inhalation and ingestion of airborne particles.
I admire the work of the Ecology Center because they test consumer products to know what is really in them. The latest test they performed on car seats to detect the presence of flame retardant chemicals and heavy metals was done in 2016 and involved 15 car seats. You can read their latest report here.
Are some flame-retardant chemicals safer than others?
All flame retardant chemicals used in car seats can be divided into two major groups: halogenated (brominated and chlorinated) and phosphate-based flame-retardants.
Phosphate-based flame retardants are deemed a safer alternative to halogenated flame retardants. However, there haven't been many health studies to determine their health safety.
The top-rated car seats in the 2016 study were as follows: UppaBaby Henry MESA car seat (became available in April 2017), Britax- Marathon ClickTight Convertible car seat, and Maxi Cosi – Pria 70 Convertible car seat.
All three were free of halogenated flame retardants of any kind.
Moreover, the UppaBaby Henry MESA car seat is the first and the only flame retardant-free car seat. Instead of flame-retardants, UppaBaby uses natural merino wool, which is a natural flame-retardant used to pass the flammability testing standard. (Some manufacturers also use wool in mattresses to pass the two flammability tests that all mattresses are required to pass the Federal regulation. You can read more about them here.)
Bravo for UppaBaby! I am happy to see that consumer demand for non-toxic car seat products made a difference. I wished this flame retardant-free non-toxic car seat had been available when I had my son in 2012. Since then, I have become a full-time product researcher and provide you with resources to buy products based on their true value.
If you are expecting a baby, please check out my Ultimate Guide to Non-Toxic Baby Bedtime Products so you can sleep better, too!
For the Ecology Center report, visit here.
Again, remember that this post does not address car seat road safety. The opinions expressed here are based solely on the presence or absence of potentially harmful chemicals in car seats.
Drive safely! And remember – do not text and drive.
Free 5-Day Healthy Baby Registry Email Course
Are you fed up with disappointing products, being confused by product descriptions, and not knowing what questions to ask of companies?
You can learn simple techniques to get healthy non-toxic baby products with confidence! And yes, you can transform into a relaxed consumer.