Despite chlorine potent toxic smell and texture, we are so used to using bleach for quick fixes that we might not even give it a thought about chlorine bleach alternatives that are safe and that actually work.  Today you will learn what you can use instead of chlorine bleach with success.
Laundry/Stain Remover – Chlorine Bleach Alternatives
Chlorine bleach is widely used as a stain remover.  It does a great job at it – new stains, old stains – it removes them all.   Luckily, there is a chlorine bleach alternative – hydrogen peroxide – that is made by different companies under different brand names.  The words to look for are "non-chlorine bleach," "hydrogen peroxide," "sodium carbonate peroxide," etc.
Despite the fact that highly concentrated hydrogen peroxide may irritate the skin and eyes and cause vomiting when ingested, it does not have the long-term toxic health concerns associated with chlorine bleach.  When chlorine bleach comes in contact with other substances, it releases chlorine and oxygen.  On the other hand, when hydrogen peroxide (H2O2) breaks down, it turns into water (H2O) and oxygen gas (O2).
Because hydrogen peroxide is more gentle, it can be used on colored clothing without making it old and worn out.   I tested chlorine and hydrogen peroxide bleaches on very old stains and I would say that hydrogen peroxide did about 85% of the chlorine bleach's job.  The trick is to use water as hot as the fabric allows.  Hydrogen peroxide stain removal's properties are more powerful in hot temperatures.  And if stains are not old, hydrogen peroxide does an excellent job.
Here are some great chlorine bleach alternatives you might find helpful.
Chlorine Bleach Alternatives by OXO Brite
Chlorine Bleach Alternatives by Seventh Generation
Chlorine Bleach Alternatives by Grab Green
Disinfectant Chlorine Bleach Alternatives
Chlorine bleach is a potent disinfectant and used widely for its disinfecting properties in homes.  However, if your family is healthy, the need for disinfecting is rare.  Disinfectants do not work very well on dirty surfaces anyway.  And in most cases, soap and water are sufficient to remove dirt and thus leave nothing for bacteria to grow on.
There are a few areas in your house where disinfecting might be needed, such as kitchen sponges, cutting boards, toilets, and kitchen sinks.  There are great bleach alternatives for all of these.  All of my disinfecting bleach alternatives are based on scientific research.  I wanted to make sure that I recommend something that actually works.  For kitchen sponges, my favorite chlorine bleach alternative method is to wash it in warm soapy water, rinse, and then microwave it for 1 minute on high.  Make sure that the sponge is well wrung before you put it in the microwave.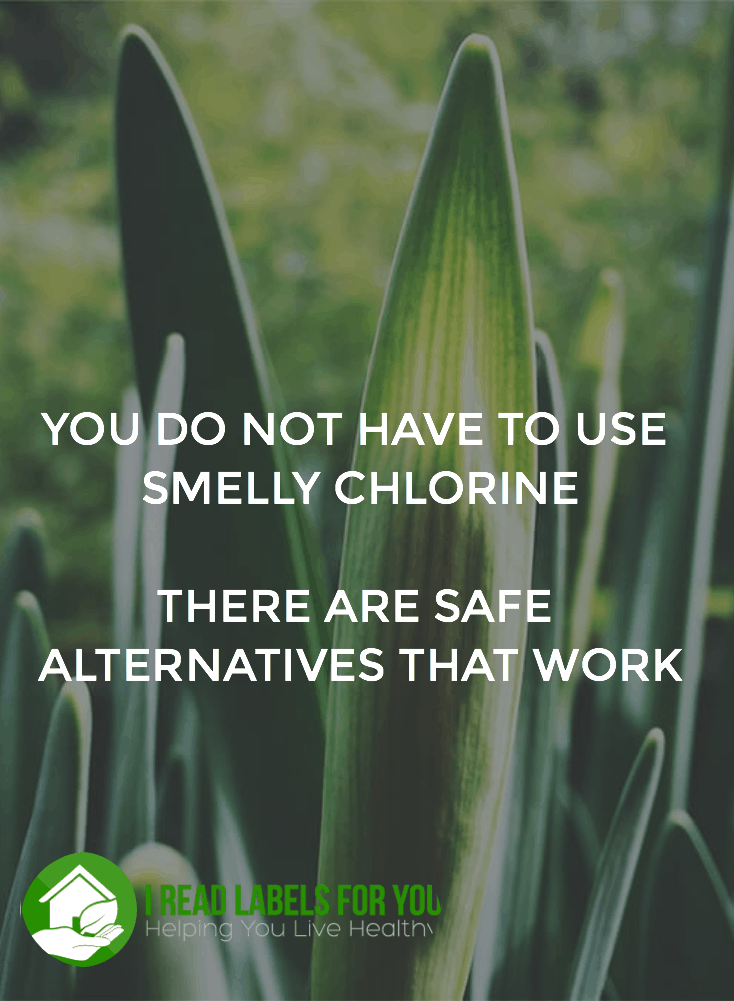 Cutting boards are another area where disinfecting is needed. The easiest method here is to keep a separate board for raw meats and fish.  You can also microwave a wooden board (not plastic board) for 10 minutes.  For more information on how to keep your cutting board bacteria-free, read about safe cutting boards here.
Hydrogen peroxide and vinegar have disinfecting properties but you have to know how to use them (how long to wait, the temperature to use them at) for them to be effective.  If you are interested in knowing more about hydrogen peroxide and vinegar use, click here.
The most reliable, easiest, and cheapest disinfecting method I was able to find is as follows.  Get two spray bottles – one with 3% hydrogen peroxide and the other with 5% white vinegar (these are the typical concentration of these substances).  Patrick Dean, PhD, the dean of University of Florida College of Health and Human Performance recommends to spray with one first (it does not matter which one) and then with the other.
WARNING: Make sure that you do not mix the two substances in the same bottle – you will make something dangerous and explosive.
I hope you found this post helpful to avoid chlorine bleach in your house.  Post a comment. Share your chlorine bleach alternative recipes.